Are you a mommy blogger and struggling to make money blogging?
I know.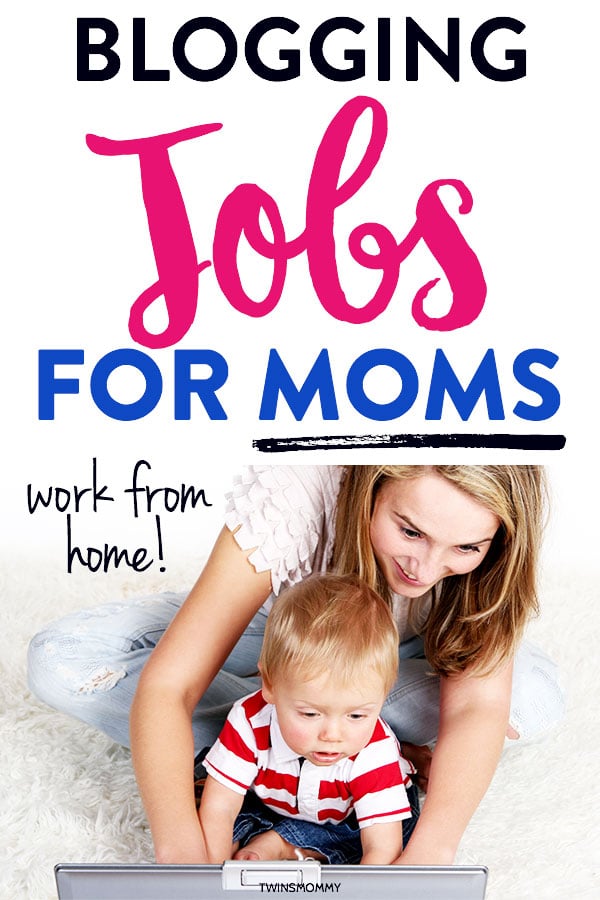 It can be a struggle, especially when you see OTHER mom bloggers killing it with their blog.

But, I have a secret to share with you.
It's something that you can start earning money blogging quickly.
It's blogging jobs! These are work from home jobs.
And you know what? You really don't need blog traffic or an audience to gain some blogging jobs.
This is exactly what I do, and it's not unheard of to make $600 a blog post!
So, let me share with you what blogging jobs are and how to get started making money blogging.
What Are Blogging Jobs?
Blogging jobs are writing gigs, graphic gigs, or development gigs for other bloggers, brands, businesses, solopreneurs, startups and more.
I do writing gigs for small businesses, so my post will mostly help you with freelance blogging.
These blogging jobs are recurring, since the business hiring you needs daily, weekly, or monthly content for their blog.
For example, Blogging Wizard – one of my clients – is a blog that hires other bloggers to write blog posts for their editorial calendar.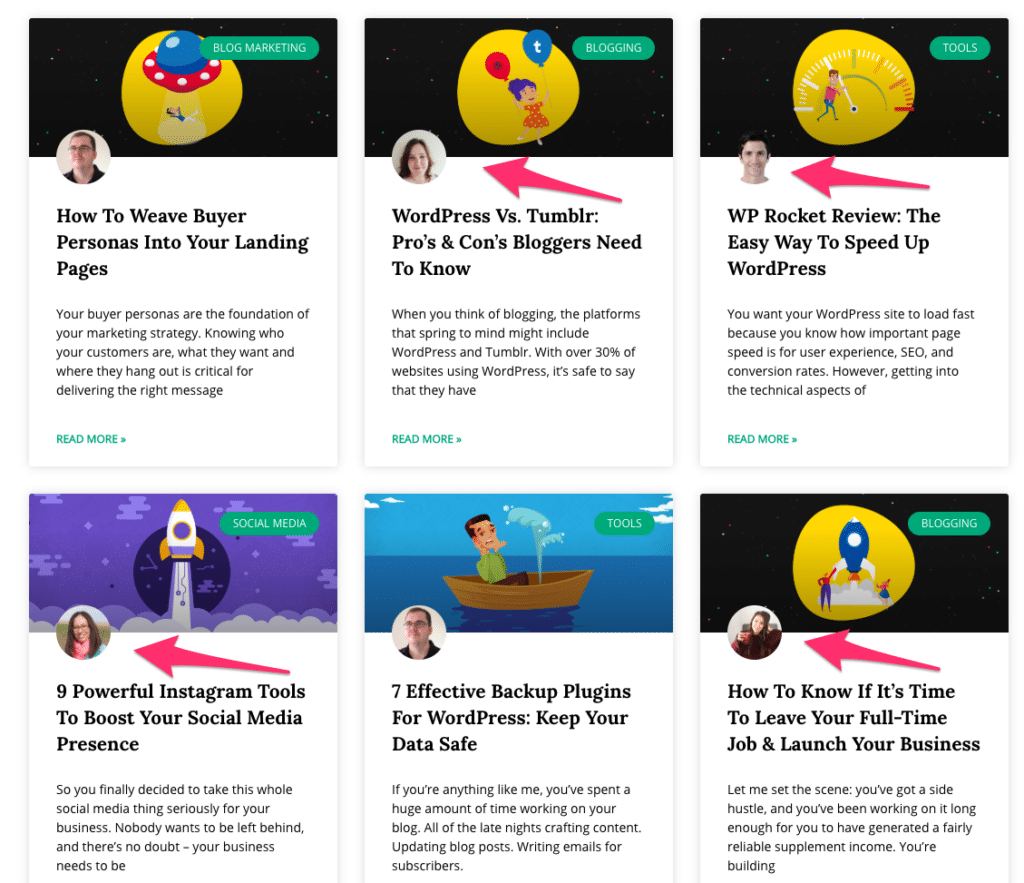 You can tell if a blog has writers by seeing their blog roll and the authors of their blog posts.
Not all contributor blogs pay writers, but many do. And as a mommy blogger, this type of blogging job is easy to do since you already are familiar with blogging.
Where to Find Blogging Jobs
There are many places to find blogging jobs, but the easiest are job boards, sites that pay, and Facebook.
Let's look at three job boards that are free to use.
Job Boards
1. Problogger
Problogger is probably the most popular job board around. It's also a popular blog with a podcast and products. However, I use Problogger to find online writing jobs.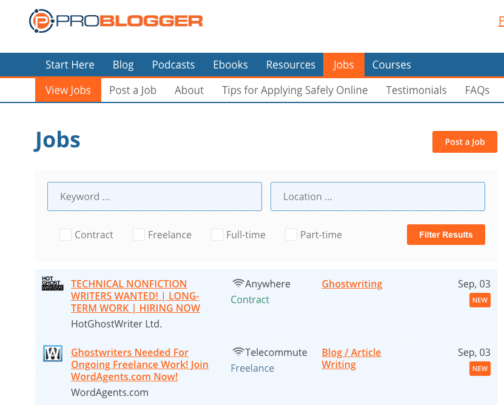 Every day Problogger adds new job postings for you to choose from.
Visit Problogger at least in the morning and before going to bed. This is usually the time they add new jobs. It's important to try to be one of the first when applying to these gigs.
Businesses who post ads on free job boards like this usually get around 500 responses, so being one of the first 10 responses will increase the chances you'll land the gig!
You can use the filter options to find gigs in your niche topic, but you may pull up older gigs, so first look through current listings.
For example, here is a gardening writing job listed: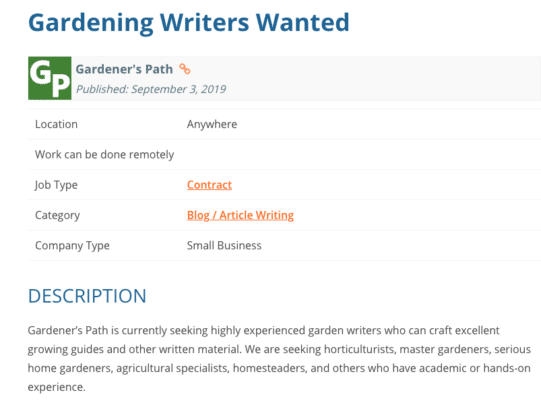 This is a great entry writing job because it only required a writing sample in the garden niche and your resume and rates that you want.
Your resume can also be a link to your LinkedIn profile or writer website, since I believe you don't need a resume to land gigs.
For each job ad, you visit on these job boards make sure to research the company (if possible).
2. BloggingPro
BloggingPro only curates blogging jobs. Since I'm a freelance blogger, I like using this job board to find recurring blogging work.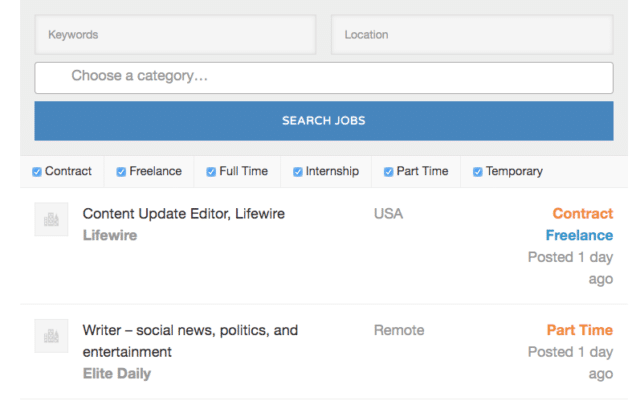 They do filter their jobs by the type of job you want – contract, freelance, full-time, internship, part-time and temporary.
I typically use freelance and contract to find good-paying blogging jobs.
You will also notice there are a lot of editing jobs too. Go ahead and pitch to those types of content jobs because that can open the door to other blogging jobs like writing blog posts or emails or landing page copy.
3. Freelance Writing
Freelance Writing is a huge site that curates blogging jobs from many places, so this would be the biggest job board on this list. And it's free to use!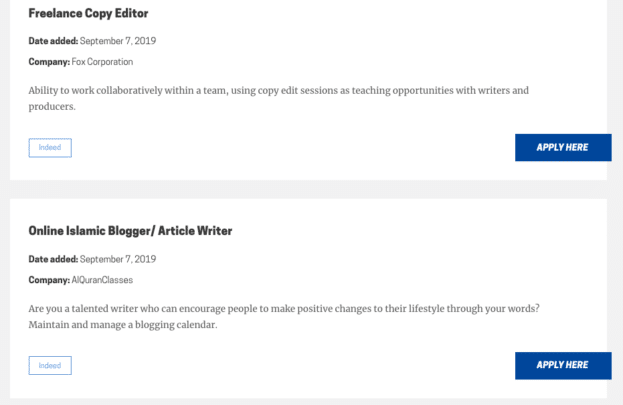 These types of blogging jobs may require more experience in freelance writing or blogging in general. Don't be deterred, though!
You can still apply to these gigs even if you are new to freelance blogging.
Plus, I also have a free course on landing your first blogging job on my other site!
Sites that Pay
Did you know that there are sites that pay mom bloggers to write for them? This is guest blogging, but a level up – paid guest blogging.
Many blogs in various niches pay other bloggers and writers to write content for them.
And, sometimes that can turn into a recurring gig!
I have two posts on sites that pay:
Check out these two posts and look through the sites to see if it's a niche you are interested in and can write about.
One thing to note about sites that pay is it might take longer to get paid than with a typical blogging job.
Many of these sites might be online magazines, and they take months to pay their writers. So, it's something to consider!
Facebook
Facebook is a great marketing tactic to pick up blogging jobs, but how do you get started?
Make sure to have a Facebook page that promotes your freelance skills. Simply posting some tips for your audience and then having a CTA that mentions how you can help them is a good tactic to start trying.
Another way to find blogging jobs is to use Facebook groups.
Find Facebook groups of your target audience – solopreneurs, women, coaches, moms, authors, entrepreneurs, etc.. – and join those groups.
Take the time to read the posts and be helpful. Answer questions in the group and over time, people will want to see what you do.
You can also promote your service if the group has a promo day.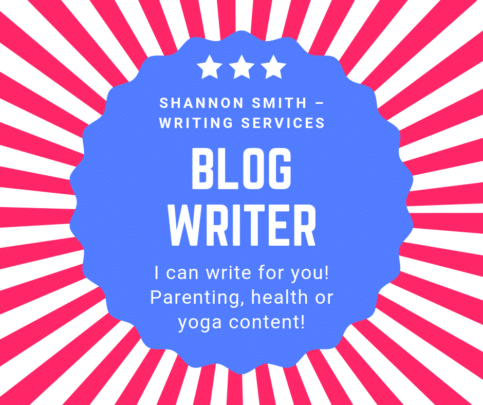 Applying to the Blogging Job
Depending on where you find the gig, you can be formal in applying or more conversational.
For example, a big brand messaged me on my Facebook page, and I was able to chit chat with them about their content plan.
But, for blogging jobs on job boards, I would send an email pitch.
This pitch email will show my credibility and experience.
As a mom blogger, you can leverage your mom blog content and blogging skills by linking to various blog posts you have that's related to the job.
For example, if your blog talks about gardening/home decor, you can find those gardening posts – spruce them up if they need updating – and use those as writing samples.
Make sure to include these things in your email: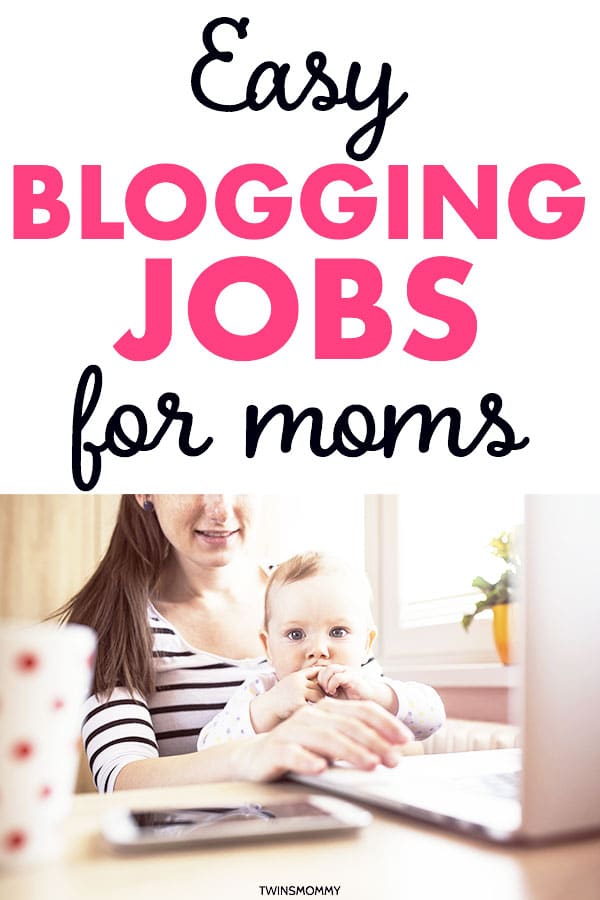 The type of blogger you are and the job you are applying for
Snapshot of your experience
Links to your writing samples
How you can help their content strategy (writing up-to-date blog posts, using industry-specific content ideas etc..)
Call to action (telling them that you can't wait to collaborate with them and email you if interested)
That's basically it!
This is a great side income and can help you gain a few hundred dollars a month!
Blogging Jobs for Moms
There ya go!
Blogging jobs are a great stepping stone for moms that want to make a living blogging. I've been doing this for five years and it has changed my family's life for the better!
So, why not try it?
Try my free course if you need more help!
Over to you – have you tried any blogging jobs? Share with my your story!