Are you a stay-at-home mom or working mom wanting to work from home?
I hear you, mama! Before I became a work from home mom blogger, I worked in the school system. I worked long hours and had to travel up to 2 hours a day for my job.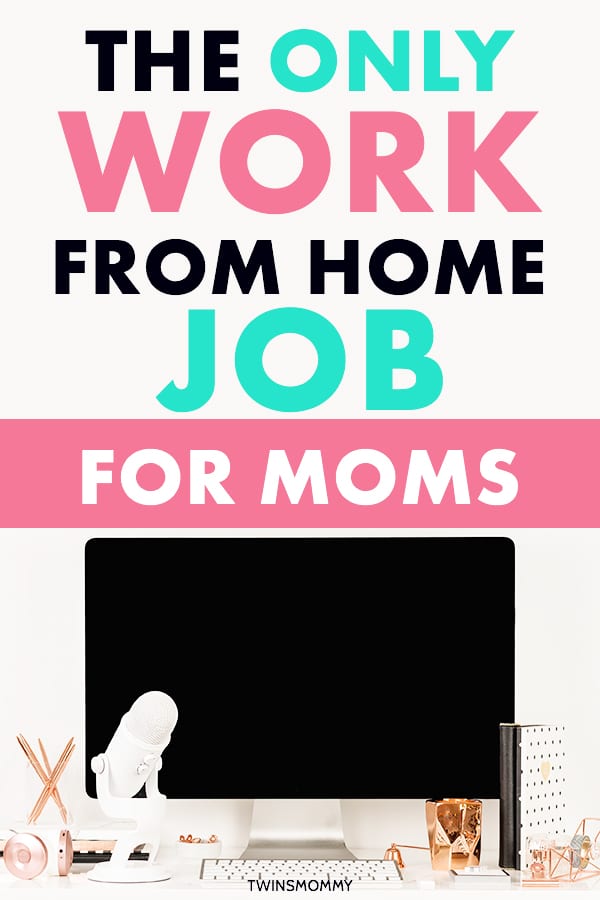 It was grueling.
We were newly married and living in a one-bedroom apartment. I wanted to work from home since my hubby was doing it and when I became pregnant with twins, I knew that being a working mom wasn't going to help us get out of our small place for good.
I went online and searched for work at home jobs for moms to see what was out there.
On top of working full-time at an elementary school, I also did private therapy and went to homes to help children with autism.
Many nights I would come home at 9pm exhausted and knowing I had to do it all over again.
Don't get me wrong; I truly LOVE helping children and children with autism is something I'm invested in (even today). But, it was challenging so when I became pregnant I had to think of a work from home plan.
And I found it!
I found some work at home jobs that suited me as a stay at home mom with twins, but only one that I wanted to do. It allowed me to stay home, make money at home and create a wonderful life for my family.
If you want the same, it is possible mama! Whether you have little ones, twins, school-aged children or your children have left the nest, you can work from home and make good money too.
Find Out What You're Good At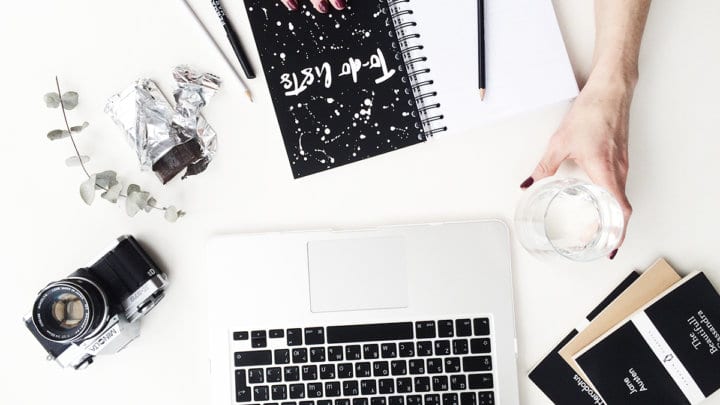 As a mom, I didn't start working from home until my twins were over a year old. My pregnancy was a high-risk pregnancy. At 23 weeks my cervix shortened and I was put on bed rest. My doctor kept telling me, "keep your babies in there until week 25. Make it to week 25."
It was a scary two weeks. I made it, but for the entire pregnancy I was "in it." I couldn't think of anything else but keeping my babies alive (I had difficulty getting pregnant.)
And then the first year with twins was…also very challenging! I was a mom zombie for that first year 🙂
So, when I got enough sleep (and coffee), I could actually think of other things besides tea parties and baa-baa-black sheep!
I thought of the things I was good at. My husband suggested to read mom blogs and see what those women are doing. He also suggested to me that many were a virtual assistant.
So, I did that. I found other moms working from home. And what got my attention was the moms that got paid to write.
They were freelance writers.
I was hooked.
This was it.
And if you are a mom blogger having a service business is perfect for you. It's been over four years, and I own several blogs and freelance write for big blogs.
It's my jam, and it can be yours too.
Find Out If What You're Good At Makes Money
Starting your own home based business is a big risk. You are investing your time and money to make this work. What if it doesn't?
Having a strong plan (and plan b) will help you avoid this.
To help you get started, here's a list of 22 freelance service stay-at-home moms can offer on their blog.
Some popular ones are:
freelance writing
virtual assistant
Pinterest manager
Once you find what you're good at, see if that service can make money. You can go to a Facebook group and see if others are doing that service and connect with them or even just ask in that Facebook group.
The ones doing that service will most likely answer you. In my Mom to Mompreneur Facebook group, Peggy asks how to get started with blogging and freelance writing. There are 11 comments in her thread with advice from other service-based mom bloggers.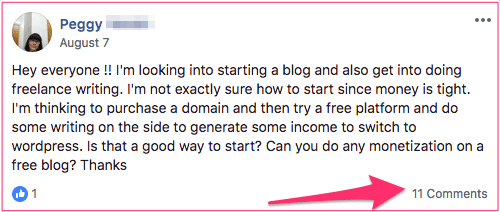 By connecting with others, you can find out if this service is profitable.
I know freelance writing is profitable, and it's also easy to start. I sub-contract some writing and I hire ghostwriters for my other blogs and guess what? I hire other moms!
Start a Blog
If you want to start your own service-based business, you do need a blog or website to show others you're in business!
A blog is the easiest way to get started. Please check out my super simple start a blog tutorial if you need help!
On your blog, have these pages:
Services or Hire Me page
About page
Contact page
Portfolio/testimonials
Having these pages will help potential business see you as a legit freelance writer or a legit Pinterest manager. On this site, you can have your blog too! Having content and having a thriving blog is also a great way to drum up business.
Even though my freelance writing blog is geared toward new freelance writers, I know I've landed gigs from that blog because the posts on that blog are long, valuable and show my credibility as a writer.
If you decide to do Pinterest management, then I strongly suggest your blog is all about Pinterest.
Kate Ahl is a Pinterest guru. With a podcast and blog, you know that when you land on her blog, she's all about Pinterest help. And she has a services page.

Work for Free or Create Samples of Your Work
The next step is critical if you want others to hire you for your work. Remember, you're online, and the people that hire freelance writers or virtual assistants take a risk too!
They are relying on a "stranger" to write for them or manage their customers. So, if you can show on your blog that you're highly credible, highly trusting and highly knowledgeable, you will land work easily.
And an easy way to do that is to have samples of your work. This may entail working for free. For example, if you want to start doing virtual assisting, you can ask another mom blogger or a course creator if you can do work for them for a testimonial on your blog (barring you do a good job!).
Many people will say yes to this so give that a try!
As a freelance writer, you can also just create mock pieces of your writing. A blog lends well to this but also having a portfolio page of guest posts you've done, or other types of work convert much better.
Here is my portfolio page on my writer website.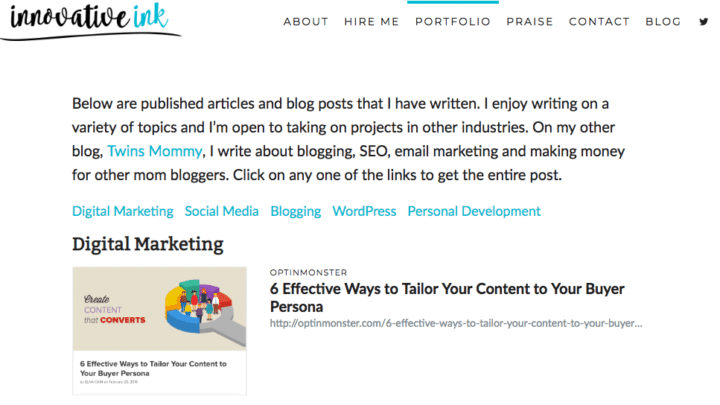 By optimizing your blog to showcase your service, it will be easier when you try to find work at home jobs.
Finding Work at Home Jobs for Moms
There are freelance marketplaces like Upwork that connects you with work. However, I would stay away from these platforms because they are low paying jobs.
Instead, you have to use other methods to land high-paying work from home jobs.
Networking
Networking will be your primary way to land good work. Start joining Facebook groups where your clients would hang out.
Join Pinterest groups and read blogs from others and join their email list.
All of this will connect you with bloggers that hire content writers or Pinterest managers.
I hired a mom blogger recently because she is in my Facebook group, on my email list and has even bought my courses. She emailed me support questions, and over time I got to know her.
I commented on her blog, promoted it on social media and learned what a fabulous writer she is! I then asked if she wanted to write for me!
Guest Posting
Guest posting is where you publish your content on another blog. For example, one of my blogs, Imperfectly Perfect Mama, is a contributor blog. Moms contribute guest posts.
In return, they get an author bio where they can promote their service or opt-in freebie or Facebook group.
By posting your content on another blog, you reach a brand new audience and doing this can help you land projects.
Using Job Boards
I know there are job boards for content writers, but I don't know if there are job boards for other services. It's worth looking into though! Job boards are a step up from freelance marketplaces like Upwork.
Legit businesses are looking for content. Many ads aren't the best paying, but I started out using job boards, and there are quality gigs on these sites.
ProBlogger is a popular blog, and they also have a job board for content writers.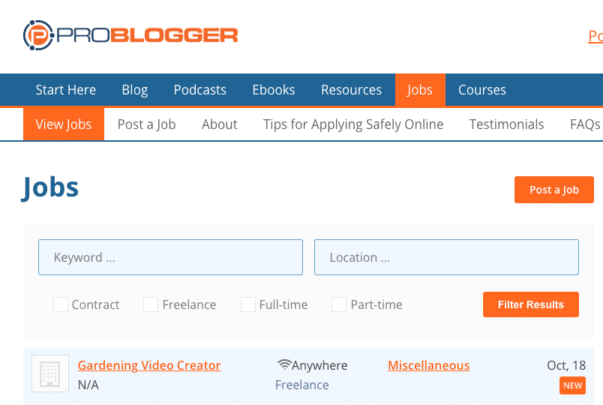 Take a look at the work from home jobs, and if it's a good fit, then you can pitch your service to them.
Personally, I like to get as much information about the business hiring writers. If they link to their website, that's a good thing. Review their site, mission statement, about page and more.
Get a feel if this is a legit company.
You can also check if it's a scam by Googling the company + scam or legit to see if there is any chatter on that business' reputation.
Cold Pitching
Sometimes you just have to stick your head out there, and you never know – you can get lucky! Cold pitching is the act of pitching to businesses that aren't looking for freelance writers or a virtual assistant.
It's your job to convince them in your email pitch that they DO need you and how you can HELP them achieve better results IF they hire you.
It's a more demanding way to find legit work from home jobs, but it's worth it in the long run. Cold pitching can often yield thousands of dollars in projects so try this strategy if you're stuck finding work.
Diversifying Your Income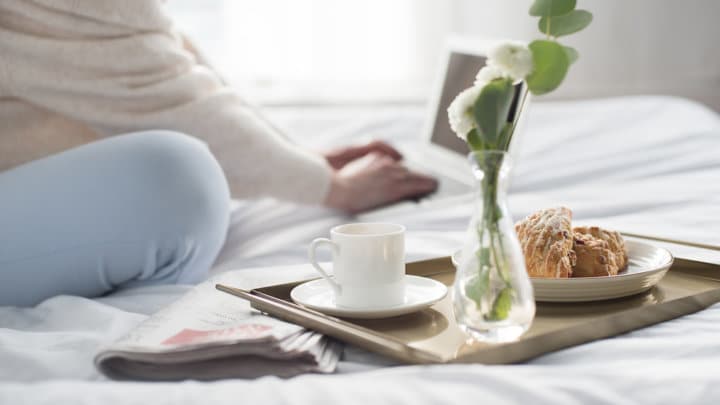 When you have projects over time, you're going to want to diversify your income stream. I wouldn't rely on only one source of income – your service income – as a longevity strategy to work from home for good.
One of the first things I did was offer coaching to new freelance writers.
I did that for a while but had to stop as I barely had time to take care of my growing twins, keep a house clean and manage my freelance writing clients.
So, what I did instead, was create a course for freelance writers. While this ate up a lot of time in the beginning, over the long run, it's becoming passive income.
Another thing I did was try affiliate marketing and start new blogs.
Finally, I recently started using ads for some of my blogs.
Having multiple ways to make money as a mom blogger or when you work from home is essential. You may not get service work every month of the year and you may not get many affiliate sales one month (or in several months).
So, having different income streams is helpful!
Growing Your Business
Finally, as your work from home job becomes more and more successful, you can start growing your business. Aside from diversifying it you can hire other workers, outsource your work or start new projects.
This is what I ultimately did when I started Twins Mommy and then Smart Mom Ideas and more.
You can also grow your community by holding summits, hosting a Facebook group, or hosting a mastermind group. These are just other avenues to get your business out there!
What If I Want to Do This As a Side Hustle?
For many moms, they want a little extra income for the holidays or for a special event or just to have extra cash! That's fine!
Here are two posts to help you out with your side hustle:
For a side hustle, you don't a need a blog (although it would be nice), you just need your PayPal address and email address!
Start Working From Home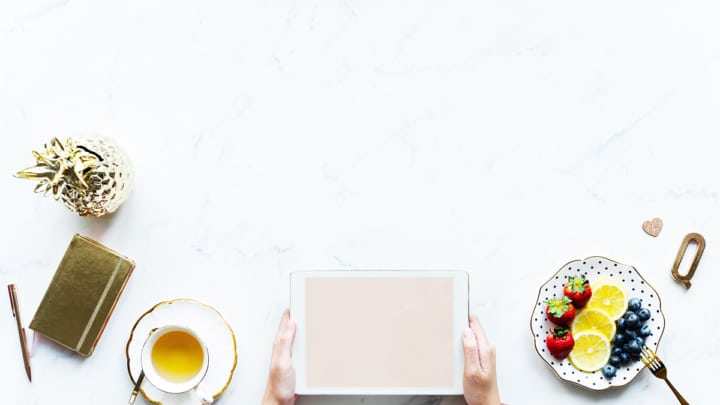 I hope this work from home guide helped you out. If you need more help, check out this guide too!
If you're a stay-at-home mom that loves to write, I encourage you to check out my free course on getting paid to write!
Over to you – tell me if you work from home and what do you do? I love learning what other moms are doing and blogging about!
And if you haven't started your mommy blog yet, check out my free blogging course!