You started your blog and have some blog posts published.
Give yourself a pat on the back!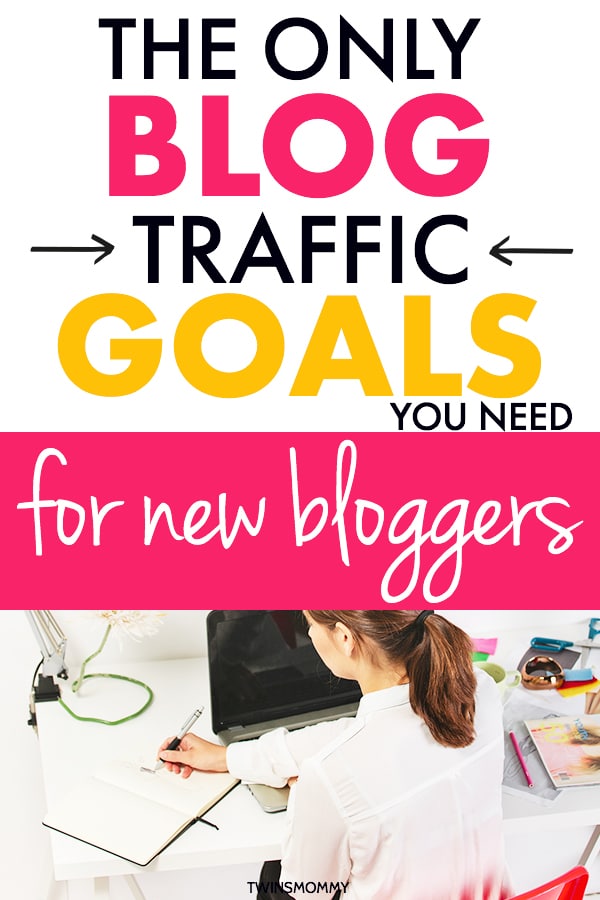 The next question is how to get traffic to those posts and how much traffic should you be getting?
For your first month blogging, getting any traffic is a good thing. Some bloggers can get 4,000 pageviews in their first month or even more! I was happy when I achieved that and more with Twins Mommy.
Before we get in this post, if you don't have a mom blog yet, make sure to check out my free start a mom course below!
There Are No Set Standards
I'm sorry to say, but there are not set standards for how much traffic your blog should receive each month.
It is dependant on many factors such as:
Your blog niche
The quality of your writing
Your images
You promotion strategy
How many posts you have on your blog
The thing to remember, though, is not to compare your journey to someone else's.
It's hard, I should know. Another blogger in my niche started around the same time I started Twins Mommy and they have generated more income and more subscribers than what I've done.
But, I have to realize that my story is different. It might take me longer to get to the same point as that other blogger, and that's okay.
Don't compare your Chapter 1 to someone else's Chapter 21.
And to do that, you need to set your blogging goals, but more importantly, blog traffic goals. These are the goals that will give you a direction with your blog.
As I always say, blog traffic is the heartbeat of your blog.
Visitors to your blog will help your blog grow and succeed. Without traffic, it will be hard to generate momentum and growth.
And, what's great is that traffic is free! To rank in Google is free or to market your blog on Pinterest is absolutely free!
So, why not take advantage of that?
Getting Your Blog Ready for Traffic
Just like your blog needs to be ready to make money, it also has to be ready for that amazing traffic that it will get.
What elements does your blog need for that potential blog traffic?
1. Your Blog Is Easy to Navigate
Look – I know there are fancy blog themes and tools you can use to make your blog have amazing landing pages or other types of pages. But, I feel too much of that can take away from the user experience and make it hard to navigate.
I like reading blog posts and if I can't find them on your blog, then you lost a potential reader (i.e. traffic).
So make sure your menu is easy to find and that your blog is visible!
2. Get Readers to Your Blog
I know – this seems like an impossible feat! This is what we ultimately want – brand new people to find your blog and read your blog post!
When I started Twins Mommy, I found that the #1 way I was able to get people over to my blog is tell people on Facebook! They brought the engagement to my blog and I'm so forever grateful for that!
That's one of the reasons why I opened up a Facebook group to say thank you!
For more tips on getting readers to your blog, check out my YouTube video!
3. Figure Out The End Goal
What I mean is the end result of your blog. If your intention is to make money from your blog eventually, your blog must serve.
By helping others, you can become the authority in your topic or topics. People will trust what you blog about, want to learn only from you and this will help you serve them with the right products and services.
There's a saying, when you help a million people, you'll make a million dollars.
So, when you start your blog and start thinking about what you want to offer, think about the value you can offer, the inspiration you can offer and the familiarity you can offer.
People that know, like, and trust you, will buy from you.
For the end of blogging, you have to think the reason for starting a blog in the first place.
If you're like me, then you started a blog with the intention of monetizing it. I became a blogger when I wanted to do freelance writing and offer that service.
You might start a homeschool blog with the intention of making enough money to help your husband quit his job for good.
Whatever the reason, having that monetization plan is important.
There are many ways to make money online, but from my experience, there are only a few main ways that new bloggers can start making money quickly – offering a service, affiliate marketing and placing ads on your blog.
These are easier avenues for new bloggers and has been proven to be successful.
What Your Traffic Goals Should Be
Instead of focussing on chasing pageviews in the beginning, let's focus on creating valuable content instead.
Because that's the heart of your blog – content that will drive traffic.
All the content you have on your blog must:
Solve a problem for your readers
Be formatted for the highest engagement and not for skimming
Include a call-to-action to facilitate comments on your blog (which is the starting block to creating a community and following)
Be optimized to bring long term organic traffic. This will sustain your blog during slow Pinterest traffic months.
When you create this type of content, people will click over from your pins or on Facebook and read your post.
There are types of blog posts that do well on your blog that you should focus on. For example, how-to posts are great flagship content that can help your credibility in your niche topic.
It's up to you how you want to publish those posts – once a week or twice a week.
For your blog traffic goals, I suggest twice a week since you want Google to start indexing your posts so that your posts have the ability to rank.
Create two posts a week for at least three to six months. I was able to keep it up for six months or so and then I did spurts of blogging every day throughout the year.
If you can only do the twice a week schedule for a month, then do that for a month. While Google does like consistency, it's okay if you focus on creating fresh content as often as you can.
Find the content plan that works for you. If once a week is it, then aim for that goal and do your best to stick to it!
So, a traffic goal can be:
Create reader-centric blog posts twice a week for 3 months OR
Create reader-centric blog posts once a week for 6 months OR
Blog Goals for Success!
Having blog goals like financial goals and how to plan your day as a blogger is also important to help your blog thrive!
I know mama – this is A LOT! But, I hope this inspires you to make your blog shine! I absolutely love blogging ( I have three blogs!) and I don't think I'm going to stop!
I've seen the potential of blogging and I know you can achieve that too mama!
Over to you – have you started a blog yet? What are your blog traffic goals?
Remember to pin me!