Right now, Pinterest is STILL the best way for brand new blogs to grow their traffic.
I know how challenging it can be to attract traffic to a brand new blog.
I mean, I did a case study right here on Twins Mommy and even started new blogs to see if I could grow those blogs too (which I could and did).
And the thing I found that was true back then and is still true today, IS that Pinterest is where it's at.
With its visual appeal and high engagement rates, Pinterest has the potential to drive serious traffic to your tiny new blog.
It's still the best way for new bloggers to get noticed and start building a following.
So, if you started a Pinterest profile and you have barely any followers and no clicks back to your blog, then pay attention.
I will share the things I did to explode my Pinterest traffic in 2023.
This wasn't from a viral pin either.
And it wasn't from deleting dozens of Pinerest boards.
So, before I go into the EXACT things I did to explode my Pinterest traffic, I'll go through my Pinterest analytics and the foundational elements you NEED for your Pinterest profile to grow.
My Pinterest Analytics
As it stands, I'm getting more impressions and more views and engagement on my Pins.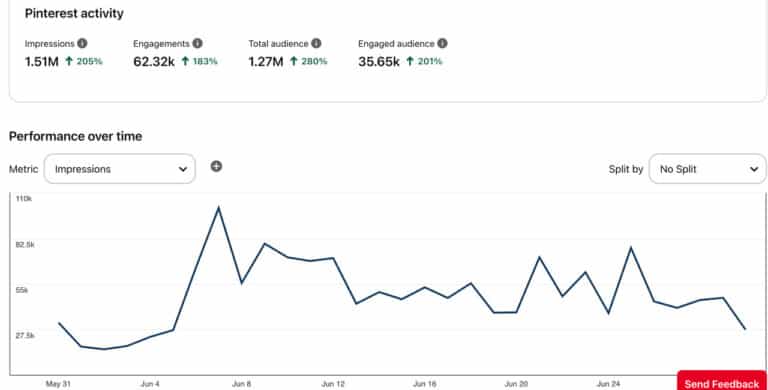 This engagement on my Pins equates to traffic.
I'm getting Pinners checking out my pins in their feed. From there, they click on my pin to view it larger and click to view the post.
This act grows my pageviews.

How did this happen?
I don't pay too much attention to my Twins Mommy Pinterest profile.
It's sort of on autopilot for me.
But, I did notice my monthly views were increasing and I wanted to find out why.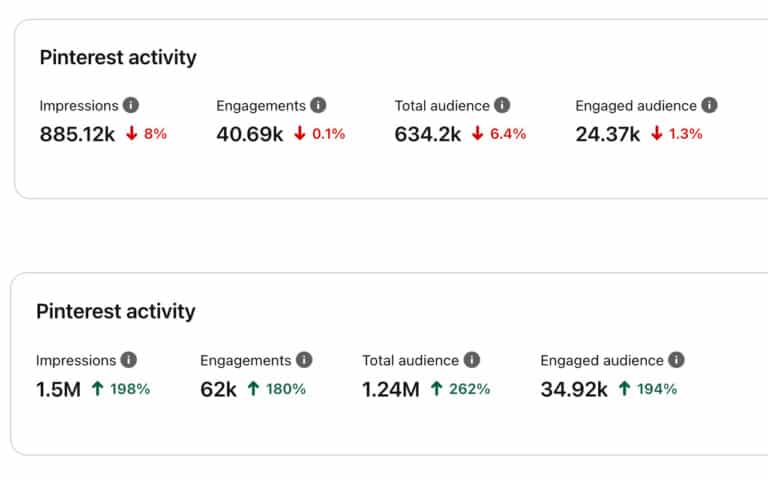 And one of the biggest reasons why this happened was due to my profile or the foundational elements.
What are those?
Pinterest Foundation
Let's look at the right way to create a Pinterest strategy that will help you grow your blog traffic.
1. Use Keywords
As a Pinterest creator you need to use keywords in your Pins and boards.
Pinterest is a search engine so Pinners go to the search bar and can type in things like mindset tips here.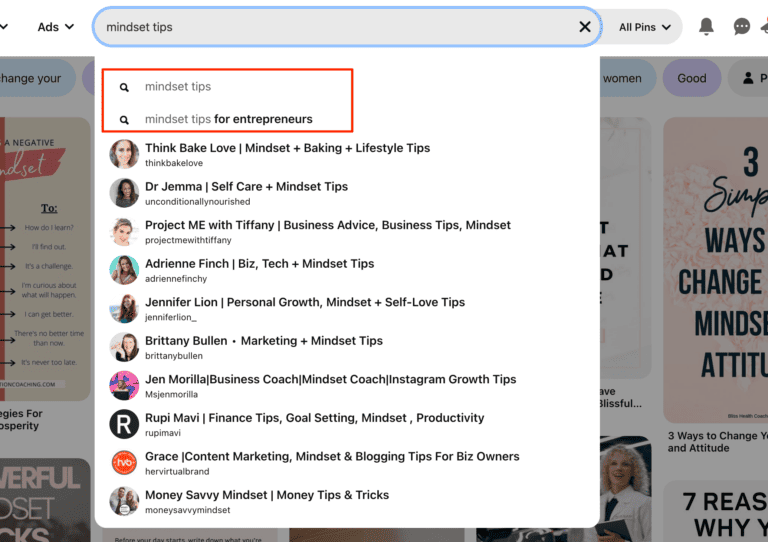 You can see what keywords or people that are associated with mindset tips.
For this example, there are only two keywords I could use, but if I look at the result, I get little bubbles with more ideas and keywords.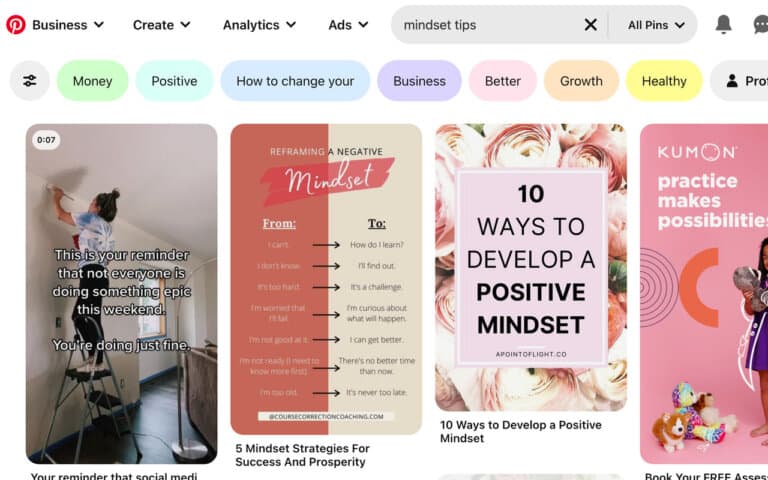 From this list, I can title my How to Change Your Mindset in 5 Different Ways for Better Growth using different keywords for my Pin title.
Don't forget to also use keywords in your Pinterest description. Part of your Pinterest strategy is to find related keywords and use them for your Pin title and description.
I like using a tool like Jasper AI to help me with my Pin descriptions.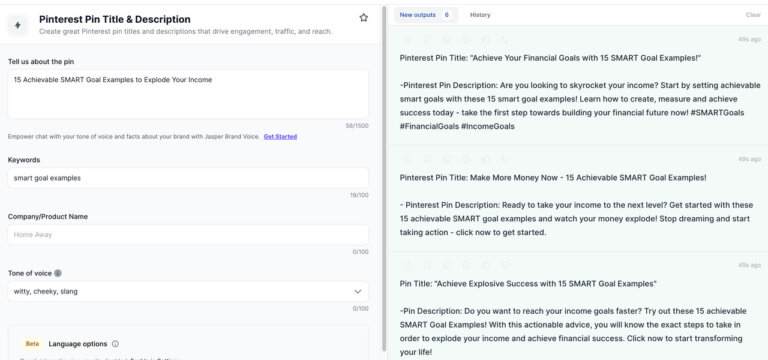 I usually edit my description to add in more keywords or change the title a bit.
I can also use this method for when I'm creating my Pinterest board – Positive Mindset Tips for Women – and create other mindset tip boards if that is my blogging niche.
You can also play around with your root word, mindset tips and explore mindset hacks instead to get titles like, mindset hacks that will change your life, or money mindset hacks.
This is the BEST way to find different keywords on Pinterest as a beginner.
3. Make Multiple Pins (For the Same Blog Post)
If you want serious blog traffic, you need to put in the work and that means making multiple pins for the same blog post.
Look –
I haven't been doing this for my Twins Mommy profile.
Why?
I'm focussing on my niche website and making multiple pins for that profile. And it's working.
So after you publish your blog post, go to Canva, and start creating 3-5 different Pin designs and titles for that same blog post.
This can help you:
Update all your Pinterest boards
Reach a new audience
Show Pinterest you are using their platform
These are all good signs to help you grow your traffic.
If you need help with your Pin designs, check out my 52 Stylized Canva Pin Graphics!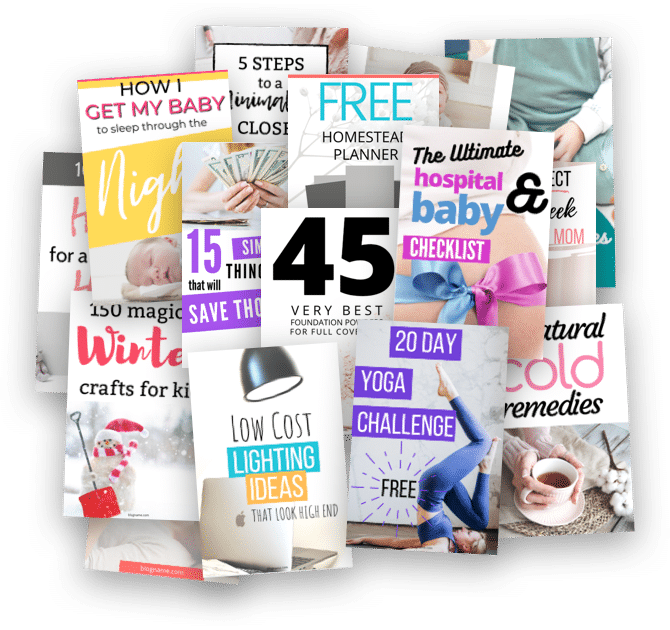 They are customizable so you can change the font, colors and images too.
Don't forget to use emotional-based words to make your pins clickable.
These words work by getting a Pinner to stop and think about your title and get invested.
Some words you can add to your title can be:
Secret
Simple
Super
Easy
Free
Best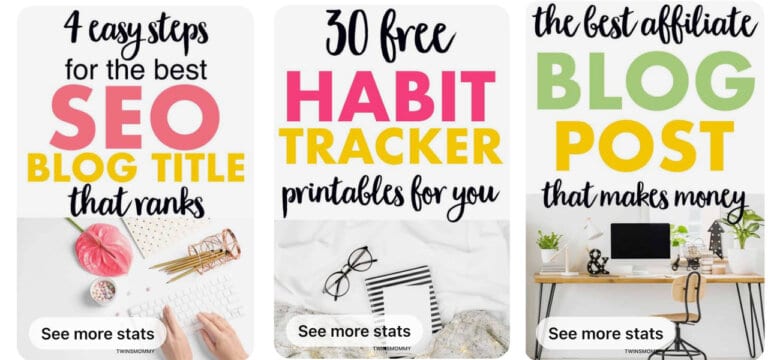 So, those are the Pinterest foundational elements to have on your profile to begin gaining more traffic.
How I Exploded My Pinterest Traffic.
Let's go through how I exploded my traffic.
1. Double Down on My Popular Pins
On my Pinterest analytics tab I looked at my popular pins with high engagement.
These are the ones that get the clicks, saves and impressions.
You definitely want those Pins because you know that they are popping on Pinterest and people are looking at them and are clicking on them.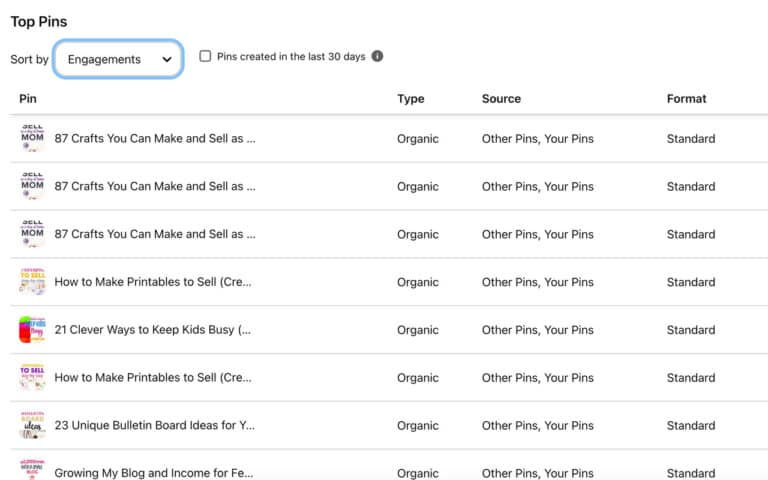 I can quickly see how these Pins are doing by clicking on theme and then on "see more stats."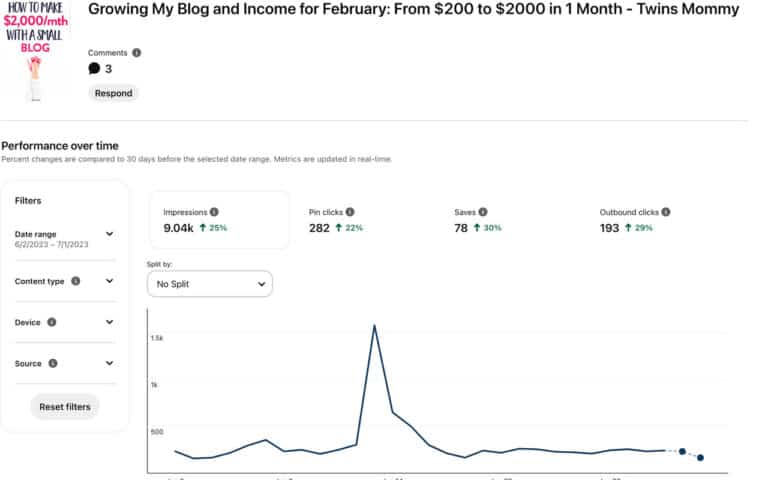 This information will help me decide if I need to make more alternate Pins.
For this example it's not really taking off right now even though it's getting lots of impressions and clicks (all green arrows).
I can give this Pin a boost by making a similar Pin and maybe even having it very similar to the way this looks – having the same colors maybe having some kind of fashion image like a hat – and with similar titles.
If I type that into Pinterest part of the Pin title, I don't get any drop down ideas, but once I changed my topic to growing my traffic I was able to get more ideas.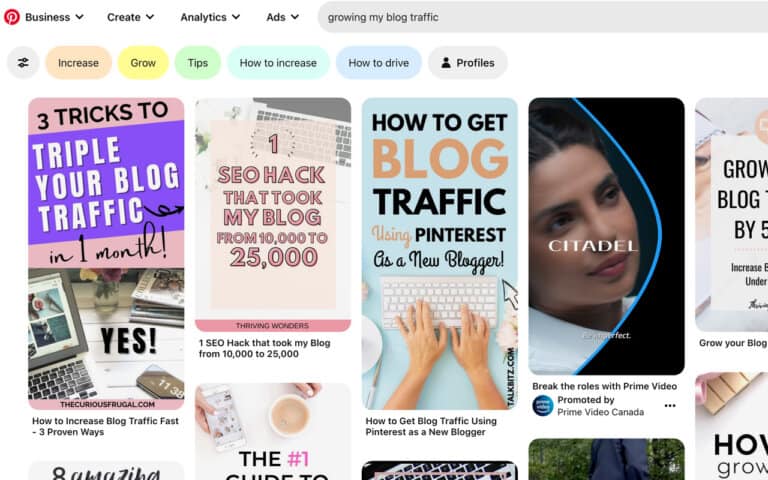 I can create similar Pins with a title of, "How to Increase My Blog Traffic to 4,000 Pageviews."
The Pinterest bubbles help me find the perfect way to title my Pin and my description and it's an easy way for beginner Pinterest users to SEO their Pins.
So when you're making alternate Pins try to find two to four different alternate titles and alternate keywords so that Pinterest can show your PIN to a new audience.
And then that audience might gravitate towards your PIN, click on it, and give you a boost in traffic.
With those alternate pins, make sure that you're saving each of those related pins to a different board.
Start doing the same concept with your board names. So if one of your board names is Blog Traffic Tips, have another board with the name, Increased Blog Views or Increase Blog Traffic.
You want to have one Pin to go into two to three different boards.
2. Try Different Pin Sizes
Another thing I did was try different Pinterest styles or Pinterest sizes as a way to attract a bigger audience.
My normal Pin size are 1500 x 1000 px but I also use a longer style of 2200 or 2000.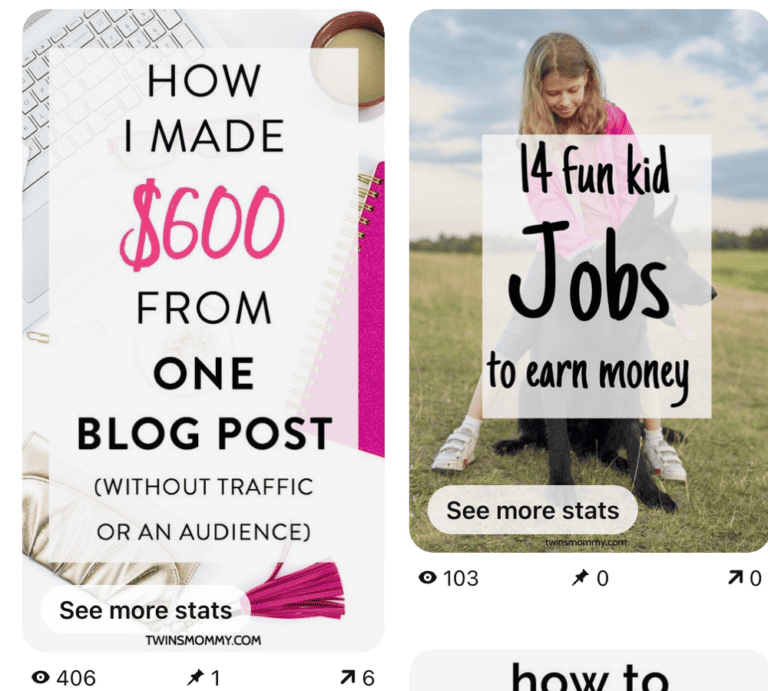 I'm playing around with different styles and I can start incorporating informational Pins like infographics to see which pins take off.
As a blogger, you can also try video Pins and work on different colors, fonts and ways to show your pictures.
For example, cover the picture with a text box: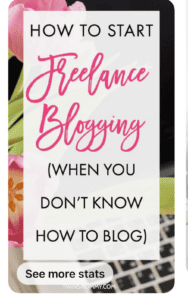 Or, you can have your text box on the bottom or on the top of the Pin.
These are things I play around with when I design my Pins.
When I upload different looking Pins to Pinterest, hen Pinterest can find a person who has never seen my blog and hopefully they become a subscriber!
3. Use the Pinterest Native Scheduler
I've been using the Pinterest native schedular for the last two years and this one thing has exploded my Pinterest views on my niche site.
I don't Pin much on my niche site, but it's still growing and getting thousands of clicks.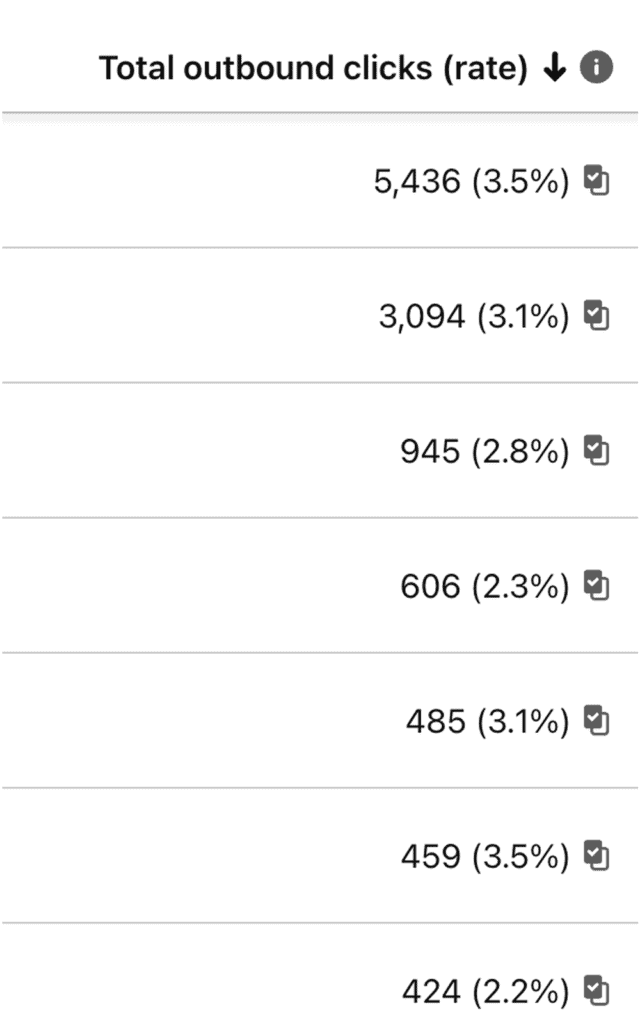 And since f I'm getting most of my traffic from Pinterest for my niche site, I know using the Pin scheduler works.
This is something new I'm doing for my Twinsmommy profile and I'm already seeing more people clicking to my site.
And I think that's because Pinterest sees my profile as active. I am using the platform and I'm staying on the platform.
I'm creating pins, uploading pins and I'm saving pins all on the Pinterest platform.
I will also go to my feed and start saving pins when I'm using the Pinterest scheduler. Doing these things means I'm being an active Pinner.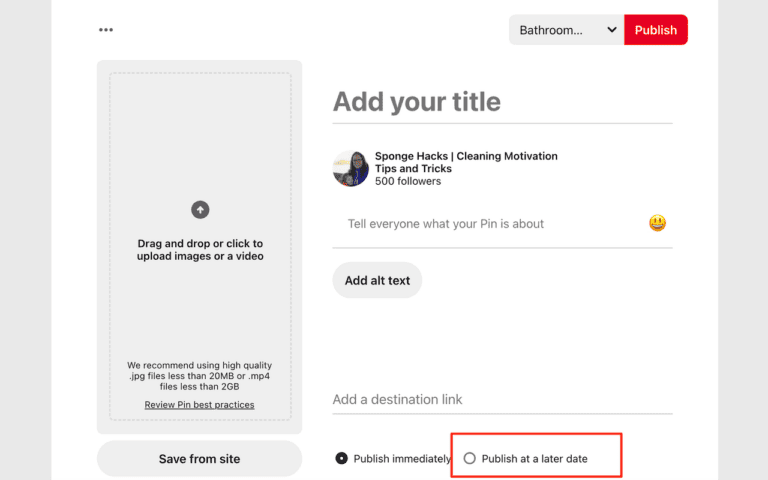 I'm using my profile and I'm contributing to the content on Pinterest.
Pinterest can look at my profile and say this is a profile that is up-to-date and is being used. They look at my boards and see that my pins are fresh and new, which tells Pinterest to distribute my Pins out.
The goal of Pinterest to to KEEP pinners pinning all day and all night. They want engagement on their platform and if your pins are helping with that engagement, then Pinterest will reward you.
For the scheduler, I create 4 alternate pins in Canva for one blog post and use different titles.
I use Jasper AI to create the Pinterest description and then schedule my pins across a 2-week period.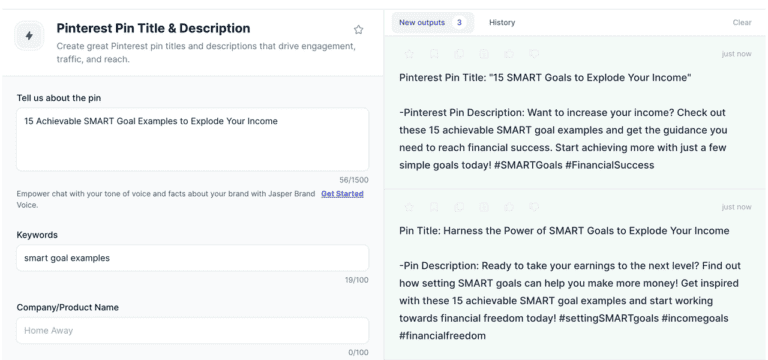 I reassess my manual strategy and do another week but it's not that consistent and I'm find with that.
I still use Tailwind but I've changed my strategy slightly and schedule less pins to less boards.
4. Write Pinterest Focussed Content
When you search for a topic you will see what Pinterest pulls up for the auto complete and bubbles for each term.
For example, here's the result for increasing your milk supply.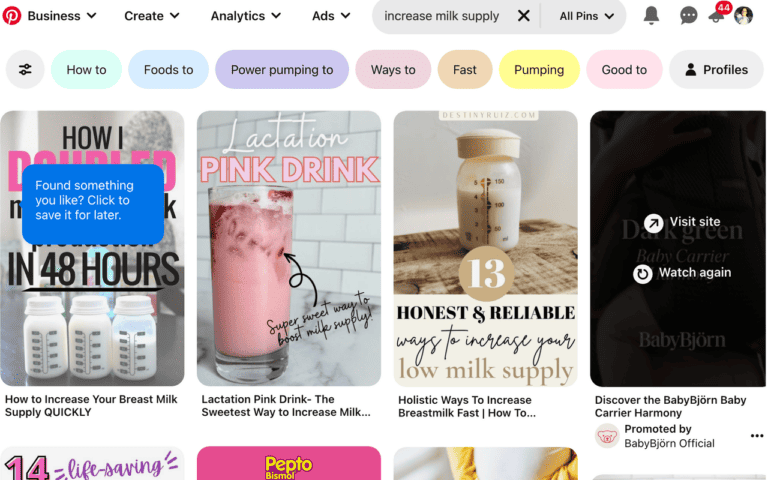 You can easily see what topics are popular amongst pinners. Go ahead and create similar content to get those pinners saving your pins and going to your blog.
I did this when I first started Twins Mommy and many of my blog posts are viral now.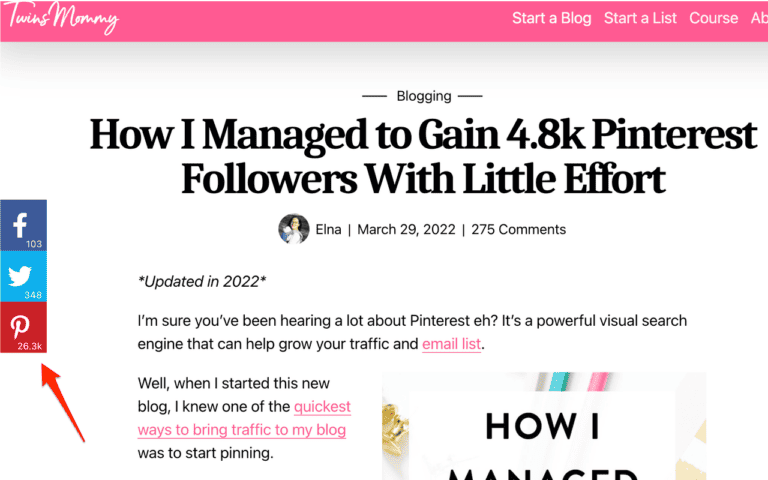 Find topics around tips and ideas to gain a boost in traffic.
This is the Exact Time to Grow on Pinterest
I hope you enjoyed this post!