You should be.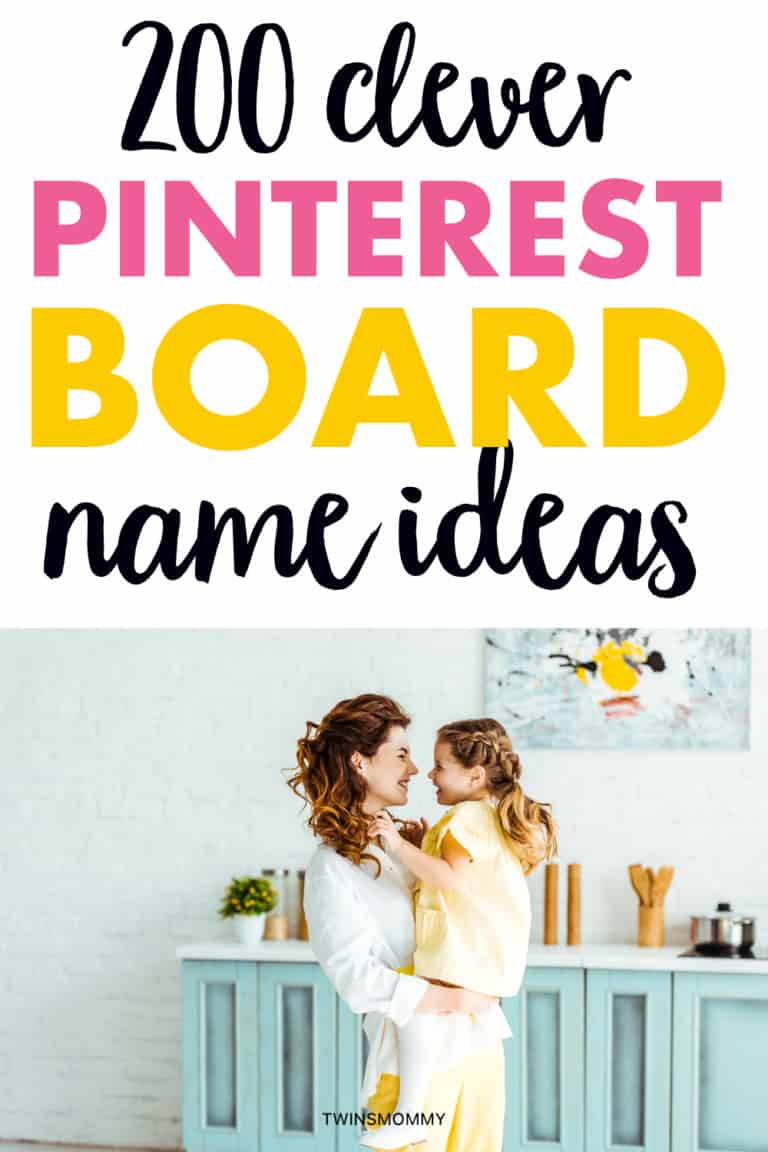 With the explosion of AI writing tools like Jasper AI, ChatGPT and how Google and Bing will change the SERPS for AI, it's in the best interest for new bloggers to use another platform for traffic.
And you know what social media platform that is?
Pinterest.
I started a niche blog last year and the #1 traffic source that helped me make $150/month with affiliate marketing was Pinterest.
So, if you need help with figuring out the best Pinterest board names to grow your traffic, gain subscribers and more importantly, make that cash, check out my list of 200 of cute Pinterest board names.
What's in the Name of a Pinterest Board?
Look –
As a pinner, you can have creative Pinterest board names or baddie Pinterest board names!
The sky's the limit, but there is a catch.
If you want to gain subscribers for your email list, traffic for your new blog and money for your affiliate marketing tactics, then you need to make sure that your Pinterest board names are recognized by Pinterest.
This means that if Pinterest understands that your meal prep pin in your best meal prep ideas Pinterest board, Pinterest will serve up your pin to help someone who searches on Pinterest for chicken meal prep ideas.
Pinterest loves categories and slotting your Pin ideas into categories.
You can see this structure when you use the Pinterest search bar and you see bubbles of other ideas.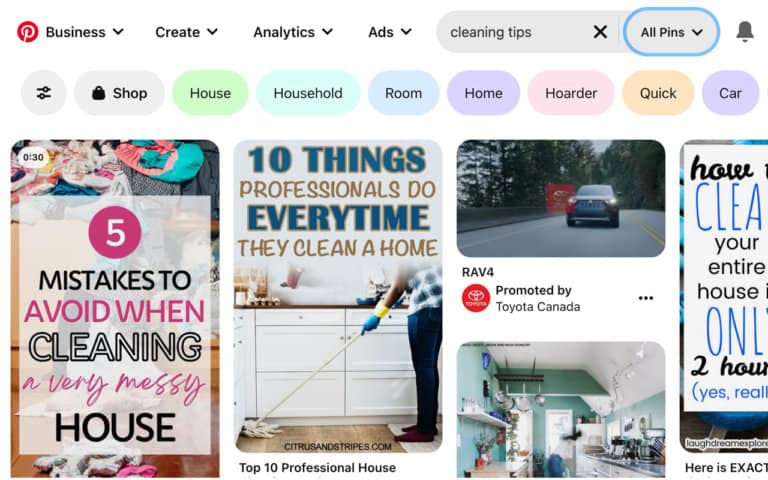 So, if you decide to create a Pinterest board name like: "My Random Thoughts" and put a catch all of idea Pins and shopping pins or video pins into that board, Pinterest will have a hard time figuring out what your Pinterest board name is all about.
It's a good idea to look at your blog's categories and the blog posts you write and create good Pinterest board names from that.
To get you started, let's look at specific blog niches and board names for those niches.
45 Pinterest Food Board Names
Have you started a food blog yet?
Just thinking about it makes me hungry! To compete with the thousands of food pins on Pinterest, let's look at highly targeted Pinterest food board names to help you get more traffic to your blog.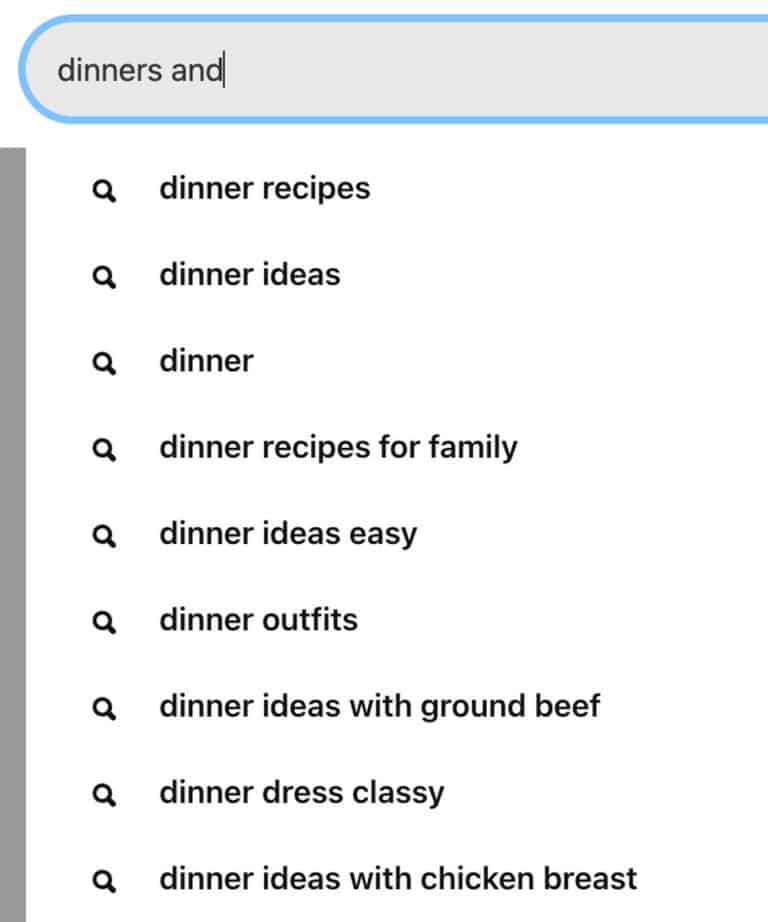 17 Dinner Food Pinterest Board Names
Dinner recipes for family
Dinner ideas with ground beef
Dinner ideas with chicken breast
Easy Dinner Ideas
Quick Dinner Ideas
I would stay away from the generic "dinner recipes" and "dinner ideas" as this is too general for Pinterest to pin point your pins for these boards.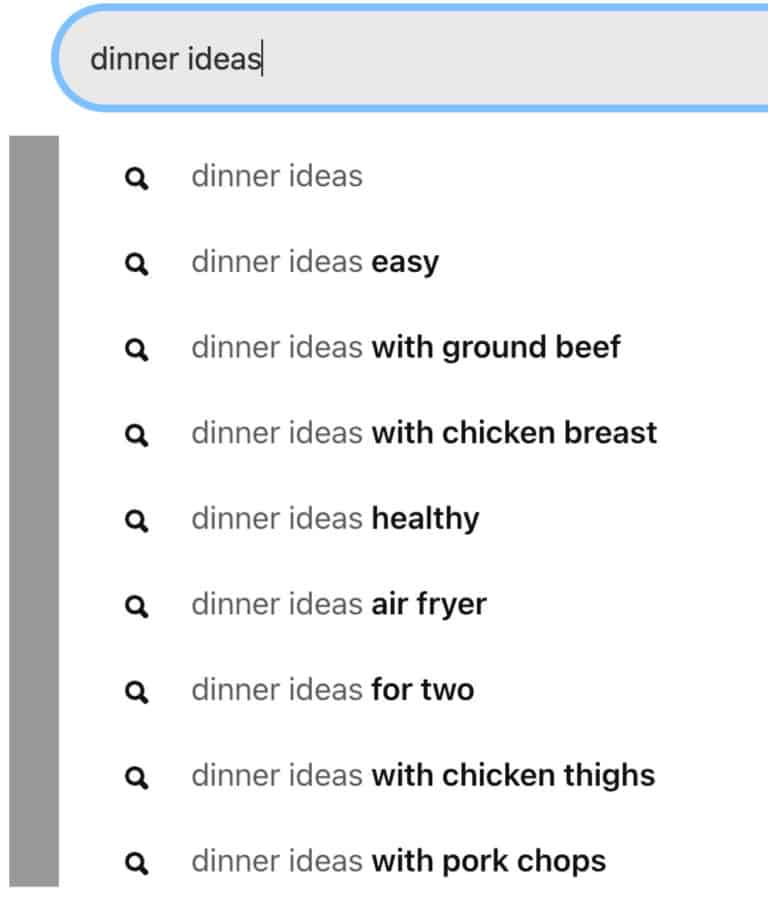 Healthy dinner ideas
Air Fryer dinner ideas
Dinner ideas with pork chops
Dinner ideas for two
Dinner ideas with chicken thighs
You'll notice with this list of Pinterest board names I mention ideas for chicken and a sub-category of dinner ideas with chicken thighs.
Should you have two Pinterest board names for these ideas?
If your food blog has a lot of blog posts around chicken thighs then YES create a chicken thighs food board.
But, if you don't, then just have the umbrella name of Dinner ideas for chicken.
If you plug in "dinner ideas" on Pinterest you'll see many bubble names. You can use those for your Pinterest board names too.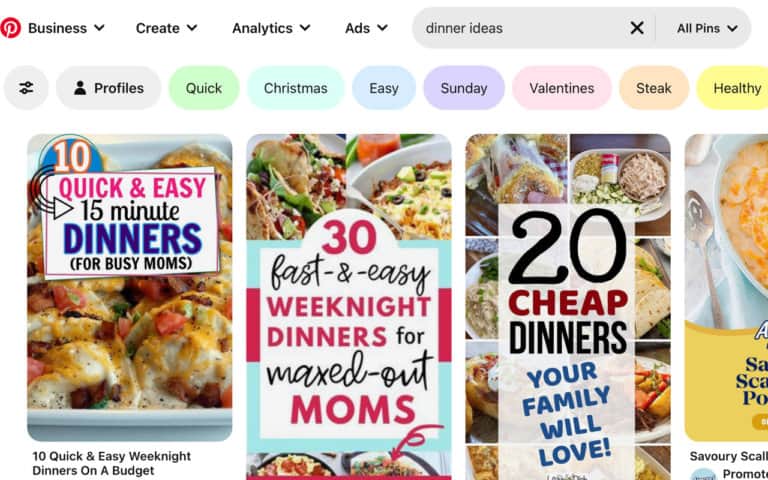 When you do this you get these Pinterest food board names:
Sunday dinner ideas
Valentine's Day dinner ideas
Dinner ideas with steak
Christmas dinner ideas
Meatless dinner ideas
Birthday dinner ideas
Dinner ideas for busy moms
15 Breakfast Food Pinterest Board Names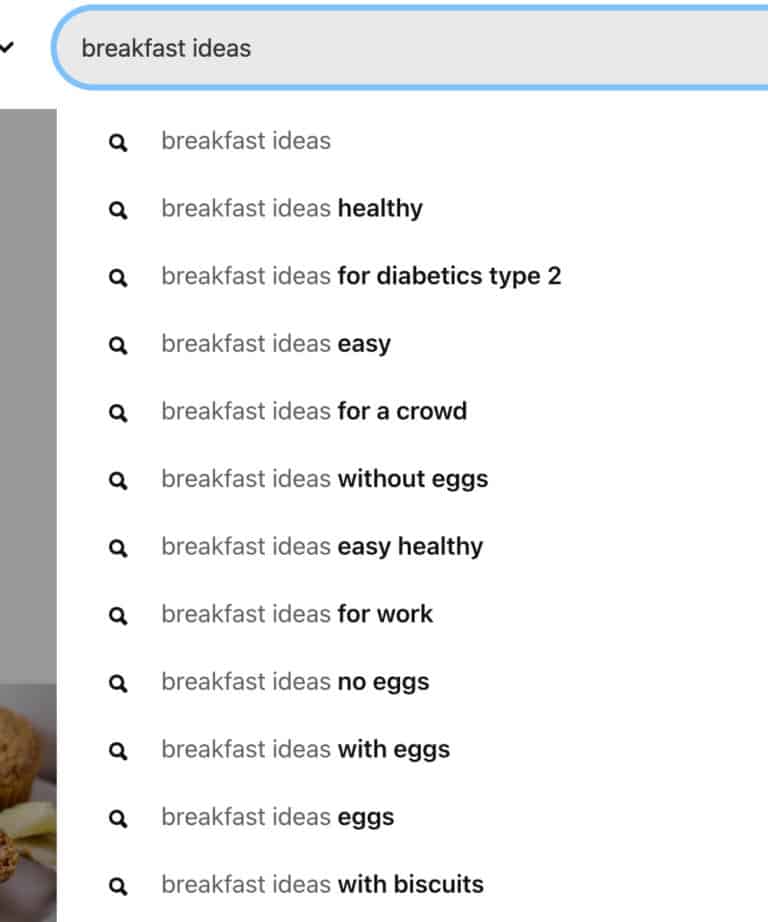 Healthy breakfast ideas
Breakfast ideas for Diabetes Type 2
Easy breakfast ideas
Breakfast ideas for a crowd
Breakfast ideas without eggs
Breakfast ideas for work
Breakfast ideas with eggs
Breakfast ideas with biscuits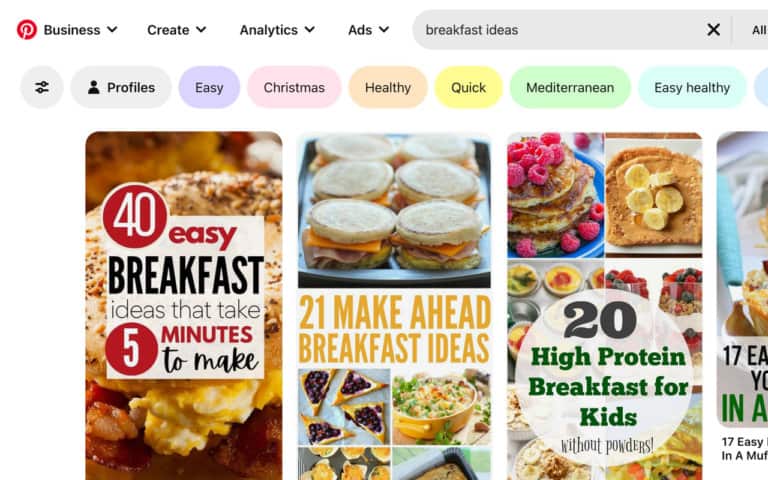 Easy breakfast ideas
Christmas breakfast ideas
Healthy breakfast ideas
Quick breakfast ideas
Mediterranean breakfast ideas
Keto breakfast ideas
Easter breakfast ideas
13 Dessert Food Pinterest Board Names
You can go a level up and search just the name like just Dinner or just Dessert to see more Pinterest board names to choose from.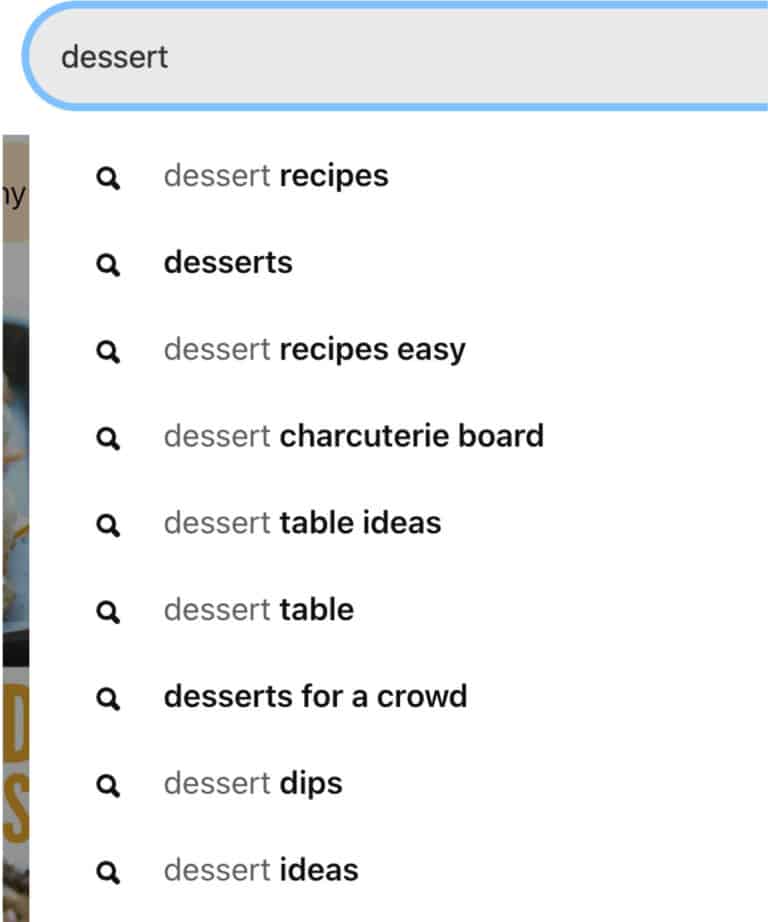 Easy dessert recipes
Dessert charcuterie board ideas
Dessert table ideas
Desserts for a crowd
Dessert dips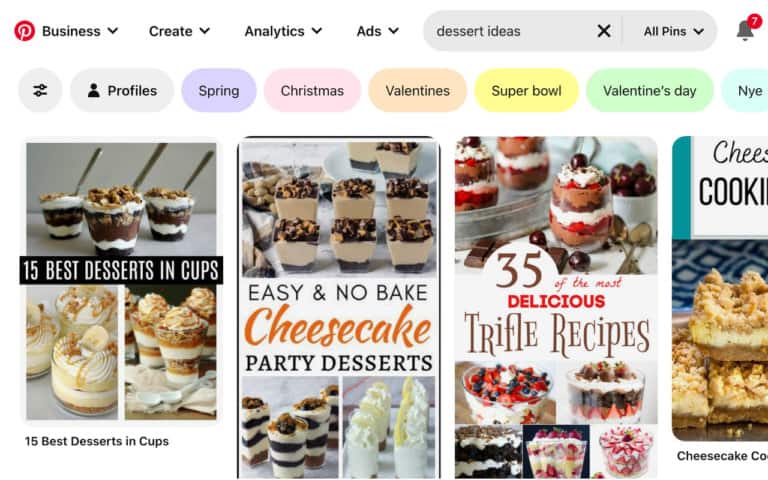 Christmas dessert ideas
Valentine's dessert ideas
Super bowl dessert ideas
St. Patricks day dessert ideas
New Years Eve dessert ideas
Brunch dessert ideas
Dessert ideas for a party
Simple dessert ideas
35 Wedding Pinterest Board Names
If you have a relationship blog, wedding blog or you sell wedding dresses, you definitely need some Pinterest board names for everything wedding!
So, let's look at some aesthetic Pinterest board names for wedding.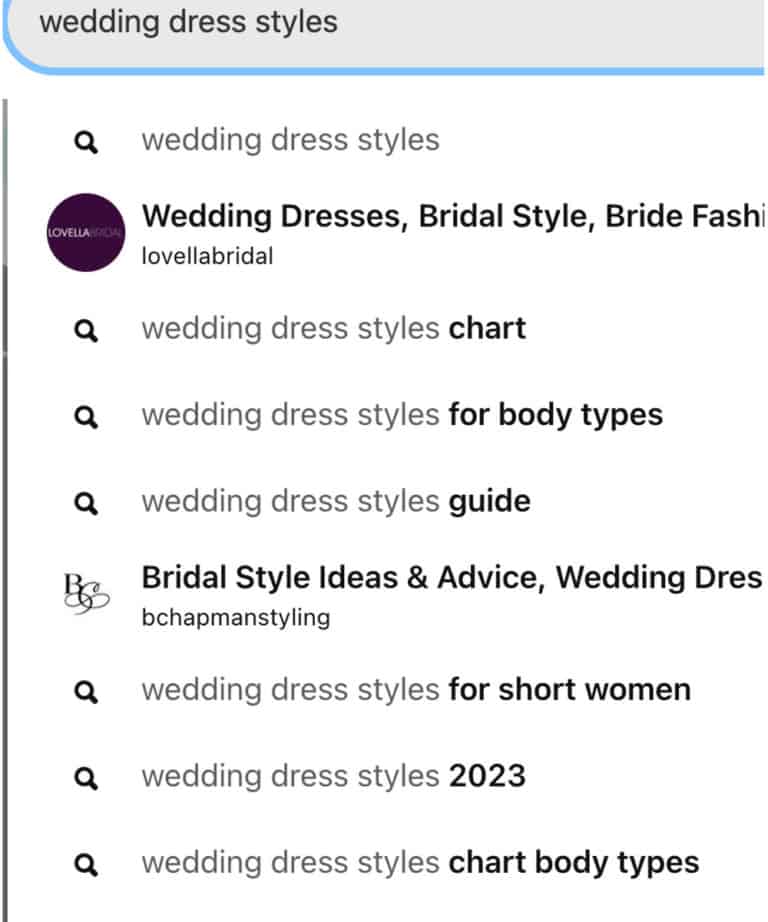 Illusion sleeved wedding dress styles
Alluring A-line wedding dress styles for body types
Something blue wedding dress styles
Mermaid & trumpet wedding dress styles
Beautiful short wedding dresses
Enchanting ball gown wedding dresses
Summer boho wedding dress style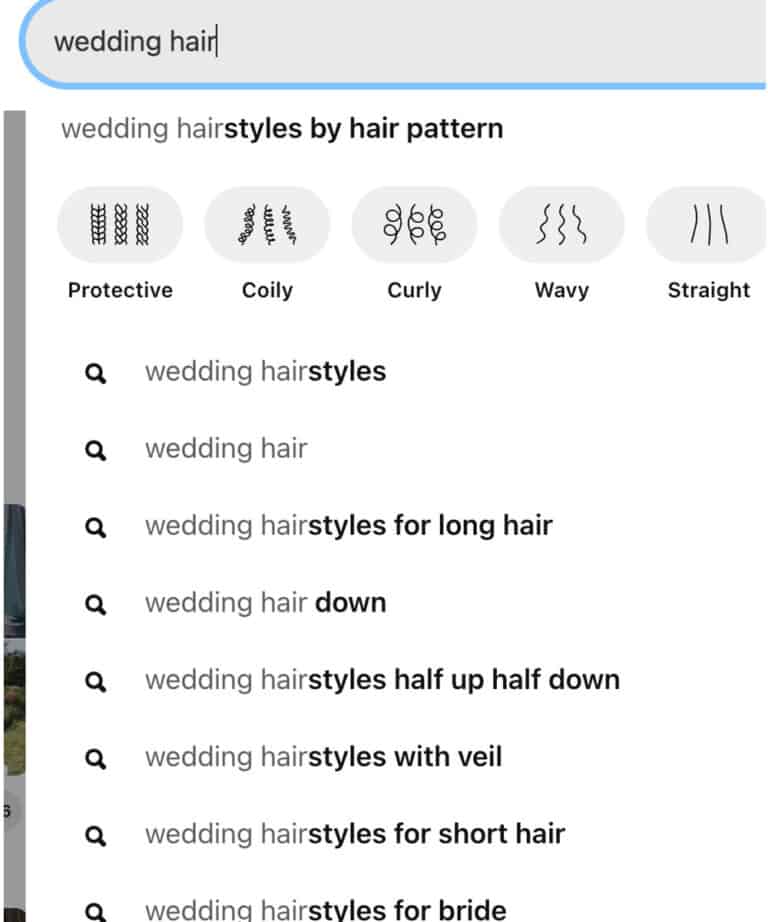 8 Wedding Hairstyle Pinterest Board Names
Gorgeous wedding hairstyles for long hair
Beautiful wedding hair down ideas
Glowing wedding hairstyles half up half down ideas
Magical wedding hairstyles with veil
Alluring wedding hairstyles for short hair
Sophisticated wedding hairstyles for bride
Wonderful wedding hair updo
Easy Wedding hair and makeup
4 Wedding Makeup Pinterest Board Names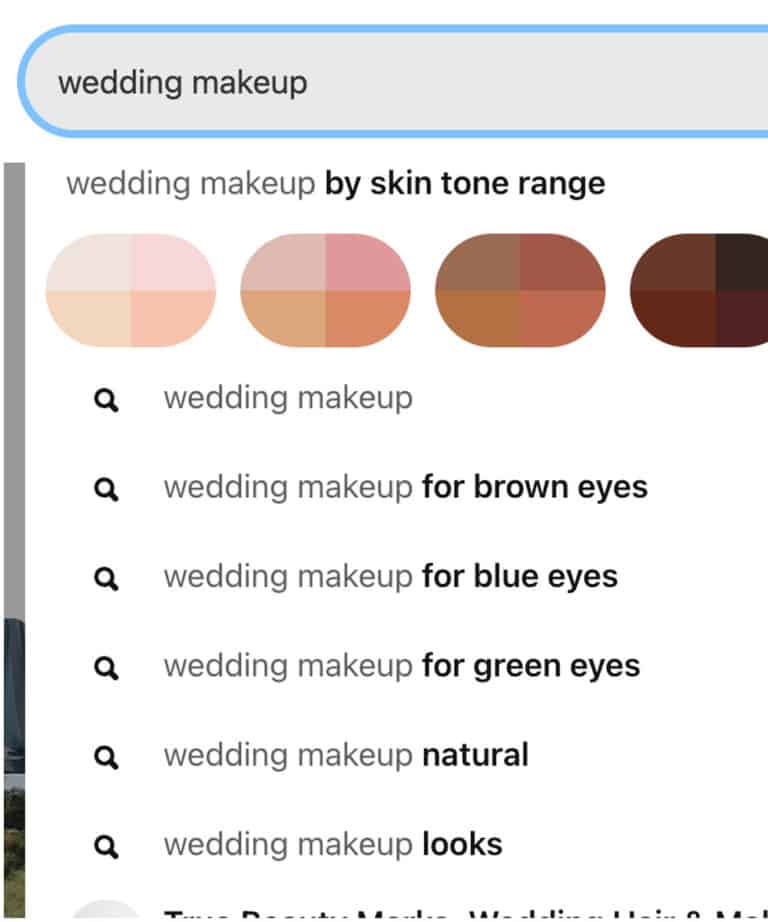 Gorgeous wedding makeup for brown eyes
Stylish wedding makeup for blue eyes
Piercing wedding makeup for green eyes
Beautiful and natural makeup look
7 Bride and Groom Pinterest Board Names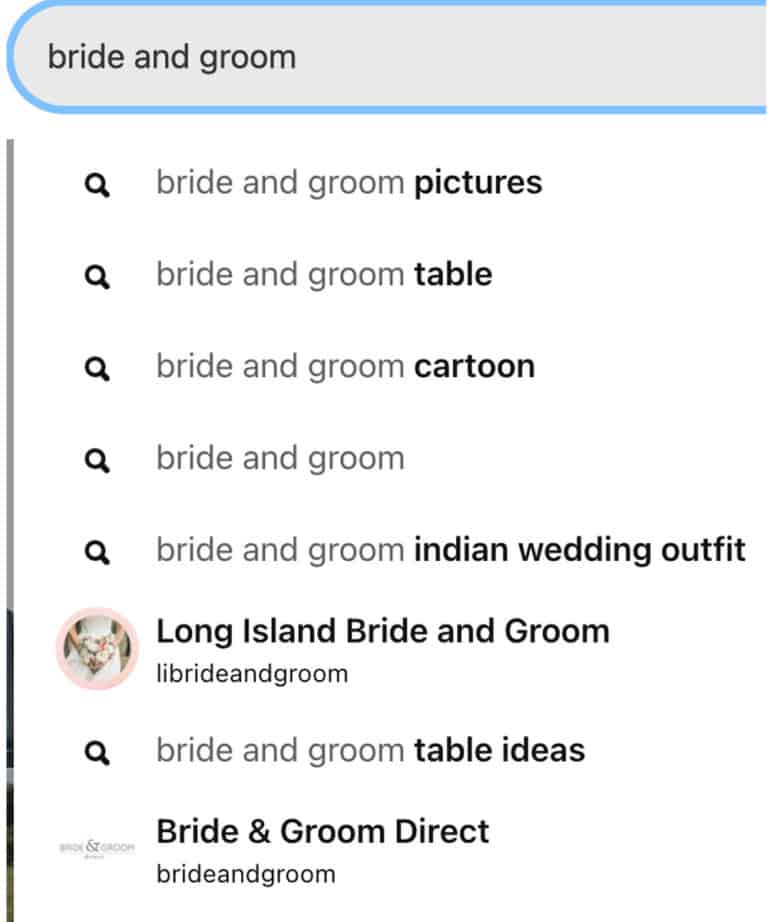 Romantic bride and groom pictures
Cute bride and groom glasses
Professional bride and groom photos
Wonderful bride and groom poses
Best bride and groom silhouette
Creative bride and groom table ideas
Inexpensive wedding gift ideas for bride and groom
9 Wedding Invitation Pinterest Board Names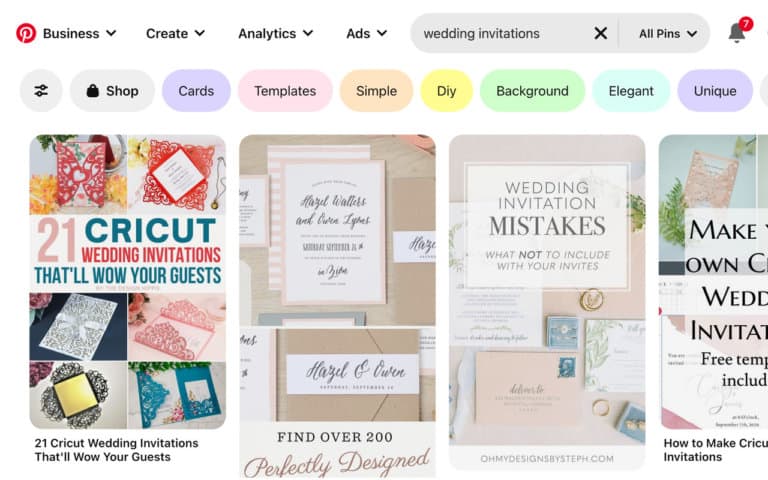 Cricut wedding invitation ideas
Simple wedding invitation ideas
Unique wedding invitation ideas
Minimalist wedding invitations
Rustic wedding invitations
Digital wedding invitations
Floral wedding invitations
Modern wedding invitations
Elegant wedding invitations
57 Creative Pinterest Board Names for Fashion and Hair
Pinterest is visual and everyone wants to go to Pinterest to look at the latest fashion and hairdos.
So, if your blog attracts those types of people, then it's best to have Pinterest board names for fashion and hair!
Here is a list of Pinterest board names for your lifestyle blog!
11 Pinterest Board Names for Clothes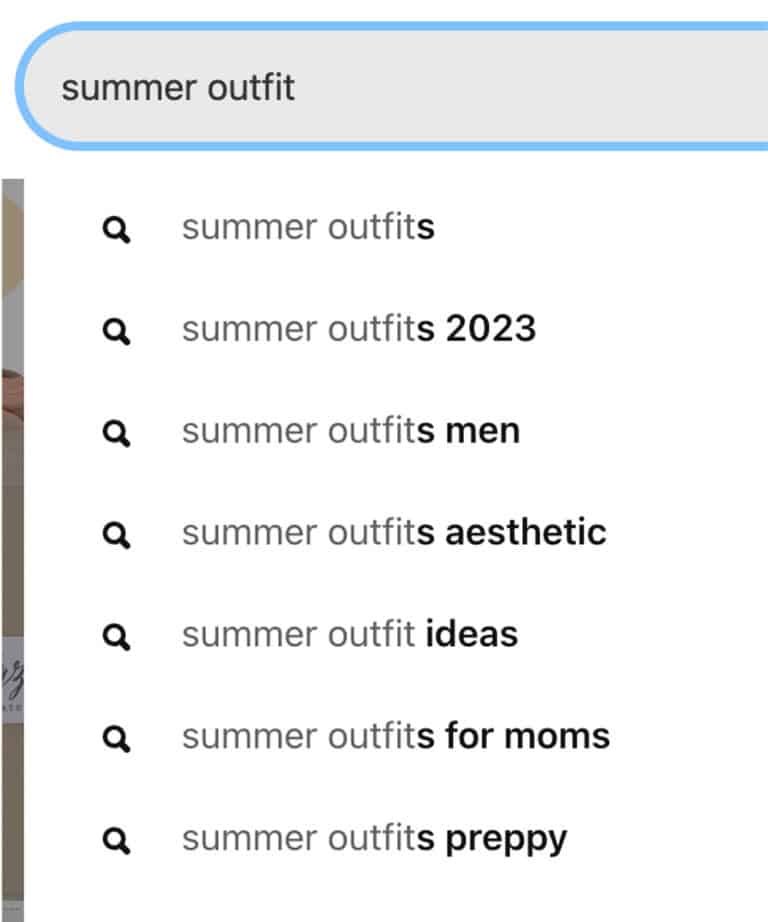 Summer outfits for men
Aesthetic summer outfits
Summer outfits for moms
Preppy summer outfits
Casual summer outfits
Plus size summer outfits
European summer outfits
Italian summer outfits
Boho summer outfits
Spring outfits
Chic summer outfits
6 Baddie Pinterest Board Names
Baddie summer outfits
Plus size baddie outfits
Night out baddie outfits
Baddie outfits for school
Winter baddie outfits
Latina baddie outfits
9 Jewelry Pinterest Board Names
Jewelry organizer ideas
Jewelry design ideas
Gold pendant design ideas
Black beaded jewelry
Silver jewelry
Black beaded jewelry
Clay beaded jewelry
Handmade jewelry
Aesthetic jewelry ideas
14 Pinterest Board Names for Nails
Nail inspiration
Nail design ideas
Nail art designs
Trendy nails
Ombre nails
Almond nails
Short square nails
Spring nail designs
Red nails
Green nails
Blue nails
Acrylic nails
French nails
Dip nail ideas
11 Cute Pinterest Board Names for Hair
Hair styles
Hair cuts
Hairstyles for medium length hair
Hair color ideas for brunettes
Hair color
Hair looks
Balayage hair
Front hairstyles
Curly hairstyles
Hairstyles for prom
3b curly hairstyles
6 Pinterest Board Names for Shoes
Shoes for women
Sneak shoes
Cute shoes to see
Trendy shoe ideas
Oxford shoe style
Cool shoe ideas
45 Art Pinterest Board Names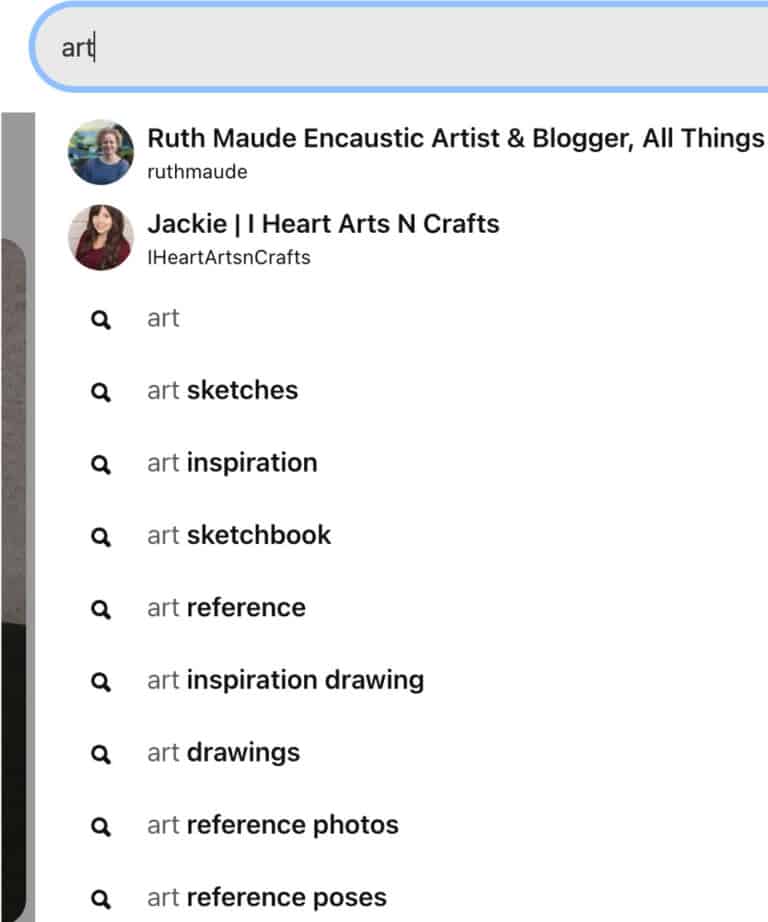 Art sketches
Art inspiration
Art sketchbook
Art reference ideas
Art inspiration drawing
Art reference poses
Cartoon art styles
Cutecore art styles
Cute art styles
Semi-realistic anime art
Aesthetic 90's art
Retro art styles
Romance art styles
Anime art
Cool art inspo
10 Pinterest Board Names for Quotes
Quotes about self love
Wallpaper quotes
Quotes for him
Good morning quotes
Friendship quotes
Heartfelt quotes
Funny quotes
Baddie quotes
Quotes that hit so true
First day of school quotes
10 Pinterest Board Names for Doodles
Doodle art
Doodle drawings
Aesthetic doodle drawings
Funny doodle drawings
Cute small and easy doodle drawings
Food doodle drawings
Ghost doodle drawings
Step by step doodle drawings
Doodle patterns
Floral doodle patterns
10 Painting Pinterest Board Names
Painting on canvas ideas
Easy simple painting ideas
Easy acrylic painting ideas
Rock painting ideas
Gnome rock painting ideas
Valentines painting ideas
Valentines rock painting idea
Wall painting ideas
2 tone painting ideas
Cool wall painting ideas
17 Cute Pinterest Board Names
Look –
If you want a personal Pinterest profile or a few personal Pinterest boards that are secret you can fill it with some cute, aesthetic, funny, creative, and clever Pinterest board names!
Cute DIY Dollar Tree crafts
Cute wallpapers for phone
Pink cute wallpapers
Couples cute halloween outfits
Cute family house
Cute family tattoos
Cute cat photos
11 Funny Pinterest Board Names
Sloth names
People on Segway
Dogs dressed up
Cats dressed up
Babies laughing
Race walking
Cake fails
Ugly nails
Outfit fails
Bad makeup fails
Funny dinner fails
How Do You Make a Pinterest Board?
If you are unsure how to make a Pinterest board, all you do is go to your profile and go to Saved.
From there chose the + icon on the right hand side.
This might change at times when Pinterest updates their user features.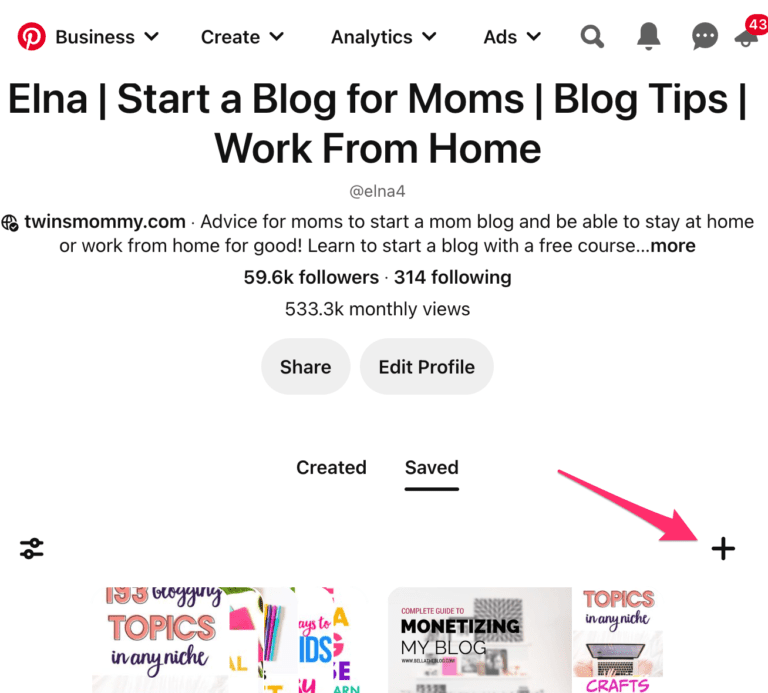 From there, choose Board and then plug in your board name.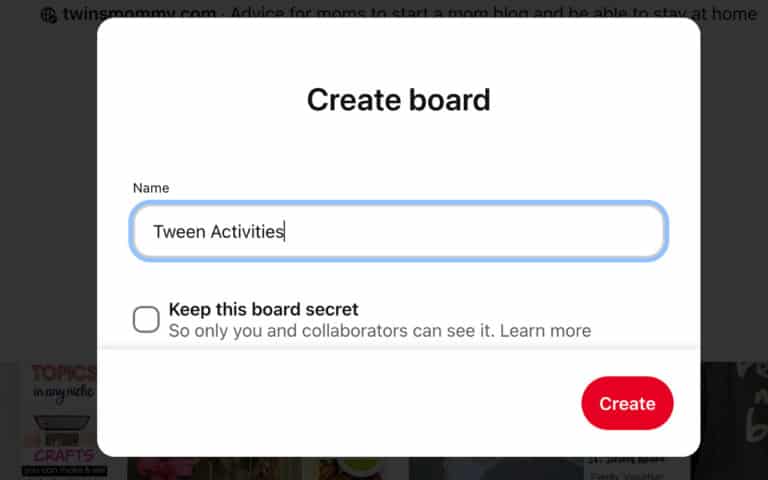 You can decide to keep it secret if this board name doesn't fit the brand of your blog or Pinterest profile.
For example, my Twins Mommy Pinterest profile has Pinterest board names for business and blogging and some parenting.
But, if I wanted to save dinner pins and other food pins I would need to create a secret Pinterest board.
My Niche Pinterest Board Names
Over on my niche website, I blog about cleaning, organization and home decorating tips for small places like an apartment or small home.
Knowing that my blog focuses around those core areas, I made sure to incorporate that when I created my Pinterest boards.
I also created a few similar Pinterest boards like "first apartment" and "first apartment checklist" or something similar.
This is to signal to Pinterest I want my profile to attract people who live in apartments.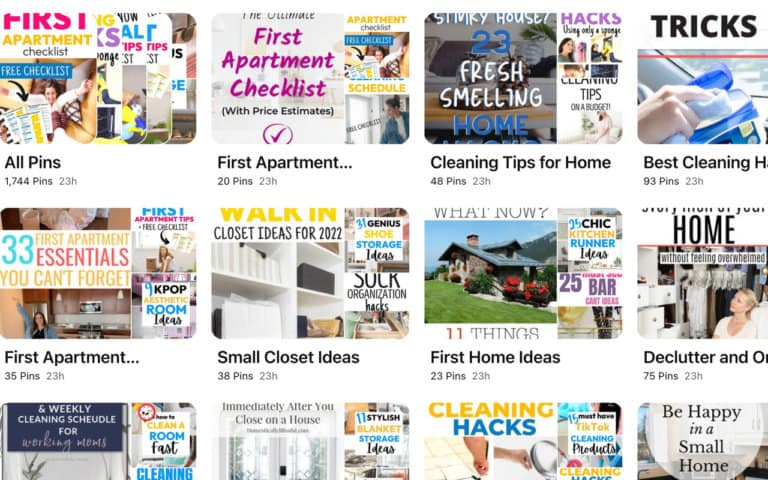 Pinterest Boards For You
I hope you found this list helpful for your Pinterest marketing strategy!
Let me know what Pinterest board names you created!