Did you recently start a blog and excited to write a blog post and share it?
You're waiting and waiting for that comment or to see how many times your Pins or Instagram posts were viewed.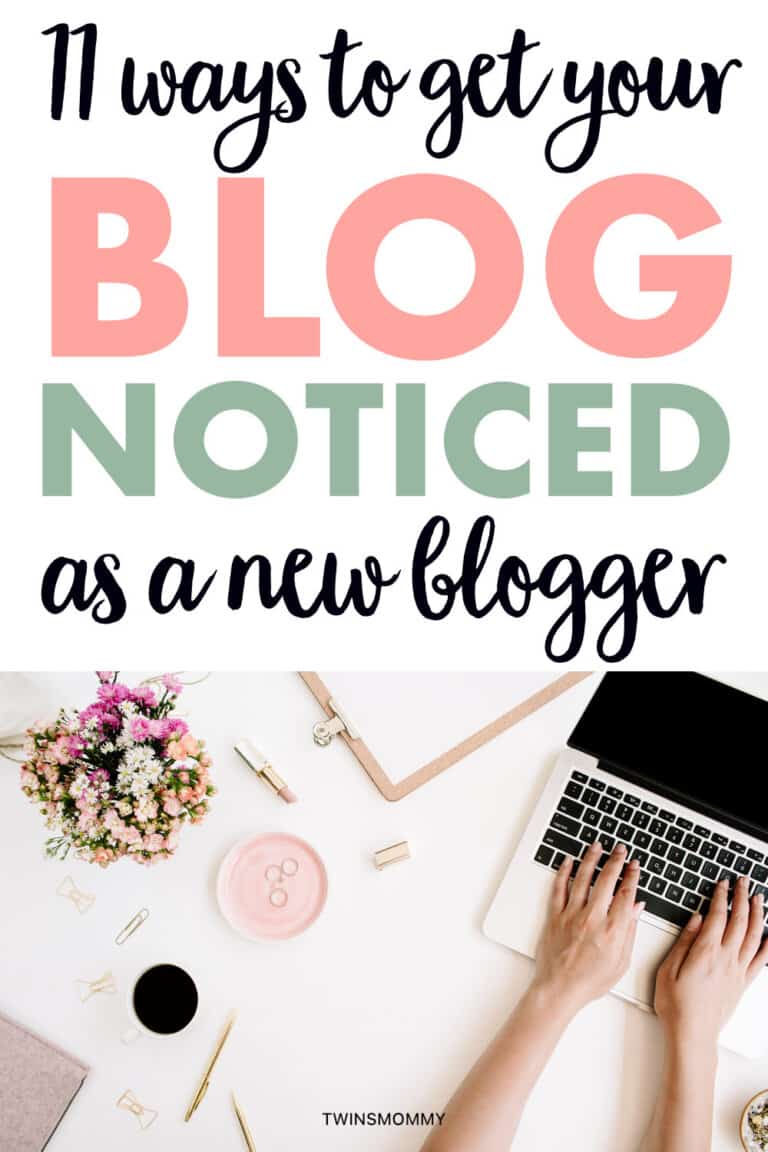 This is how you start growing your new blog – by actively gaining traffic.
The more eyeballs on your content, the more pageviews, which means more ad revenue, more affiliate sales, and so on.
It's that simple!
Start with traffic and it will lead you to income.
While you can generate traffic to your blog by paying to run ads to it, there are plenty of free ways to increase blog traffic to both your brand new content and your older, evergreen content.
So, what does this mean?
It means you can grow your blog for free, but it will take time.
The first year of blogging on Twins Mommy I generated around 23,000 pageviews (but then it jumped to 32,000 pageviews in the new year!).
I did this mostly through social media and connecting on my blog. The first free ways to get people to read your blog is with social media.
1. Get People to Read Your Blog from Pinterest
Pinterest has the ability to generate thousands and even hundreds of thousands of pageviews to even brand new blogs.
It's because the platform loves to see fresh content, or fresh pins.
This could be new pins for your older content or new pins for new content that you create.
You can easily create a ton of pins for both old and new content and use the Tailwind scheduler to schedule your pins to go live for a month or more in advance.
Of course, you can also pin your pins on Pinterest manually, which is also a great strategy.
However, scheduling them frees up time and you never have to worry about missing a prime time to pin your content.
If you need help in creating fresh new pins daily, check out my 52 Stylized Canva Pin Templates.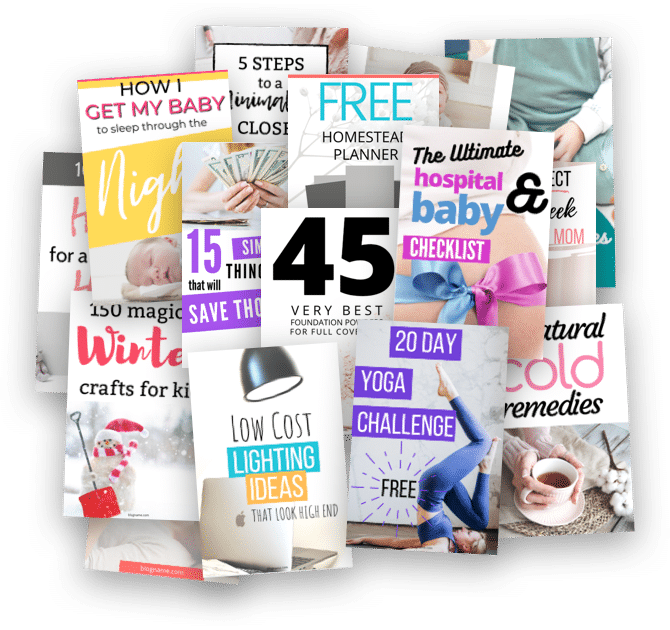 One of the biggest advantages of Pinterest over other social media channels is the half-life of a post on Pinterest is about 3 months rather than minutes or seconds.
This means that your content will stay relevant on Pinterst much longer than on other platforms.
If you want to check out more in depth strategies on how to grow your blog with Pinterest, then check out my Pin Promote Masterclass.
Another easy to use resource that I put together is the Pinterest Planner.
This has a planner to help you organize what you should be posting weekly, monthly, and yearly.
2. Use Instagram to Reach New Audiences
Are you on Instagram?
Is it necessary to be on that platform for your blog?
For the longest time I neglected my Instagram account. It wasn't until recently that I started engaging more with my followers, and my followers grew.
Over time I learned which type of content resonated on Instagram.
The one that connected with my audience is Instagram stories.
In a social media world where video content has skyrocketed in popularity, Instagram stories have helped bloggers and influencers connect to their audience in a more personal way.
Sharing stories with your followers allows you to give them a tease as to what you are working on.
It's been a while since I've connected with my audience with Stories.
Before you start sharing your blog content, you want to connect first. Here are some Instagram story ideas.
AMA
Behind the scenes of your business or life
Sharing one tip to help your audience
Update on your life or business
Once you've connected with your audience for a while, you can start sharing your blog content.
You can either update your bio link with the direct link to your newest blog post, you can add it to a link service, such as LinkTree that allows you to put multiple links from your main bio link, or promote it on stories with a graphic and letting them know to check your bio.
For more Instagram post ideas, check out my Medium post.
3. Connect on YouTube
Youtube can seem scary when you're a new blogger.
It was for me.
It took almost two years after starting Twins Mommy that I did video or Facebook lives.
I then repurposed my Facebook lives into Youtube videos.
It was just recently that I'm trying to create specific Youtube videos that haven't been repurposed.
I often do this in my YouTube videos by doing an overview of what I talked about in my blog post.
You can also put a shorter version of your blog post in the description of the YouTube video.
Here is an example of creating a Youtube video from a blog post.
A great way of doing this is the ability to add relevant links in your description or in your video.
When I promote links in my video I will share a free resource as a way to grow my email list.
When writing your description template, you want to be sure that you're adding all of your social media links, links to related products you are selling, or appropriate affiliate links.
This is what my Youtube description looks like for all videos: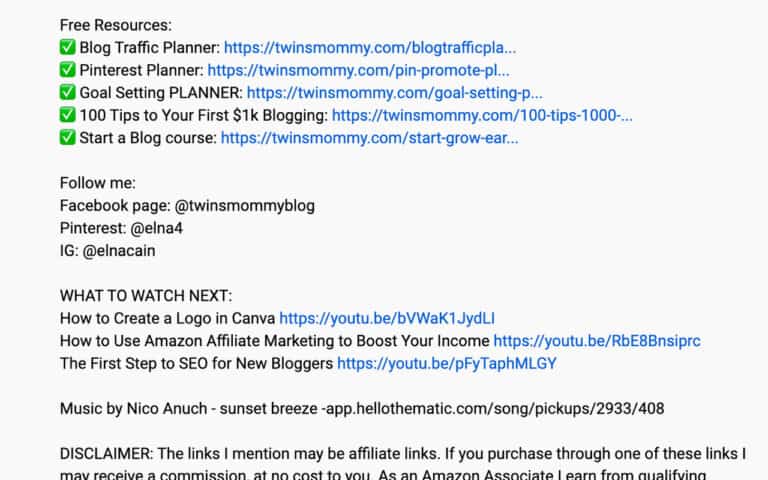 The goal of your videos is to get people to click back to your site.
As you can see, even though I haven't updated my Youtube channel in many months, it's still a top referrer back to my blog.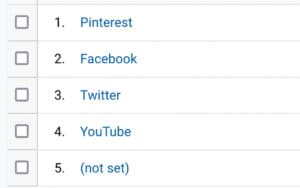 I know that if I create more Youtube videos, my Youtube will grow my traffic even more and could be one of my top 3 social networks to gain traffic to my blog.
Even if you are not comfortable being on camera, there are other ways that you can make videos about your blog post.
You can do voice over videos for explainer type videos.
You can also make a video with images and a text overlay.
These are great ways to start getting your feet wet with YouTube without stepping too far out of your comfort zone.
4. Grow Your Traffic with Facebook
I started my Facebook page for Twins Mommy early on and I feel it's a good idea as a new blogger to do the same.
With your own Facebook page you can promote as much as you want that's your content.
I do this all the time by sharing any summits I'm in, or my Instagram profile or my recent blog post.
You can even cross-post your YouTube videos on there, share great affiliate offers, or relevant content from other bloggers.
With Facebook groups, you can either start your own, or you can become part of other people's Facebook groups.
Be sure that you follow the rules when it comes to self promotion within the group.
You don't want to spam a group with all of your content and get yourself kicked out.
One of the advantages of having your own Facebook group is that you can promote your stuff all you want, even if other members are not allowed to post promotional content.
I own a Facebook group and I often share my latest products or blog posts.
As you can see in the above photo of my referral traffic, Facebook is #2.
5. Catapult Your Traffic and Income with Your Email List
Email is where the income is. It's true.
I can not stress enough how important it is to build an email list. If you haven't started already, do it now!
Your email list is the only traffic that you actually own.
Google, Facebook, Instagram, and any other platform can choose to shut down at any time and take your traffic and subscribers with them.
And, people ask about this a lot in Facebook groups. Here is one from my Facebook group.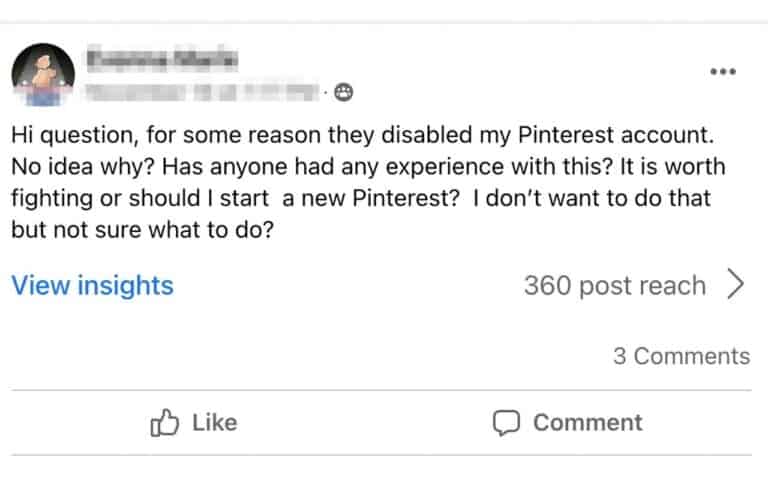 It's that easy for a social media platform to disable your account and you're left to refute it or create a new profile.
With an email list you're able to share more personal things like your home life, your children or project you're doing.
This relationship forms trust and with trust you are able to create income.
But, how do you use your email list to get people to your blog?
For me, when I email my list and share a blog post, my traffic skyrocketed!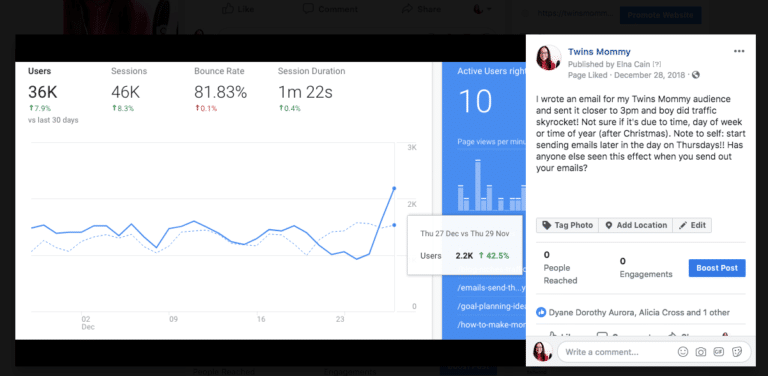 And you build this traffic and audience that raves about you with the type of emails you send.
I wouldn't get into the habbit of always sharing your latest blog post.
Instead, why not share a tactic and then repurpose an old blog post as the email?
I do this often and when I repurpose my blog posts, I also add the links that go to my blog post.
Here's an example of one of my email lists and using an older blog post as part of the email.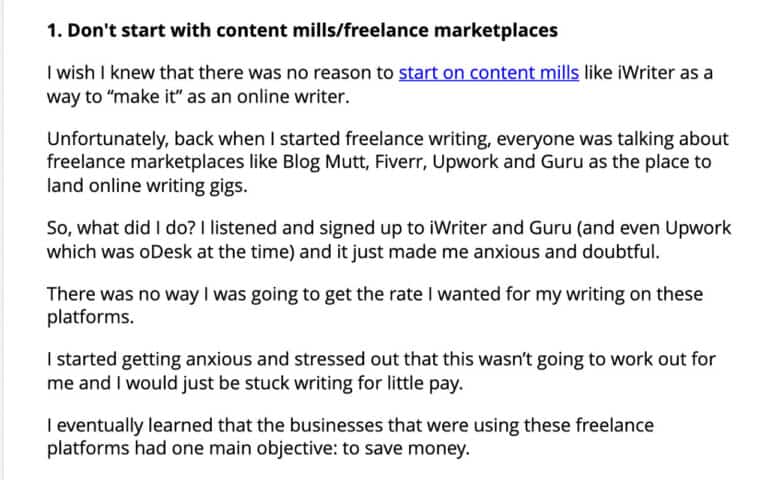 You can link to your posts within the email in a relevant way rather than just talking about "this is what my latest blog post is about."
The great thing about this is that you can get new traffic to older (not outdated) content.
Sharing a list of tips or ideas and linking to older content is a great way to boost traffic.
My favorite email service to use is ConvertKit.
While they do have a free version, it is best to use the paid version in order to optimize your email campaigns.
6. Get New People to Your Blog with Unsolicited Backlinks
A backlink occurs when someone else (preferably you don't know) links to one of your blog posts or to your entire site.
This type of backlink – unsolicited – is the best to get your content on page one of Google and to grow your domain authority (how influential your blog is to other blogs).
When sites that have a higher domain authority link to you, you gain some "juice" that helps rank your blog higher.
Here is a snapshot of recent backlinks from high domain sites (above 50 is excellent).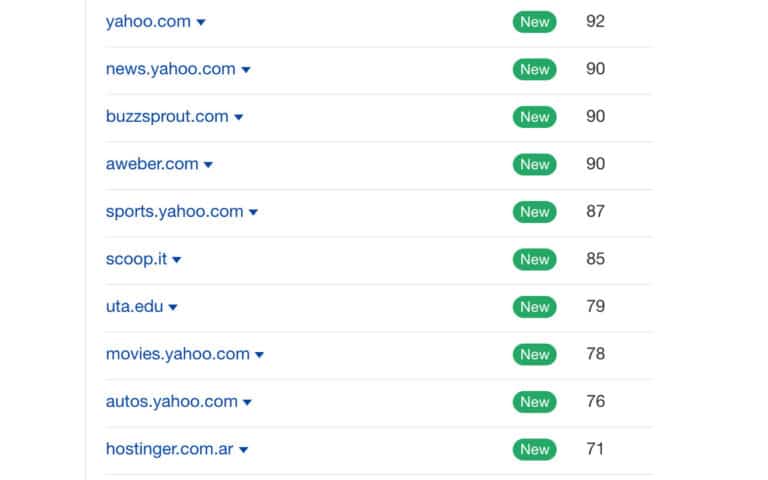 As you can see, Yahoo has been linking to me and because Yahoo has different divisions. This means I gain a backlink from Sports Yahoo, Autos Yahoo, News Yahoo and Yahoo.
Syndicate content is what happened to me already and over time Google sees my content as authoritative, helping my content rank #1 on Google.
When you get unsolicited backlinks, your blog is introduced to new audiences.
When readers of other blogs read an article the hope is that they will click over to your blog from the article they are reading, thus bringing you new traffic.
Another great resource that I have that can help you to grow your traffic is my course, Ready, Set, Blog for Traffic.
My course has a great module on SEO traffic and backlinking.
7. Blog Commenting Can Get People to Your Blog Quickly
Blogs in general are a great way to drive traffic to your site, no matter what it is about or what you are selling.
Businesses like Tailwind or Starbucks use blogs to get email subscribers, new audiences, and new customers.
One sneaky (non spammy) way to get comment readers to check out your blog is to put your blog name in your name you use for commenting.
For example, when I comment on other people's blogs, it's with the name Elna @ TwinsMommy.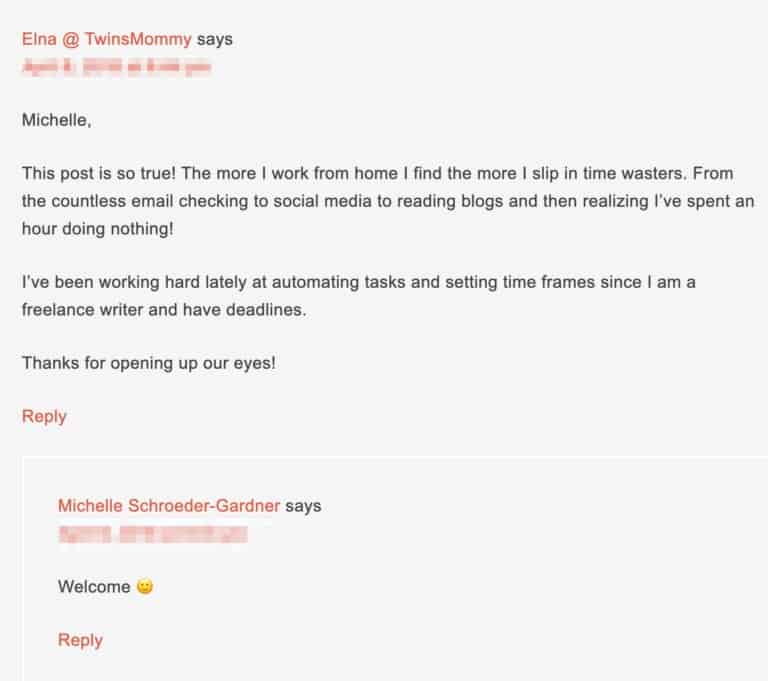 There's no (.com) to trigger any spam warnings.
By having a WordPress blog and using a theme like Astra, it will enable commenting when you set up your blog post.
8. Guest Posting
Guest posting was my #1 way as a freelance writer and then a mom blogger to gain traffic and a new audience.
When you are looking to guest post, you want to get your content on someone else's site where they can provide you with a little author bio.
Your author bio can include links back to your site or a freebie that you offer to help increase your email subscribers.
When I guest post for Twins Mommy, I usually have this in my author bio: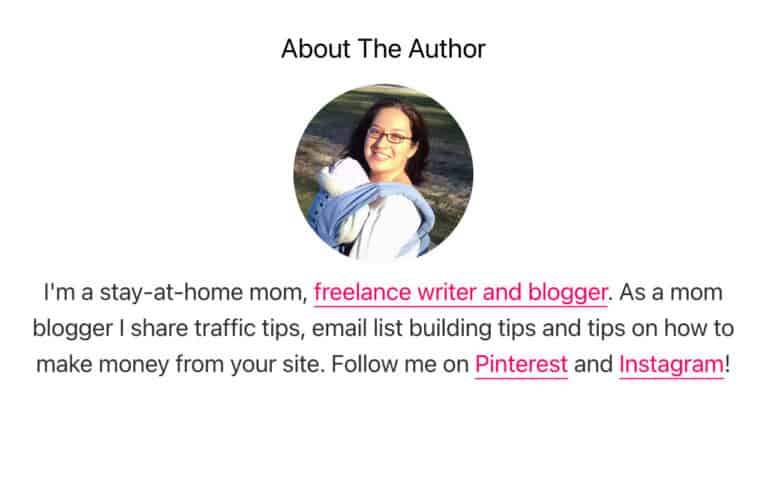 The link is to Twins Mommy and then in my author bio I share that I'm a mom blogger and how I help my audience.
This type of author bio can convert new people to click to your blog. I do this when I read a blog post and it moves me in some way.
I want to know who wrote that I will often click to the link provided in the author bio.
Some guest posts also allow you to put links to other content you may have written within the post.
Guest posting is a mutually beneficial way to share content with both your audience and the audience of the blog you are posting on.
If you are posting to a contributor blog, this can mean a lot of traffic back to your own blog.
For example, with my contributor blog at Imperfectly Perfect Mama, for each one of those posts (which are written by other bloggers) I post every blog to my social media accounts for that blog, thus generating more traffic for that blogger to their blog.
9. Get Featured on a Podcast
Do you like listening to podcasts?
I do, especially if I'm cooking dinner or doing the laundry.
It's a nice way to multi-task the right way!
Being featured on a podcast is really not much different than being featured on a blog.
You can connect with podcasters that are in your niche and see if you can be interviewed by them.
Often within the show notes of a podcast, they will list the links to your blog, website, and socials where people can find you.
For me, I reach out to podcasters either via Instagram or Facebook.
When they reply, I get into their podcast.
For example, Stephanie Uchima was a blogger I knew from way back when and I reached to her and she gladly had me on her podcast on how to start a mom blog.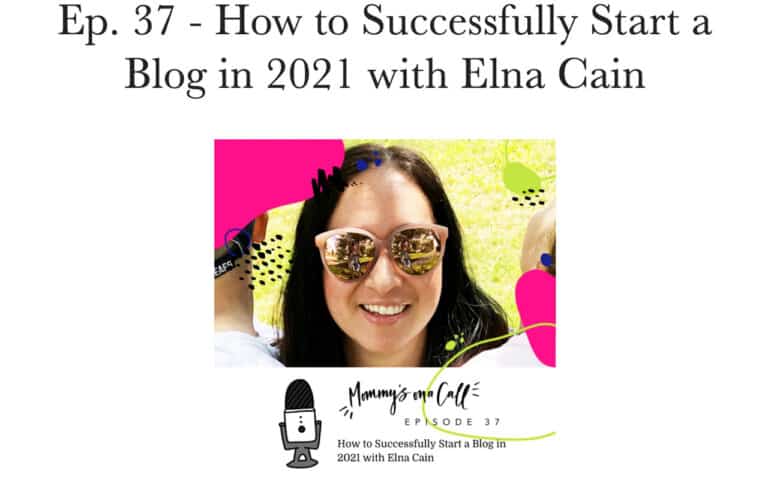 Podcasts are a great way to connect with other influencers in your niche.
If you start a podcast of your own then you can interview people that you find influential and that you want to meet.
10. Summit or Virtual Summit
Guess what mamas?
After blogging for a while I was asked to speak in summits!
I was shocked but happy to be involved.
Becoming part of a summit as a speaker, is a great way to share your knowledge and grow your audience.
Similar to a podcast, those that speak in summits often have a bio somewhere on the summit webpage where they can feature their own website and social media handles.
Often, as part of being in a summit, you can include your lead magnet to help to grow your email list.
This is a great way to get new subscribers to your website and to become fans of you and your content.
Sometimes the summit will have a page of all the speakers and keep it updated until the next summit.
Here is my section on the Blogger Breakthrough Summit.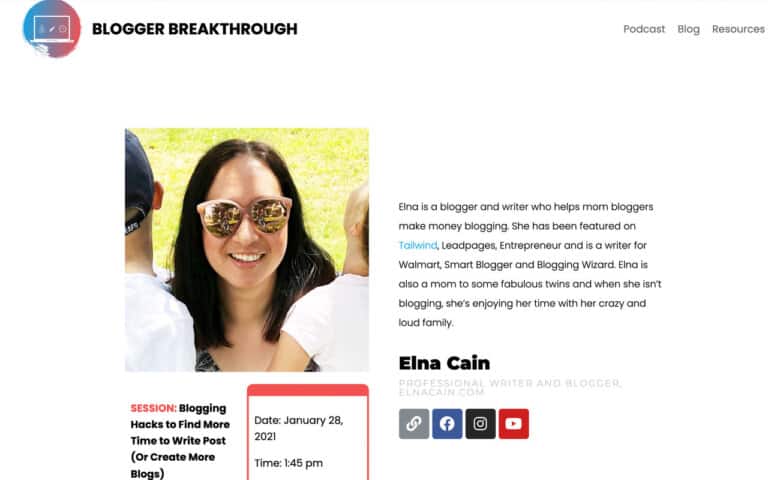 Not only are you able to gain new subscribers, you are also gaining a new audience who might not have known about you before.
This new audience is then being exposed to your content and will hopefully in the future become a customer or student to one of your courses.
11. Listent to Influencers
Recently, I had influencers answer one of my blog posts about how to get your blog noticed.
I feel, before you get people to your blog, you need to set you blog up to get noticed first!
You might be wondering, well, Elna, I don't know any influencers.
That's okay. When I first started Twins Mommy, I didn't know who were the big mom blogs.
So, you know what I did?
I Googled, "best mom blogs" and found round ups of other mom blogs.
And, then, to help me connect with influencers, I included them in my round ups.
I may then tag them on Twitter or Facebook when promoting this post.
This usually gets them to check out what I wrote about them.
Get People to Your Blog Right Now
There you have it, free and simple ways to get people to read your blog!
Study these tactics and start using them for your blog! Comment down below and tell me about your blog!