Hi there!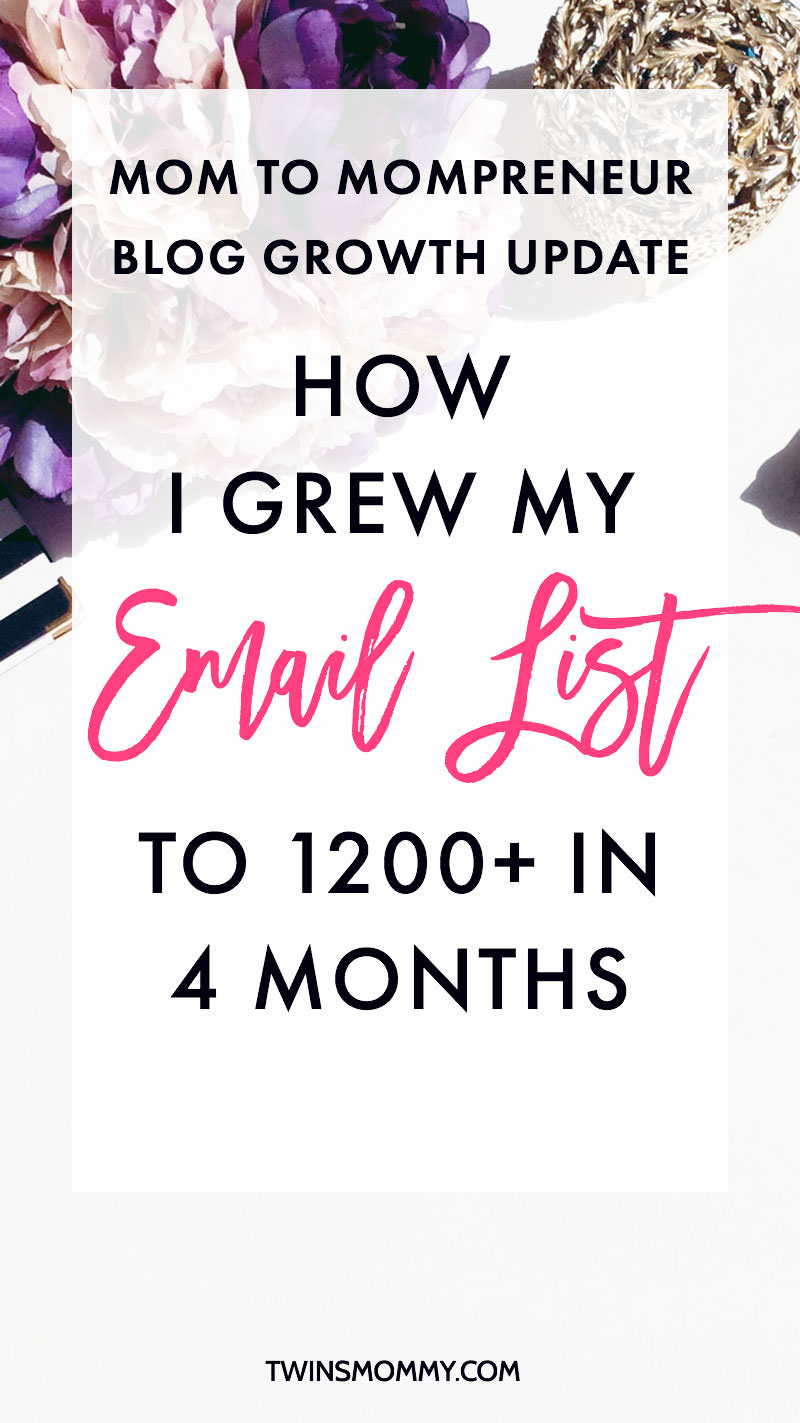 Welcome to my series, Mom to Mompreneur Blog Growth Update! Wow! that was a mouthful.
For those of you who are new, my name is Elna Cain and I'm a freelance writer and a mama to twin toddlers.
I started TwinsMommy back in March as a way to blog some more – because I just love blogging ? – and engaging with a new audience.
It wasn't until about a few weeks later – in April – that I really wanted to grow this blog.
I wanted to start a new blog and grow traffic, readers and income and share my story because I know a lot of you are struggling growing your blog too!

I also want to help mamas go from being a mom to being a mompreneur.
Blogging just for the sake of blogging isn't going to earn you income. Turning your blog into a biz and then creating products, well that's where all the money is. And I'm chronicling that journey with you!
To catch up with how I'm growing my blog, check out my blog growth series:
If you're interested in growing your blog too, make sure to check out my series and see if my tips help your blog, income and audience grow.
Let me just say that August was the craziest and busiest month EVAH! Gymnastics for the twins, marketing and planning my projects and client work kept me busy.
But, in terms of traffic and income for this blog…wump wump wump! Not much growth at all (but I had growth in other areas – uh, like my email list! – so keep reading!)
And well, of course the slump got to me, so instead I put my focus on planning and freelance writing (well yea, since that pays the bills).
Okay, let's get to the numbers.
1. On My Site
August was my slowest month so far. The summer slump really hit my site – although from reading other blogger's reports, it didn't hit them as hard. Go figure.
Here are July's stats for comparison: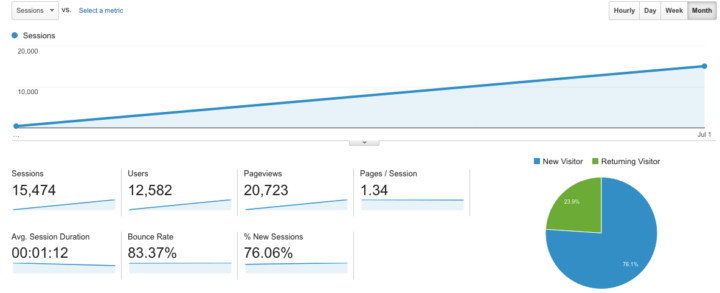 And here are the analtyics for August:

See? Told ya! Not much growth in terms of pageviews, but I did have some improvements!
More people are returning back to my blog which is a huge plus in my book. This tells me people like what I'm writing and want to see what else I have.
My bounce rate is down a bit which also tells me people are staying longer on my site either reading my post or reading multiple posts.
Did I Accomplish My Goals?
Start looking at SEO strategies – It was very fleeting! I was encouraged though, when a Facebooker (is that really a word?) told me they found this post on the first page of Google for I think, free feminine stock photos or a variation of that keyword (more about this in the next goal).
Diversify my traffic source – YES! I'm still promoting my posts on Twitter using IFTTT and on Instagram. Oh, and my organic reach is growing (keywords and SEO – see below).
Work on a post on how to use Tailwind to automate your pins to help with affiliate sales – FAIL! No time to write that post.
Consider doing a sponsored post – FAIL! I seriously considered doing this (even agreed on a rate – $100 for 700 words), but ultimately decided it wouldn't be good for my brand. I don't want to dilute my brand too much by doing sponsored posts and affiliates for other products (like other courses and eBooks).
Okay. So what the heck happened in August?
Even though my pageviews and visitors didn't change much, the biggest thing that I found out was that my organic traffic went up considerably. Now, I don't know what it was prior to this, but I can assume it was way down the list.

But look! #3 freakin' three! So maybe my SEO strategies (AKA whatever words I come up with in my little head) is working!
Now, why am I going ballistic about this? Because having organic traffic means you can scale your traffic. You can build more authority and rank for more keywords.
See, even though Pinterest is my BFF and Facebook is my bae, you can't scale on those platforms. Eventually you reach a ceiling. So I'm happy that organic is one of my top 3 sources of traffic. This gives me hope that even though my pageviews suck right now, I'm building trust and rank in the search engines.
Another awesome thing that happened on my blog is that I hosted my first ever joint webinar with Kasey Luck over at Bold&Zesty.
And this opened the doors to do even more joint webinars with other bloggers. For now, I'm pretty busy with some projects for this blog, but looking do to some webinars soon.
Finally, one thing you may or may not have noticed is that I'm scaling back my posts. It's becoming super duper hard to write two amazing posts a week. So, I've been writing one post a week (sometimes a monster post) instead.
Did I Make Money?
August 2016 Income:
This income only includes money generated from Twins Mommy. It does not include my freelance writing service, course sales, coaching clients and writing clients.
Tailwind affiliate – $4
OptinMonster affiliate – $0
August 2016 Expenses:
This does not include my hosting fees, which would be about $10/month because Twins Mommy is hosted with my other sites on a cloud server.
Tailwind – $15
Mailchimp – $15
Total: $ -26
I still didn't come out ahead, but I knew that already. I'm not focused on generating affiliate income at this moment.
But, why?
Because my plan is to launch a product, and I've been working hard (with my husband) for a while on designing something for mompreneurs (see below).
Goals For September
Launch my printable Mompreneur Blog + Biz planner
Set up my Mompreneur Giveaway
Start planning another webinar
Aim for two posts a week
Increase organic traffic (it's around 6% now)
2. Pinterest Marketing
Pinterest came out with a new look and….I hate it! Oh well, I hate anything new and know it just takes time to adjust.
Anyways, I gained another 800 followers. This puts me at 4.3k followers.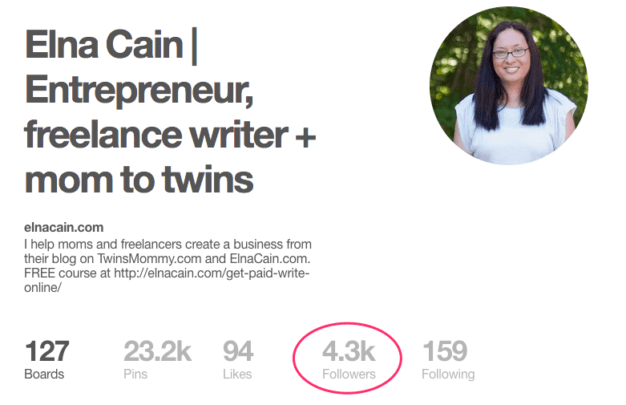 This is a slight decrease from last month, but still on the up and up! It seems though, on a month-to-month look, I'm not growing by leaps and bounds.
I know having lots of followers doesn't mean more traffic back to my blog. My average monthly viewers tells me how big of a reach my pins are generating.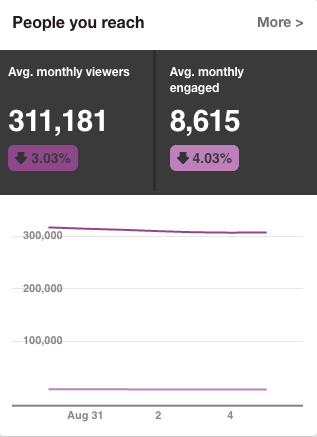 It's down from last month, which tells me that people are getting used to my pins. I know I've been pinning a crap load, so I have to really sit down and see how to adjust my strategy.
Did I Accomplish My Goals?
Create more new pins for popular posts – YES/NO. I have created other pins for posts, not just popular posts.
Monitor my new pinning strategy of 200 pins a day and if no huge change in my traffic, will go back down to around 130 pins a day. – YES. There's been a decrease in many areas so will start scaling back.
Generate at least 1k new followers (4.5k followers total) – FAIL. I was 200 followers shy!
For some reason, with the new Pinterest layout, it seems a bit more difficult to notice my typical pin image. It is easier, however, to notice my other pin images.
Knowing this, I need to start making more pin images for my older posts to revive them and reach a bigger audience.
Group Boards
I'm a big fan of group boards and every month I am invited to more boards. Currently I'm probably on 100 or more group boards, but I don't pin to all of them all the time.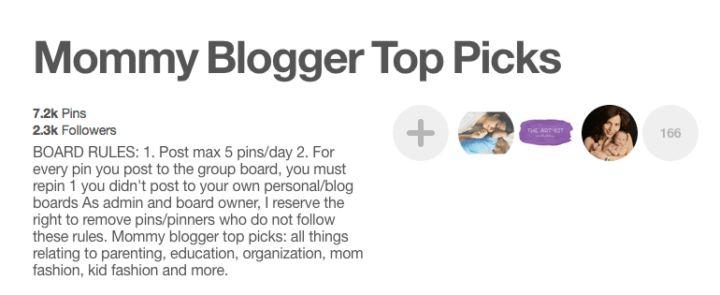 Some of them are very niche specific and other ones are very strict about how many pins you can post on their board.
Pinning Strategy
For the summer my plan was to beef up my pinning schedule – I use Tailwind to schedule my pins – to account for the summer slump.
Well, that didn't really help out and, in fact, kind of worked the opposite way. So now, I'm going to bump down to around 130-150 pins a day and monitor this for a while.
If I still don't see any change, then I will move down to 100 or so pins a day and maintain that level. With Pinterest's new look, they've also probably switched up their algorithm and are trying things out I assume.
The other day I saw this in the feed.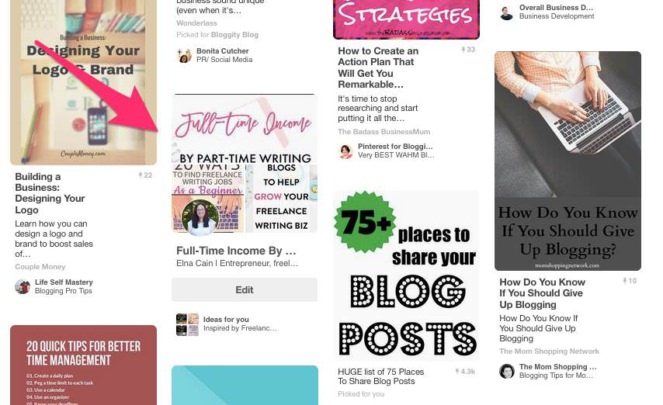 That's one of my freelance writing boards on the feed! So, it looks like Pinterest is also promoting your boards too!
Goals for September
3. Growing My Email List
My favorite thing. If you can't tell I'm in an email writing spree. My last two posts were about emails:
Let's get to the numbers.
Last month, I had 920 subscribers.
This month:

I gained 370 new subscribers in one month!
So, just in four months since starting my new blog, I gained over 1k subscribers! That's amaze-balls to me because this is a new blog in a overly saturated niche (make money mommy niche).
How did that happen?
Content upgrades
Webinars
My resource library lead magnet
It took a lot of hard work and a lot of writing, but I'm happy that it paid off. The fun will begin once I start monetizing my list.
Did I Accomplish My Goals?
Create more webinars – YES! (you can watch the replay if you sign up to my Mom Boss Vault resource library!)
Get ready for an epic giveaway – YES! I secured even more awesome giveaways and can't wait to write the post out and promote it.
Generate 500 new subscribers – FAIL! But, is it really? Nah! 370 new subscribers ROCK!
I'm getting emails practically every day of subscribers thanking me and asking me for advice. I LOVE it! People on Facebook are telling me they love my blog and can't get enough of it.
Having raving fans is the best! I'm over the moon excited knowing that people actually like my blog – spelling errors and all! 🙂
Goals for September
Launch my giveaway
Gain 800 subscribers (mostly from the future giveaway)
4. Blogger Outreach
Every month I have high hopes to guest post and comment on other people's blogs and every month I fail! It's difficult only because it is time consuming.
Last month I told you about a Blab I was going to do with Andrea Beltrami from The Branded Solopreneur. Well, that never happened because Blab shut down!
Wha-what? Yeah, a whole platform is gone. I guess Facebook Live took over! So, for now that is all up in the air.
For now, all my efforts are on my Mompreneur planner and giveaway (oh and my client work too!).
Did I Accomplish My Goals?
Feature more moms in more roundups- YES/NO! I did do a post featuring some YouTube mamas!
Connect with other moms and form a webinar with them – YES! Have connected and it's all in the works!
Right now, I'm happy with the connections I've made with other mommy bloggers. I won't make any goals for this month but will continue to blog comment when I can and network with other bloggers!
As I See It Now
September is a big content month for my freelance writing biz. It's also a big month for bloggers since traffic picks up again and we pump out epicness until the winter holidays.
I'm ecstatic that my organic reach is growing. I haven't done anything in particular on my blog to have that effect, but I'm happy that I'm now on page 1 of the SERPs (search engine results page) for some keywords.
As for Pinterest, I'm continuing to grow, but still very slowly. I'm not sure the reason behind that, but I suspect it could be that people are tuning my pins out?
Blasting your pins is great for new bloggers, but I guess my blog doesn't have that new car smell anymore.
I also have big plans for this blog, but because my twins don't go to school until next year (they are 3.5 right now!) and I'm still knee-deep into freelance writing (my course sales are great, but it hasn't replaced my freelance income quite yet) I just don't have the time to create a course or eBook or some other digital product (besides what I'm working on right now).
I also need to find out what I'm "known for." Is it for Pinterest marketing? Email marketing? Blog traffic generation? All of the above?
Once I figure this out, I can narrow my focus and find a profitable product. All of this is swirling in my mind daily, and I have a habit of wanting to do EVERYTHING like RIGHT NOW.
But, for now, I'm excited to launch my first product and I know it'll help mama bloggers and mompreneurs all around!
Over to you – tell me how you survived the summer slump, or maybe it didn't even happen to you (jelly here)?