Are you ready to start a new blog, or are you looking to turn your current blog in a new direction?
Then it's time to choose a blogging niche!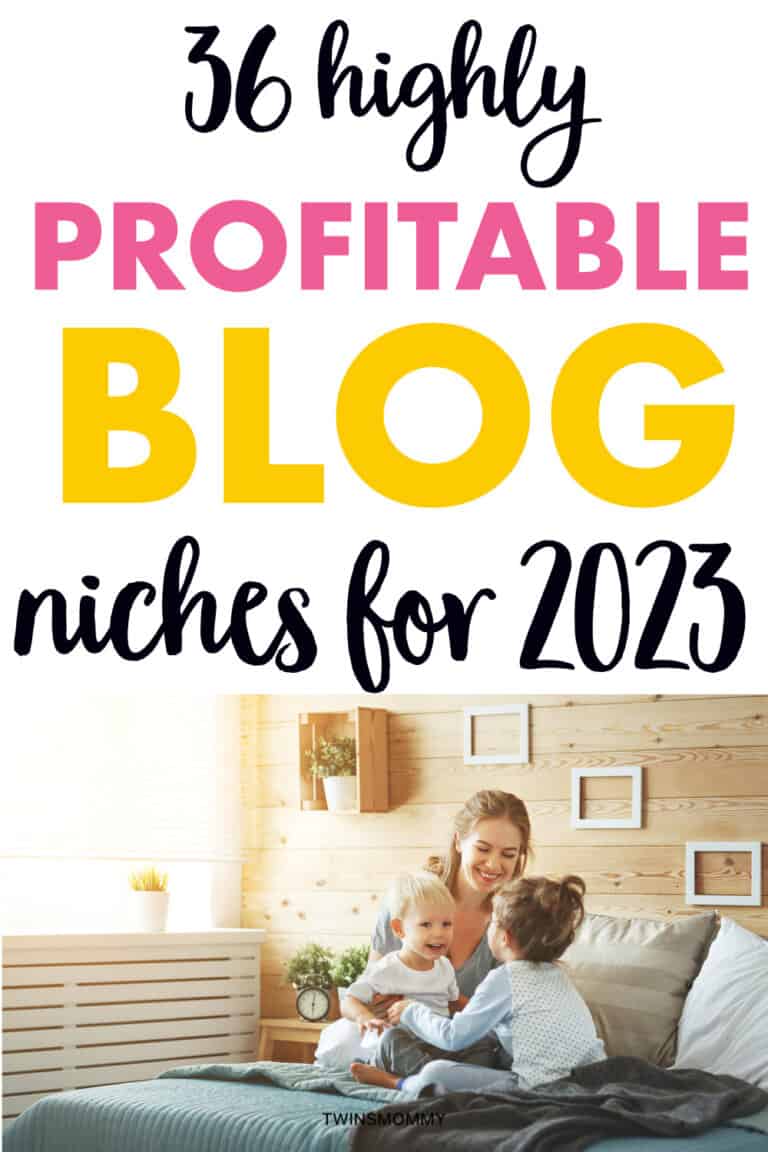 Choosing a niche can be tough, but it's one of the first things you need to decide when starting a blog.
A blog niche is the topic your blog will focus on, and it will help draw in traffic and lead your blog to success!
This is especially important if you want to make money from your blog.
The more visitors you have, the higher your potential for earning money through monetization.
Plus, if you choose a niche you are passionate about and knowledgeable in, you'll be more motivated and driven to give it your all.
To help you out, I found these highly profitable niche ideas to inspire you and get you started on creating an amazing blog.
Let's check them out but first let's check out the tools you need to make this work for you in 2023.
Elna Cain's Blogging Recommendations
I've been blogging since 2014 and have used many tools to help me rank in Google, grow my traffic and make money from my blog.
Here are the best tools you should get before you start blogging:
1. Jasper AI
AI writing tools are the wave this year but you know what?
Jasper AI is the best writing assistant and image creation tool for bloggers.
You can use it to write blog posts, emails, social media posts (I LOVE using it for my Pinterest descriptions) and more!
2. Easy Keywords Guide
I recently created an easy keyword guide that shares over 1,000 easy-to-rank keywords for new bloggers!
I share over 17 niches that moms start and in those I also give you affiliate niches so you can start making money that month!
Pick it up!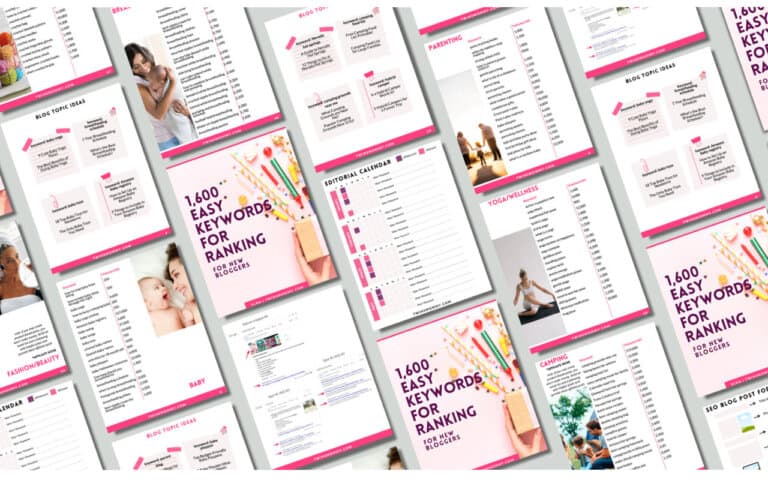 3. Pinterest!
Pinterest still works for bloggers, y'all!
For my new niche website, I started using Pinterest and grew my blog like wildfire!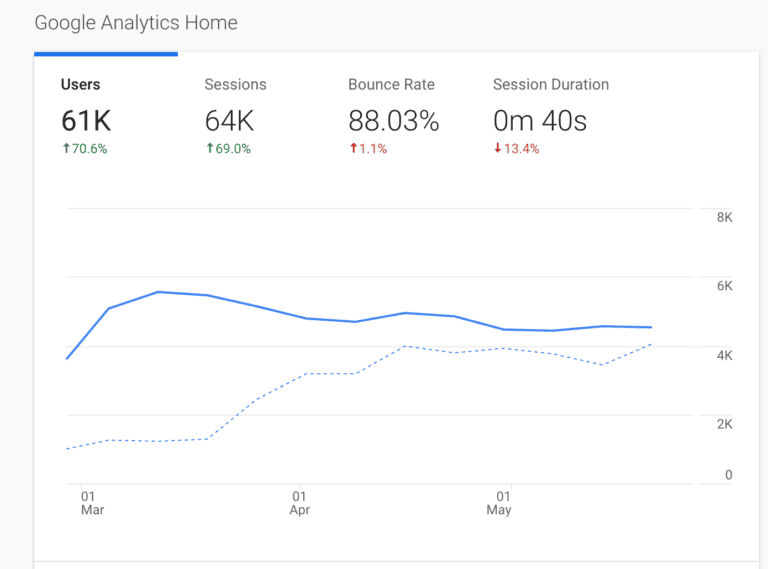 If you need help creating Pin images that make people automatically click, grab my pack of Canva Pin templates!
Health and Wellness
If you have an interest in health and wellness, a blog related to these topics can be quite lucrative!
In 2020 the health and wellness reached a value of $3.31 billion.
And if you start a health blog focussed on lifestyle living then you can stand to make some money for sure!
Interested in starting a blog but aren't sure what topic to choose?
Here are some ideas for blogs to start if you're interested in health and wellness
1. Weight Loss
Weight loss is always a hot topic when it comes to niche ideas, but many people don't know where to start.
If you have the know-how when it comes to losing weight, you can start a blog that offers tips and advice to help others get started.
One thing to note is that many healthy topics are hard to rank for. That's because popular and established sites like WebMD are snatching up those topics.
But there is still room for some easy keywords to rank for!
Some weight loss lifestyle topics that are best for new bloggers:
printable weight loss journal – You can purchase a journal, use it and then do a review on that one or list the best ones for busy moms or your ideal audience.
how to lose 45 pounds – Try to be specific in your blog post ideas. This way you can attract the right audience.
keto breakfast on the go – Create some amazing and easy keto breakfast ideas for busy people
2. Healthy Eating
Healthy eating is all about incorporating nutrition into everyday life.
Your blog can focus on different types of healthy eating, such as clean eating, plant-based eating, healthy snacking, and more.
You can include resources such as recipes and cooking techniques to help your readers.
And you can merge this topic with healthy living too!
Here are some blog post topics for you to try:
7 day family meal plan with shopping list – Again, we are being very specific in what we write about!
what to put in a salad – Have fun with this healthy eating topic.
low carb sweet snacks – Round up the best low carb snacks and even try them out yourself for authentic images!
3. Fitness and Exercise
Many people have an interest in getting fit but don't know where to start.
Your blog can focus on different types of exercises, such as HIIT or yoga, and offer tips and advice for creating a routine and getting started as a beginner.
You can include videos, tools, and resources.
Here are some blog topics you can use:
leg exercises with dumbbells – create some leg exercises with this topic
beginner upper body workout – Another great topic to add to your fitness blog!
clean eating breakfast ideas – Add some healthy breakfast ideas since it's related to fitness!
4. Dieting
Dieting is basically healthy eating with more structure.
You can focus your dieting blog on a specific type of diet, such as Keto, Mediterranean, and gluten-free diets, or help your readers manage their own diets through tools such as meal planning.
This fits well with the topics for healthy eating but you may only write about low carb and keto living or just a plant-based diet.
5. Mental Health
In the mental health niche, you can start a blog that provides mental health services, such as counseling and therapy, or develop products that support mental wellness, such as guided meditation apps.
6. Holistic Health
Holistic health is an approach to wellness that focuses on the whole person, including their physical, emotional, and spiritual well-being.
Your blog can offer a range of services, such as yoga, meditation, acupuncture, and massage therapy, to help people achieve holistic wellness.
7. Sleep Health
In this niche, you can develop products that support healthy sleep, such as sleep aids or apps that track sleep patterns or offer coaching services to help people improve their sleep habits.
8. Workplace Wellness
You can offer companies workplace wellness services, such as fitness classes and wellness coaching, or develop a software platform that helps employers implement wellness programs.
9. Senior Wellness
You can create a blog that provides senior wellness services, such as home healthcare or senior fitness classes, or develop products that support senior health, such as mobility aids or assistive devices.
Self-Improvement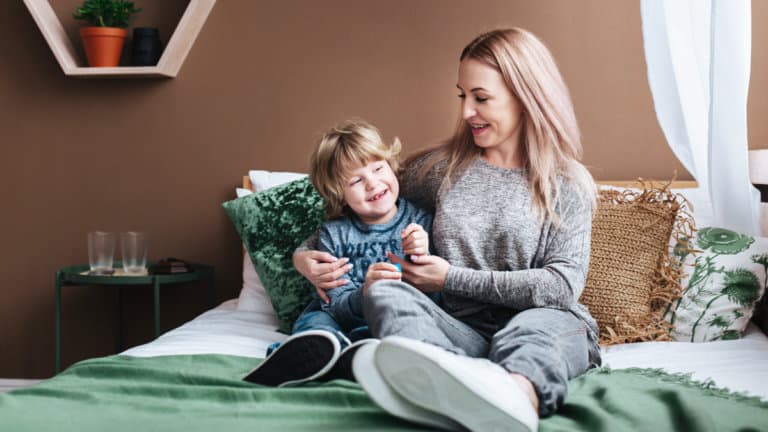 There are many self-improvement blogs out there, but people keep flocking to them!
And you know what? Self-improvement is a $10.4 Billion industry!
Here are some self-improvement niche ideas to think about.
10. Cleaning and Organizing
A lot of people are always looking for some good cleaning and organizing tips to help make their lives easier. A blog in this niche can focus on cleaning and organizing tips and hacks, along with videos and product reviews.
This is the niche website I'm doing at the moment and there are many easy ways to find topics to rank for and make money with!
11. Productivity and Time Management
If you know how to manage your time, you could create a blog that focuses on productivity tips, courses, and resources on how to be more efficient and organized in work and life.
Here are some easy blog post ideas:
master to do list – Many people struggle with this and it would be helpful to write about!

Sunday reset – This can be a start of a whole theme with your blog and eventually printables to sell!

how to self soothe anxious attachment – An important topic to discuss!
12. Mindfulness
Mindfulness is the practice of being present in the moment and is gaining popularity as a tool for stress reduction and self-improvement. You could create a mindfulness blog, offering courses, workshops, and meditation resources to help people develop this skill.
13. Emotional Intelligence
Emotional intelligence is the ability to understand and manage one's emotions and those of others. Your blog can focus on emotional intelligence coaching, offering courses and resources to help people develop this skill for improved personal and professional relationships.
14. Self-Care
In this niche, you can create a blog that offers self-care tips, coaching, courses, and resources on how to develop healthy habits, manage stress, and prioritize self-care in daily life.
Some self-care ideas to write about could be:
throat chakra affirmations – If you dabble in chakras then this would be a great topic to explore!

how to manifest friends – If you have struggled with this and found ways to manifest friends then you can share your tips on your self-care blog!

Self-care goals – write this blog post any time of the year to help with motivation!
Wealth and Finances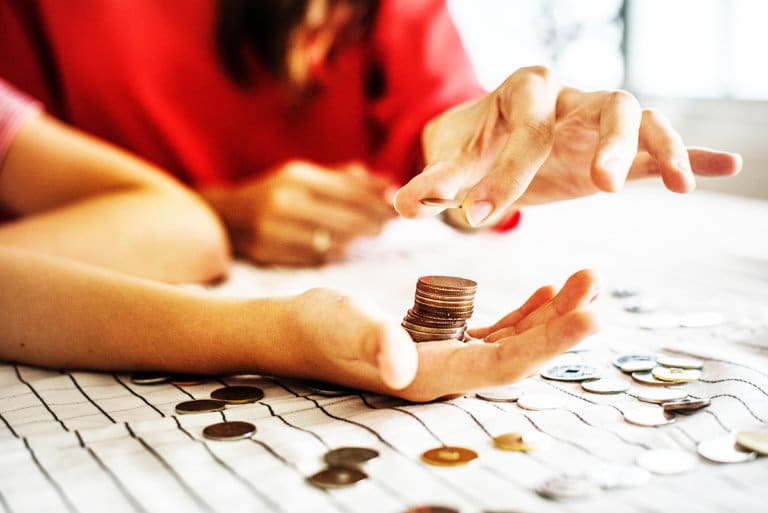 Starting a blog on the topic of wealth, finance, and investment is an amazing idea!
There is a lot of money to be made in this niche idea! How about $2 Trillion????
A lot of people are interested in this topic, and here are some ideas to get you started.
15. Financial Literacy
With this niche idea, your blog can provide financial education courses, resources, and tools to help people develop better financial habits and make informed decisions about their money.
16. Investing
Investing is an essential tool for building wealth, but many people lack knowledge and confidence in this area. Your blog can be all about investment education and offering courses, resources, and tools to help people make informed investment decisions.
17. Budgeting and Saving Money
Budgeting and saving money can be a huge struggle for a lot of people.
In this niche, you can start a blog that shows people how to budget their money and start a savings account by offering tips, tools, and resources.
Here are some ideas:
cheap breakfast – Everyone would like this idea!
cash system wallet – Create a system for this idea
frugal life hacks – Round up many frugal hacks!
18. Debt and Credit Management
Credit is an essential tool for financial success, but many people struggle with credit management. It can lead many people into debt.
This is why debt and credit management is a popular niche idea. You can start a blog that offers advice, tools, and resources to help people pay off their debts, understand credit scores, and manage their credit effectively.
19. Tax Preparation
Tax preparation is a critical aspect of personal finance that many people struggle with. With a blog, you can help people with tax preparation by offering advice, tax filing services, and resources to help people navigate the complex tax system.
20. Personal Finance
Personal finance is a highly profitable niche right now! With a personal finance blog, you can help people develop financial plans and achieve their financial goals.
21. Retirement
A retirement blog is a great way to help people plan for retirement. In this niche, you can offer retirement planning services, savings strategies, and estate planning to your readers. This is a great niche to offer
22. Frugal Living
Frugal living is a lifestyle that focuses on saving money and reducing expenses. Frugal living blogs are super popular right now, and you can use yours to offer tips, tools, and resources to help people save money and live within their means.
23. Making Money
This niche can include tons of information about making money, from how to start a side hustle to making money at home.
Offer tools and resources to your readers for starting an online business, freelancing, online marketing, and more!
This is the niche topic that I write about the most so you can definitely check out Twins Mommy for ideas1
Relationships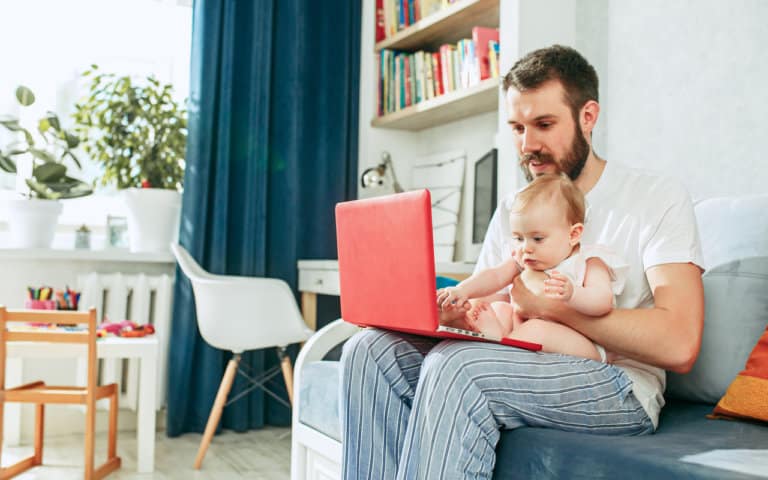 If you want to start a relationship blog of your own, try these niche ideas below to give you an idea of what people tend to write about when it comes to relationships.
24. Parenting
Parenting blogs are super popular and profitable! If you want to start a blog in this niche, you can focus your content on things like being a new parent, single parenting, homeschooling, teen parenting, adoption, and more.
Use your knowledge and experience to offer resources and inspiration to other parents.
My blog, Smart Mom Ideas touches on parenting topics.
25. Marriage
The marriage niche can focus on so many different aspects of marriage, from advice to sexuality and enrichment. Your marriage blog can include helpful information and things like videos and coaching services to support married couples.
26. Divorce
When couples break up and get divorced, it can be devastating. This is why many people turn to divorce blogs for help.
With this niche idea, you can write about divorce and finances, divorce recovery, mental health, and legal issues.
You can offer coaching services, resources, and tools.
27. Dating
There are a lot of topics you can write about in the dating niche.
Your blog can focus on dating for single parents, dating for seniors, online dating, and more!
You can offer tips for meeting new people, dating etiquette, dating behaviors, and relationship advice.
Passions and Hobbies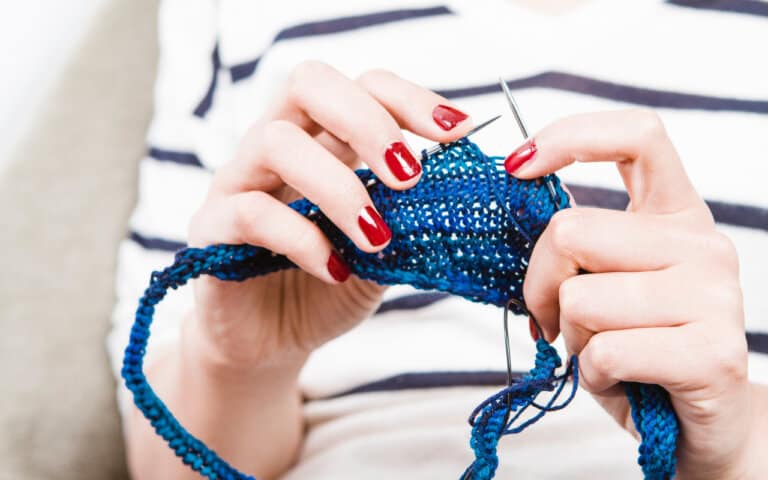 The hobby niche is worth $30 million at least and is continuing to rise!
Blogs about passions and hobbies are popular right now, and there are so many ways you can monetize your content! If you're interested in this niche, here are some ideas:
28. Art
If you're the creative type, you can choose a niche focused on art and design, including tutorials for different art techniques, inspiration for creative projects, and design tips.
You can even sell your art, either physical copies or digital prints.
Here are some art ideas:
space activities for preschool – Are you a teacher? If so, write about some neat activities for preschool!
pipe cleaner crafts – Fun crafts you can visualize!
macrame bracelet – Create some fun easy bracelets for your audience!
29. Hobbies
Do you have a hobby you're passionate about?
Then you can start a hobby blog! In this niche, you can write about things like photography, music, travel, and gardening (just to name a few ideas). Include tips, videos, tutorials, courses, and more.
30. Sports and Outdoors
This niche focuses on sports and outdoor activities, including tips for specific sports, adventure travel destinations, and outdoor gear reviews.
You can cover professional sports leagues or document your passion for your favorite sport.
31. Pets
The pets niche can focus on anything to do with pets! Your blog can cover things like dog training, pet care, pet grooming, health, fashion, travel, and adoption.
You can create YouTube videos, write tutorials, and offer tools and resources to your readers.
32. Crafts
If you want to start a craft blog, there are so many things you can do! You can write craft tutorials, sell products, sell courses, make videos, and so much more. Some popular craft blogs cover knitting, sewing, jewelry making, candle making, and scrapbooking.
Check out these genius craft blogs for some inspiration!
33. DIY and Home Improvements
Avid DIYers can start a blog in this niche that includes home renovation tips, furniture-building tutorials, and craft projects.
You can also start a YouTube channel that offers DIY inspiration and resources for improving your home.
34. Food and Cooking
A niche focused on exploring different cuisines, cooking techniques, and food culture. You can also offer recipes, cooking tips, and restaurant recommendations.
Make some YouTube videos showcasing your culinary techniques or downloadable recipe books.
35. Fashion and Beauty
Blogs in this niche focus on fashion and beauty, including fashion trends, makeup tutorials, and product reviews.
You can also start a YouTube channel or post videos of fashion finds, makeup tutorials, and more!
36. Gaming and Technology
If you're a gamer or love all things tech, why not start a blog in the gaming and technology niche?
You can focus on gaming and technology, including video game reviews, technology news, and gadget reviews.
Find a Niche and Make Money!
Hopefully, this post has gotten you thinking about possible niche ideas for your blog!
Sometimes finding the right niche for you takes some time, but remember to start with what you are passionate about.
Let me know in the comments which niche ideas you're excited to try!
And don't forget to pin!