Are you a new mom blogger?
One of the first challenges as a new blogger is deciding what to name your blog.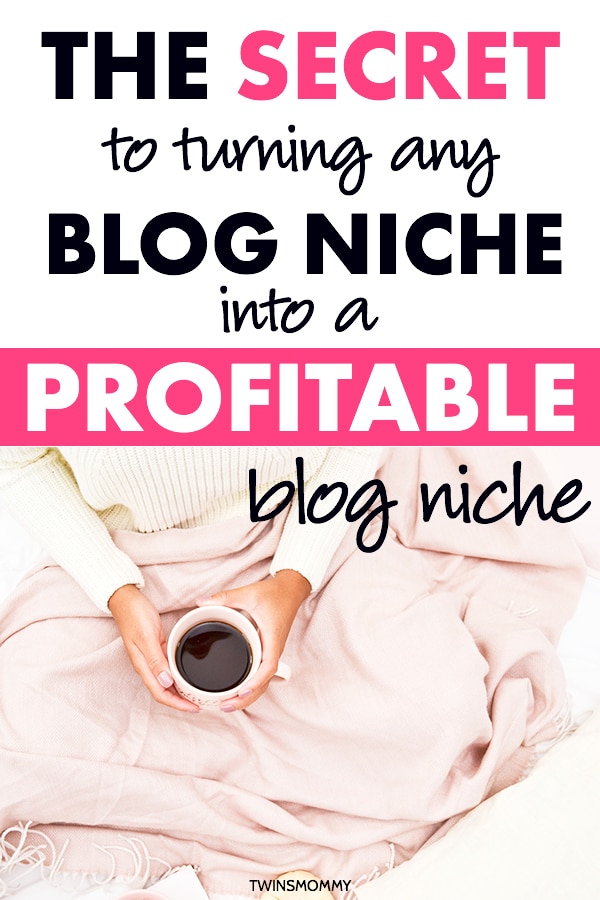 But, the biggest challenge faced by new bloggers and potential bloggers is figuring out what to blog about. This is your blog niche and for many, this is overwhelming.
Why? Because they want to know whether they picked the right blog niche.
The one blog niche that makes money.
But, how do you find that niche and can you turn any blog niche into a profitable niche? Yes!
Let's look at how to turn any niche into one that can make money for you and how to use that information to help you have a profitable niche in the long run.
First, here's a hack on finding that perfect blog niche.
If you want to start a mom blog, please check out my free course on how to start your own mom blog that makes money 🙂
The Secret to Finding Your Blog Niche
To help you find that perfect niche you need to blog about everything!
This can help in revealing your true blogging niche.
Another way to blog is to blog about a variety of topics that relate to an overall theme. For example, on my blog, Twins Mommy, my overall theme are tips to help moms make money blogging.
Not every post on Twins Mommy is about making money. I write about growing your traffic, growing your email list, Pinterest tips and more.
So, instead of narrowing down and finding a tight niche, go broad and find your topical theme for your blog.
Do you want to blog about:
Parenting tips?
Being a stay at home mom?
Stretching your dollars?
Home decor?
Eco living?
Once you figure out the main topic, you can come up with several different ideas for that topic.
Parenting Blog – pregnancy, newborn tips, potty training, toddler behaviors, sharing, mom life, family life, family travel, activities for children
Stay at home mom – self-care tips, productivity tips, DIY crafts for kids, recipes, meal planning, bullet journal ideas, make money tips, budgeting tips
Stretching your dollars – budgeting tips, frugal living tips, living on one income, feeding a large family on a small income, free activities for children, free products for mom, coupons, deals,
Home decor – organizing, DIY home decor, decluttering, style tips for rooms of the house, minimalist living, farmhouse decor, beachy farmhouse decor
Eco-living – reusable hacks, meditation, zen living, eco-friendly cleaners, eco-holidays, green living
How Going Broad Can Help You Narrow Down Your Niche
You might be thinking how blogging about different topics can help you figure out your niche. I'll show you how!
The first benefit to blogging about everything is that you will almost never run out of blog posts ideas. Because you have many different categories to write about, coming up with a blog post topic every week shouldn't be hard.
Another benefit to having a multi-topic blog is that you will quickly learn what topics you enjoy writing about. You may really enjoy meal planning and have a lot of great ideas to share with your audience on your parenting blog.
That's great; you can create more content on that blog. But, just because you enjoy writing about one topic, it doesn't mean your audience wants you to blog about that topic.
If you want to start a blog as a means to earn an income, the best way to do this is to attract an audience that will eventually buy from you. This means listening to your audience is gold as a new blogger.
Over on my other blog, Smart Mom Ideas, I blogged about a variety of topics:
Money tips
Kids
Mommy tips
Organizing tips
Food tips
Blogging Tips
I have posts about C-section tips, decluttering your home, meal planning apps and tips to make your child listen. I learned that my most popular posts are on toddler snack ideas, living on one income and C-section recovery tips.
I always say, listen to your audience and give them what they want!
If you decide to blog about multiple topics, see which posts get the most comments or the most social shares or the most engagement overall.
This is an indication of the topic that readers identify you with, helping you reveal your right niche.
Turning Any Blog Niche Into a Profitable Blog Niche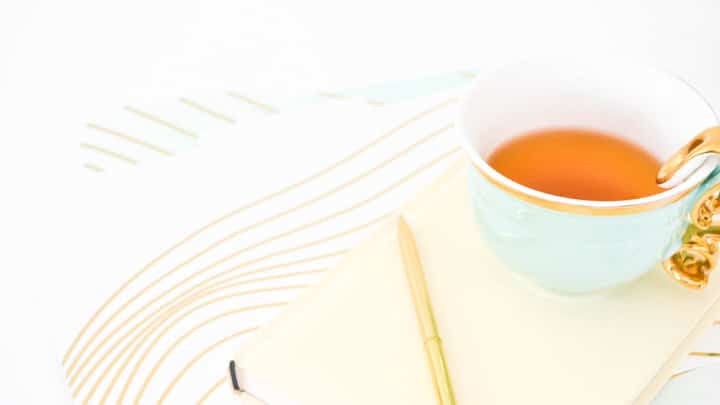 Okay. So, let's say you started a lifestyle multi-topic blog.
You have a variety of blog topics on your blog and after 6 months you realize that your audience really enjoys your DIY craft posts. You can now pivot to that blog niche.
But, wait? How do you monetize this blog niche that is already oversaturated with hundreds of activity and craft blogs?
Find a Unique Angle
The craft blog and parenting/postpartum niches are over-saturated. Everyone is starting a mom blog, so why even start a blog about crafts or being a new mom?
I'll tell you why. Because it doesn't matter what others are doing around you.
While networking and getting to know other bloggers IS crucial to helping you succeed, don't feel that there's no room for you.
There is! You have a voice that's unique and different from other blogs in your niche. Typically, your unique angle is YOU!
Twins Mommy is in a very saturated niche of helping other mom bloggers make money.
But, my Twins Mommy brand is becoming known as a blog from a mom to twins that's a freelance writer for native digital brands (who also has multiple blogs).
This also extends to my writing. I have a way with certain phrases or words. I like to use:
….and a unicorn died when I heard that!
Yikes!
Right, mama?
So,
Use a lot of surprise marks
But, guess what? There are other moms with twins that have mom blogs! Eva from Happy Blogging Mom is a perfect example.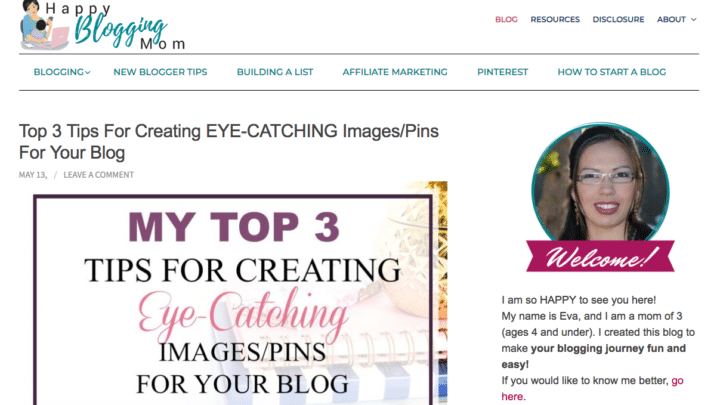 She blogs in my niche and has twins, but we have different angles, personalities, viewpoints, brands and more.
Take time to figure out your unique angle for your blog. It might mean developing your writing voice, your brand palette, your content ideas or figuring out your audience type.
Look at Other Blogs in Your Niche
I'm sure starting a blog didn't come from thin air. Maybe you visited blogs you saw on Facebook or Pinterest, or maybe you searched on Google for some problems you are having and started reading blogs.
As a way to turn your niche into a profitable one, you have to see what others in your niche are doing.
This can help you carve out a place for your blog online.
For example, there are many teaching blogs about helping children with autism. You are interested in starting a blog about your child with autism with the idea of helping other moms through this journey.
You can go on Pinterest and type in that niche to see what pins show up: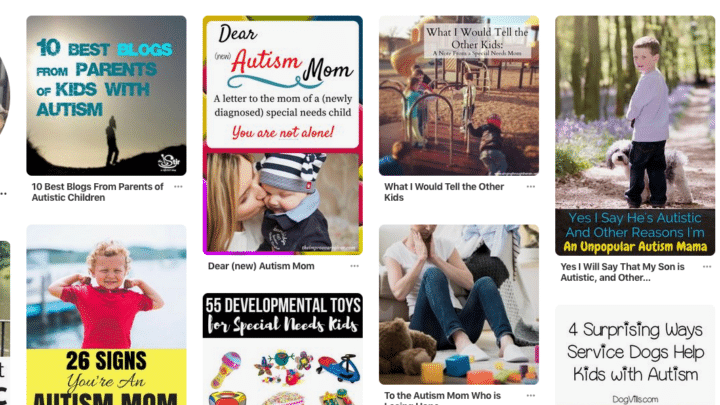 Click on a couple of these pins and take a look at their blogs.
You may notice that eBooks and affiliate marketing (promoting other people's products) is how these blogs make an income.
From there you can get an idea of how you can monetize your blog in your niche.
Now, you can go back to those blogs and see what's missing. For example, maybe many of these blogs don't have video tutorials. This is something your blog can do.
For example, you can do a video tutorial on how to create a sensory book out of ordinary items around the home.
Or, maybe many of these blog posts are short – under 1,000 words.
This is where you can jump in and create in-depth tutorial-based blog posts or huge round-up posts that are 2,000 words or longer.
Finally, you may notice that many of these blogs focus on one type of blog idea like sensory issues. Your child doesn't have many sensory issues; they have behavioural issues instead. This is where your blog niche may hone down in helping moms with severe behavior challenges in their child with autism.
Your blog can be a safe haven for moms needing the support, hand-holding approach to helping their child cope with every day life.
Here are more ways to see where your blog fits in:
Blog comments – what are bloggers asking and wanting help with that aren't answered in the blog's in your niche?
Other types of content – do these other blogs in your niche use infographics? YouTube? Instagram? Find "holes" in their content or promotion strategies and use that to your advantage
By looking at other blogs in your niche, you can immediately tell how they make money and the type of content they create.You can also see what their audience is saying on their blog and on social media.
Armed with this, you can create blogging goals around your blog plan.
And then come up with endless blog post ideas around your niche all because you researched other blogs!
When A Blog Niche Can't Be Profitable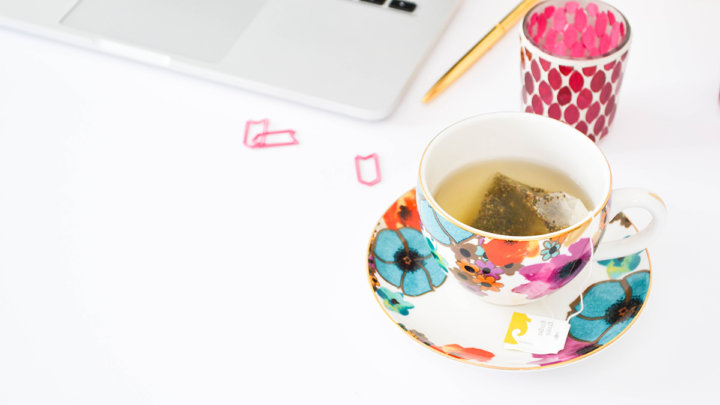 While I told you that any blog niche can be profitable (which is true), it doesn't mean that you WILL make money with your blog niche topic.
I know bloggers that have been blogging for years –5 years+ – and haven't made a dime blogging.
I know other bloggers that have a huge email list, but have yet to make their first $100 blogging.
Why is that?
Why are some blogs not making money if all blog niches can be profitable?
The honest truth is:
Blogging is a journey and it takes nurturing and time to grow. You need blog traffic and a plan to help your audience.
If your blog lacks these, then it will be hard to monetize.
That's the honest truth.
But, it doesn't have to be that way mama! Follow these steps and turn your niche into a profitable niche!
Take It One Day At a Time
Do something for your blog each day, and you will see improvement and growth over time!
Over to you – how long have you been blogging and what's your plan to monetize your blog? I'd love to help you out!