Are you a stay-at-home mom?
A work-at-home mom?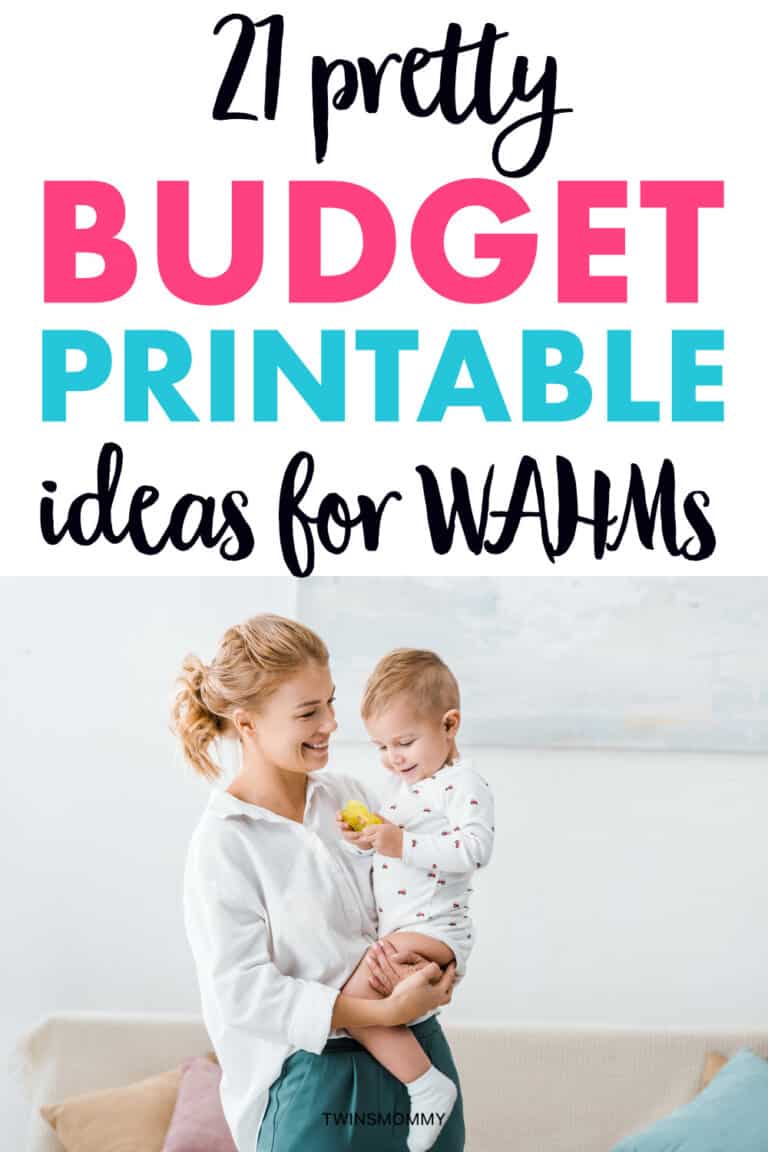 A mom that works out in the world?
No matter where you find yourself in your mom life, it's important that you keep track of your finances!
But handling your money involves more than taking a peek at your bank account every now and then.

Budgeting is not a complicated ordeal, but it does involve paying close attention to the money you are making and the money you are spending.
As a work-from-home mom of twins, I learned how to keep track of my finances – especially when I decided to leave my job and start my own business!
What got me through was using budget templates, printables, and planners to organize my money.
By doing this, I was able to control my spending and start a savings – and you can too!
Let's look at why you need a budget and how to use a printable budget template to get started.
Oh, and don't forget to check out the 21 pretty budget printable ideas I found for you!
Why You Should Have a Budget
We are all well-intentioned when it comes to our money, but if you're not paying attention to where it's going, you could end up in a tough spot financially.
Having a budget allows you to see the big picture when it comes to your money!
It will help you understand how much money is coming in, how much needs to go out, and how much you can cut back in order to save each month.
Overall, budgeting is a way to set and realize financial goals.
Are you looking to start an emergency?
Save for a trip?
Pay off your debts?
By using a budgeting printable, you can easily see where extra money is being spent, and you can focus those funds on realizing your dreams.
Budgeting is especially crucial for work-at-home moms with a variable income.
For example, if you are a freelance writer like I am, you can't know 100% for sure how much money comes in every month.
You may have an explosive month of client work and then a quiet month where not much is happening.
Using a budget is the perfect way to plan for those slower months by saving money during the busy months.
No matter your income situation, budgeting is the first step in achieving financial freedom.
Let's check out these pretty budget printables to help you get started.
How to Use a Printable Budget Template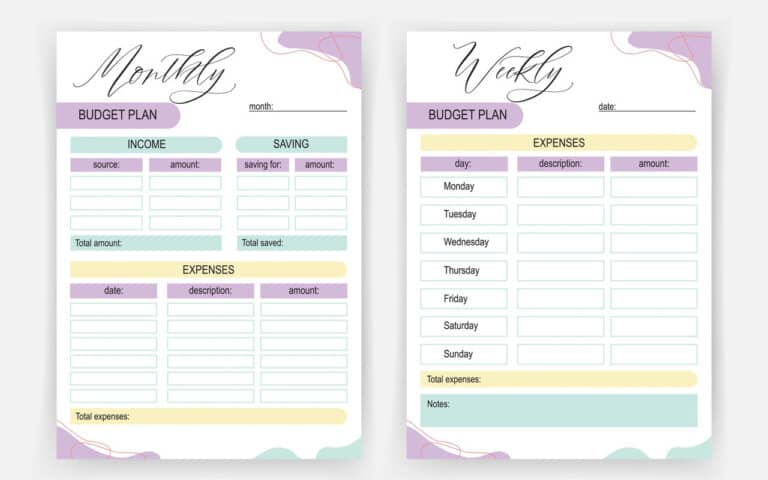 No two budget templates are the same, with some working best for certain budgeting systems.
This is why I wanted to show you so many budget printables so you can find one that works best for you!
However, many budget templates work the same: You write in your income and your expenses in order to evaluate your spending.
With a budget printable, you can see how much you are spending in certain areas so that you can make changes and cut back.
When you start using a budget printable, it won't look perfect!
The first step in budgeting is seeing how you are using money so you can make these important changes as you go along.
Some of these budget templates will need to be printed, while others can be filled in on your computer.
I've also included some budget planners you can buy if you don't feel like putting together your own budget binder.
Ready to get started?
Budget Templates to Help You Manage Your Money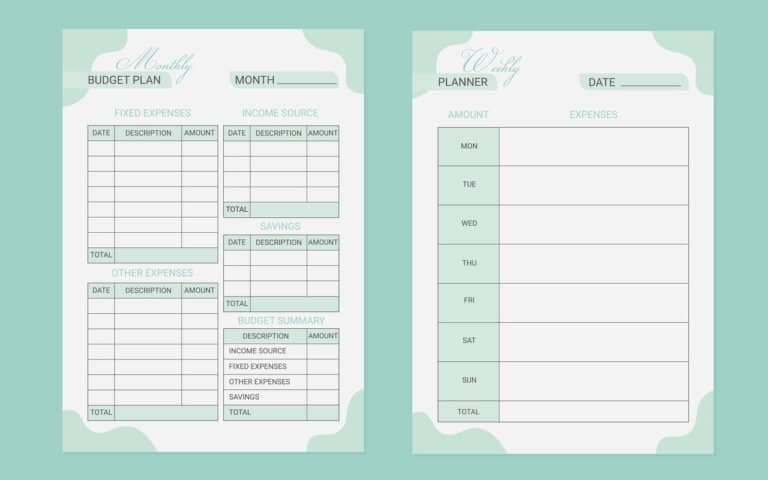 1. Budget Printable by Blooming Homestead
This free budget printable has a beautiful and bold design that will help you sort out your finances and get your money on track!
2. Printable Budget Template by Pinch a Little Save a Lot
I love the color scheme of this free budget printable from Pinch a Little Save a Lot! It includes a financial calendar, monthly budget printables, and a checklist for paying off debt.
3. Budget Templates by Printable Crush
Printable Crush offers this colorful and free budget pdf that allows you to keep track of your savings and break down your budget into eight categories.
4. Printable Budget Templates by Thirty Handmade Days
Check out this budget printable that offers 10 different templates to create the perfect budget binder.
5. Budget Binder by Speedbyte
If you don't feel like printing off a bunch of pages, you can always grab a pre-made budget binder – like this one!
It includes a money organizer, budget sheets, and labels to help you organize your finances.
6. Printable Budget Template by Money Minded Mom
This printable budget template has beautiful pastel colors and includes a savings tracker, bill payment calendar, and a two-page budget template.
7. Budget Printables by Mom Envy
If you like to bullet journal, check out these budget printables! I love how visual bullet journaling is, and these budget templates would be so fun to fill out.
8. Budget Templates by Simply Stacie
This beautiful floral printable budget template lets you track your bills, daily spending, savings, expenses, debts, and more!
9. Printable Budget Template by Calm and Wave
Check out these colorful budget templates!
You can keep an eye on your transactions and bills, as well as set financial goals and create a budget.
10. Budget Printable by Lovely Planner
Lovely Planner has these adorable free planner stickers that you can add to your budget binder.
11. Budget Templates by On Planners
This floral-style budget template is print-ready and can help you organize your finances by planning your budget weekly and keeping track of your bills, expenses, and savings.
12. Monthly Financial Budget Tracker by Soligt
Again, you can grab a pre-made budget tracker, like this one, that features 12 pockets for income, debt, savings, bills, and more!
13. Budget Printable by The Savvy Couple
This free budget printable from The Savvy Couple is super easy to use and helps you organize your budget month-by-month.
14. Printable Budget Template by Clean & Scentsible
This printable budget template includes a budget overview, debt tracker, and a monthly budget track – perfect for keeping track of your family finances!
15. Budget Templates by A Mom's Take
This fun and colorful free budget printable includes worksheets that help you organize how much you expect to spend and what you actually spend.
This way, you can adjust your budget as needed!
16. Budget Printable Templates by Waylos
Check out these free budget printable templates from Waylos that includes money goal worksheets, a budget planner, a payday organizer, and more!
It has everything you need to get started on a budget binder.
17. Budget Printable by Freebie Finding Mom
Make your finances a bit more fun with this colorful budget printable!
You can print out sheets to create a budget binder, but Freebie Finding Mom also offers Excel versions if you prefer to sort out your budget on your computer.
18. Printable Budgeting Worksheets by Pretty Providence
If you're just starting out with budgeting, Pretty Providence's budgeting worksheets are beautiful and simple, making it easy to put together a basic budget.
19. Budget Printable by Moritz Fine Designs
This budget printable by Moritz Fine Designs is actually a "zero-based budget" template, meaning that you'll end up with $0 at the end because everything will be organized into a category.
20. Budget Planner by Clever Fox
This budget-tracking notebook is full of pages that help you sort out your financial goals and track your finances. You'll find a mind map (very cool!), debt tracker, savings tracker, stickers, and more!
21. Budget Templates by Savor + Savvy
This beautiful and simple budget printable doesn't have a ton of categories to keep track of, so it's less complicated and perfect if you're just starting out with budgeting.
Bonus: Budgeting Tips for Work at Home Mamas!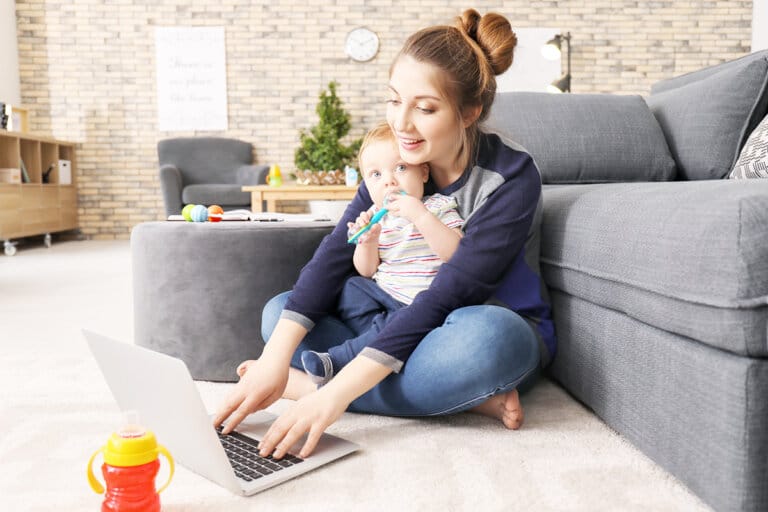 When you run your own business from home, your finances involve more than simply tracking your income and expenses.
If you budgeting as a work at home mom, here are some tips to help you out.
Come up with low-cost business ideas. To cut down on what you are spending on your business, consider using what you already own when starting out or holding off on investing in big purchases until you start making money.
Build an emergency fund. Use the money you save from budgeting to build an emergency fund for your business. This way, if something unexpected happens (like you can't work or business is slow), you'll have some money to fall back on.
Avoid relying on credit. Grabbing a credit card or getting a loan to help your business may seem simple, but borrowing money is a slippery slope since every dime has to be paid back!
Develop a business plan. Before you get started on your home business, you should create a business plan that outlines your mission, your goals, and the money you plan on making and spending.
Have an exit strategy. Unfortunately, not everyone is successful when starting a business from home. In order to save yourself from financial hardship, you need to know when to call it quits and what you'll do if that time comes.
I know that money may be the biggest factor holding you back from starting your own business from home – but with some planning and organizing, you can make it possible!
Grab a Budget Printable and Get Started!
With all of these beautiful budget templates to choose from, you can get started today!
Taking control of your finances will allow you to do the work you want and live the life you want.
Your turn – How do you manage your budget? Any tips you want to share?
Leave them in the comments below!
And don't forget to pin!