Are you thinking about starting a blog?
I'm sure the decision isn't a fast one, right?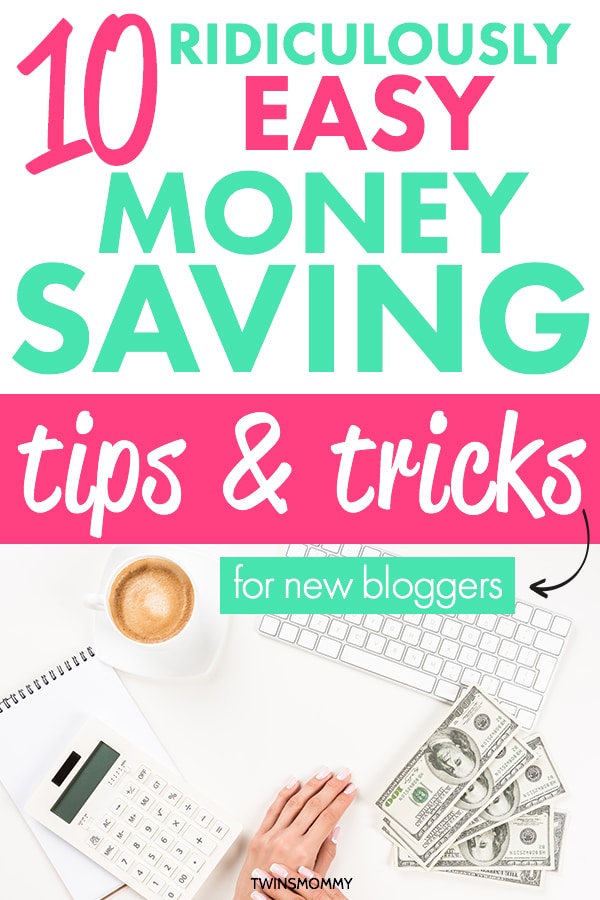 How do you definitively know you can make money with your blog? You spent – or will spend – probably a couple of hundred of dollars on starting a blog hoping to one day make money with it.
But, now that idea may shift to ways to save money on a tight budget.
And, that's okay. Setting up your financial goals as a new blogger is important to help you reach your monetization goals in the future.
You forked over that cash and you may be panicking since you know that first dollar from your blog can take months. It's time to find out where to save money after you started your blog.
These money saving tips I'll be sharing are things I still do today even though my blog earns five figures a month. Why? Because I've always been a frugal person.
We have twins and since both my husband and I are blogging full-time, anywhere we can save money each month is something we'll actively pursue.
And, if your blog isn't yet making money, you need to budget your blogging ways and develop money saving tips today!
Let's go over ten super simple ways to save money when you just started a blog (that hasn't made money yet).
Money Saving Tips for Bloggers
1. Pay Annually
When you start a blog, you're going to realize quickly that paying for your blog host is only a fraction of what you could potentially pay upfront to run your blog (don't worry, I'll show you free ways you can use to start blogging right away).
Things like tools, services and products can add up for your side hustle blog.
One easy way to save money is to pay for these things annually.
In fact, you can save a ton of money by choosing the 3 year plan for Bluehost than the one year plan.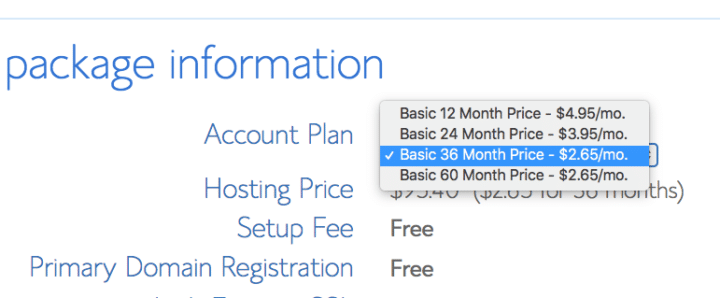 And other online services offer annual payments like Convertkit. You can get 12 months of email service for the price of 10 months. That's a great saving!
2. Save for Discount Times During the Year
What's great about the blogging world is that there are many times where tools, services and products are offered at a steep discount. It's a great idea for bloggers to take advantage of that.
Some great times bloggers and businesses offer deals are:
Black Friday
Cyber Monday
July 4th
Birthdays and anniversaries
For my freelance writing site, I typically offer a discount on my writing course every Black Friday. I know for a fact, many writers wait the entire year to get my course at that low offer.
I totally think that's awesome too! They are such a loyal follower that they will wait until it's the right time to buy my course! Gotta love it!
3. Get a Free Domain
When you start a blog, you have to pay for your blog host. This is sort of like the space where your blog will live on the internet. Some blog hosting services offer a free domain.
Your domain is your URL address. Mine is: TwinsMommy.com
Bluehost gives you a free domain when you sign up for blog hosting with them. Other hosting providers – like SiteGround – do not.
Right then and there you can see where to save money for when you start a blog!
4. Use Referral Credits
As a new blogger, I'm sure one of the ways you might start making money is to do some affiliate marketing. You promote a tool or service on your blog, use a special link, and when someone buys through that special link, you get a commission.
Well, sometimes it's better to get credit than actual money.
For example, I've never paid for Tailwind!
Tailwind is a social media automation tool for Pinterest and Instagram. I signed up and then became an affiliate for them. When a blogger signs up to Tailwind using my affiliate link, I earn credit.
This credit translates into money for that service. So I can use credit to try out new features Tailwind offers.
For example, I've never paid to use Tailwind Tribes or the Smart Loop function. Similarly, I use Tailwind on more than one blog – and I never paid for that either.
So, even though you pay initially for that service, in the long run, you can earn that back easily and take advantage of using that service or tool to its fullest advantage.
5. Buy Products in Bundles
One of the essential things new bloggers need to do is educate themselves on blogging. Learning is a big factor in growing your blog, so sometimes you may pay for a course or product to learn more about a particular aspect of blogging.
Take advantage of bundles. For example, the Genius Bloggers Toolkit is a bundle of courses, eBooks, masterclasses and more. The courses and products in that bundle add up to $6,000!
But, if you wait until they offer those products in a bundle – the Genius Blogger's Toolkit (instead of buying individual courses in that bundle) – you can grab it for around $97! That's a steal.
You're saving a lot money buying in a bundle than buying separately.
6. Find Budget-Friendly Alternatives
Okay – the BEST money saving tip I can give you is to find budget-friendly alternatives (or free ways) for your blog.
There are many tools and services that are free or offer a freemium tier.
Finally, for social media posting, instead of paying for a paid scheduler, opt for something free like Buffer. You can even use Buffer to loop your social media posts. Here's a video from Kate Doster.
https://www.youtube.com/watch?v=4rH3aNa0A2w
7. Buy Used Tech Supplies
If you're finding ways to save money on a tight budget, then buying second-hand is an easy way to do this. My husband never likes to buy tech things like laptops, phones, iPads or AppleTv brand new.
Instead, he waits to buy it second-hand. We bought a $4k MacBook Pro for only $900 and it included all the accessories.
Similarly, we have two iPads (for the twins) that are second-hand and are practically brand new.
From tech to microphones or light boxes, I'm sure you can find your blogging equipment on cheap if you check out Craigslist or buy-n-sell Facebook groups.
Save Money At Home
When you start a blog, you may be on maternity leave (or about to go on maternity leave) or you're a stay-at-home mom. Whatever the case, you'll be home more often and that means you'll save on:
8. Gas and car expenses
9. Gourmet coffee – I use my Keurig and this delightful creamer to have my gourmet coffee at home.
10. Make Money
Okay – this blog post is about ways to save money when you first start a blog. But, here's the problem with that – it's much easier to earn more than to save more.
This is probably a big reason why you started a blog, right? To someday stay home for good or make some extra spending cash.
But, how can you make money with blogging?
Start Saving Money With Your Side Hustle
Starting your blog can be the best decision you'll ever make mama!
It can help you stay home for good or get your husband to stay home for good. It can allow you to travel or just live the life you want! I know that sounds cheesy but it's true!
You may think starting a blog is expensive, but if you find ways to save money, you'll make the experience worth it! And if you start making money with your blog, you'll make up for what you paid for and much much more!
Over to you – what money saving tips can you offer? Tell me in the comments below!
Remember to pin me!