Are you are a personal finance junkie who is obsessed with savings and building wealth?
Did you know that you can actually make money from your passion and knowledge of all things personal finance?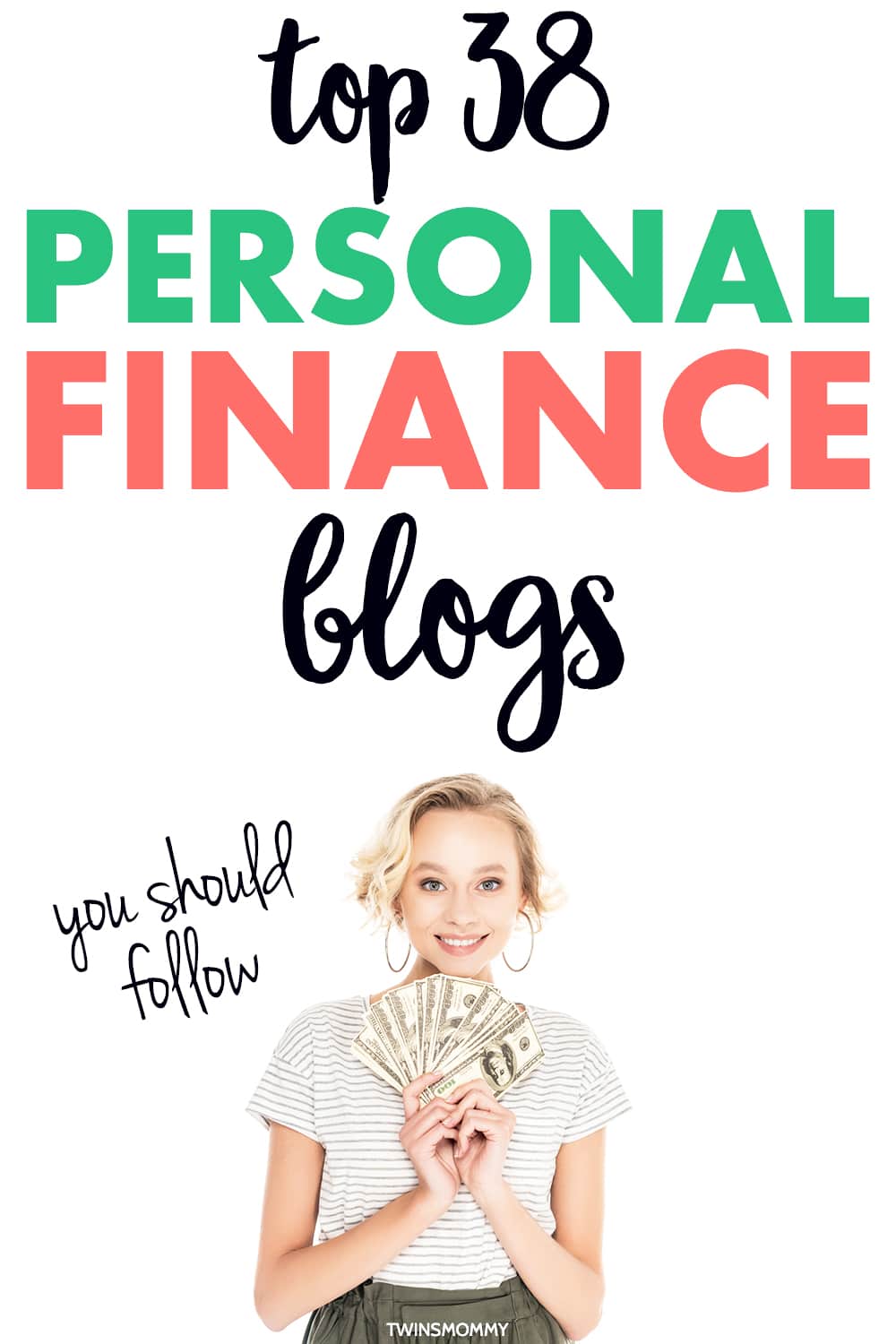 While I'm not a personal finance guru, I know a thing or two about saving money and paying off debt.
Personal finance is something that not a lot of people have a solid knowledge of, although they should.
If you are already reading about personal finance topics, there is a good chance that you are reading blogs that were started by people just like you and me.
You don't have to be a professional CPA or financial advisor to start a blog about personal finance. You just need to have a base knowledge and be willing to research and keep up on current trends in order to deliver information to your readers.
There have been many personal finance bloggers who have been able to quit their 9-5 jobs and blog full-time, giving them the ability to stay home with their kids or travel full time.
Blogging is such a powerful vehicle for achieving your goals, both lifestyle and financial.
If you would love to start a blog all about personal finance, check out my beginner's guide on how to start a blog.
I feel so thankful to be able to share my knowledge about blogging with other mamas out there.
I know how much it has personally helped me and others that have read my how to start a blog post.
But before you jump in and start writing down everything you know about interest rates and credit scores, first check out some other top personal finance blogs.
While there are still many personal finance blogs that are run my individuals, there are also many that have grown into multi million dollar media companies.
Before we jump into the examples, let's take a look at what a personal finance blog is all about.
What is a Personal Finance Blog?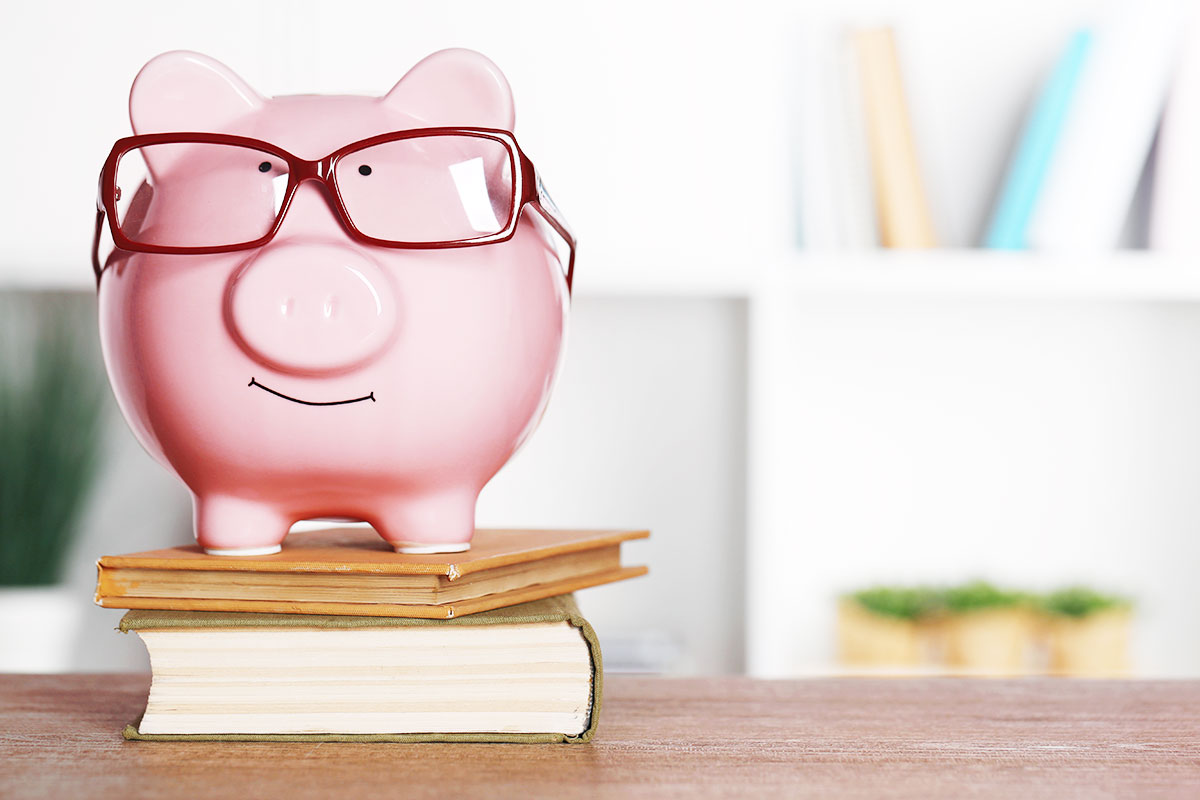 Anyone with a bit of knowledge about saving, budgeting, credit scores, investing, home buying, and anything else related to personal finance can start a blog. Again, you don't have to be a professional!
If you are looking to connect with others in the personal finance blogosphere, starting your own blog is a great place to start.
A personal finance blog is a website that is sharing information about all things personal finance. It can be a general personal finance site, or you can even niche down and start a personal finance site geared towards parents, millennials, married couples, or women.
There are tons of personal finance topics that you can write about, pretty much anything to do with money; saving, spending, investing, or making more money.
There are a few things that you can do to make your personal finance blog successful from the start.
1. Niche Down and Find Your Audience
Personal finance is a big topic.
Some of the most successful personal finance blogs niche down beyond just personal finance.
As I mentioned before, this can target a specific audience of men, women, parents, retirees, millennials, married couples, career professionals, freelancers, the list goes on.
But why should you niche down?
When you niche down your blog, your content is speaking directly to that audience.
For example, women invest differently than men. If you are talking about investing in a specific way, it might not resonate with a female audience, even though that is who you are trying to reach.
When you are able to speak directly to your audience, it validates your credibility. They will see you as their go-to for personal finance topics.
It might also be better to start with wider topics until you figure out what your audience really wants in order to figure out what to blog about.
2. Provide Solutions to Problems
Don't take this the wrong why…
Your audience doesn't care about you, at least at first.
Yes, it can be beneficial to write about your experience in paying off your student loans, or how you are saving and investing for retirement. This is providing solutions to people's problems.
When it comes to blogging, you need to be writing for the purpose of solving your audience's issues.
Personal finance blogs provide answers to questions that people might not know who to ask. Or they might just be overwhelmed with their finances that they don't know where to start.
But how do you discover these problems that your blog can provide solutions too?
Social media is going to become your best friend as a blogger.
You can join various personal finance Facebook groups and check out what people are asking questions about. You can also check out other personal finance blogs to see what topics those bloggers are posting about.
Here are a few examples:
How can I fix bad credit?
How can I start investing with little money?
What are the best high yield savings accounts?
Which credit cards have the best miles?
On Pinterest, you simply have to type in personal finance related terms and see what topics come up. For example, here is what comes up when you type in "investing for retirement."
As you can see there are a lot of topics that come up:
The pros and cons of a retirement savings
How to set up an IRA
How to invest for retirement for beginners
How much you should be saving for retirement
All of these can be topics for your personal finance blog.
3. Serve First, Money Second
While making money might be a long-term goal for your blog, don't go into it with that intent, it won't work out well.
You can't go in with the mindset that you are just going to review credit cards and make money from that or just dive right into other affiliate programs.
You need to want to help people, to first serve your audience before asking them to buy anything from you.
In order to build a strong audience that will want to buy things from you, you need to go into blogging with a strong blog plan.
This might sound counterintuitive, but start your blog with the intent to help, not just to make money. Once you have built up a strong following, the money will come to you.
4. Don't be Neutral
One of the things that is going to help you stand out as a blogger is to not be neutral. If you are really passionate about a certain topic, for example, paying off all of your debt before you start investing, then say that.
When you have content with a strong voice, it is going to help you get more eyeballs and shares to your content. This helps to really build a community around the things that you value and bring together people that share your views on personal finance.
So don't be shy, state your opinion, you never know where it might lead you.
Now let's take a look at some popular personal finance blogs that will help to inspire you to start your own!
38 Popular Personal Finance Blogs
1. Get Rich Slowly

Get Rich Slowly has been the go-to personal finance blog for many since 2006. With around 300,000 plus monthly readers, Get Rich Slowly focuses on building your wealth over time rather than get rich quick scenarios. Founder, J.D. Roth helps educate readers on all topics related to personal finance, from picking the best health insurance to how to successfully supplement your retirement income.
2. Money Under 30
Money Under 30 is not just for millenials, it offers personal finance advice for people of all ages. Money Under 30 covers topics from the mounting student debts to how to choose the best money market accounts. Some of the most popular topics on this blog include credit, credit cards, investing, and home and car buying.
3. Oblivious Investor
The Oblivious Investor (aka Mike Piper) is a CPA and has authored several books on personal finance. While Mike is a personal finance professional, his blog posts are highly informative yet easy reads. If you are new to personal finance, some of the topics might be a bit overwhelming, but they are still worth a read to expand your personal finance knowledge.
4. My Money Blog
My Money Blog is the oldest personal finance blog on our list. Created back in 2004, founder Jonathan has been sharing money advice since before it was the cool thing to do. He shares a wealth of information on early retirement, investing, how to optimize your savings, and ways to earn extra money.
5. Budgets are Sexy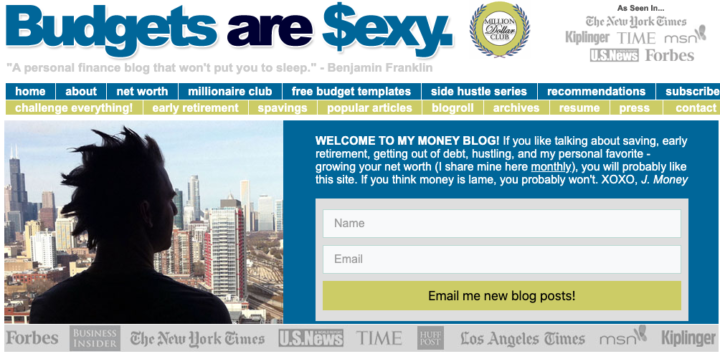 You bet they are! Budgets are Sexy is a favorite among readers. Founder, J. Money write posts that are witty and highly entertaining, yet educational. One of the neatest things about Budgets are Sexy is that J. Money shares his journey to a net worth of $1 Million over the last 11 years. You can even snag the template he uses to track his net worth if you want to start your own journey to a million!
6. Man Vs. Debt
Have you ever just felt like you have too much stuff? Man Vs. Debt founder, Adam Baker, encourages people to "Sell your crap. Pay off your debt. Do what you love." If you have no idea where to start on your financial journey, Man Vs. Debt, sell your crap section is a great place to start.
7. Disease Called Debt
A big part of personal finance is making sure that you pay off your debts. Founder of Disease Called Debt, Hayley, paid off a whopping $62,000 in debt within two years. If you are looking for inspirational some debt payoff success stories, then this is the place to start.
8. Frugal Rules
Being frugal and rocking your personal finance game go hand in hand. Frugal Rules is a great cross between personal finance topics and frugal living tips and tricks. For both beginners and seasoned pros, Frugal Rules covers a wide variety of topics.
9. Good Financial Cents
Good Financial Cents is another blog that is perfect for readers at all levels of personal finance. Whether you are completely new to personal finance or have been on your journey for awhile, you are sure to find some useful information on topics ranging from Roth IRAs to crushing debt.
10. Financial Samurai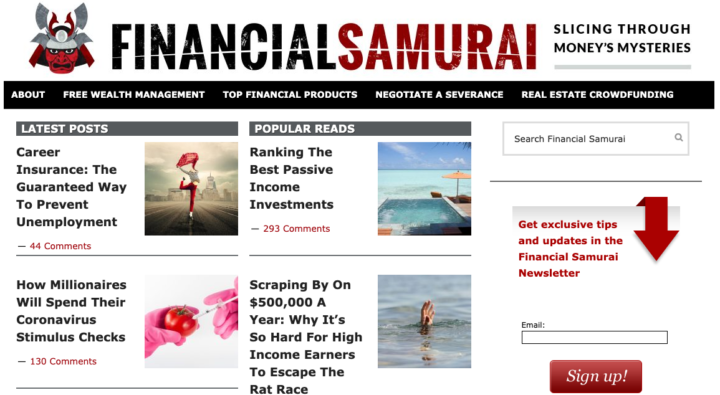 Remember earlier when I talked about not being neutral, this is a perfect example.
Financial Samurai is all about making a statement. They write about a variety of topics related to personal finance but also provide some very in-depth explanations for rather complicated topics.
28 More Popular Personal Finance Blogs
What Next?
With these 38 personal finance blogs you can learn how to pay off your debt, make more money, and start blogging yourself. If you are looking for other blogging ideas, check out my 8 most popular blogging niches.
Try not to get overwhelmed with all of the new knowledge that you have gained.
Learning about personal finance can take a long time and a lot of effort. There is a lot that goes into it and it's easy to feel like you are in over your head, but it's better to start where you are than to not start at all.