Search engine traffic.
This is what new bloggers always need, want and can never get it!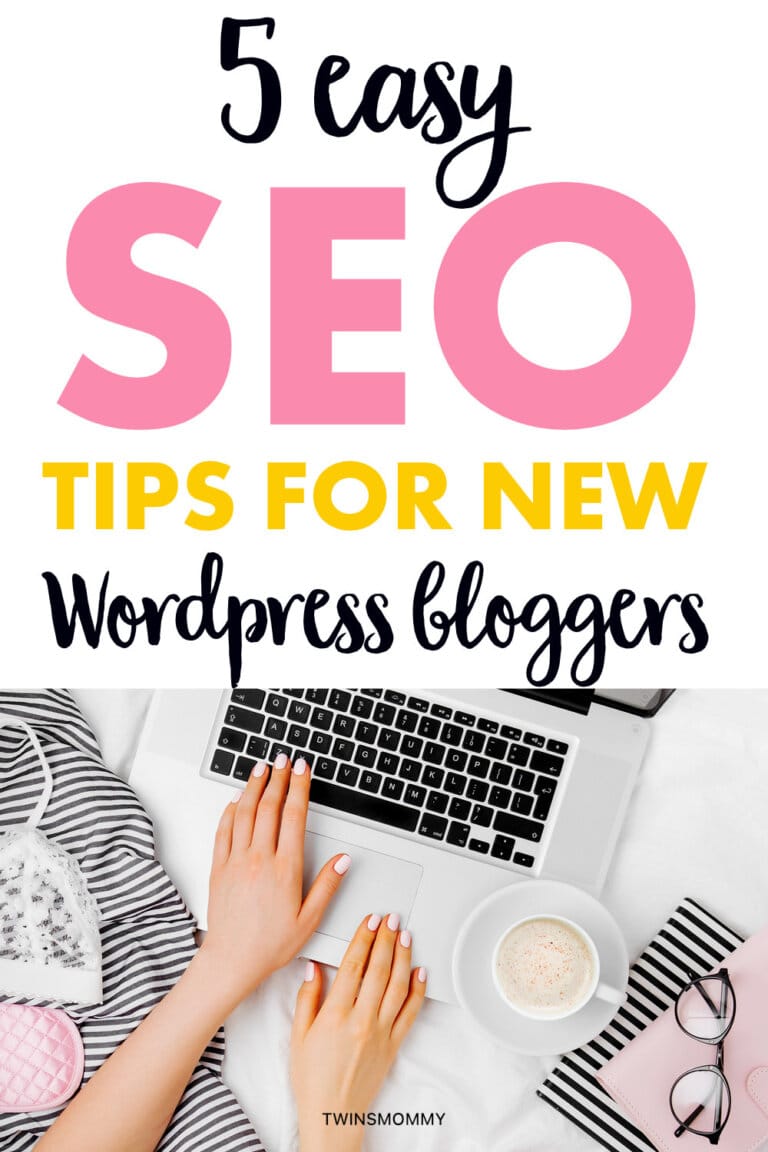 We can't get enough of it, amiright?
I love growing blog traffic so much that I have 7+ WordPress sites! But, for brand new bloggers, getting a hand on SEO and ranking on Google can be overwhelming and difficult for sure.
I know when I first started a blog, I didn't know anything about ranking in Google. I just focussed on content and helping my audience – which, I feel is the biggest SEO tip anyone can give but it's not tangible and it doesn't directly help you with SEO.
I mean, you can have the BEST blog post in all the world but it doesn't rank. There are many factors to SEO ranking and if you have a WordPress blog, there are simple and easy things you can do to get your website ready for traffic.
So, let's go over five search engine optimization (SEO) tips you can use to improve your blog's potential for ranking in Google so that you can finally get some elusive free Google search traffic!
1. Create the Right Page Titles Using Yoast
Before we dive into page titles for your WordPress blog, let's go over the two parts of SEO.
There is on-page SEO which means optimizations performed ON your WordPress blog and there's off-page SEO. Off-page SEO means other sites linking to you and refers to backlinks (a very powerful Google metric for ranking potential).
The first step to mastering on-page SEO is to optimize your page titles. Google gives extra importance to the page title as it's the best indicator of your page's topic.
The title shows up in the Google results page – along with your description – so put your writing skills to good use to boost clicks and conversions!
Here's an example of one of my freebies – the Blog Traffic Planner. It's on a page on my site and if you search for a blog traffic planner, mine shows up!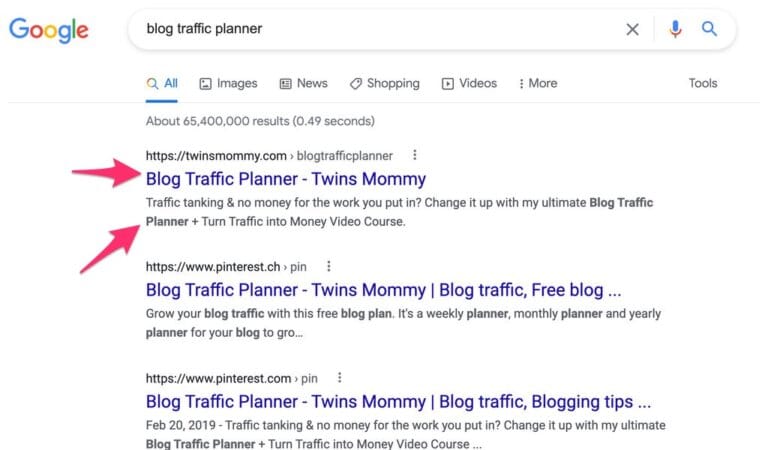 When creating your SEO page titles, keep them concise, reader-friendly and keyword-focused.
You can install Yoast, a free WordPress SEO plugin to help you create your SEO title and meta descriptions.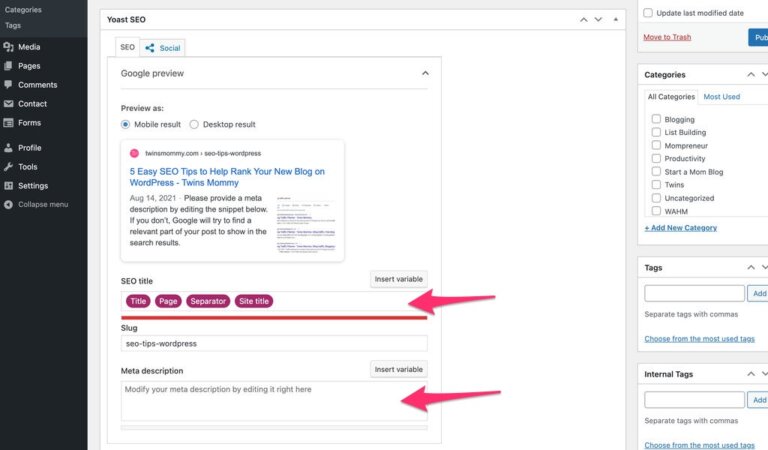 2. Use Niche-Specific Terms When Writing a Blog Post
Google is getting better at understanding people's articles, pages and blog posts. They want content that's valuable for the user and that answers the user's intent. For example, Google knows that information regarding dog training should also mention related concepts such as breeds, leashes, and dog food.
This is called Latent Semantic Indexing (LSI) and for a new blogger, should be used for every blog post they write.
So, when writing your home decor post about the best laminate that looks natural, using niche-specific terms like vinyl, flooring or floating floor system should be included in your content piece.
But remember to share strong opinions, your experience and anything that can help you be interesting and have a blog post that stands out.
The reward: more targeted traffic from Google and more rankings for unique longtail keywords that you could never have thought of.
For example, for one of my sites, Smart Mom Ideas, I can look into my Google Console for one of my posts and see hundreds of longtial keywords my posts ranks for.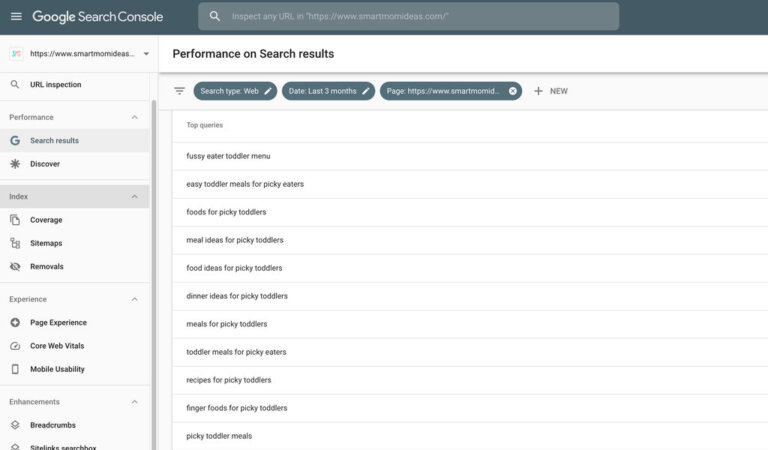 3. Set Your Permalinks
When you start a WordPress blog, it's a good thing to set your permalink – the URLs that show up in your browser. They should be descriptive and easy for Google to follow. Make sure to include a relevant keywords as a way to provide a hint on the topic matter.
Some bloggers may think that if they put their keyword in the URL they will have a higher chance of ranking. This isn't necessarily true. For example, if I search for, "homeschool curriculum reviews" the URLs of the top posts don't all have these "keywords" in their URL.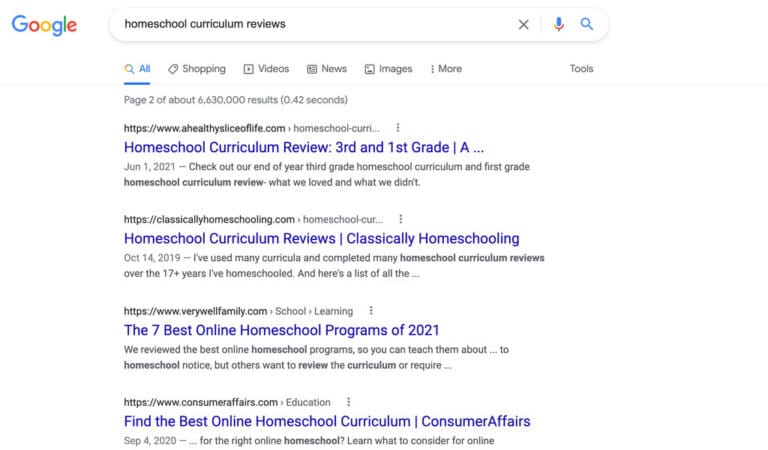 URLs consistent of:
Homeschool-curriculum-review-3rd-and-1st-grade
Online-homschools
Homeschool-curriclum-reviews
WordPress can enable pretty permalinks upon install, but you can customize them to be more optimized for SEO under Settings -> Permalinks. It's best to use the post name option so you can add relevant terms to your URL structure.
4. Gain Easy Backlinks With Guest Posting
A good but old tactic to gaining backlinks is to guest post. Nowadays, guest posting isn't such a huge strategy for many bloggers and possibly non-existent for new bloggers.
Guest posting refers to publishing a post you wrote on someone else's blog.
The premise is simple: you offer up your valuable knowledge around your niche or experience in exchange for a link back to your site. The link can be within your blog post or at at the end of your author bio. Here's one of my author bios for Thrive Global.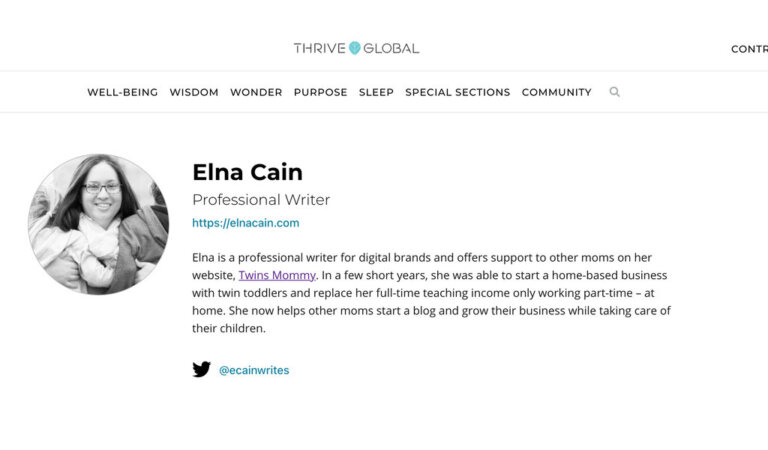 With this particular author bio, I added two links back to my site.
If you want to start guest posting, check out my contributor site, Imperfectly Perfect Mama. Moms guest post their best advice for motherhood, pregnancy, finances and more!
5. Share Your Content on Social Media
One thing you may not realize about Google ranking is that Google takes into account "social chatter."
This means if you have a post ranking in Pinterest, there's a good change it will or is already ranking in Google.
For new bloggers I recommend Pinterest and Facebook, but go where you feel your audience hangs out the most. This might mean Instagram or TikTok or even Youtube.
But try to stick to only two social media platforms and over time you can add more.
When you leverage social media, you gain new readers, more traffic and potential subscribers and customers/clients.
When I share posts on social media I try to be authentic, personal and helpful. Here's a recent post on Facebook on sharing a Twins Mommy blog post.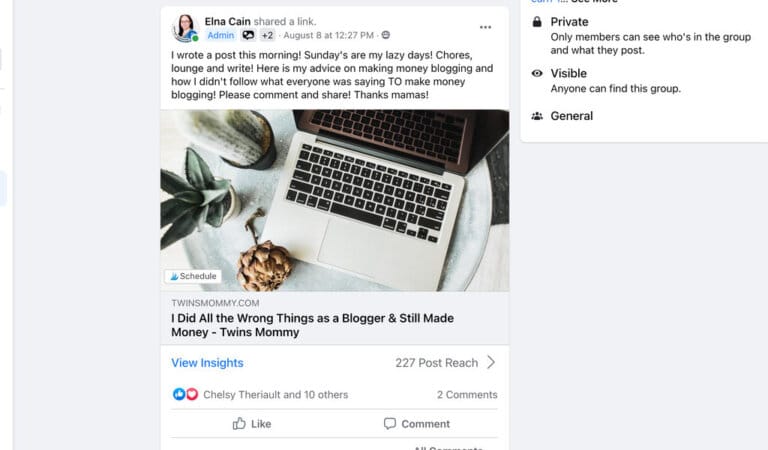 6. Don't Block the Search Engines
There could be a chance that you ticked something in the backend of WordPress that blocked search engines from finding your content!
To check, go to Settings > Reading and check under Search Engine Visibility isn't ticked.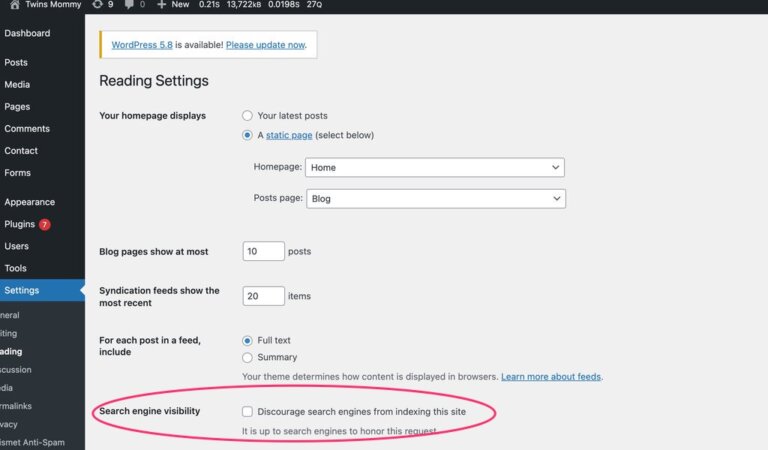 Easy SEO Tips for Brand New Bloggers
There ya go! One thing I teach new bloggers is to familiarize themselves with Google and ranking as well as their WordPress site. The more you create a solid foundation with your blog, the stronger your ranking potential will be.
For more help with SEO check out these posts:
Okay – ready for SEO traffic? Let me know down in the comments!
Please remember to pin this!!!