Are you a new blogger struggling to write blog posts to help you increase your website traffic?
SEO writing is one way to help you figure out blog post topics, but as new bloggers, you shouldn't focus on only one source of traffic.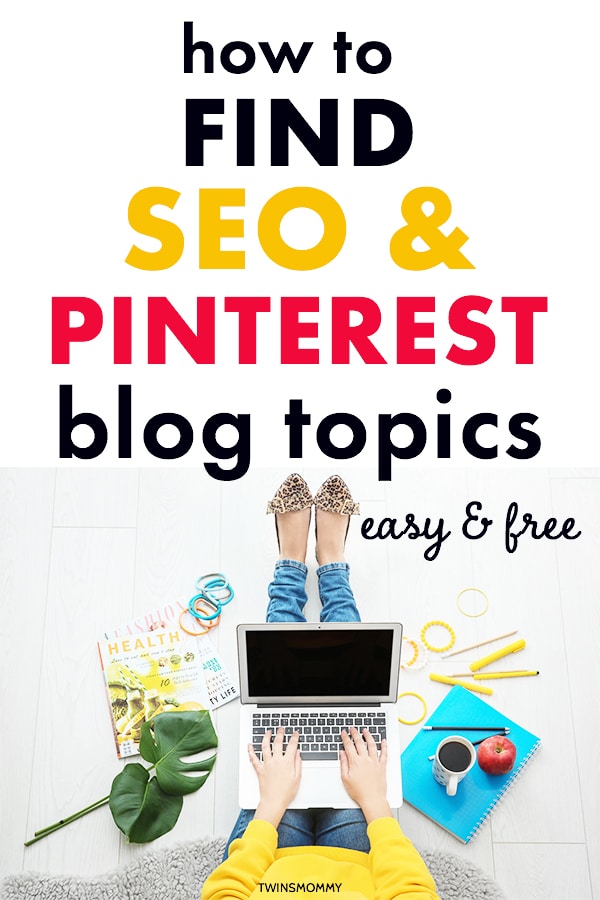 It's also a good idea to focus your editorial calendar for your blog posts on Pinterest also.
Pinterest is a powerhouse platform when it comes to bringing engagement, clicks, and traffic to your site.
When you plan your blog for Pinterest traffic and SEO traffic, you ensure that any algorithm updates won't hurt your blog's performance.
To help you get started, let's look at what SEO writing is and how that can help you form blog topics and then dive into Pinterest to find blogging ideas.
And if you don't have much time, make sure to watch my YouTube video (and subscribe to my channel) where I walk you through my blog post topic process.
SEO Writing
Let's back up and first ask – what is SEO?
SEO stands for Search Engine Optimization, and that means your blog posts have the potential to rank in Google on the first page, preferably in spots 0 (this is a featured snippet) 1,2 or 3.
To help your blog posts rank in Google, you can add keywords. This is what SEO writing is.
You create blog post topics with the intention of ranking in Google.
So SEO writing means:
Finding a keyword and relevant keywords
Using keyword tools – free and paid
Placing your keywords in optimized places in your blog content
Using SEO hacks to boost your blog post
SEO writing is writing for Google and search engines.
Personally, I don't do SEO writing in the first year of any new blog I start.
I write for people, not for Google and what's great about this blog traffic strategy is that doing this can actually help you rank in Google easier.
Finding Blog Post Topics that Uses SEO
Here is the process to finding relevant blog post ideas to help you rank in Google:
Think of a keyword you want to rank for
Check the keyword using a free SEO tool
Look at the blogs on page 1 to see if you can rank
Finding relevant keywords and key phrases to add to your blog post
For example, if your blog niche is parenting teens you might find better topics for SEO writing by broadening your topic to parenting.
Using Keyword Surfer you can see which parenting topics have a high search volume.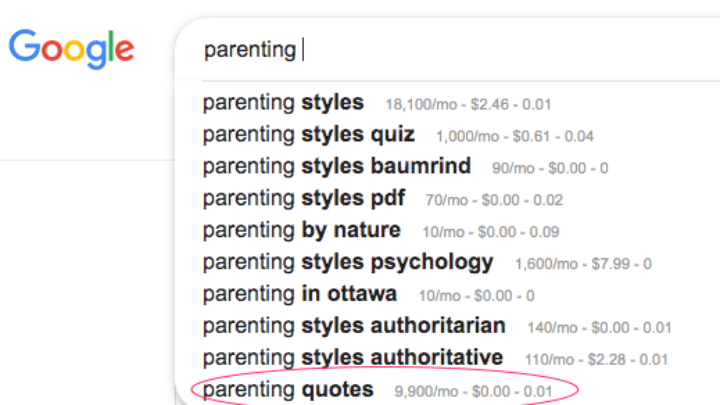 Both parenting styles and parenting quotes are good keywords for the parenting teen niche.
You can use these broad blog topics to niche down to your core niche –
57 Parenting Quotes to Help Teens Through a Bad Day
39 Parenting Quotes to Foster a Connection with Your Teen
The Top Parenting Styles that Can Ruin Your Relationship with Your Teen
Parenting Styles You Should Adopt When You Have a Teen
When you click on parenting quotes, Keywords Everywhere gives you related keywords and shows you the top blogs ranking for that post.
Spend time looking at those blogs and finding good relevant keywords with a high search number.
For more help with SEO writing, make sure to check out my proven blog traffic recipe!
Finding Blog Post Topics for Pinterest Traffic
Why am I focussing on Pinterest and not Facebook for traffic?
Because Facebook builds connections on its platform, people want to stay on Facebook. They don't want to click over to your blog post – and if they do, they rather comment on Facebook than leave a blog comment.
Pinterest, on the other hand, is like Google. It's a search engine, not a social platform.
People use Pinterest to find things or search for ideas.
And as content creators, we can use Pinterest easily to find the best types of blog post topics for your blog's niche.
For example, if you blog about organization, head on to Pinterest and type organization printables.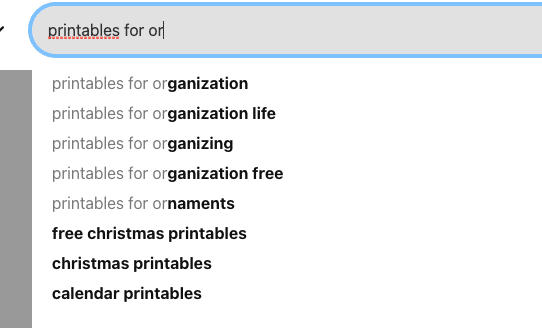 So, as a blogger, you can see that organization printables is a huge niche on Pinterest.
You can write a blog post for every tile if you want!
Free Organization Printables for Each Room of the House
The Best Financial Organization Printable for New Couples
The Ultimate Home Organization Printables You Need
Also, pay attention to the top pins – on row one – and look at the colors they use, the pictures being used and words they have on their pins.
For example, you may notice that the top pins use personal photos of their home binder systems.
This can help you come up with some of your own photos of your printables and binders to use as your pin graphic.
Using SEO Writing and Pinterest for Blog Topics
The best type of blog post topics are ones that you can do SEO writing with, but also gain Pinterest love.
So, this means you can gain traffic from two sources – Google and Pinterest.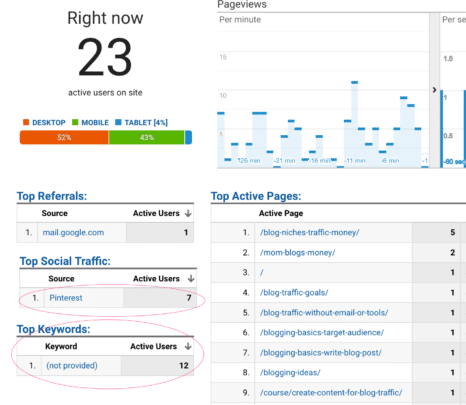 The example I used for parenting quotes is a great keyword for Google traffic, and it's highly visual enough to bring traffic from Pinterest (and even other visual platforms like Instagram).
So, how can you optimize this keyword for both platforms?
SEO Writing Tips for Keywords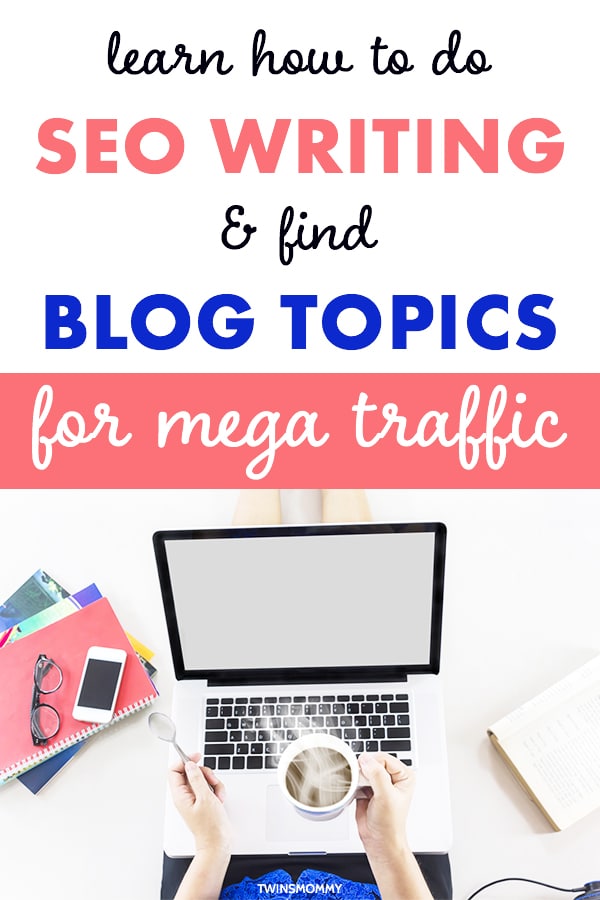 Where do you place a keyword in your blog post and how many times can you place it?
This question is highly variable, and there is no right answer, except, don't overstuff your blog post with your keyword.
Generally, what I tell my traffic students is that you want to place your keywords in the:
Headline (close to the front of your headline)
First 100 words of your blog post
Subheading
Post several times
That's a general template many bloggers use.
Of, course doing just these things won't ensure you will rank on page one of Google or get on the first spot of the search result page.
It, will, however, give you a template and a routine to use with SEO writing.
Not every blog post I write is for SEO writing purposes either.
I write blog posts for:
Growing my email list
Showing my credibility in my blog niche
Growing my traffic
Once you figure out the purpose of your blog post topics, then you can start seeing where to focus your efforts for SEO writing or for creating a very highly viral pin graphic.
Start Figuring Our Blog Topics the Right Way
Figuring out what to blog about is a huge hurdle for many new bloggers.
But, if you can figure out the type of blog posts, you will write and the purpose for each kind of post, you can gain a clearer picture to work towards.
As I mentioned before, SEO writing shouldn't be tried in the first 6 months to a year of your blog. You'll do much better by focusing on new blogger tactics and then working towards gaining a new way for website traffic.
Over to you – Let me know how you figure out your blog post topics! I'd love to hear them!