Having a hard time figuring out what to blog about on your blog?
Finding topic ideas for your blog can be hard. It is for me!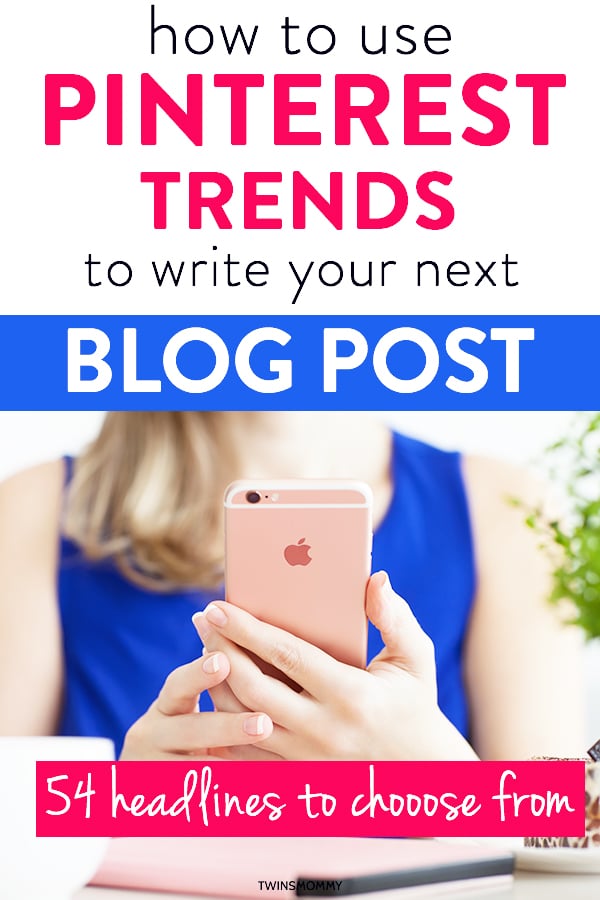 I have a lot of ideas but when I look at my blog, I already wrote about it!
So, I have to dig deeper and come up with different ideas or spin an idea I already wrote about.
But, there is actually an easier way to finding topic ideas AND they're popular ideas too.
One of the best sources of traffic for bloggers is Pinterest and if you can write blog posts that attract pinners, you can get a flood of blog traffic.
These are Pinterest trends and writing about these trends can help you bring new eyes to your content and help you create an editorial calendar for the rest of the year!
Pinterest Trends
There are many topics that trend on Pinterest and come from all types of blog niches.

There are two ways to discover popular trends on Pinterest.
Pinterest keeps tracks of what ends up trending and makes predictions on what will trend for the new year. The first is their Pinterest trends for the year to help content creators know what types of content will be seen the most on Pinterest.
The second is using Pinterest Trends to discover the popularity of topics over time.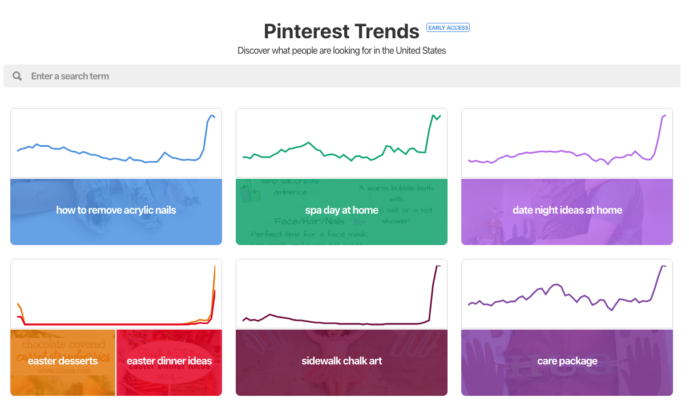 Simply type in a keyword and see the stats as well as the search results on Pinterest.
When looking at either this list of over 100 trending topics for your blog or using Pinterest Trends, it can be overwhelming.
So I thought I would do the research for you and pick and choose the best trends in various niches and come up with many blog topic ideas under that trend idea.
Yes, that sounds confusing, but doing this will make it a cinch for you to come up with your next blog post idea.
Considerations when Using Pinterest Trends Ideas
Not every topic idea you use from Pinterest trends will take off, but it's a new topic idea and it's an idea you can monetize with affiliate marketing, display ads or with your own products.
As well, I wouldn't make your entire blog plan built around trends. Trends are just that – they come and go and you won't build a robust blog with spikes of traffic and low traffic months.
You want to build a blog with a consistent stream of traffic and that means not relying on one source of traffic – Pinterest.
Finally, because this Pinterest trends report is available to everyone, these ideas aren't new or unique anymore. So, it's up to you to "spin" these topic ideas into something different.
Kids and Parenting
Many of these Pinterest trends for kids and parenting are product based or have the ability to be monetized with Amazon affiliate marketing.
So, when thinking about your blog plan, you would want to have these blog posts available for gift guide season – end of year holidays.
October is a great month to start creating Pinterest trend topics and you can create gift guides for many of them:
Pinterest trend: wireless breast pumps – Key Differences between the Worst and Best Wireless Breast Pumps | The Best Wireless Breast Pump for New Moms | The Only Wireless Breast Pump You Need | Why the Wireless Breast Pump is Better
Pinterest trend: audio storytellers – The Best Audio Storytellers for Kids | (x) Audio Storytellers for Kids to Last them Hours | Why Audio Storytellers are A Great Way to Teach Reading
Pinterest trend: toy share subscriptions – How Toy Sharing Subscriptions Reduce Clutter and Create More Fun | Your Saving Grace: Toy Sharing Subscriptions | Bonus tip: Kiwico is a toy subscription that offers an affiliate program so that you can monetize this blog post.
The other Pinterest trends can be used any time of the year and you can use these ideas to monetize as well.
Pinterest trend: smart bassinet. I wrote about this for Smart Mom Ideas and it's doing well! – (x) Smart Bassinets to Help Baby Fall Asleep Easily | Why I Use a Smart Bassinet Instead of a Crib | Why You Need a Smart Bassinet if You Ever Want to Sleep Again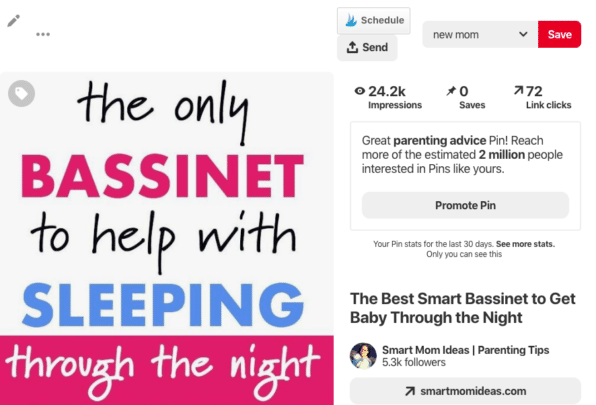 Pinterest trend: rustic nursery ideas – I also wrote about this Pinterest trend, but it did not take off. My suggestion is if this fits in your niche – home decor, home renovations, design – then this topic idea would do well on Pinterest. I would also think about using your own photos to show a before or after as those types of pins do extremely well on Pinterest.
Pinterest trend: enchanted forest party theme – 5 Enchanted Forest Party Themes for Your Toddler | How to Create an Enchanted Forest for Your Next Birthday Party | DIY Enchanted Forest Party
Pinterest trend: birthday scavenger hunt – How to Have a Birthday Scavenger Hunt | DIY Birthday Scavenger Hunt | What You Need to Have a Fun Birthday Scavenger Hunt
Hobbies and Interest/Celebrations
Pinterest has grouped a lot of blog niches together under hobbies and interests.
There are two financial Pinterest trend topics that many lifestyle bloggers, frugal living bloggers and those blogging about money can use for their editorial calendar.
Pinterest trend: 52-week savings plan – My 52-Week Savings Plan Printable | 52-Week Savings Plan Challenge | How to Save $10,000 With a Savings Plan
Pinterest trend: side hustles at home – Best Side Hustles Stay at Home Moms Can Do | (x) Side Hustles You Can Do At Home | (x) Side Hustles Moms Can Do at Home
Pinterest trend: mini moment celebrations – (x) Best Mini Moment Celebrations to Share With Your Kid | How Mini Moment Celebrations Can Make You Happier | Why It's Better to Have Mini Moment Celebrations than a Party
Health and Wellness
If you are a health and wellness blogger or you have a health section on your blog, you can incorporate some Pinterest trends.
Note: for topics based on science, it's a good idea to source your ideas from medical sites or medical journals and if possible, be credible in this topic (nurse, doctor, dietician).
Pinterest trend: Elderberry recipes/ homemade jam – The Best Elderberry Recipes for Cold & Flu | How to Make the Tastiest Homemade Elderberry Jam
Pinterest trend: super powders – (x) Superfood Powders to Boost Weight Loss | What are Superfood Powders? | How Can Superfood Powders Help You Lose Weight?
Pinterest trend: nutrition plans – An Easy Toddler Nutrition Plan | The Best Nutrition Plan if You Are Chronically Sick | The Nutrition Plan You Need if You Have Diabetes
Pinterest trend: band workouts – (x) Easy Band Workouts for Pregnancy | (x) Band Workouts You Can do At Work | (x) Band Workouts for Your Home Exercise Plan
Pinterest trend: zero waste travel – How to Have a Zero Waste Travel | (x) Ways You Can Have a Zero Waste Travel | Zero Waste Travel Guide for Millennials
Food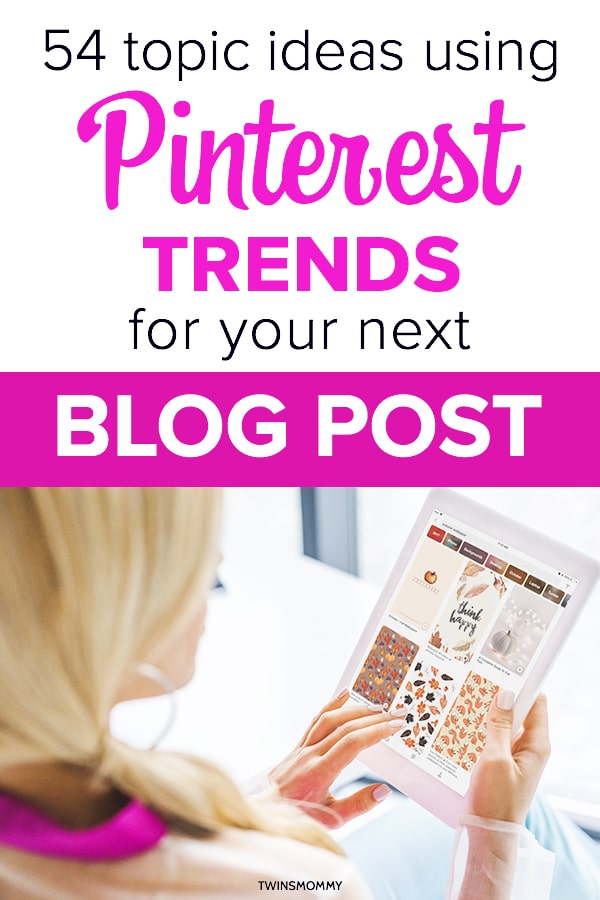 As a lifestyle blogger, you may have a recipe or food section on your blog. For my mom lifestyle blog Smart Mom Ideas, I have a food section and some of my most viral Pins come from that section of my blog.
Pinterest trends: mushroom recipes – (x) Mushroom Recipes for Dinner | The Best Mushroom Soup | How to Roast Mushrooms | One Pot Chicken and Mushroom Recipe
Pinterest trend: homemade jam – 3 Ingredient (x) Homemade Jam | 15 Minute (X) Homemade Jam | Low Sugar (x) Homemade Jam
Pinterest trend: oatmilk – The Easiest Oatmilk Recipe | How to Make Homemade Oatmilk for Vegans | Vegan Oatmilk Recipe
Pinterest trend: oxtail recipes – (x) Jamaican Oxtail Recipes | (x) Crockpot Oxtail Recipes | (x) Instant Pot Oxtail Recipes
Topic Ideas for Pinterest Traffic
There ya go!
Some of the best Pinterest trend topics for lifestyle bloggers and mom bloggers!
I hope you enjoyed this post and found some topic ideas for your next blog post!
Comment below and tell me if you already incorporated these topics from the Pinterest trends guide!
Please remember to pin me!