Are you a mom?
Are you looking for ways to make money online?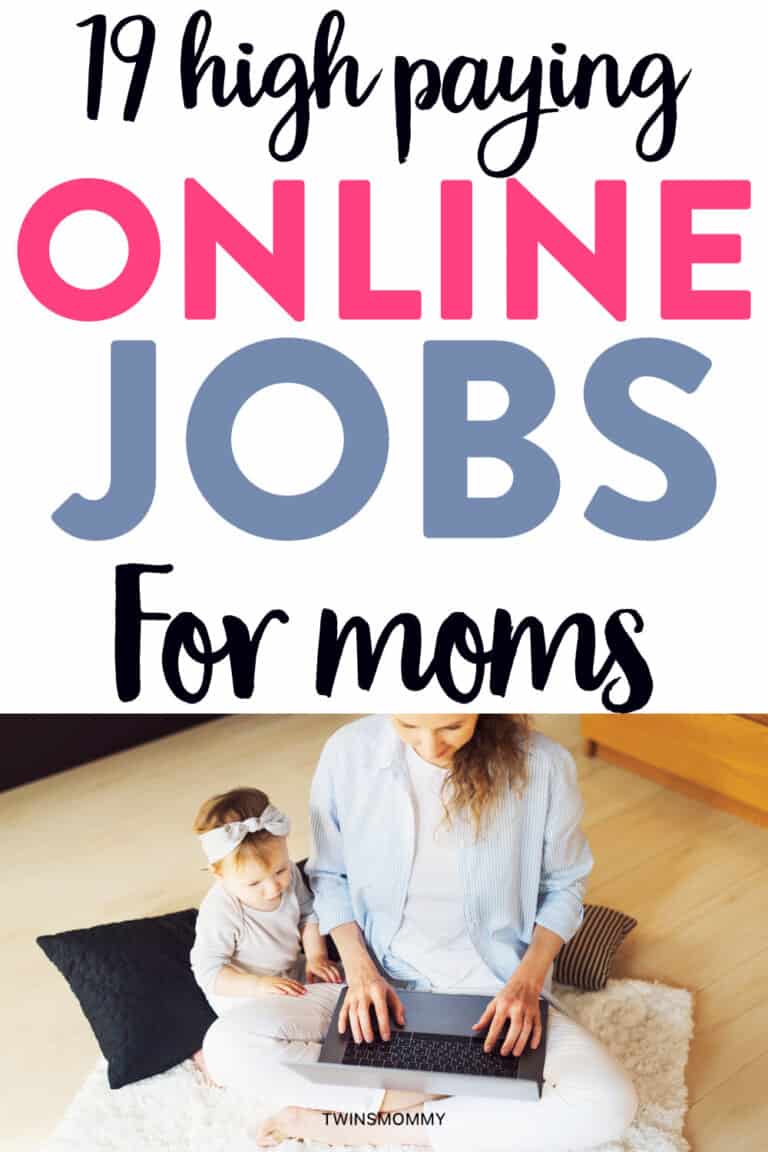 There are so many online jobs for moms that make money – whether you are looking for something to replace your full-time job or something to earn some extra money.
Being a working mom is definitely a challenge, though.
I've been a work from home mom with an online job since 2014.
I started when my twins were around 15 months old and now they go to school…and I'm still doing this online job thing!
Between taking care of my twins, taking caring for my home, and managing my time, it was overwhelming at times.
Luckily, during my maternity leave, I was able to start working online and made enough money that I didn't have to go back to my job!
While my main focuses are blogging and freelance writing, I love sharing online job ideas with moms who are looking to make money from home.
Let's get started.
1. Start a Blog
Okay, so I'm going to be honest –
Blogging is not one of those online jobs for moms that will make you money overnight.
It's a long game that takes time and dedication.
But it can really pay off in the end!
It can take a year or two before you can quit your full-time job and focus on your blog as a source of income, but it is possible.
I was able to make enough money from my blogs that I didn't have to go back to work after my maternity leave ended.
If you're interested in making money as a blogger, check out my post here.
2. Sell Printables and Digital Products
If you have a knack for graphic design or want to learn, you can make and sell digital products online.
Doing so is known as "passive income" which means that you create the product once and earn money for it again and again!
You can sell printable worksheets for homeschooling, bloggers, and home organization or templates for Pinterest images, workbooks, and social media posts.
I sell two printables for mom bloggers – Easy Keywords for Ranking and Stylized Canva Pin Templates.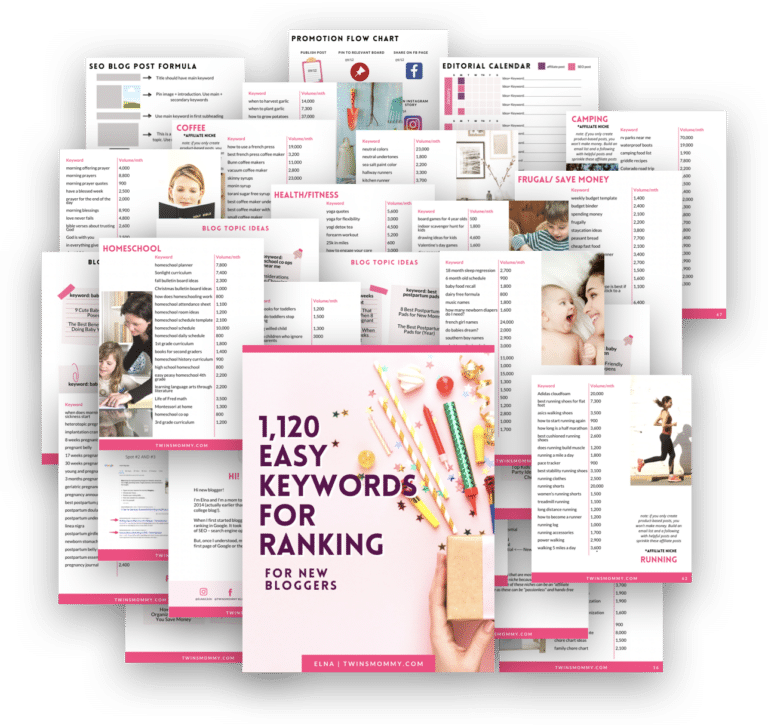 Or, if you have an artistic flair, you can even sell digital art prints of your work!
The possibilities are endless and getting started isn't difficult.
3. Freelancing
I can't talk about online jobs for moms without mentioning freelancing – it's my jam!
I've been a freelance writer for a few years now but freelancing comes in all shapes and forms. You can be a freelance writer, a freelance graphic designer, etc.
When it comes to freelance writing, you can write content for blogs and social media as well as eBooks, white papers, and case studies.
If you can write it, people will pay for it!
You can get started by checking out this freelance writing course I designed to help freelance writers launch their careers.
4. Dropshipping
Dropshipping sounds complicated but the idea is simple: You open an online store but you don't sell your own products.
Instead, the orders are transferred to the manufacturer or wholesaler and they fulfill the order.
So say you open a store on Shopify.
You can then set up your store to sell the products you want from another retailer. The products are shipped right to the buyer.
You make money by setting your retail price above the supplier's wholesale price and pocketing the difference!
5. Fulfilled by Amazon (FBA)
Fulfilled by Amazon (FBA) is a service offered by Amazon that is very similar to dropshipping – except you have to invest in merchandise and store it in Amazon's warehouse.
Amazon then manages all of your shipments and returns.
This is a great online job for moms who enjoy bargain hunting!
You can find products at great deals or buy them in bulk and sell them on Amazon for a higher (yet fair) cost.
6. Offer a Coaching Service
When it comes to offering a coaching service, this can really encompass any sort of service that offers your expertise and knowledge in order to help other people.
You can be a fitness coach, a life coach, a business coach, a divorce coach – the possibilities are endless!
Just be sure that you have some solid knowledge and experience in whatever you choose to offer.
You also need to lay out your method in a way that will help others achieve their desired results.
7. Create a Course
You can also take this same knowledge and experience and create an online course.
This is another amazing passive income option.
As long as you have a proven framework to help others achieve their goals, you can channel your expertise into a course.
Unlike coaching, you don't necessarily need to have "solid" experience when it comes to what you want to teach.
You just have to be able to walk others toward the same success you have achieved.
For example, I create my freelance writing course when I was about a year and half into freelance writing. But I figured out a way to reach my own goals and knew it could help others as well!
I host all my courses on Teachable – a course platform.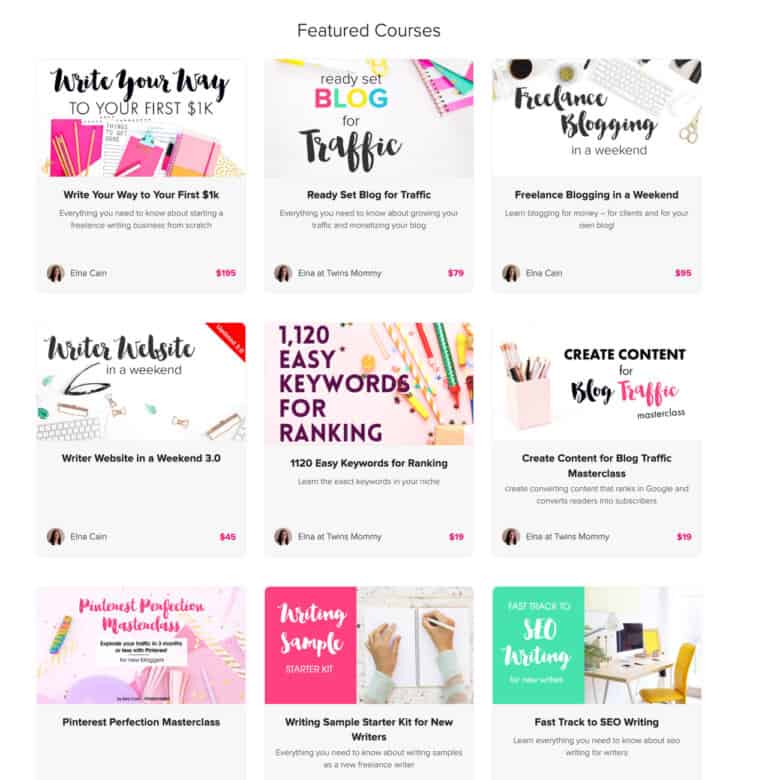 What I like the most about hosting on Teachable is that they have an affiliate program and they handle all the affiliate payouts and things like that.
This makes it easy for me come tax time!
8. Write a Book
While we're in the vein of sharing knowledge, why not write a book?
This can be a huge undertaking but the passive income can be staggering!
Many bloggers choose to compile their knowledge into an eBook.
Once that takes off, they create a course and eventually offer a coaching service.
So there you go!
Start a blog, write a book, create a course, and offer a coaching service!
9. Sell Your Photos
Are you good with a camera?
If you are, you can sell your photos online and make some money from home!
You can sell your photos to stock image sites.
These are platforms that many bloggers, such as myself, use to source images for our sites and articles – and they'll buy pictures from people like you!
You can also look at selling your photos as digital art on sites such as Etsy.
Or, you can sell them on your own website!
I purchase photos from Pixistock and I love Alicia's style so much!
10. Virtual Assistant
If you're not familiar with the world of online business, let me tell you this: There are many, many, many, many moving parts!
Virtual assistants are people who work from home helping business owners manage their online presence.
This online job for moms can include scheduling meetings, managing websites, answering emails, posting on social media, and more.
Businesses are keen to pay people to do this to ensure their online success and lessen their workload.
It's definitely worth checking out!
11. Online Tutor/English Teacher
If you have a Bachelor's degree and an excellent handle on the English language, there are online companies (such as VIPKid) that will hire you to teach English to children in foreign countries.
This is a great online job for moms because it offers flexibility when it comes to how you teach as well as your schedule.
For those who don't have post-secondary education, never fear!
You can still use your love of teaching to offer online tutoring services.
You can reach out locally to clients in your community or offer your services online. When it comes to tutoring, just ensure that your knowledge is at least one grade level above the clientele you want to help.
12. Proofreading/Editing
Maybe you're not ready to dive into the world the freelance writing but you love the written language and have an eye for grammar and spelling.
You can become an online proofreader or editor – or both!
Yes, there is a difference. Proofreaders review documents and correct spelling/grammar errors while editors also rework the content to ensure good flow and readability.
You can offer your proofreading and editing skills as a freelancer or check out jobs through sites like Proofreading Pal.
13. Take Online Surveys
So this isn't really an online job for moms, per se, but it is one way you can make money from home.
There are many sites out there like Survey Junkie and Swagbucks that will pay you for your opinion.
You simply have to take surveys and earn points toward cash, gift cards, etc.
This will never replace your job but if you have a few minutes to spare during the day, you could put some extra money in your pockets!
14. Be a Website/App Tester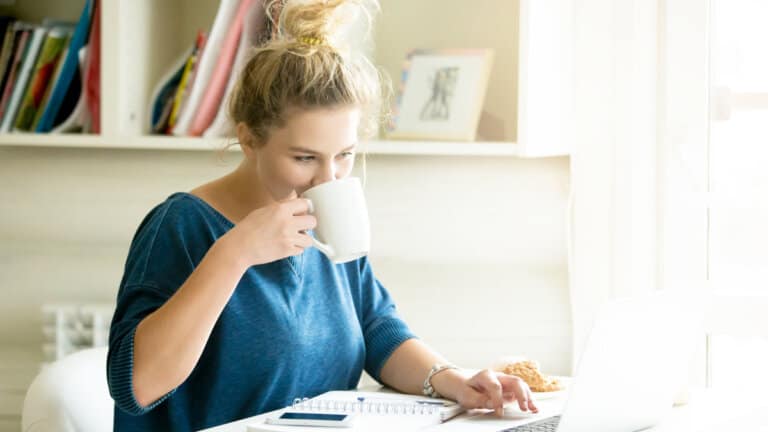 There are several platforms out there that will pay you to test the usability of websites and apps.
Again, this is not going to earn you a full-time income but it's a great way to earn a little extra cash.
All you have to do is sign up, create a profile, and wait for the site to send you tests to complete (although there are some platforms where you'll have to find the tests yourself).
Check out sites like Userfeel and TryMyUi to get started!
15. Customer Support/Call Centre Agent
After the pandemic hit, more and more customer support companies shifted their employees to remote work.
This means that there may even be call centers in your area that will hire people to work from home!
Most customer support positions are going to require speaking on the phone, so this may not be one of the best online jobs for moms with small babies.
However, some are text-based which means you answer questions via online chat or email.
Many of these jobs require you to work on a schedule, so you do lose that flexibility. But what you lose in flexibility you make up for knowing that you have a steady job and income.
16. Bookkeeping
Bookkeeping involves keeping track of a company's financial transactions as well as producing reports and organizing accounts.
You can do this work from home for a specific company or start your own online business!
You don't even need a lot of experience as long as you have a knack for numbers.
You can even take free online courses to get started.
17. Transcribing
Are you a fast typer? Have a good ear? You should definitely check out transcribing!
Transcribing involves listening to an audio file or watching a video and typing what you hear.
Many companies will pay for these services to acquire transcriptions or create subtitles for videos.
Check out online job boards for transcribing jobs or, if you have experience, offer your own services.
18. Data Entry
Data entry, I think, is one of the oldest online jobs out there!
Data entry involves using a computer to enter information into a database.
This may include entering inventory information, processing payments, and tabulating customer comments.
Every industry has the need for data entry in some form. Check out platforms like Indeed for data entry positions in the "remote jobs" category.
19. Sell Crafts
Not every online job for moms has to involve sitting in front of a computer!
You can use the online world to sell crafts that you make with your own hands.
The types of crafts you can make and sell are endless, including:
Soap
Knit or crocheted items
Candles
Jewelry
Baby clothes
I have a post that lists 87 different crafts you can make and sell online. Check it out for more ideas!
In order to sell your crafts online, consider setting up an Etsy shop or posting your creations on Facebook Marketplace.
Make Some Money, Mama!
There! This list should give you plenty of ideas when it comes to online jobs you can explore to make money from home.
Just remember that no matter what you choose to pursue, finding success is going to take time and effort.
You're not going to be able to quit your full-time job tomorrow but, trust me, the perseverance is definitely going to pay off!
How about you? Do you already make money online? Share your experiences with us in the comments!