You know it's possible to make money blogging, but here's the thing –
You don't know how to make that happen.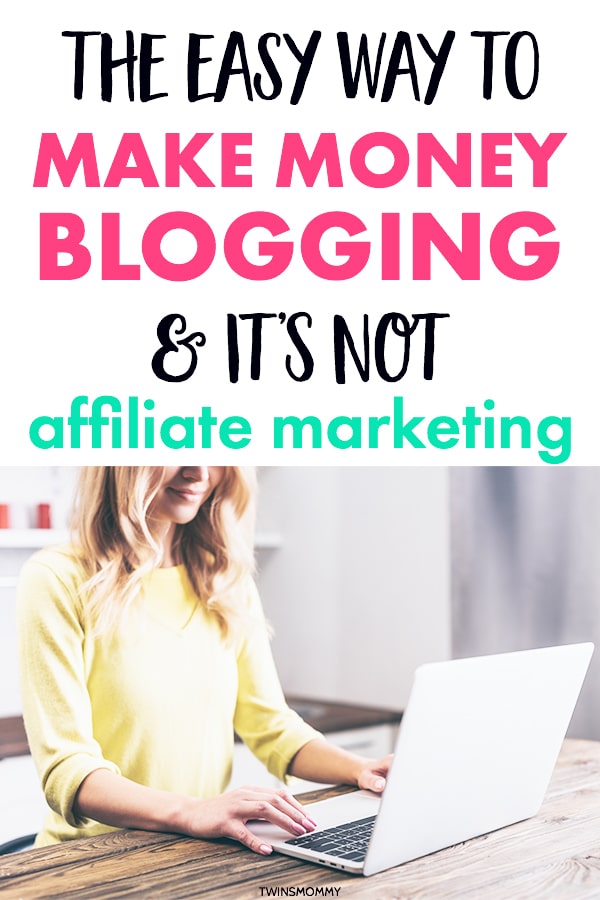 From income reports to bloggers saying they make a full-time income blogging only 2 hours a day, you know there's something here, but you just can't connect the dots.
Some bloggers say affiliate marketing is how brand new bloggers should start monetizing their blog.
Other bloggers say they do display ads or start a service or make a product.
Who do you believe?
Can I tell you secret?
All of those methods are legit ways to make money as a blogger.
But, if you are looking to make money quick, I'll tell you right now that most of those tactics won't help.
There is only one monetization strategy that will make you money in the first week or possibly the first day.
And that's offering a service, like freelance blogging, coaching, VA or graphic design for example.
Why Affiliate Marketing Won't Help You Make Money Fast
If you are not sure what affiliate marketing is, it's when a blogger promotes a product on their blog, email or social media and receives a commission if a reader clicks on their special link.
You can become an affiliate for virtually anything – online courses, services like email providers, printables, eBooks, and physical products.
If you become an affiliate for many products or products with a high commission rate, then you have the potential to make a living from your affiliate marketing.
But, here's the thing about affiliate marketing –
It can take months or even a year to see more than a few bucks a month from this tactic.
Yes, it is challenging to make more than coffee money in the first three months of using affiliate marketing.
In fact, if you do make sales with your affiliate marketing, you won't even see that money for several months. So, it's impossible to make (have it in your bank account) $100 in your first month as a blogger from affiliate marketing.
But, that's not true with offering a service.
Offering a Service is the Quickest Way to Make Money Online
Hands down, the quickest way to make income from your blog is by offering a service.
It is possible to make your first $100 in a week or a day and receive that money within the first month or sooner.
My first introduction to blogging was by offering freelance writing to small businesses.
In the first two months, I already had made my first $1k, and it grew month by month after that.
Why is that, though?
Why is it easier than affiliate marketing?
There are key reasons why offering a service is perfect for a brand new blogger or mom blogger.
1. You Don't Need Blog Traffic
Most of the monetization strategies bloggers use – display ads, product creation, membership site, affiliate marketing – rely on growing their blog traffic.
But, if you have a service, you really don't need traffic to your site.
You only really need the right people on your site. And most people that will go to your blog will already – or most likely – be interested in what you have to offer.
Every week I get several emails of potential clients wanting my freelance writing service.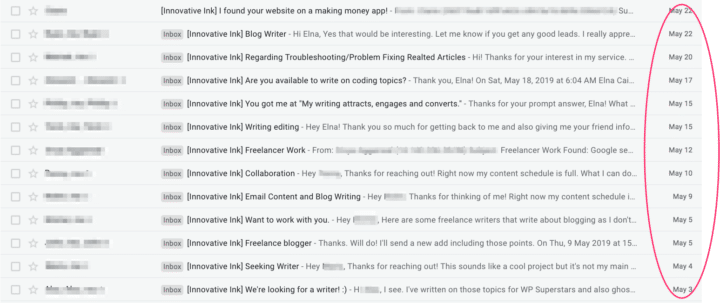 And, you know what?
My freelance writing site only gets around 10,000 pageviews a month!

But, when I first started, I didn't have that many visitors or pageviews, and I still landed several clients!
2. You Don't Need an Email List
As a blogger, have you heard the saying, the money is in the list?
What this is referring to is your email list. For most bloggers, their email list is their #1 way they make money. It's a great way for converting your readers into buyers.
But, you know what?
If you offer a service, you really don't need an email list.
Now, don't get me wrong, having one for your service can be an extremely powerful marketing tool for your business, but it's not essential.
I don't have an email list for my freelance writing website.
Michelle Dixon is a content writer as well as a virtual assistant. She has a fantastic website for her services and doesn't have an email list!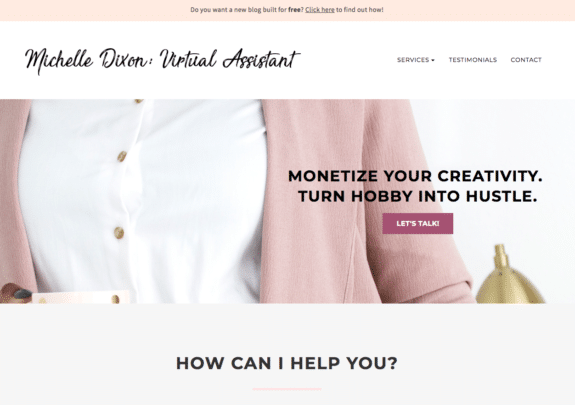 And other service providers don't even use a blog for marketing their service.
They use Facebook and gain leads from their Facebook page.
While I feel this isn't the best strategy – a blog is your home base while "running" your business on Facebook is like running it on rented land – it's totally fine to do this in the beginning to gauge the market.
So, as you can see, offering a service doesn't require extra tools or money to get started.
3. You Get Paid Quicker When You Offer a Service
Recently I hired an email copywriter to help me tweak one of my email funnels.
I needed a new pair of eyes to help me streamline my emails and where to display my offer in my funnel.
She wanted to discuss the project via Skype, and from there, she gave me her recommendations, which I implemented that week.
We went back and forth during email that week, and once everything was done, she submitted her invoice, and I paid her for her time.
The entire project took about a week, and she was paid at the end of the week.
As you can see, offering a service is a quick way to gain cash.
For my freelance writing business, I usually invoice monthly, which helps me figure out my monthly income from freelancing.
4. You Control How Much You Can Make
See, the thing with affiliate marketing is that you have to go by the company's terms and rates.
You also have no control if that affiliate provider suddenly cuts their commission rate or just closes its doors and shuts down their business forever.
For example, BoardBooster was a social media automation tool for Pinterest, and they offered an affiliate program. But, because BoardBooster wasn't an approved tool by Pinterest, it was forced to close its doors.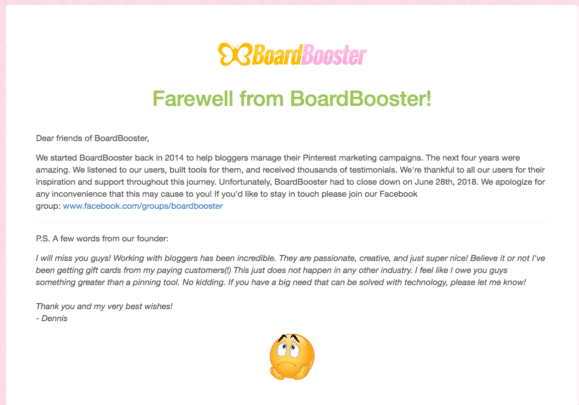 Many huge bloggers promoted BoardBooster, so it was a big surprise when they learned BoardBooster would be no more.
But, if you offer a service, you determine your worth and how much work you want to take on for the month.
Of course, in the beginning, you can't be this picky, but the beauty of a service-based business is that over time, you will have that option of picking and choosing your clients.
Okay, so if you're interested in offering a service, here are the important steps you need to take to get started.
How to Start a Service on Your Blog
1. Get a Business PayPal Address
You need to get paid, right?
The go-to platform to use is PayPal. It's known, credible, and trustworthy.
If you already have a PayPal account, just upgrade your account for business.
I would also draft up an invoice template you can start using for your projects.
This way it's personal with your logo and brand.
2. Have a Hire Me/Services Page on Your Blog
To let people know you are offering a service, go ahead and add a Hire Me page on your blog.
For my freelance writing blog, I do have a services page on my menu letting others know that I do offer writing and coaching (no more coaching though) on top of my free resources to help people become freelance writers themselves.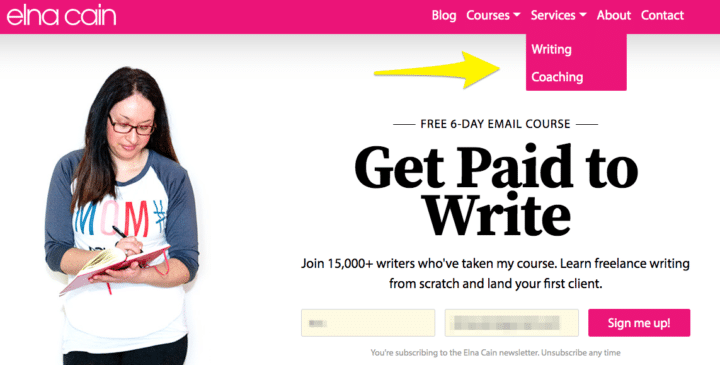 On your Hire Me page, mention what you do and who your ideal client is.
I usually call out my client in the very beginning –
Are you running your business on your own?
Never have enough time in the day to get things done?
I like to address my client's challenges and problems and show them in my Hire Me page how I can help solve their problems.
3. Social Proof
The fastest way to show prospects you are legit in what you are offering is to have social proof on your blog.
This comes in the form of testimonials.
When I first started my service blog, I used other freelance writers as social proof.
You can also gain social proof on social media.
Your Facebook page has a section for reviews, and LinkedIn also has a place for testimonials.
If you gain some social testimonials, you can always take a screenshot of those and place them on your blog.
4. Networking Opportunities
A quick way to pick up work is by networking.
This means connecting with your potential clients and showing them that you can help them.
But, you don't want to be marketing your services all the time and turning off potential business.
Instead, always be helpful when you start networking.
And you can start by using Facebook groups.
If you see a thread where you can showcase your expertise in your service, then offer that. This is how I found my email copywriter.
She engaged with me on Facebook, and then I emailed her, and she offered even more "free" advice, and that sold me.
Make Money Quickly By Offering a Service
Maybe I'm a tad bias, but I honestly feel the quickest way to make money with your blog is to offer a service. And, don't feel you don't have anything to offer either!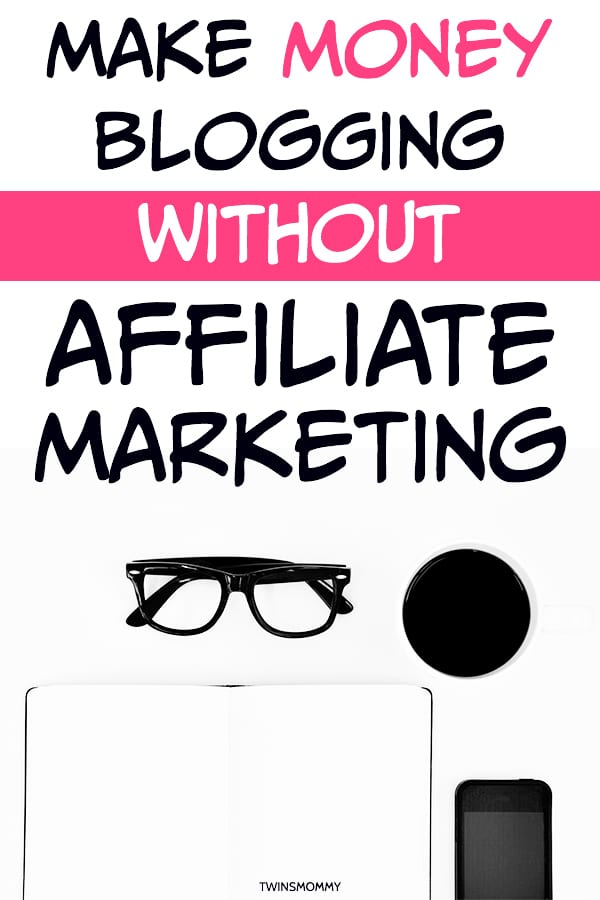 You have to be a few steps ahead of your potential client to offer a service.
For example, if you are great at making Pin graphics, you can provide this as a service for bloggers who don't have the time to spend making Pin graphics.
Or, if you are a great editor or proofreader, why not help bloggers with their product pages, landing page, and sales page copy?
Maybe you love email marketing and have experience on how to set up automations, a welcome series, and segmenting a list.
Why not offer that to a blogger that is ready to create a product and needs help with their email marketing?
There are countless ways to offer a service and get paid for your expertise.
Over to you – do you offer a service? Tell me in the comments!
Please remember to pin me!