Mother's Day is approaching and while you have plans to celebrate at home with your family, wouldn't it be nice to share that generosity with your followers on social media?
As a blogger, this is an easy way to not only boost engagement but to make sales on your Instagram profile (or another social media profile)!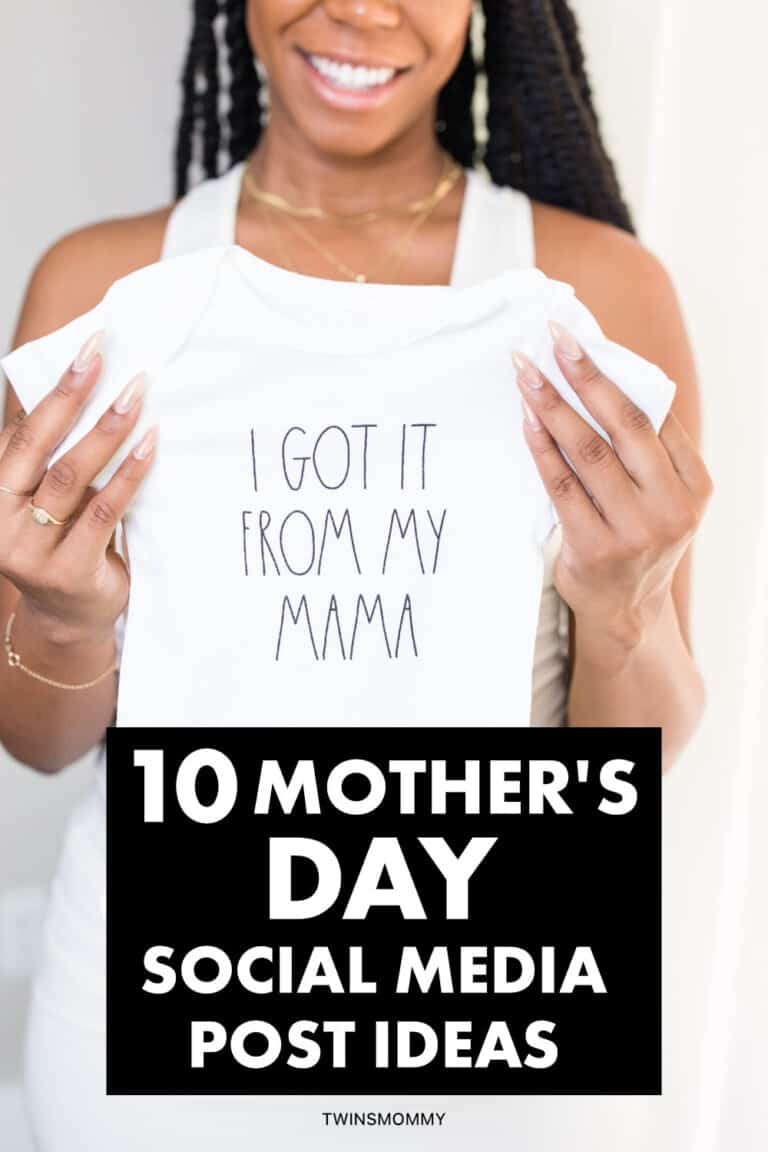 As proof, in exchange for a Mother's Day incentive, 55% of consumers would interact with a brand on social media.
Brands are capitalizing on Mother's Day incentives to help drive engagement to their social page, and you know what?
You can do the same and even make some money from it too!
But maybe you're not sure what to share for Mother's Day on social media.
You want to post something that will get your followers engaged, but you're not sure what posts will do that for you.
You try searching for some ideas online, but it's hard to find something that feels original and personal.
I should know – I tried this!
You don't want to just re-share someone else's post.
Instead, you want to make sure your followers know you put some thought into your Mother's Day posts.
To help you out let's look at ten Mother's Day social media posts you can try for your brand and I'll share popular hashtags you can use for this occasion.
10 Mother's Day Social Media Posts
The social media profile I'll be referencing the most is Instagram.
Instagram is the perfect place to connect with your audience.
In 2019, moms made up 53% of Instagram users and it's been going up ever since!
This means that if you're not on Instagram, you're missing out on a big opportunity to connect with your target audience.
So, let's look at these social media posts for Mother's Day!
1. Share a Favorite Mother's Day Quote
Quotes are still very popular on Instagram.
I create quotes every now and then but when I do, I get a boost in engagement.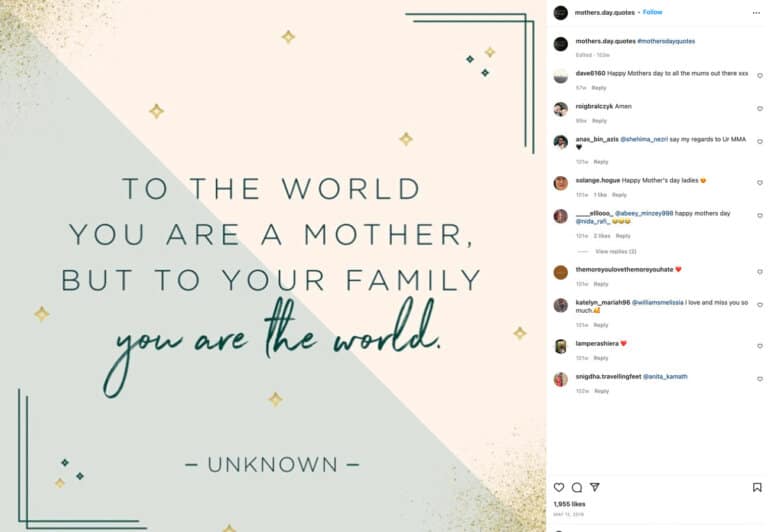 There are so many wonderful quotes about mothers out there. Here are some of my favorites:
"A mother is she who can take the place of all others but whose place no one else can take." – Gaspard Mermillod
"A mother is a person who seeing there are only four pieces of pie for five people, promptly announces she never did care for pie." – Tenneva Jordan
"All that I am or ever hope to be, I owe to my angel mother." – Abraham Lincoln
"The heart of a mother is a deep abyss at the bottom of which you will always find forgiveness." – Honore de Balzac
"When you are a mother, you are never really alone in your thoughts. A mother always has to think twice, once for herself and once for her child." – Sophia Loren
"The most important thing a father can do for his children is to love their mother." – Theodore Hesburgh
"There's no way to be a perfect mother and a million ways to be a good one." –Jill Churchill
2. Include a Picture of You and Your Mom When She Was Younger
This year, why not show your appreciation for your mom with a special post on social media?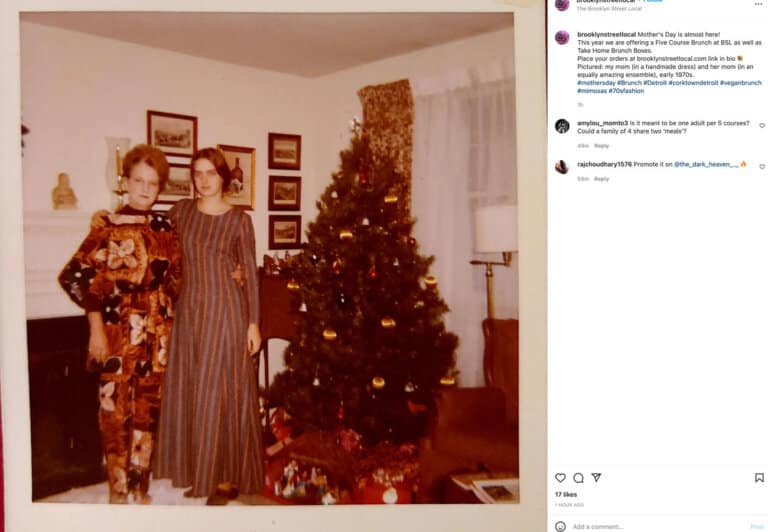 One great way to do this is by sharing a picture of you and your mom when she was younger.
This will remind your followers of how much your mom has loved and cared for you over the years.
And you can encourage conversation by sharing a story and asking your followers to share their mother-daughter or mother-son story.
3. Ask Followers to Share Favorite Mother's Day Memory
Why not ask your followers to share their favorite memory of their mom?
Whether it's a cherished moment from childhood, a recent tradition with children, or something in between, everyone has a special memory of this holiday dedicated to mothers.
This could be a great way to connect with your audience and to learn more about the amazing women in your followers' lives.
Not only will this post help to boost engagement on your page, but it can also be a lot of fun to read through all the different memories that your followers share.
And, if you're mom is on Instagram, be sure to tag your mom so she can see how much you appreciate her
4. Share a Cute Mother & Me Photo Op
Mother's day can just be a time to have fun with your mom doing the things you love doing!
You know – like drinking!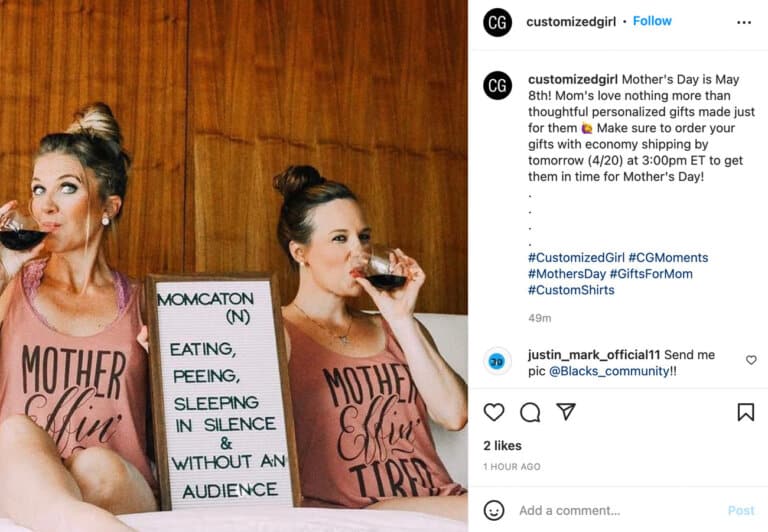 Use a white letter board to complete the look too!
For a more traditional photo op, try these out:
1. Have a picnic in your backyard or at a local park
2. Take a walk together and enjoy the spring weather
3. Go for a hike or a bike ride
4. Visit a nearby farm or orchard
5. Go to a spa day
6. Plant flowers or a garden together
7. Spend some time crafting together
5. Give Away a Prize for Best Mother's Day Story
This Mother's Day, why not giveaway a special prize to the person who shares the best story about their mom on your post?
Learn more about the amazing women in your followers' lives.
Giving away a prize will instantly boost the engagement of your post if you decide to make Liking and commenting on our post part of the requirements for the giveaway.
The prize could be anything you want like a free product from your home business or a gift card to a local restaurant or store.
Whatever you choose, make sure it's something that your followers will appreciate.
Plus, by hyping up your products, you will increase sales too!
I know when I share one of my affiliate products or mention I'm updating one of my courses, I generate more sales!
6. Post a Collage of Photos of You Mom (Generation of Moms) on Mother's Day
A cool Mother's Day social media post is to find pictures of your grandma, your mother and you as a mom and create an epic collage you can give as a gift and share on Instagram or in your Stories.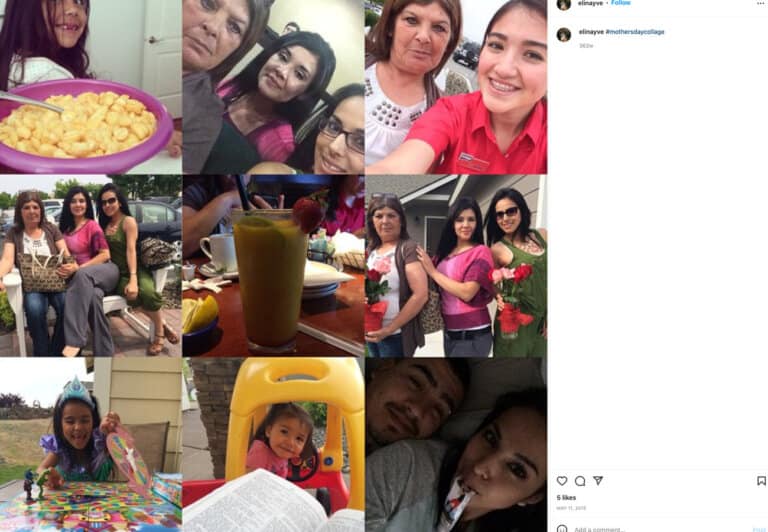 This is a touching way to celebrate all moms and I know the moms on Instagram will be quick to Like the photo!
7. Share a Recipe for a Special Mother's Day Brunch or Dinner
If you're looking for a way to show your mom how much you care this Mother's Day, why not cook her a special meal?
Then you can post about it!
Your followers always love behind the scenes content so why not share what recipe you will make for your mom?
In your social media post for Mother's Day ask your followers if they are cooking for their moms and what they plan on cooking.
This post can turn into a carousal post where you have a video of you making your meal and then a page of brunch ideas and dinner ideas for your followers.
Here are some Mother's day brunch ideas to help you out:
Quiche
Omelette
Pancakes
Waffles
French Toast
Bagel with Cream Cheese
Fruit Salad
Yogurt Parfait
Green Smoothie
Eggs Benedict
Here are some Mother's day dinner ideas:
Roast Chicken
BBQ Salmon
Rack of Lamb
Beef Tenderloin
Vegetarian Lasagna
Stuffed Peppers
Spaghetti and Meatballs
Eggplant Parmesan
Chicken Parmesan
Breaded fish
8. Give Away a Bouquet of Flowers
To boost engagement on your Instagram profile, try doing a giveaway on Mother's Day.
Offer a bouquet of flowers to one lucky follower who shares the best Mother's Day story on your page.
You can create a giveaway post and then have people share your post, like your post and comment on their favoriate Mother's Day story for a chance to win the prize.
If you don't think flowers is "enough" add more to it to make it a bulk giveaway item.
For example, flowers, body scrub and nail polish or flowers, book and a free 30 minute coaching call.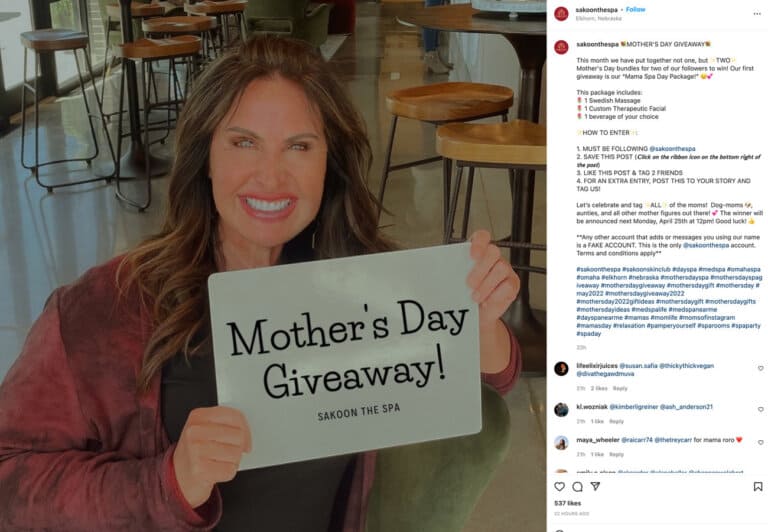 Use this social media post for Mother's Day a way to make sales by giving away a coaching call, a mastermind spot, a small course or eBook!
9. Share a Coupon Code for a Special Mother's Day Discount on Your Products or Services
You can cut to the chase and only share coupon codes or a deal for one of your products.
Many bloggers use their birthday or a holiday like Mother's Day to do a site wide discount or to offer discounts to certain products.
If you are looking for ways to make more money with your blog, you can do this strategy even with affiliate products too!
10. Share a Mother's Day Poem
Similar to quotes, you can share a Mother's Day poem to give thanks to your wonderful mom.
This is a great way to show your appreciation for all that she's done for you.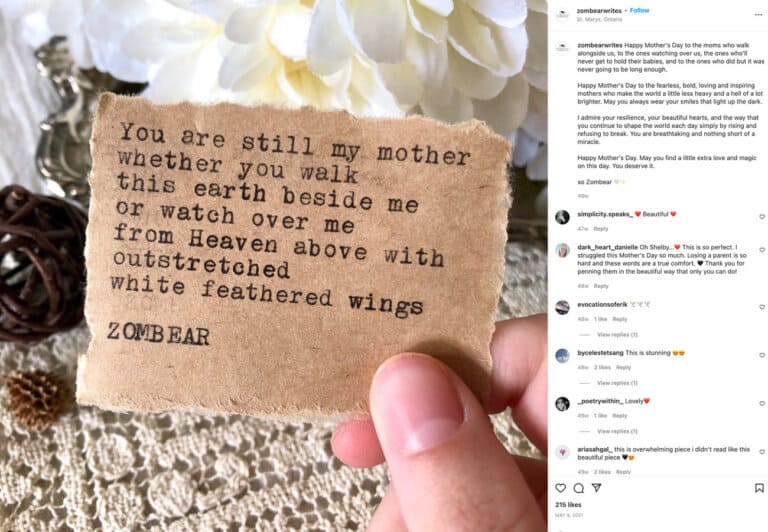 You can easily find poem ideas on Instagram or Google.
Popular Mother's Day Hashtags
When creating your Mother's Day social media post, make sure to also use specific hashtags as a way to get more views and engagement.
#mothersdaymemories
#mothersday
#mothersdaypoem
#motherslove
#mothersdaygift
#love
#happymothersday
#motherhood
#momlife
#mothers
#mothersdaygiftideas
#mothersdaygifts
#happymothersday
#mothersdayweekend
#mothersdaygiveaway
#mothersdaybouquet
#mothersdayeveryday
#mothersdaypresent
#momiloveyou
#iloveyoumom
#mothersdaybrunch
#mothersdaydinner
#mothersdaylunch
You can use these hashtags on Instagram and TikTok.
Best Mother's Day Social Media Posts
I hope you found some ideas for your mother's day posts on social media!
Tell me in the comments which post idea you like the most!
Please pin me!