One of the first things I learned when I started Twins Mommy was affiliate marketing.
I was curious to learn more about this monetization strategy because with my freelance blog, and I just needed to get client work, not necessarily traffic to my blog.
This was something new to me!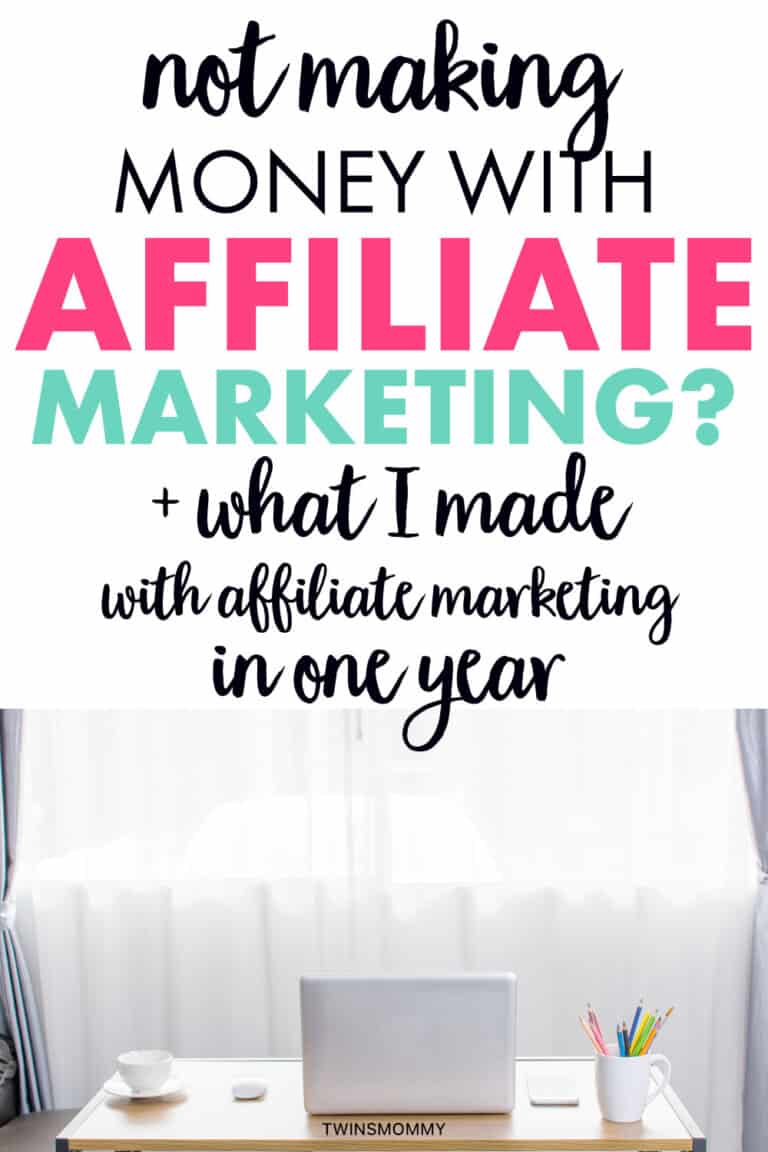 From Pinterest marketing to email marketing to affiliate marketing, I learned all of that and more when starting Twins Mommy several years ago.
And, it paid off!
In this post, I want to share why you're not making money with affiliate marketing if you have a blog or recently started blogging.
I also want to share what my blog earned with affiliate marketing in 2021. Still, first I want to tell you affiliate marketing is, give you examples of affiliate marketing programs and why you're not making money with affiliate marketing.
What is Affiliate Marketing?
What does affiliate mean?
This is a relationship between the business/merchant that offers products as an affiliate and the person or blogger, that markets their affiliate for a commission (percentage of sale).
As an example, if you want to know how to make money on Amazon through affiliate marketing, you would sign up to their affiliate program and in turn, you would be given an affiliate account.
Once you sign into that account you can go to the Amazon platform, find a product get YOUR special affiliate link with the Amazon SiteStripe.
No one else has this link but you.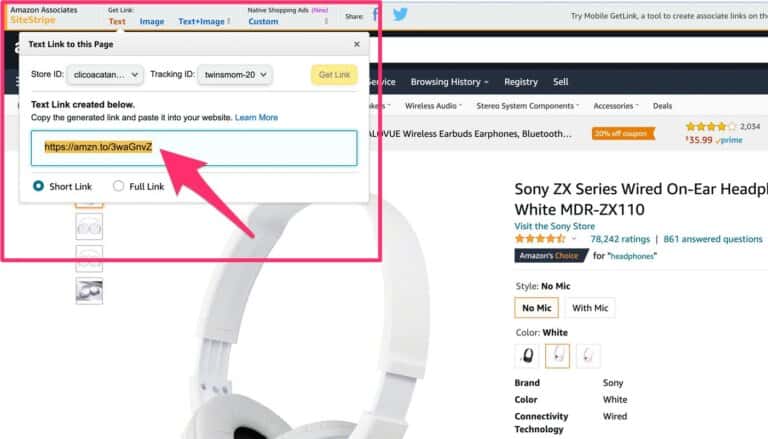 So, with the affiliate marketing meaning, what is important to know is you commission rate and the terms for marketing a business's affiliate product.
Each company has its own terms and rates for bloggers.
You can even negotiate a special rate for your audience with some smaller companies.
I'm an affiliate for a job site affiliate program. I was able to talk to my affiliate manager to get me a better deal for my followers than what other people were getting for promoting the same job site.
Another thing to know about the affiliate meaning is to make sure you know the products you share with your audience.
I'm not going to promote some new gadget if I know nothing about it.
This doesn't mean you have to have used the product; it just means knowing that it exists.
While it's a good idea to have the product you are an affiliate for, it's okay if you aren't.
I'm doing affiliate marketing for birthing courses on another blog I have.
I never took these birthing courses, but I am familiar with them, and if I have to, I can ask the course creator to give me access to the course to write a good review.
Examples of Affiliate Marketing Programs
If you are interested, check out these affiliate programs you can market to your audience.
1. ShareASale
ShareASale is the perfect place for budding affiliate marketers to find products to promote and earn commission on referrals.
With a user-friendly interface and helpful customer service, ShareASale makes it easy for affiliates of all levels to get started in the exciting world of affiliate marketing!
What's great about using SharASale is they are like a hub and have many merchants they collaborate with.
So lifestyle bloggers can join ShareASale as well as business bloggers.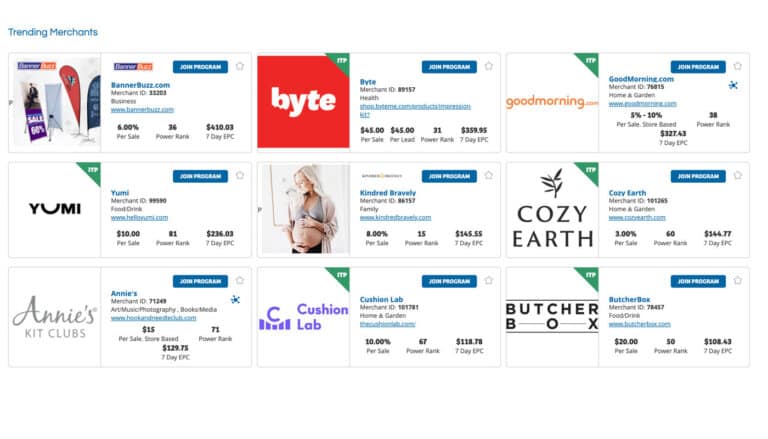 2. ConvertKit
ConvertKit is an email marketing platform and they offer an affiliate program for bloggers.
If you use ConvertKit and you feel your audience would find value if you promoted them, then ConvertKit can be a great affiliate marketing program to start affiliate marketing for beginners.
3. Kiwi Crate
If your blog is geared for parents with little kids, then Kiwi Crate can be an excellent affiliate program.
Kiwi Crate is the perfect way to keep your kids entertained and learning during those long summer days.
Each crate comes with a new science project that will engage and challenge your little one.
With topics ranging from chemistry to biology, there's something for everyone in the Kiwi Crate family.
4. The Honest Company
If you have a pregnancy blog, The Honest Company is the perfect choice for baby, personal care, cleaning, and vitamins needs.
They provide safe and effective products that are fun and easy to use. The company is founded by actress Jessica Alba and they're committed to their mission of providing honest products for a healthy lifestyle.
You can sign up for this affiliate marketing program here.
5. Grocery Budget Makeover
The Grocery Budget Makeover is an online video course that will change the way you shop for groceries.
The course walks individuals through the process of saving money on their groceries. The Grocery Budget Makeover offers 25% commission on course sales to affiliates who have a PayPal account.
If you have a frugal living blog or a motherhood blog, this could be a good affiliate program to start with.
What My Blog Made With Affiliate Marketing in 2021
So, the big question –
What did my blog make with affiliate marketing in just one year?
$ 68,705
Yup!
I was surprised too!
I honestly don't do heavy promotion of my affiliates.
I'm not emailing my list constantly and sharing all my favoriate affiliate products.
My editorial calendar does have have blog posts around an affiliate product to review.
So, with what little marketing I have done, to make this much almost passively is amazing!
And, you know what?
This means you can do the same too!
How to Start Affiliate Marketing (Affiliate Marketing for Beginners)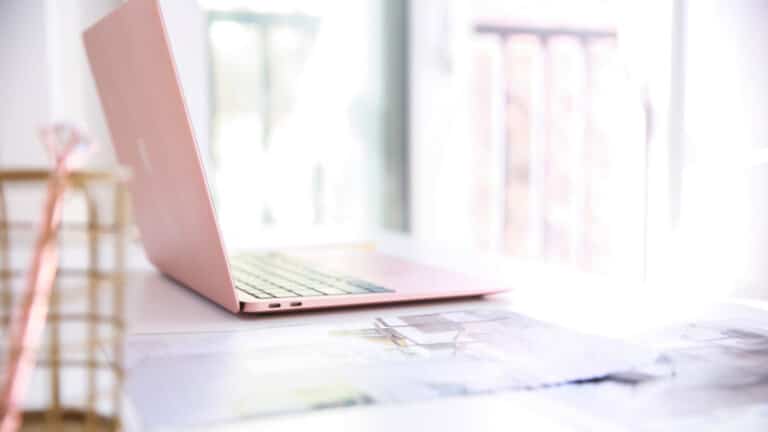 So, by now you must know that affiliate marketing is a fantastic way to make money as a blogger.
It's a simple process: you promote someone else's products or services, and you earn a commission when someone buys them through your link. So, what are the steps to start affiliate marketing?
1. Choose a Product to Be an Affiliate For
When you decide you want to start affiliate marketing, the first step is to choose a product.
As a blogger, the product you choose must be relevant to your niche.
It should also be a product you are passionate about, because it will be much easier to promote something you believe in.
There are a few things to keep in mind when choosing a product:
It should be something you would recommend regardless of whether or not you were being compensated for it
It should be a product or service that you are familiar with
It should be a product or service that you can promote in your blog posts without sounding like a salesperson
2. Research Affiliate Networks
After you choose a product that aligns with your blogging niche and you feel your audience would enjoy, it's time to research affiliate networks.
These networks connect companies with affiliate marketers, so that the companies can run their affiliate programs and the affiliate marketers can find products to promote.
There are a few things to consider when researching affiliate networks:
What types of products or services do they offer?
How well established are they?
What is their reputation like?
What is the commission structure?
How easy is it to use their platform?
You may only want to work with solopreneurs and not networks.
Many bloggers have their own affiliate programs – I do! –and most of these affiliates have high commission rates (40-80%).
As well, it's easier to market products from bloggers like workbooks, courses or printables, rather then push a complete email marketing service or hosting plan.
3. Sign Up for an Affiliate Network
Once you have chosen a product and researched the affiliate network, it's time to sign up for an affiliate program.
This is the program run by the company that makes the product you want to promote.
Each affiliate program is different, but most of them will require you to have a website or blog before you can sign up.
Most affiliate programs will give you a unique affiliate link to use on your blog.
This link is how the company knows that the sales they receive are from you.
When someone clicks on your affiliate link and makes a purchase, you will earn a commission.
Some affiliate programs will also give you access to promotional materials, like banners or product images, that you can use on your blog.
These can be a great way to make your blog posts more visually appealing and to remind your readers that they can purchase the product through your affiliate link.
4. Promote Your Links
The next step in getting started with affiliate marketing is to promote your links.
You can do this in a few ways:
Add them to your blog posts: Whenever you mention the product on your blog, be sure to include your affiliate link
Include them in your email list: If you have an email list, you can send out periodic emails promoting the product. Just be sure not to spam your list and make sure you CAN promote your affiliate link in emails (many affiliate programs will say no to this)
Share them on social media: Social media is a great way to spread the word about products you're promoting. Be sure to include your affiliate link whenever you share a post about the product and disclose that it's an affiliate link
Some affiliate networks will also give you access to promotional materials, like banners or product images, that you can use on your blog.
These can be a great way to make your blog posts more visually appealing and to remind your readers that they can purchase the product through your affiliate link.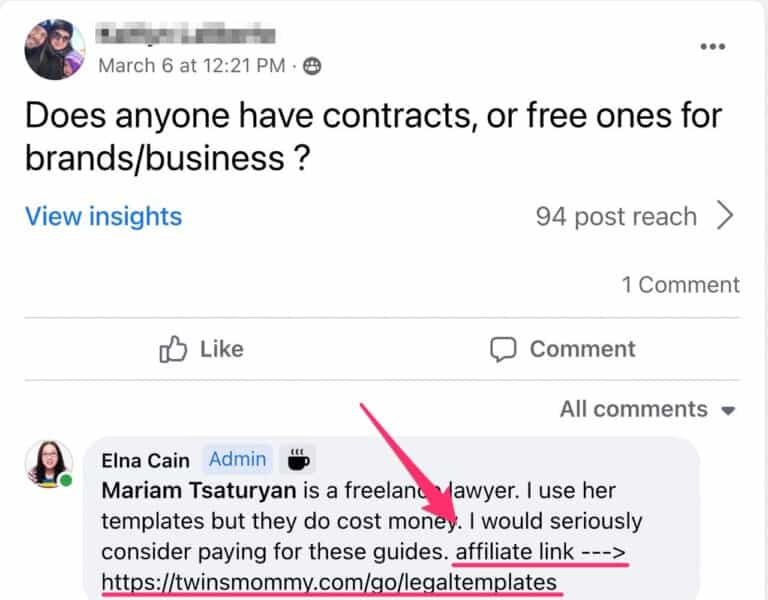 By following these steps, you can get started with affiliate marketing and start earning commissions from the sales you generate.
5. Track Your Results
The final step is to track your results. You can track your results by looking at how many people click on your affiliate link and then making a purchase.
This will give you an idea of how well your promotion is working and whether or not you need to make any changes.
For me, this isn't a step I normally do but sometimes if I see a particular item people are buying from my Amazon marketing that I didn't promote, I will make sure to either write a blog post about it or include it in a new blog post.
For example, a colic baby post has an affiliate link to Amazon for gripe water.
But when I go to may affiliate dashboard I may see people are mostly purchasing diapers.
From this information, I can create a blog post on the best diapers or best budget diapers to grow my affiliate income.
But I'm getting ahead of myself!
You're reading this post because you're not making money with affiliate marketing.
So, what do you do?
6 Reasons You're Not Making Money With Affiliate Marketing
Affiliate marketing is the backbone of many successful blogs. Yet, many bloggers are not making any money with affiliate marketing at all.
Why do so few people make money with affiliate marketing? Here are six reasons.
1. Only Relying on One Affiliate Program
One of the most common mistakes people make is only relying on one affiliate program.
If you want to make money with affiliate marketing, you need to have multiple programs to promote.
Can I tell you a secret?
I was in this camp when I first started affiliate marketing as a beginner!
Yup!
I was so excited to start affiliate marketing that I just used my hosting provider and expected to make money!
It wasn't until I became an affiliate for another program that I actually made my first $200 from blogging!
By having more than one affiliate it gives you a chance to make more money with affiliate marketing.
2. Only Relying on High Commission Affiliate Programs
Another mistake people make and is why you're not making money with affiliate marketing is only relying on high commission affiliate programs.
While it's true that you can make more money with higher commissions, you need to be careful.
Some of these programs may have low conversion rates, which means you're not actually making that much money.
Instead, focus on finding programs with a good reputation and solid conversion rates.
3. Not Pairing Your Affiliate Marketing with SEO Traffic
One of the best ways to make money with affiliate marketing is to pair it with SEO traffic. When people are searching for keywords related to your products, you can earn a commission on those sales.
This is how I was able to make over $60,000 in affiliate income last year!
Some of my affiliates are ranking in Google, which means consistent traffic.
And, if you don't already know, organic traffic yields better conversions than social media traffic!
4. You're Audience Just Doesn't Trust You Yet
If you're just starting out, it's going to take some time to build up trust with your audience.
Take the time to create highly valuable blog posts that are helpful and are NOT promotional in nature.
This is a surefire way to build trust quickly. That is why I wrote blogging reports for the first 10 months of blogging.
I was building a rapport with my audience and I was being authentic!
If your audience just doesn't trust you, they're not going to click on your affiliate links – no matter how much blog traffic you have!
Besides blogging reports, there are a few ways to build trust, such as writing honest reviews and how-to content about your affiliate profuct.
5. You Asked Your Family and Friends to Help You Out
I know for Amazon affiliate marketing this is a big no-no and they will shut you down if they catch you asking your friends and family to click your links.
Just don't do it! Amazon knows!
6. You're Not Testing Different Styles
When you're first starting out, it's important to test different affiliate link styles.
This will help you find the ones that work best for you.
Try using different types of links, such as text links, banner ads, and product images.
7. You're Not Properly Disclosing Your Affiliate
If you're not disclosing your affiliate links, people are going to be less likely to click on them.
It's important to be open and honest about your relationships with affiliates. You can do this by writing a disclosure statement on your blog or website.
Just be careful – I know for Amazon, they require a certain way to disclose your affiliate links.

Make Money Today!
Yes, you can totally make money today when you start affiliate marketing.
It will take time to get to that point, but I hope these tips to help you when you're not making money with affiliate marketing will help you!
Over to you – are you using affiliate marketing to make money with your blog? How's it going?
Please pin me!