Are you a stay-at-home mom wanting a mom job?
Starting your side hustle business was what helped me start this road to making a living from blogging.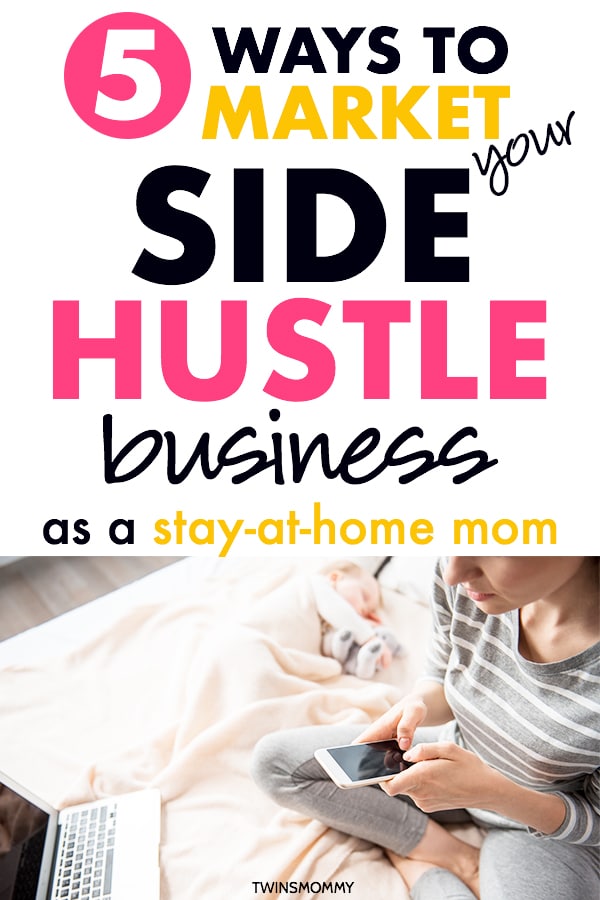 And, it's the perfect business for a stay-at-home mom! Figuring out what side hustle you want to do and developing a plan around your side hustle are two of the most important things to start with.
There are many freelance services you can offer on your mom blog as well as products you can create to open up shop on Etsy or your blog.
Anything is possible online mama! Once you figure out your ideal side hustle, it's time to start marketing your side hustle business.
There are many tactics you can use like social media, blogging or networking, but which strategies are the most effective?
In this post, I'll share with you effective marketing tactics that have worked for me and I know will work for you to land your first sale or client!
1. Pitching
If you decide to offer a freelance service as your side hustle, then pitching will be a main way to land clients. It won't be your only way though! When I first started as a freelance writer, I used pitching to land my first few clients.
But, after that, clients starting coming to me and emailing me! This was exactly what I wanted since I'm a mom to twins and was very busy when they were little!
So, in the beginning, you're going to have to start pitching to potential clients as a way to secure a project.
If you've never pitched in your life, how do you even know what to write in your pitch email?
Most businesses or solopreneurs don't want to only know about your services; instead, they want to know how your knowledge and expertise will help them with their business.
Before I give you some sample templates to base your pitch email off here are some tips to optimize your pitch:
Keep it casual
Mention where you saw the ad and who you are
Showcase your relevant experience
State why you would be good for the gig
Show how your service can help their business
Include samples
End with a friendly conclusion
Before you start pitching, make sure to have at least three samples of your work. Ask your friends, family, co-workers or neighbors to test your product or service.
For example, if you want to do some freelance photography, ask the family down the street if they'd like a free photo session. Then ask if you can use their photos on your site as a sample photo pack.
Okay, now that we've figured that out, here are two sample pitch templates for you. One is a pitch you would use in response to a job ad you saw online.
The other is a cold pitch that you send to a blogger you've been eyeing and pitch them your services, even though they aren't actively seeking someone to hire.
Use these templates verbatim (if you want) or tailor them to your situation.
Job Board Pitch
Hi,
I saw your job posted on (name of job board) and I think I would be a great addition to your team. I'm knowledgeable in (state the areas the client wants expertise in).
Here are some samples of my (service):
Sample #1 link
Sample #2 link
Sample #3 link
I have been a freelance (x) for (state time). I have been featured in (list blogs, publications, magazines if applicable). My (service) has proven to resonate with people on social media and with past clients (prove your ability here).
(Here's a good place to answer any questions the job ad may have asked).
I'm confident I would be a valuable addition to your team. I pay attention to details and hit all my deadlines.
Let me know if you need more info from me and I'm looking forward to collaborating with you,
(name)
Cold Pitch
Hi (Name),
I ran across (Business/blog) [mention how you found out about this business or blog] and was impressed by your company/service/product. I love that it's your mission to [find out their mission statement as a way to connect with them.]
As a (your service) with experience in [niche], I wanted to reach out and see if you're in need of expanding your team/need help with (list certain skill like emailing or Pinterest marketing). I share your mission and would love to work with you.
Feel free to check out my site for more information, my client testimonials for references or these sites to see some of my work:
Sample #1 link
Sample #2 link
Sample #3 link
Also, [mention a noteworthy gig or additional information to seal the deal]
I'm confident that I would be a great addition to your team. I'm detail oriented and mindful of time management and meeting deadlines.
I have a couple of quick ideas in mind that we could apply to your current (blog/social media strategy/ blog content/ copy/ visual brand) to make it more user friendly.
I look forward to your response,
(Name)
2. Use Job Sites To Find Online Work
As a new side hustler, you're going have to find your stay at home mom job. Don't expect work to find you. That takes a bit of time before that happens (but it will happen!)
To help you navigate your online side hustle, here are top job sites to help you find work based on the service you decide to offer.
Freelance Writing/Blogging/Content Writing Jobs
ProBlogger – free site to find writing-type jobs
Blogging Pro – free site that has mostly blogging-type jobs
Contena – paid membership site. The great thing about this is less competition, high-quality jobs/rates and easy to find work in your niche. Here's a post I wrote on how to find jobs insanely fast using Contena.
VA (Virtual Assistant) Jobs
Indeed – a job site where you can search for VA jobs all around the United States
LinkedIn – LinkedIn has as job board where you can search for VA gigs
Use cold pitching – to find profitable VA jobs, your best bet is to do some cold pitching. Find solo bloggers that are growing their business and approach them for some VA work.
Creative Jobs (Photography, Graphic Design, Branding)
3. Optimize Your Social Media Profiles
One of the best places to promote your new side hustle is on social media. In fact, it's also a great place to cold pitch and find work. But, how do you tell people you have a new side hustle?
Here are tips to optimize your social media profiles.
On Twitter
Twitter is a goldmine for finding freelancce projects. To start telling people you are opening up a side business, tell them your service! Mama and freelancer Lisa Tanner tells it like it is on her Twitter bio: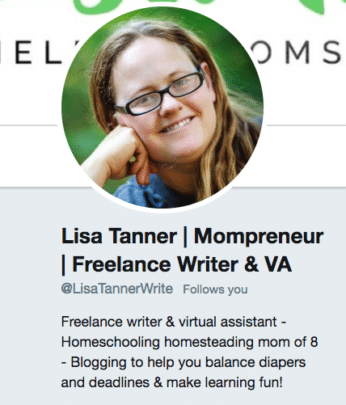 You don't have to go crazy with hashtags or links. Just let people know what you do now.
Something else you can do is add, "for hire" in your bio. This just makes it extra EXTRA clear that you are doing this for a living and not as a hobby.
Finally, one last thing you can do in your Twitter bio is to have a CTA and have it link to your services page or some place for more information.
It can be a link to your services page or portfolio on your blog.
When looking at your Twitter feed, another promotional tactic is to pin an ad-type post, landing page, lead magnet or something to alert people you offer a service.
Brand strategist Nesha Woolery pins her free project management course and is the perfect piece of content to pin because she gets to grow her email list while attracting her ideal prospects.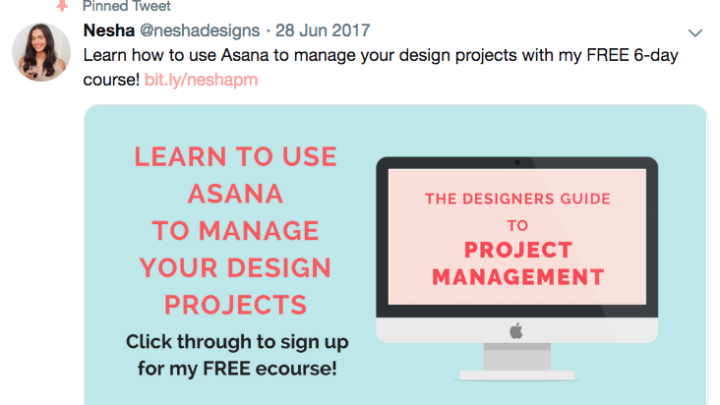 To pin a post, just click on the three dots below your tweet and click Pin to Profile: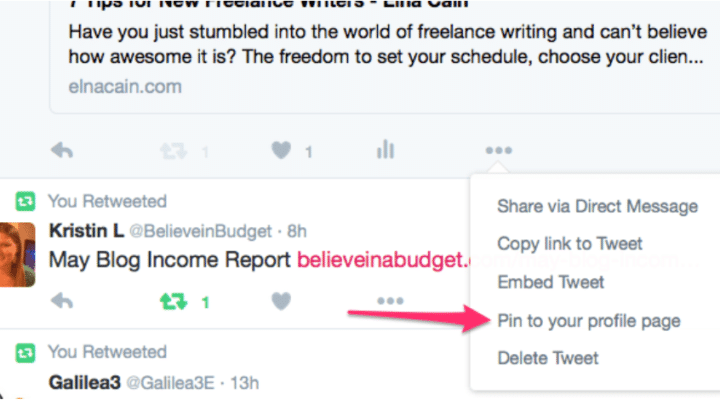 The post is then "pinned" to the top of your home feed.
On Pinterest
Pinterest is a great platform for creative-type services. You can pin your posts or samples of your work, and connect with other creatives and side hustlers. To get your side hustle out there, the first thing you want to do is add a title to your name.
Ashlee of Work From Home Happiness, mentions what she does – career coach & WAH expert – as her title.

Next you're going to want to include keywords in your bio and a CTA with a link to your work, site or profile.
Here's my Pinterest profile bio:

I want to attract other moms interested in starting a business or blog. I also mention how I can help them with that through marketing tips and time managment tips.
Finally, the last thing you want to do on Pinterest is label your boards with keywords. Forget calling your boards "Adorbs" or "I Kill.I Love." People aren't searching for those terms.
Instead, use terms that people are searching for that's related to your blog or service. For example, if you're service is design, then having design type boards – web design, design ideas, Printable design tips, etc.. – would help attract the right type of client you want on Pinterest.
For more help, check out these Pinterest tips on how to promote your blog.
On Facebook
Facebook is a great place to build a network and community. You can meet others in your niche and collaborate with them.
When I started Twins Mommy I wanted to connect with other mom bloggers and mompreneurs. I later created my own Facebook group for mom bloggers and mompreneurs!
Joining relevant FB groups can help you market your services. Just be mindful of each group's theme days and rules for promoting your thing.
When trying to find some opportunities, read through the threads and see if you can offer some tips and suggestions. For example, if someone needs help with migrating from WordPress to Squarespace, you can offer your services (if that's what you do!).
So seize any opportunity that crops up in these FB groups.
One other thing you should do is create a Facebook page for your side hustle. This makes it "real" and will help you grow your following.
This is also a great place to promote your services as much as you'd like!
4. Create a Client-Magnetizing Blog
One of the best ways to get your side hustle on is to have a website for it! Just take a look at these profesh mamas! Here's Kristin's graphic design service blog: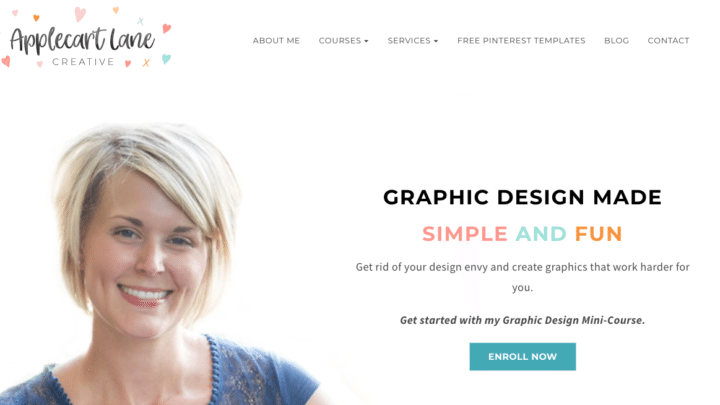 Or, how about Lizzie's holistic health coaching site: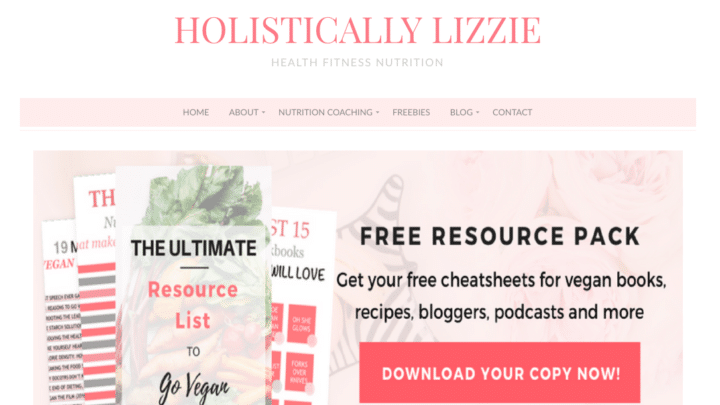 So, what can we take away from these awesome mompreneurs and their side hustles (or maybe they're doing this full-time now!)?
Let's break it down for you:
Service/Shop Page
A simple way to advertise is just to have a page listing your services or products.
Sarah from the Frugal Millionaire has a My Book page where she has a sales page and links to buy her book. There are many different ways to have a page dedicated to your side hustle. These are just a few.
Also, this works well if you already have an established blog. Add a Hire Me page and keep that all "biz" while keeping your blog your passion.
About Page
You might be thinking, well yeah, it's just a page about me right? Well yes and no. Your about page is a page to talk to your prospective client.
Look a Miranda Nahmias' About page: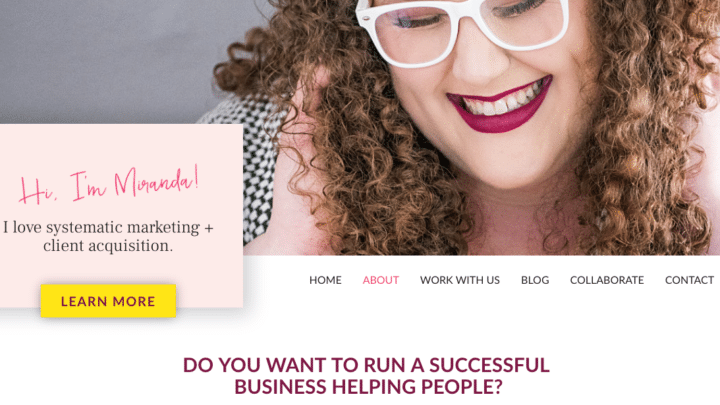 She opens up her copy with "Do you want to run a successful business helping people?"
She's talking directly to her prospective client – solopreneurs with a service-based businesses needing help with getting more clients.
When you have a service or product-based website, make sure your about page answers the question about why people would hire/buy from you.
Mirahnda does a great job speaking to her prospects on her About page.
You can also break up your About page with subheadings that help readers know exactly what your are offering. This is a great idea too because if you don't already know, most people just skim your words – I know! A unicorn died when I heard that (because I write for a living!).
Here are some example subheadings if you're a social media marketer:
Imagine the feeling of loving social media

You can just relax
Selling shouldn't be sales-y
Let's wear sweatpants + build an empire
Blog
Okay, this is a no-brainer. If you want an online side hustle, mama, you need to have a blog. A blog is a way to connect with your audience and for them to get to know your credibility in your service or offerings.
Blogging is also great way to express yourself, learn how to engage with an audience and network with other bloggers in your community.
Oh, and it's great for promoting your side hustle.
If you haven't started a blog, make sure to check out my super simple tutorial on starting a blog.
Portfolio Page
Having a portfolio page isn't necessary for everyone, but it's just a nice touch. Prospective clients can just click on your portfolio and see your published work.
This works well for photographers, designers, writers and other creatives who benefit from a portfolio page.
Here's mine on my professional freelance writing site: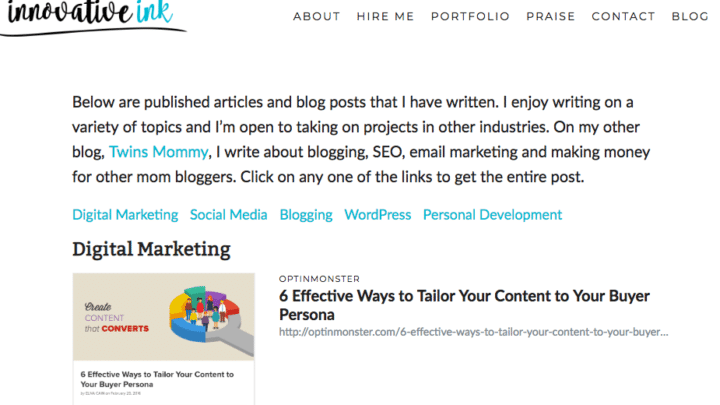 5. Start an Email List
A great way to get in front of your ideal client is to start an email list.
This is a special relationship and one you can nurture over time.
How does this work?
You first create an irresistible lead magnet for your ideal client. If you are a Pinterest manager, and your clients are bloggers with more than one blog, your lead magnet might be, X Ways to Streamline Your Business for More Sales.
This will appeal to your ideal client and in that lead magnet you can talk about managing social media and one way to streamline this process is to hire it out (to you!).
So, as you can see an email list gives you that 1:1 communication to your ideal clients.
Email marketing also gives you other ways to market your business:
Give your subscribers a deal to your services
Give first dibs on any new collaborations or projects you're working on
Offer early bird registration for your products to your subscribers
Get Your Side Hustle On Today
Now don't think having a side hustle is impossible! If you put your mind to it, you can achieve anything, right? Also, don't think you have to do all of these things today!
Start slow and do one a week or even one a month –
Set up a blog and publish five blog posts
Create an optimized About page and Services page
Change up your Twitter, Facebook and Pinterest accounts
Start perusing job sites
Draft up your pitch email
Do one thing at a time and before you know it, you'll have a thriving side hustle!
Over to you – are you a stay-at-home mom itching to start a blog and business? Tell me your business idea in the comments and don't forget to join the Mom to Mompreneur Facebook group!
Please remember to pin me!