Have you ever considered a crafting business as an easy side job to make money at home?
If you think that all crafting jobs are limited to knitting scarves, this article is for you!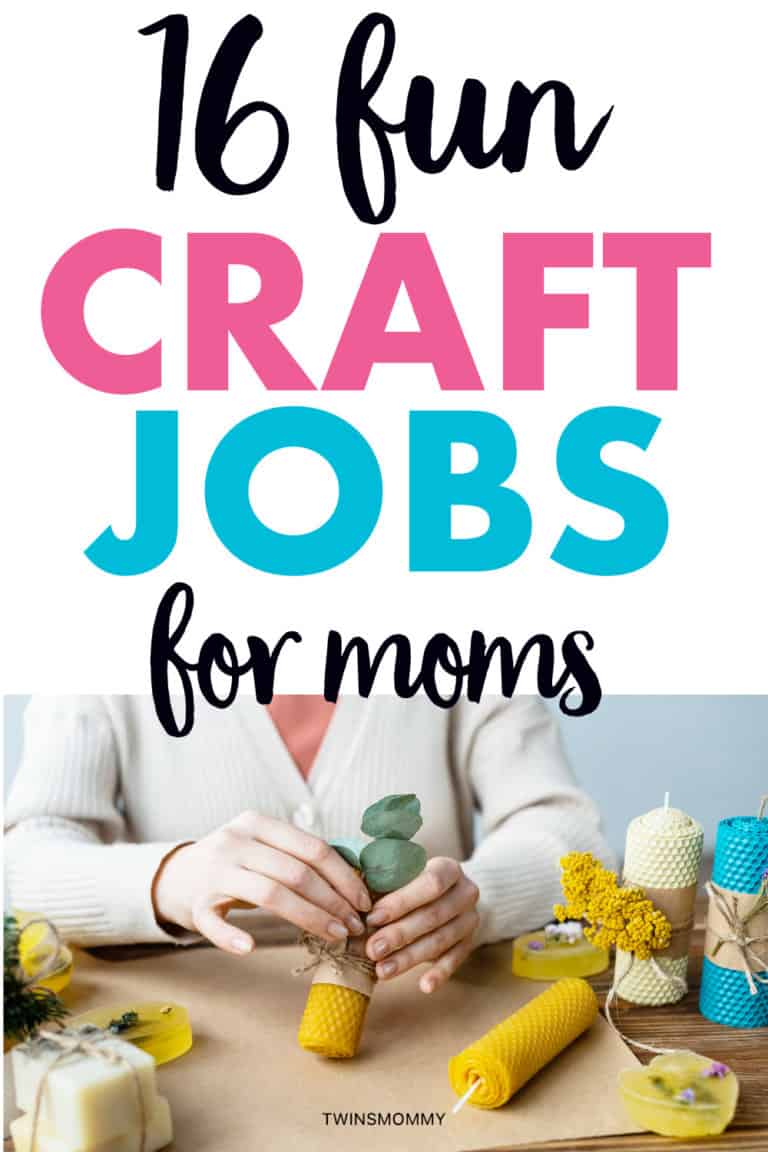 There's a whole world of crafting opportunities out there.
And the best part?
These ideas are all easy ways to make money at home.
As a full-time mom, I always thought there weren't any affordable and easy crafting opportunities.
But then I discovered the fun, affordable and relaxing crafts that you can make and sell from home.
In fact, I used to sell knitted hats to make money when I was home with my twins!
So if you're wondering how you could generate income from your craft skills, read on!
Check Out These Craft Jobs From Home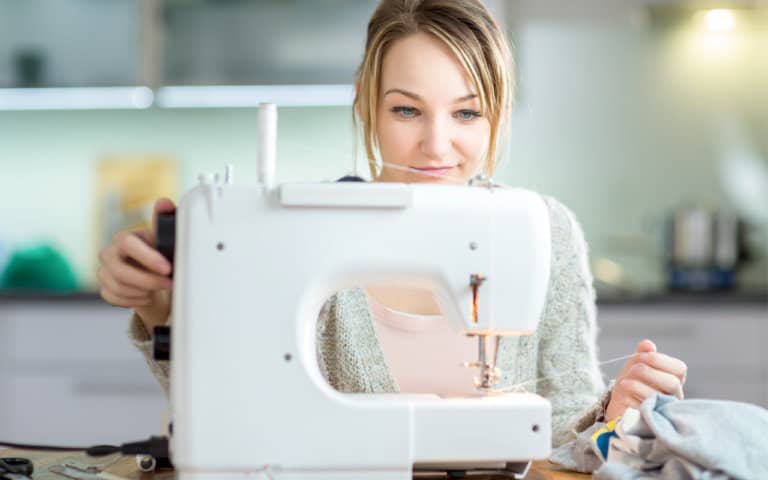 1. Sewing
Sewing is a popular craft, and you can make money selling your sewing skills.
You can also make money by sewing for other people.
If you're interested in this option, think about what types of products people want made (such as stuffed animals or curtains) and go from there!
Here are some sewing craft jobs you can do from home:
Selling handmade items: You can create and sell your own handmade items, such as clothing, accessories, home decor, or even children's toys.
Alterations and repairs: You can offer sewing services for alterations and repairs, such as hemming pants, taking in or letting out clothing, fixing zippers, or patching holes.
Custom sewing: You can offer custom sewing services, such as making wedding dresses, costumes, or personalized gifts.
Freelance sewing: You can work as a freelance seamstress for businesses or individuals who need sewing services, such as creating prototypes or samples for clothing companies or providing sewing services for theatrical productions.
2. Crocheting & Knitting
Crochet and knitting are great hobbies to learn, and you can make lots of different things with them.
You can even make money from your work!
You can sell handmade items like hats, scarves, bags, and blankets.
Or you can offer custom crocheting services, making items to order.
If you're really good at creating original crochet and knitting patterns, you can even sell your patterns online!
3. T-Shirts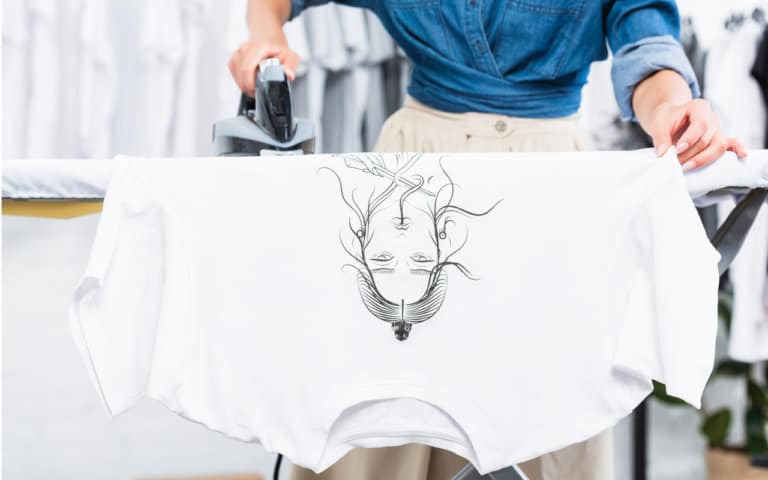 Designing your own t-shirts is a great way to make some extra cash. You can design t-shirts for yourself or sell them online or at craft fairs.
If you're good at it, there are even more options!
And don't just stop with one shirt – create multiple designs and sell them as a set!
This will give people more options when buying from you and allow them more freedom in what kind of outfit they want their new tee shirt for.
4. Quilts
Quilts are an excellent way to make money.
They can be made from old clothing or new fabric and can be created with a sewing machine or by hand.
It's important that you choose the right pattern for your skill level so that your quilt is sturdy and attractive when finished!
If you want to learn about quilting, check out these fantastic quilting blogs!
5. Embroidery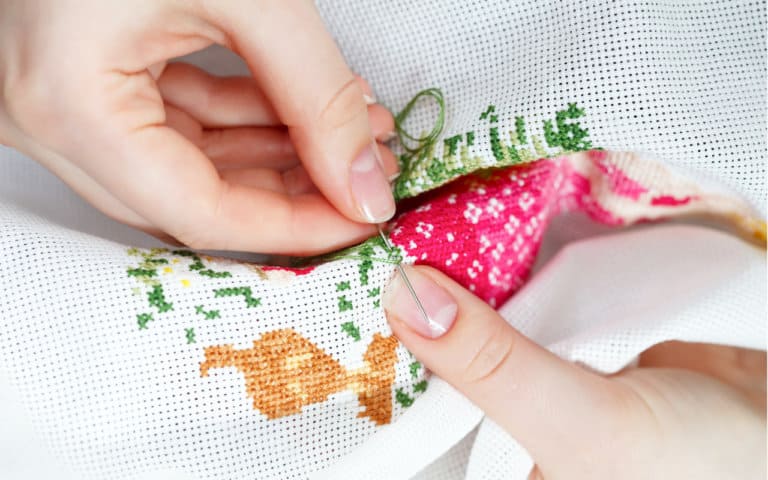 Embroidery is a beautiful and intricate art form, and there are many ways to make money from your embroidery skills!
You can use embroidery to make pillows, blankets, towels, and other items for yourself or for sale.
You can also offer custom embroidery services, such as monogramming or adding logos or designs to clothing or accessories.
All you need to do is buy some fabric (you can find it at any craft store) and get some embroidery hoops and a needle (you'll need these if you are going to sew by hand).
You can also use an electric needle or sewing machine!
6. Handmade Jewelry
If you have an eye for fashion and enjoy making jewelry, you can make money by creating unique handmade jewelry pieces and selling them locally or online.
Here are some handmade jewelry ideas you can make and sell:
Wire-wrapped jewelry: This involves using wire to create unique designs around gemstones, beads, or other materials. You can create wire-wrapped rings, pendants, or earrings.
Polymer clay jewelry: Polymer clay is a versatile material that can be molded into different shapes and colors. You can use it to create beads, pendants, or earrings, and you can add texture, patterns, or other designs to make your jewelry more unique.
Leather jewelry: Leather is a durable and versatile material that can be used to create necklaces, bracelets, and earrings. You can add beads, charms, or other embellishments to your leather jewelry to make it more interesting.
Metal jewelry: If you have experience with metalworking, you can create handmade jewelry using metals like copper, silver, or gold. You can use soldering, forging, or casting techniques to create unique designs.
7. Candle Making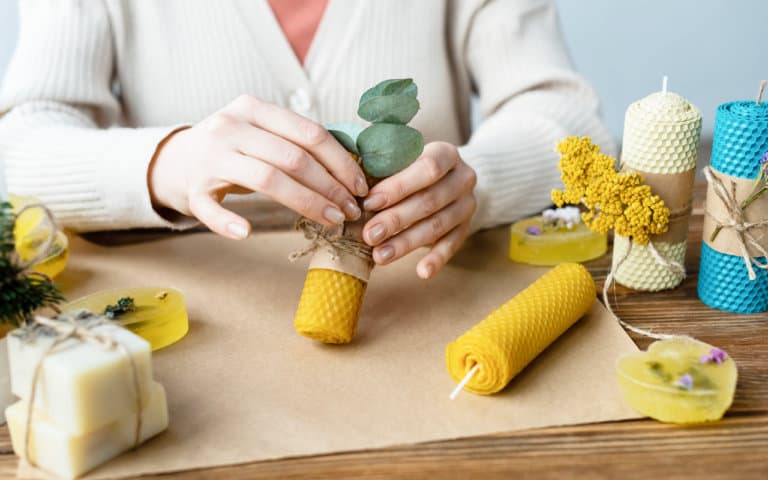 Creating scented candles can be a relaxing and enjoyable crafting job!
You can create scented or unscented candles in a variety of shapes, sizes, and colors. You can also offer custom candles for special occasions like weddings or holidays.
Or, if someone has a specific candle in mind, you can offer custom candlemaking services to create a unique candle that meets their specific needs.
Plus, you can create and sell candlemaking kits that include all the materials needed to make a specific candle!
You can design kits for beginners or more advanced candlemakers, and you can include instructions and tips to help your customers get started.
8. Soap Making
Soap making is another fun crafting job that can be done at home. You can create natural, handmade soaps with different scents – people love this stuff!
Decide on the types of soaps you want to make and who your target market is.
You can make all-natural, organic, scented, unscented, or specialty soaps, depending on your interests and expertise.
Knowing your target audience will help you tailor your marketing efforts and product offerings.
Also, be sure to use high-quality ingredients, such as essential oils, natural colors, and organic herbs, to create unique and high-quality soaps.
Customers are willing to pay more for quality products, so invest in good ingredients.
9. Painting and Drawing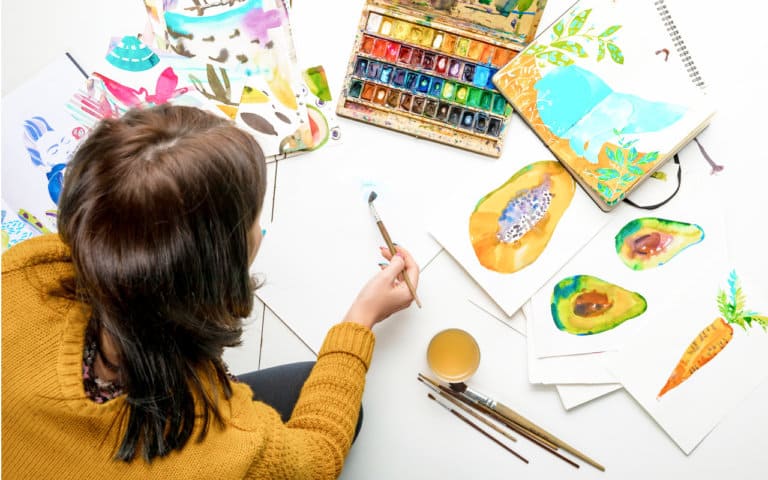 If you are an artist, you can sell your paintings and drawings from home!
You can either make them and sell the physical product or create prints and sell them digitally.
Consider offering your services to create custom pieces of art for clients, such as portraits, pet portraits, landscapes, or still-life paintings.
Collaborate with other artists, photographers, or designers to create a unique piece of art. This can help expand your network and reach a new audience!
10. Scrapbooking
If you enjoy preserving memories and creating scrapbooks, you can sell your scrapbooks or offer custom scrapbooking services to others.
You can offer services like creating personalized albums, memory books, or special occasion cards!
One of the best things about crafty jobs is that if you're really good at it, you can also make money teaching others how to do it!
Or you can even start a scrapbooking blog to share tips and techniques (and you can monetize it to make even more money!)
11. Woodworking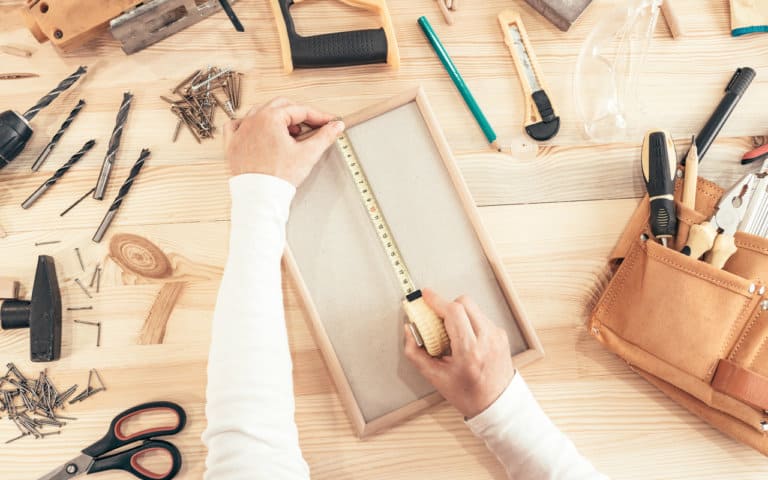 There are many different types of woodworking projects that you can make and sell, depending on your skill level and interests.
If you love working with wood, here are some crafting job ideas:
Furniture: Tables, chairs, cabinets, bookcases, desks, and bed frames are all popular furniture projects that can be made from wood.
Home decor: Wall art, picture frames, shelves, clocks, and mirrors are some examples of smaller home decor projects that can be made with woodworking.
Outdoor projects: Garden planters, birdhouses, picnic tables, and patio furniture are all popular woodworking projects that can be used to decorate outdoor spaces.
Toys: Wooden toys such as cars, trains, puzzles, and blocks are fun projects to make for children.
Kitchenware: Cutting boards, utensils, and spice racks are some examples of kitchenware projects that can be made with woodworking.
Musical instruments: Guitars, ukuleles, and violins are some examples of musical instruments that can be made with woodworking.
12. Calligraphy
If you have good handwriting and enjoy writing, you can offer calligraphy services for wedding invitations, place cards, and other special events.
Calligraphy requires specific tools and materials, such as pens, ink, paper, and brushes. Experiment with different options to find the ones that work best for you.
There are many different applications for calligraphy, such as wedding invitations, certificates, and artwork.
Decide which type of calligraphy you want to focus on and develop your skills in that area.
You'll be making money in no time!
13. Card-Making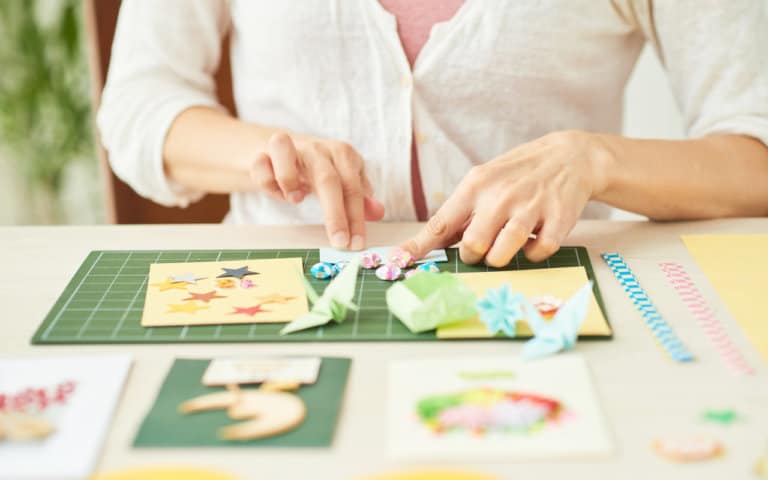 With some creativity and hard work, you can turn your love of card-making into a profitable business from the comfort of your home!
Consider offering custom card orders for special occasions such as weddings, birthdays, or holidays.
This can be a great way to attract customers and make more money!
14. Custom Vinyl
Do you own a Cricut or other custom cutting machine? Then you are well on your way to making money with a crafty job!
A Cricut is a cutting machine that can cut various materials such as paper, vinyl, fabric, and even wood.
Here are some ways you can make money with a Cricut:
Personalized products: You can create personalized products such as t-shirts, mugs, tote bags, and phone cases by using vinyl with your Cricut.
Party decorations: Using your Cricut, you can make party decorations such as banners, cupcake toppers, and party favors. This can be a great way to make money for events like birthdays, weddings, or baby showers.
Home decor: You can use your Cricut to create home decor items such as wall art, throw pillows, and decals.
Stickers: You can create stickers using your Cricut and sell them online or in local shops. Stickers can be used for planners, journals, or as decorations for various items.
Check out my post here for more easy Cricut projects to make and sell!
15. Pottery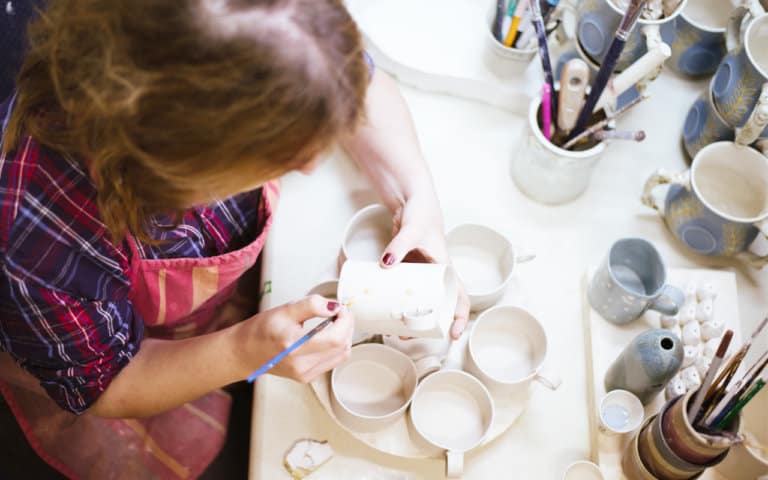 If you're into pottery, you can make unique pottery pieces using a pottery wheel or hand-building techniques.
You will need a space to make pottery, which should be equipped with pottery wheels, kilns, and other necessary tools and equipment.
There are many different styles of pottery, such as functional, decorative, and sculptural.
Choose a style that you enjoy making and that you think will sell well!
16. Floral Arranging
In order to make money from craft jobs at home, you can create beautiful flower arrangements for special events like weddings or anniversaries.
When it comes to supplies, you will need vases, floral foam, wire cutters, floral tape, and other supplies to create your arrangements. Buy your supplies in bulk to save money!
If you have a talent for floral design, you can make and sell floral arrangements from home.
How to Sell Your Crafts from Home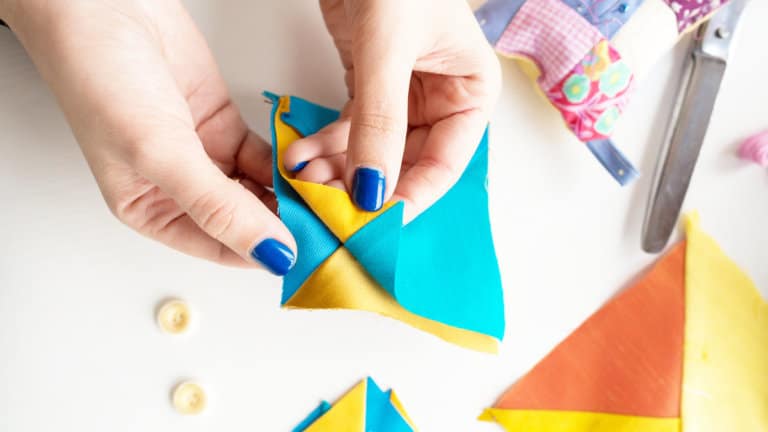 Selling your crafts from home can be a great way to turn your hobby into a profitable business!
Here are some steps you can take to start a craft job from home:
Figure Out What You Want to Sell
Whether you want to make a side hustle or go full-time, figuring out what you want to sell is key.
You want to pick something that not only lights your fire, but will also keep the bills paid.
Choose something creative that you're passionate about and that people are willing to drop money for.
It could be bath bombs, photography prints – heck, if it's popcorn with a fancy seasoning mix, go for it!
Do some research and find out what people in your area might be interested in buying from you.
Then get creative and show them why you're the one they need to buy from – homemade casseroles?
Grandma never looked so good.
Set Up a Workspace
Get rid of the clutter in your home, and turn one area into a dreamy workspace for your creativity!
Whether it's a simple corner or the whole room, make sure you invest in good lighting and get organized with shelves for supplies.
Don't forget about safety — how can you create when you're always worrying about sharp tools or a hot glue gun accident?
Use common sense and be prepared so you can focus on what matters— making awesome crafts!
Create Your Inventory
Creating a unique inventory of items can be the key to your success as an online seller.
Put your artistic touch on every item you make and take good quality pics so folks know exactly what they're getting. Make sure to also include notes for thing like materials used, sizes, and pricing.
That way when someone's eye catches something dope that speaks to them, they'll know how much it will cost them. It's a great way to bring in more business!
Decide on Your Pricing
Figuring out how much to charge for your crafts can be a real struggle.
Fraudulently high pricing just chases away prospective customers, but you don't want to undervalue the hard work and effort you put in either!
Thankfully, there's an easy two-step trick that'll help you decide.
First up, check out what others are charging for their similar items – it can be a decent guide in helping to set your pricing.
Next, add a small mark-up so your gems come with a little extra boost (i.e., profit!).
Chances are, this should help get you pretty darn close to the ideal figure!
There's no telling if it'll feel perfect right away, but adjustments can always be made over time.
Choose a Platform
Decide where you want to sell your crafts. You can set up an online store on platforms like Etsy, Amazon Handmade, or your own website.
You can also sell in person at craft fairs, farmer's markets, or pop-up shops.
Market Your Products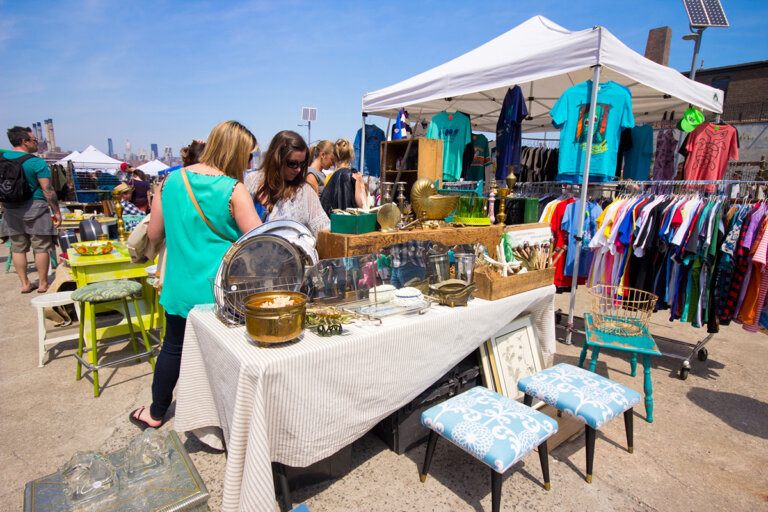 Get your crafting game on point and take it to the next level with a sick logo and fire brand.
Ramp up your promotion efforts by utilizing social media, online advertising, and word-of-mouth to ensure maximum reach for your products.
Get people talking about your stuff and converting those conversations into sales.
That's how you make serious dough!
So go ahead, flaunt those homemade crafts and start showing off that coin you've earned – you deserve it!
Fulfill Orders
Once you receive an order, package your crafts carefully and ship them promptly. Provide excellent customer service and respond to any inquiries or issues quickly.
Keep Track of Your Finances
Keep a record of your income and expenses, including the cost of materials, shipping, and advertising.
This will help you track your profits and make any necessary adjustments to your pricing or sales strategy.
Craft Jobs from Home!
Now that you've seen some of the crafts you can make and sell, you can also see just how easy it is to use your creativity to earn a little extra money.
So whether you're looking to work part-time or full-time or maybe make some spending money while staying home with your kids, these crafts are a great way to get started!
Let me know in the comments what crafts you like to make. I'd love to hear about them!