When you're a blogger, your work involves a lot of typing!
While you can make do with a smartphone or tablet, laptops are ideal when it comes to typing, creating visual content for your blog, and multitasking.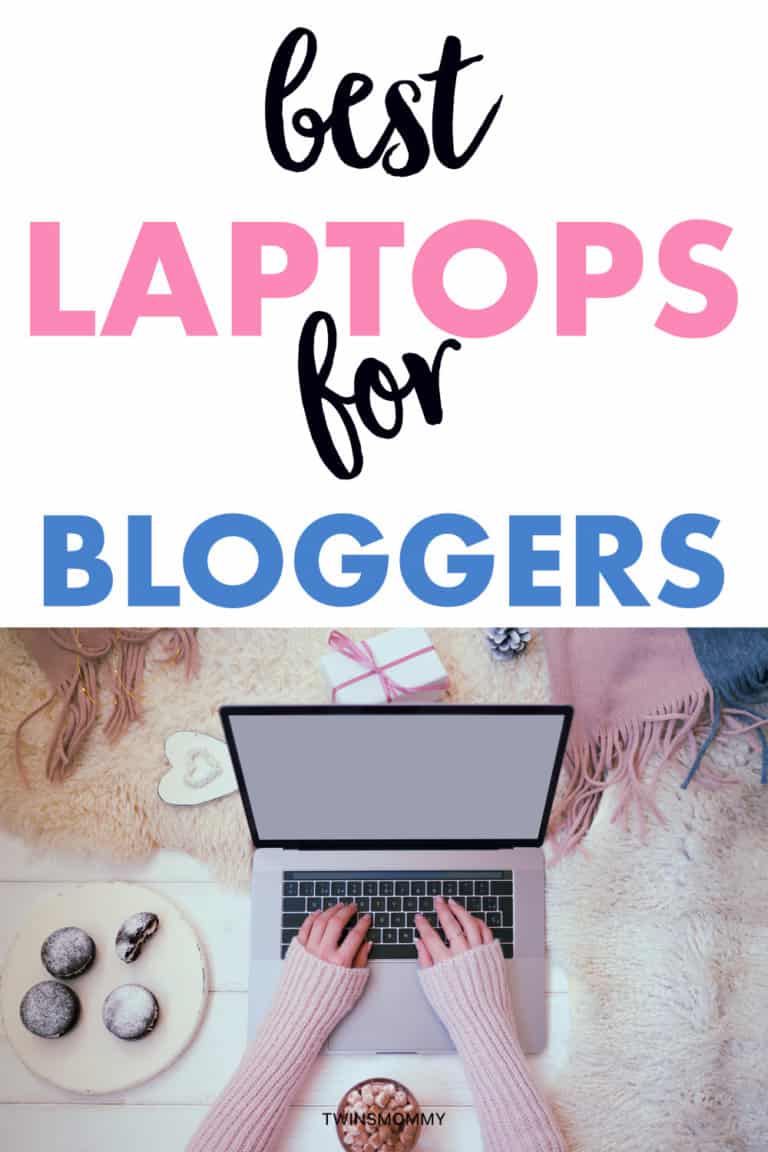 Overall, laptops are a super practical option for blogging – so it's important to have a suitable laptop to fit your needs!
I've been blogging since 2014 and my husband even longer, so we know the importance of having the right laptop for our business needs.
Maybe you already have a sluggish laptop that becomes a sloth when you open more than three tabs in Google Chrome.
Or maybe you've been painstakingly typing your posts on a tablet.
No matter the reason, if you're ready for a new laptop, I've got some ideas for you!
Before we look at the best laptops for blogging, let's go over what you should look for in a laptop to help you make the best choice.
What Should Bloggers Look for in a Laptop?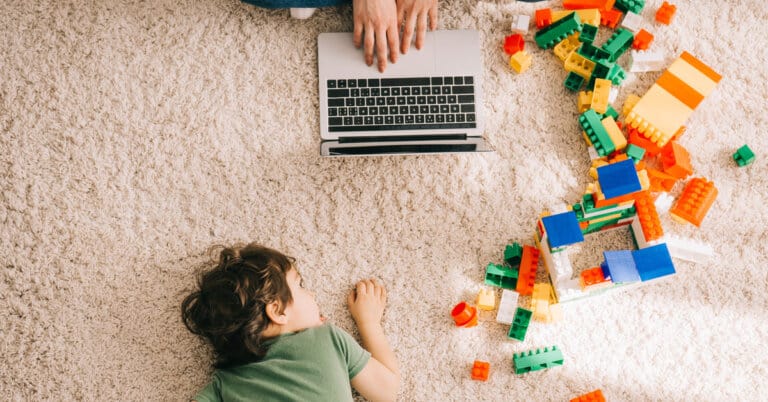 Laptops are the perfect choice for bloggers since they allow you to work anywhere you want.
Local cafe? Comfy couch? Bed?
You can take a laptop anywhere!
You can use a tablet to write, but without a good keyboard, this can make work slow.
The same goes for your smartphone (although your phone is great for jogging down ideas on the go).
If you like to work with multiple programs and multiple browsers at a time, you will need a laptop with a bit of power so you don't slow down the speed and performance of the system.
You'll also need something with a comfortable keyboard and an easy-to-see screen, among other things.
And, the best thing is that they are budget-friendly.
You can start your entire blogging business with a laptop that won't break the bank.
Not sure how to choose?
Here are some things you should look for in a blogging laptop.
1. Storage
Storage is the amount of memory or space a laptop has to store your saved files as well as any programs you use.
While you can do most of your work and save it online (Google Docs, Canva, etc.), keep storage in mind if you plan on saving personal pictures and using software on your laptop.
2. Battery life
If you plan on wandering around with your laptop to work on your blog, it's important to take battery life into consideration.
However, if you plan on keeping your laptop on your desk in your office, this is not something you really need to worry about.
3. Performance
Although performance is typically based on the type of processor used inside the laptop, you can skip trying to figure out what is what by looking at the laptop's RAM.
The higher the RAM (Random Access Memory), the smoother the performance.
RAM is not storage – it's the amount of memory the laptop has to run multiple applications and software.
4. Size & Weight
For bloggers that move around a lot, think about the size of the laptop.
The best laptops for writers will vary between 2 and 4 pounds, making them easy to carry around.
Screen size is also something you should take into consideration – the bigger the screen, the easier it will be to see your work.
Plus, bigger screens are ideal if you plan on using split-screen features!
5. Price
Of course, you need to think about the price!
While having the best laptop for blogging is ideal, you shouldn't spend beyond your budget – especially if you're just getting started.
If you are making money from your blog, you can certainly consider investing in a high-end laptop, but for beginners, there are plenty of affordable options that will suit your needs.
The Best Laptops for Blogging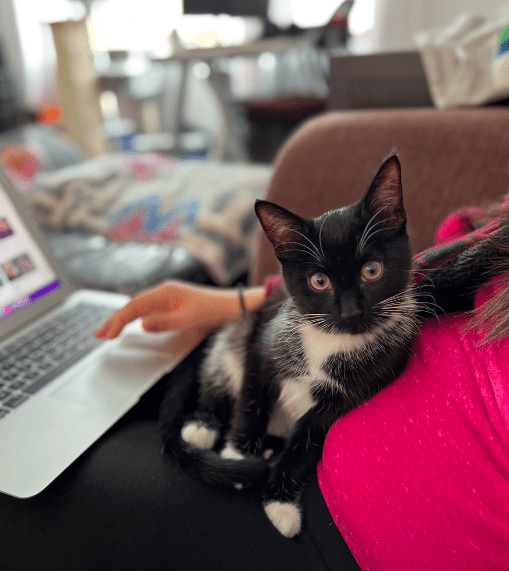 In my list of best laptops for blogging, I'm going to show you a variety of laptops with different features and price points to help you find the perfect one for your work!
Let's get started.
1. 2022 Apple MacBook Pro
Although Apple products are pricier than other laptops, you really get what you pay for!
The Apple MacBook Pro comes with the new Apple M1 chip that provides higher speeds and optimal performance, as well as various useful Apple apps to help you stay productive.
This laptop is perfect for digital creators who do photo or video editing, but it's great for serious bloggers, too!
Size: 13.3 inches
Weight: 3 lbs
Storage: 256 GB
RAM: 24 GB (unified memory)
Battery Life: 20 hours
2. Microsoft Surface Laptop 4
The Microsoft Surface features optimize key travel and responsiveness, making typing more accurate and enjoyable.
It balances performance and portability perfectly and comes with MS Office pre-installed.
It also stays nice and cool, so it won't heat up while you are rocking your blog!
Size: 13.5 inches
Weight: 3.4 lbs
Storage: 256 GB
RAM: 8 GB
Battery Life: 19 hours
3. ASUS Zenbook Flip 14
ASUS laptops are known for having the best features and processors, making them perfect for bloggers and content creators.
With the ASUS Zenbook Flip, you can work faster and multitask (what blogger doesn't do that?) in split-screen mode.
It features an ErgoLift hinge that allows the backlit keyword to tilt and provide you with a more comfortable typing experience – good news for your wrists!
Another feature of the ASUS Zenbook is that it doesn't overheat as easily as other laptops, even if you keep opening and closing it or have numerous tabs open.
Size: 14 inches
Weight: 3.3 lbs
Storage: 256 GB
RAM: 8 GB
Battery Life: 12 hours
4. Dell Inspiron 15
Here's another affordable laptop option for your blogging needs!
The Dell Inspiron 15 may have a shorter battery life than other laptops, but it offers a larger display, tons of storage, and enough RAM to run quickly and efficiently.
Because this laptop has tons of RAM, you can easily work away using multiple tabs!
Size: 15.6 inches
Weight: 3.82 lbs
Storage: 256 GB
RAM: 8 GB
Battery Life: 4 hours
5. Acer Swift 3
If you're looking for the best laptop for blogging that will suit your budget, check out the Acer Swift 3.
Its features are on par with higher-priced laptops, offering fast performance and plenty of storage.
Size: 14 inches
Weight: 2.65 lbs
Storage: 256 GB
RAM: 8 GB
Battery Life: 10 hours
6. HP Envy x360
The HP Envy x360 laptop can be folded to become a tablet – how cool!
It comes with ample storage, tons of RAM, and a long battery life, making this the perfect blogging laptop for on the go!
The HP Envy also has an awesome keyboard that provides comfortable typing with keys that don't wear out quickly.
Size: 13.3 inches
Weight: 4.42 lbs
Storage: 512 GB
RAM: 16 GB
Battery Life: 9 hours
7. Acer Aspire 5
For media-heavy bloggers looking for great value, check out the Acer Aspire 5.
It has plenty of screen and speed and is great for helping bloggers stay productive!
The keyboard is sturdy and nicely spaced to provide comfortable positioning for your hands while typing.
Size: 15.6 inches
Weight: 3.7 lbs
Storage: 256 GB
RAM: 8 GB
Battery Life: 11 hours
8. Apple MacBook Air
The Apple MacBook Air is another Apple product you should consider for your blogging needs.
This lightweight laptop far outperforms earlier Air models, featuring a backlit keyboard, amazing screen resolution, and a fast restart time from Sleep mode – so you can get to blogging right away!
Size: 13.3 inches
Weight: 2.8 lbs
Storage: 256 GB
RAM: 8 GB
Battery Life: 15 hours
9. ASUS Chromebook C423NA
The ASUS Chromebook has a large screen, long battery life, and power.
On the ASUS Chromebook, you can enjoy traditional browsers along with Android applications, giving you a full computer experience while allowing you to sync with Google apps.
Size: 14 inches
Weight: 2.6 lbs
Storage: 64 GB
RAM: 4 GB
Battery Life: 10 hours
10. HP Flagship 15.6
The HP Flagship features a touchscreen that will allow you to blog quickly and fulfill all of your writing needs.
It has a long battery life for blogging on the go, lots of storage space, and you can multitask using the touchscreen.
Size: 15.6 inches
Weight: 4.52 lbs
Storage: 1 TB
RAM: 8 GB
Battery Life: 6 hours
The Best Blogging Laptops
Here is a recap of the best blogging laptops for 2002:
2002 Apple MacBook Pro
Microsoft Surface Laptop 4
ASUS Zenbook Flip 14
Dell Inspiron 15
Acer Swift 3
HP Envy x360
Acer Aspire 5
Apple MacBook Air
ASUS Chromebook C423NA
HP Flagship 15.6
Buying a laptop for blogging is an investment you should consider carefully. With these best laptops for blogging to choose from, you're sure to find the perfect one to fit your needs.
Just make sure you stay within your budget!
What do you think?
Which laptop will you choose?
Let me know in the comments!
And don't forget to pin!