I have to admit, I am in a DIY state of mind!
We are currently renovating our new home and I'm super excited to start working on DIY home projects to make our space unique and cozy.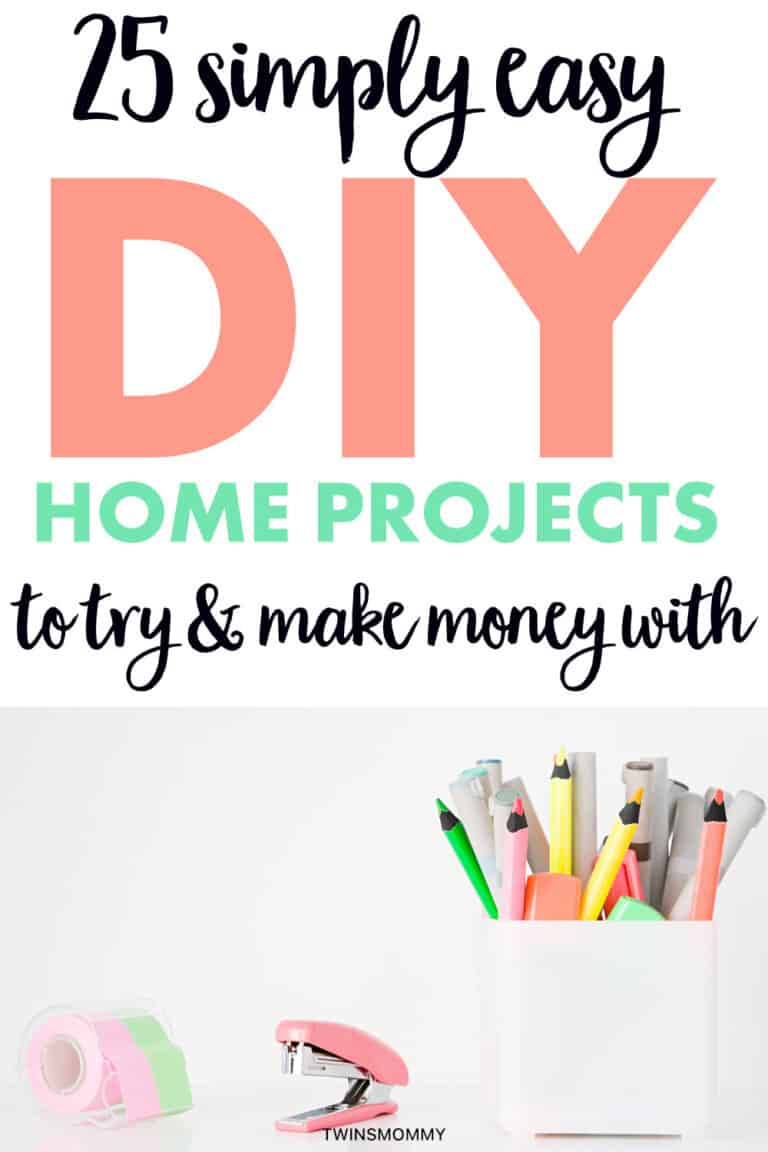 With so many ideas out there, I'm not sure where to start!
So I thought I'd put together a list of DIY home projects to try and figured: Why not share them with my fellow mom bloggers?
If you Google "DIY Blog", there are no shortage of blogs that focus on DIY projects – and for good reason!
According to Home ISD (an online home decorating magazine), 73% of millennials are taking on DIY projects while only 27% hire professionals. In fact, DIY home projects are expected to rise by 4.2% by next year!
Whether you have a lifestyle blog, a DIY blog, or a mom blog, there are always opportunities for you to incorporate DIY home projects into your content while increasing your readership and making money.
Before I get into how to include DIY projects on your blog, here are 25 amazing ideas you should definitely check out.
Easy DIY Projects for Your Home
1. Bathtub Tray
With a scrap of wood long enough to fit the width of your tub, as well as some cute handles, you can easily throw together this rustic bathtub tray. Use it to hold your necessities as you relax and have a warm soak.
2. Custom Signs
Whether you have a Cricut or a steady hand, you can repurpose old wood by staining it and adding a custom design. Not only are these a beautiful and unique addition to your home, but they make awesome gifts as well!
3. Mirror Frame
You can easily transform a plain mirror into a statement piece by painting the frame or adding interesting items like fake flowers, seashells, and even broken CDs.
Mirrors come in all shapes and sizes, so you can really have a lot of fun with this!
4. Rope Basket
Glue gun? Check. Basket? Check. Rope? Check.
That's all it takes to create these trendy rope baskets to hold your magazines, pillows, blankets, or whatever you want!
5. Upholstered Headboard
A quick way to breathe life into your bedroom is to update your headboard. You can upholster an existing headboard with your favorite fabric or create an entirely new one with a large board and a few materials.
6. Stenciled Nightstand
You can upgrade the hum-drum nightstand in your bedroom too! Add a fresh coat of paint then get creative with some stencils to create a unique pattern that matches your decor.
7. Picture Ledge
When you have a lot of photos to display, it can be hard to find the space around your home. Instead, you can use scrap wood to make ledges dedicated solely to displaying pictures.
8. Produce Stand
If you have a knack for woodworking or want to give it a try, check out this beautiful produce stand. It fits easily in your kitchen to give you easy access to produce such as potatoes, onions, and more.
9. Succulent Terrarium
Use apothecary jars, or glue together picture frames, to create succulent terrariums. Fill them with pebbles and succulents of your choice.
10. Wreaths
Wreaths are a great way to give your front door a seasonal makeover! And you can use all kinds of materials to make them: flowers, paper, ornaments, feathers, etc.
11. Blanket Ladder
Blanket ladders are a rustic and chic way of displaying and storing your blankets. They're very inexpensive to make and a simple way to add some coziness to your home.
12. Resurfaced Fireplace
If your home has a fireplace, you can transform it and your room by resurfacing it. Simply smooth out the rough surface with mortar and adhere some cool-looking tile. You can also give it new life with a simple paint job.
13. Handmade Curtains
Curtains are not cheap and sometimes finding the perfect ones to match your décor can be impossible. If you're handy with a sewing machine, why not make your own? In fact, there are curtain patterns out there that don't even require sewing!
14. Chalkboard Wall Calendar
Chalkboard paint has definitely revolutionalized DIY home projects for beginners. Use tape and some chalkboard paint to create a reusable wall calendar in your home. Or, you can paint the glass of a large picture frame if you are looking for something less permanent.
15. House Number Sign
Perk up your curb appeal by making a custom house number sign for your home! This one frames a cedar picket but you can definitely get creative with your design.
16. Mason Jar Décor
Do you know how many easy DIY projects for home you can make with mason jars? Last I counted, I came up with 65! Honestly, there are so many things you can do with mason jars such as making candles, lamps, snow globes, and more.
17. Stone Bathroom Rug
A DIY stone bathroom rug will make your bathroom feel like a spa! Just buy smooth stones from your local craft or dollar store or go out searching in the great outdoors. Use strong glue (such as cement glue) to arrange and stick the clean and dry stones to a regular bath mat.
18. Concrete Planters
Concrete can be used to make trendy planters (as well as soap dishes, candle holders, etc.). Just mix the cement following the instructions on the bad and fill your mold, or regular bowl, before placing a smaller bowl inside. Let it dry, take out the mold, and paint!
19. Tire Ottoman
Do you have an old tire kicking around? Why not turn it into a beautiful living room ottoman? Not only are you creating a unique piece of home décor but also preventing an old tire from going to waste!
20. Macramé Plant Hangers
Is macramé making a comeback or did it never really go out of style? Either way, these charming pieces of décor allow you to decorate your room with plants without taking up a lot of floor space. The key is learning how to tie knots (which is super easy) so you can start creating your own designs.
21. Couch Tables
By repurposing wood for the base and the tabletop, and connecting them with metal pipes, you can create couch tables that slide under the couch at the bottoms and provide a convenient surface on the top. This way, you can eat or work from the comfort of your couch!
22. Custom Lampshades
Lampshades are the perfect blank canvas when it comes to DIY home projects for beginners! You can paint them, glue stuff onto them, whatever you can think of. Create something totally unique or match the shade to your room's décor – the possibilities are endless!
23. Planter Boxes
Here's another super cute woodworking project. With some wood, lattice, and paint, you can create a planter box in whatever size you want to suit your outdoor space. Throw on a coat of exterior paint and plant your favorite flowers!
24. Wood Pallet Furniture
There are so many really cool things you can do with recycled wood pallets. For instance, you can create furniture such as couches, tables, chairs, swinging beds, bookshelves, you name it! And, when you stain them, they retain a beautiful natural wood look.
25. Pillow Covers
Custom pillow covers are a great way to add a touch of personality to your bedroom and living room. Just measure out some of your favorite fabric to fit the pillows and sew away! But, just like curtains, there are also no-sew options when it comes to making pillow covers.
How to Use DIY Projects For Home On Your Blog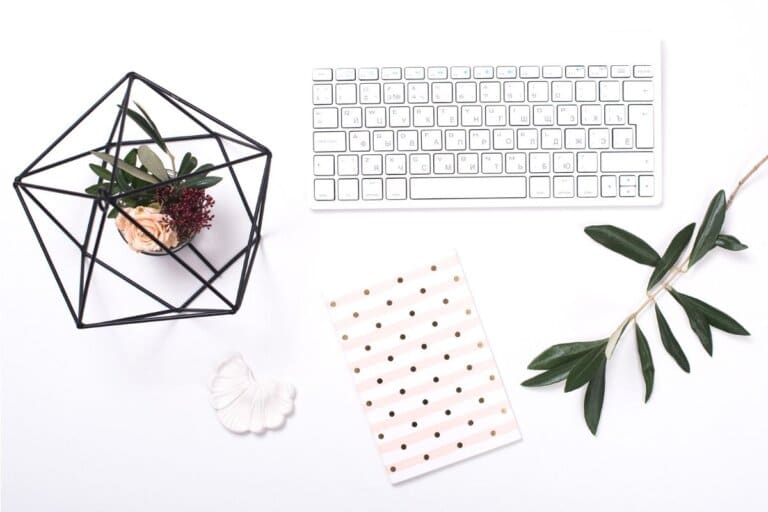 While these easy DIY projects for home are fun to do and can really amplify the look and feel of your space, you can also use them to leverage your blog and make money!
And you don't even need a DIY blog to do it. If you have a lifestyle blog, a mom blog, or a blog focused on home living, you can include DIY projects and the following tips to monetize your creations:
Affiliate Marketing
Affiliate marketing involves promoting other people's products and earning a commission every time someone clicks on your referral link and buys.
Amazon has an amazing affiliate program that will allow you to promote the products you are using during your DIY home projects but you can also sign up with big brands such as Walmart and Target.
When you write a post about your project, link to the products you are using. For instance, if you're writing about mason jar crafts, link to mason jars that your readers can buy to complete their own DIYs.
Try to stick to products you actually use like your favorite paints, glues, and tools. Readers are more likely to buy these products if they see you using them while working on your unique and custom projects!
Masterclasses
When you blog about easy DIY projects for home, your readers are probably going to want to learn your techniques so they can do it themselves.
A master class is a one-off course taught by someone who has expertise or knowledge on the subject. These courses are short so readers are more likely to commit because they deliver quick results.
Typically, masterclasses are not limited to written content – which is perfect for teaching DIY projects such as couch tables, planter boxes, or resurfacing a fireplace! You can blend live online sessions, video tutorials, and cheatsheets to walk your readers through the instructions.
You can charge money for your master class or offer it for free to build your email subscriber list. Having a large email list means you can easily create email sales funnels to promote any products or services you offer on your blog!
Printables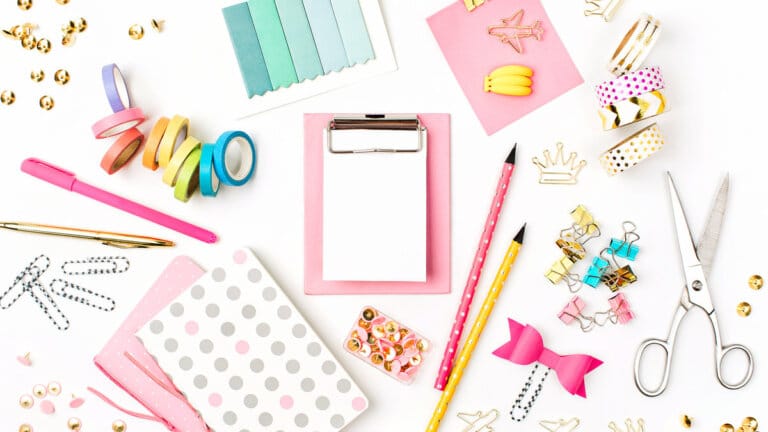 Another great way to build your email list and make money is to offer printables. These can include visual instructions, checklists, art, quotes, stencils, SVG files for Cricuts, etc.
For example, if your project involves stenciling a nightstand, you can offer free stencils to your readers for their own project.
I love using Canva to design visuals, especially printables! When you sign up for their Pro account, you get access to thousands of graphics and designs you can use to make your creations unique.
You can sell your printables or offer them for free when people sign up to your email subscriber list.
Etsy
If you're interested in selling your products to make money, you can always sign up for Etsy. This site allows you to sell your handmade products, which would be perfect for DIY home projects such as mason jar crafts, pillow covers, house number signs, and wreaths.
Etsy is easy to set up, budget-friendly, and you can link to your Etsy shop on your blog.
This is great for readers who love what you make but don't have the time to work on a DIY home project. Plus, buying handmade items is super popular right now, with more and more people looking to purchase unique items!
It's Time to DIY It Mama!
Whether you are thinking about starting a DIY blog or want to incorporate some DIY into the blog you already have, these amazing ideas will definitely get you started!
As you're working on your DIY home projects, make sure to keep track of the steps and take lots of awesome pictures so you can share your ideas with your readers.
The more clear and helpful your instructions are, the more your readers are going to want to buy the products you use or even buy the products you make!
Do you include DIY projects on your blog? I'd love to hear about your experiences! Drop your stories in the comments below.
And if you want to get started right now, enroll in my free course to start a blog that actually makes money!