Are you a stay-at-home mom looking to fill that extra time with some creative passions that actually make you money?
Or are you looking for a way to make more money on top of your regular job?
If so, Etsy may just be your ticket to increasing your income!
Etsy is an online marketplace for all things handmade and unique, and it's the perfect place to kickstart your entrepreneurial journey.
I love buying from Etsy and now I'm getting my daughter into it too!
She recently bought some beautiful silver rings and she loves them and wears them every day.
For those who love creating, there are tons of easy things to sell on Etsy to make money.
Let's take a look at how easy it is to sell on Etsy, along with some fantastic ideas to get you started:
Is It Easy to Sell On Etsy?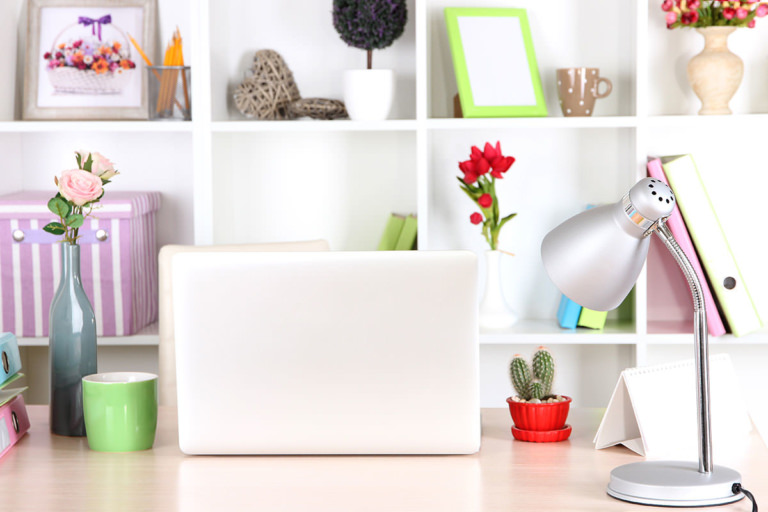 Before we get into what to sell on Etsy and how, let's talk about whether or not it's easy to sell on Etsy.
Overall, the answer is "yes." Etsy isn't just a marketplace – it's a community of creators where you can connect with like-minded individuals who share your passion for crafting and creativity.
You can join forums, participate in discussions, and learn from experienced sellers.
Etsy also has a very user-friendly interface that makes it easy to set up a shop and start listing your products.
Etsy's intuitive dashboard allows you to manage your shop effortlessly, from adding new items to tracking orders and communicating with customers.
Etsy also provides tools and resources to help you optimize your listings for maximum visibility.
You can also use the platform's analytics and marketing tools to help you understand your shop's performance and reach a broader audience.
Now, this isn't all to say that anyone can throw a product on Etsy and become successful.
While it is easy to sell on Etsy, it does take some work – and the first step is figuring out what to sell!
What to Sell on Esty – The Best-Selling Items
In order to succeed on Etsy, you need to know what products are in high demand. Understanding the best-selling items on the platform can help you decide which products to create and sell.
But how do you figure out what's selling?
EverBee Keyword Research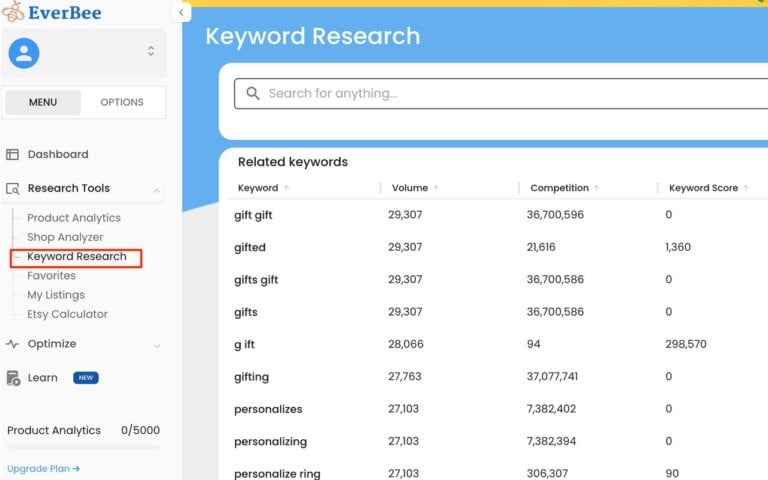 You can use a service like EverBee to find the best products to sell on Etsy.
Simply set up your account and download the Chrome extension, which uses product research to find high-demand products and analyze revenue to find popular items.
Head over to Etsy and search for keywords related to what you want to sell or what you think might be popular. EverBee will then appear on the left side of the page – click the little up arrow, and the extension will open a page showing the top Etsy listings based on sales and monthly revenue.
I like the idea of using this extension because what's popular on Etsy is constantly changing.
This way, you can keep up with the latest trends and take advantage of high-demand products!
Etsy Data
If you'd rather do your own legwork, you can always figure out how popular an item is based on these data points:
Number of Listings
Average Searches
Average Clicks
Average Click-Through-Rate (CTR)
Average Price
Most Competitive Keywords
Popular Tags
Least Competitive Keywords
You can easily check the number of listings by searching on Etsy.
The rest can be found using a service like eRank, which allows you to do keyword research, track competitors, and stay on top of Etsy trends.
Just remember that you want to focus your efforts on very easy things to sell on Etsy that you enjoy making.
So don't focus on popular items that you have no interest in dedicating your time to!
Easy Things to Make and Sell On Etsy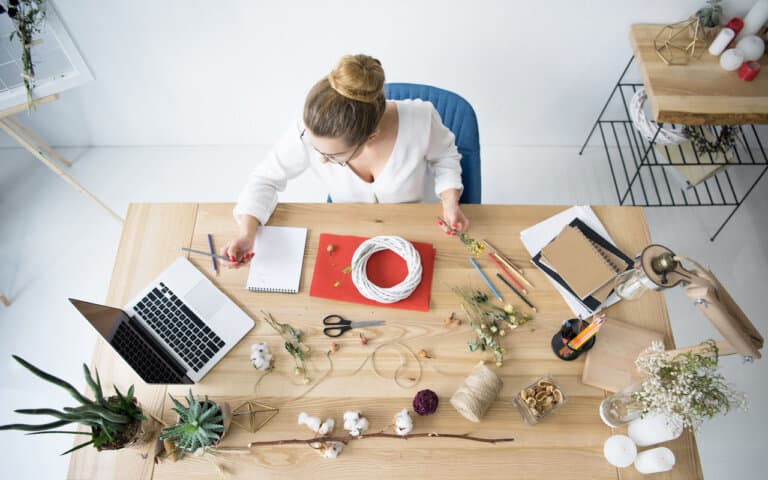 Okay, now let's talk about the easy things you can make and sell on Etsy!
Unless you want to devote full-time hours to crafting items to sell, you're going to want to find things that are popular AND easy to make.
1. Handmade Jewelry
If you're looking for cute and easy things to sell on Etsy, handmade jewelry is super popular.
Create unique bracelets, necklaces, pendants, and earrings. In fact, one of the most high-demand types of jewelry on Etsy is dangle and drop earrings.
You can experiment with different materials, from beads to metals, and offer personalized options to attract custom orders.
2. Stickers and Decals
Stickers and decals are also super popular on Etsy, and you can create and sell designs for laptops, water bottles, and more. Play around with different themes, from cute animals to inspirational quotes.
3. Mugs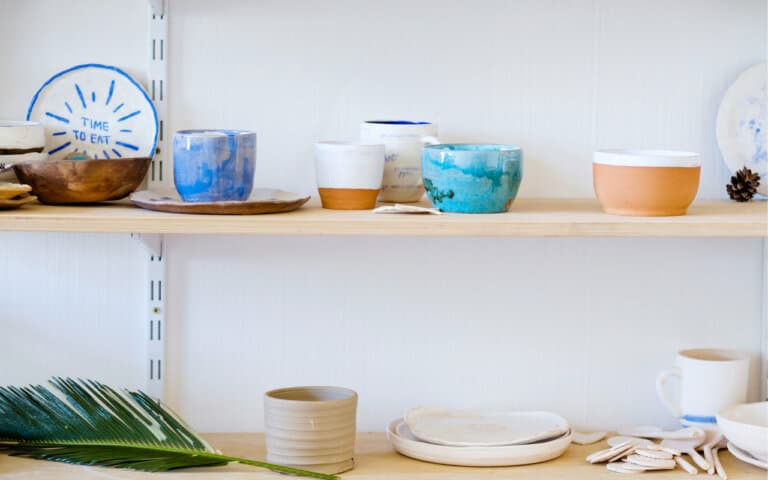 If you have the right equipment, you can customize and sell mugs with your own designs, including personalized messages, illustrations, or photos.
While mugs are easy things to sell on Etsy when you have a Cricut to create vinyl designs, a heat press is a complete game-changer when it comes to customized mugs.
4. Books
Although people do sell books and eBooks on Etsy, the most popular items in this category are actually decor items intended to make bookshelves appear more populated.
Neat, huh?
People will sell vintage books, white books, black books, and children's books as decor.
But blind date books are popular as well, where books are sold wrapped up so shoppers can try new books without judging their covers.
5. Fashion
People still flock to Etsy to find handmade fashion, so clothes, scarves, and accessories are easy homemade things to sell on Etsy and make money!
You can focus on a particular style or niche to stand out or make custom items to attract customers.
Another popular Etsy idea when it comes to fashion is upcycling clothes. This means scouring thrift shops for interesting pieces and then adding your own creative touches.
People love shopping for unique and one-of-a-kind items on Etsy!
6. Wall Decor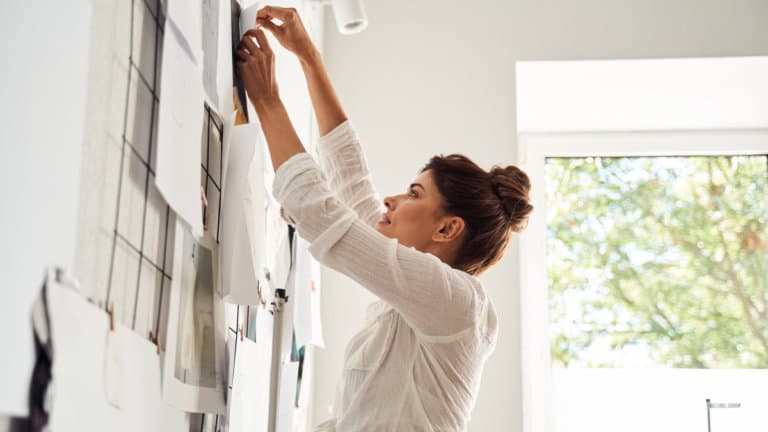 You can create and sell wall art, such as canvas prints, framed artwork, or decorative wall hangings.
For example, you can make macrame wall hangings, holiday wreaths, shadow boxes, and more – the possibilities are endless!
Like all of the cute and easy things to make that sell on Etsy, it's important to have fun with different styles, materials, and themes to see what type of customers you can appeal to.
7. Gifts
I know this is kind of a broad idea, but when it comes to selling gifts on Etsy, think customizable gifts: keychains, photo frames, or engraved wooden products.
By catering to special occasions and holidays, you can really boost sales and create products that are super popular!
8. Planners & Organizers
Okay, let's talk about easy things to sell on Etsy that are digital. I love digital products because you only have to design and make them once, but you can continue to make money off them.
And planners and organizers remain a high-selling product on Etsy.
Create stylish and functional printable planners, calendars, and organizers. Your customers can then download and print them from home.
9. Printable Invitations & Stationery
The same goes for printable invitations and stationery!
Design and sell invitations for weddings, birthdays, etc., as well as greeting cards and stationery sets.
You can also offer customization options to suit different occasions.
10. Educational Printables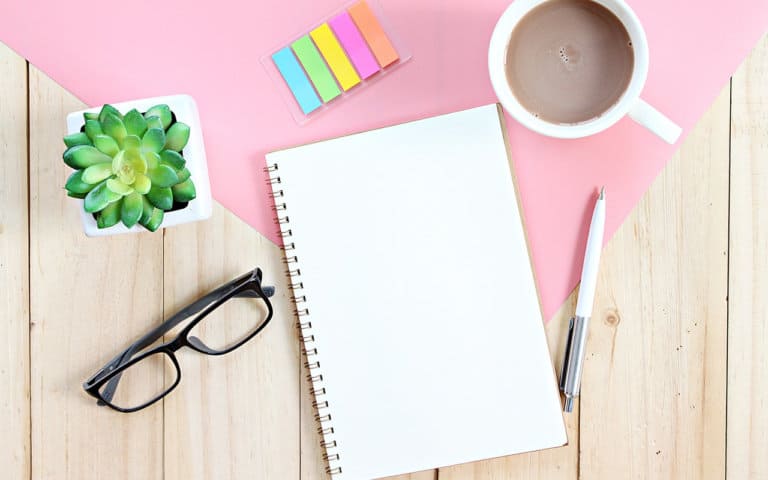 Between educators and parents, there's always someone looking for education printables on Etsy!
You can make and sell things like worksheets, flashcards, and learning games for all grade levels.
Just make sure your products are accurate and align with educational standards and curricula.
11. SVG Designs
If you have graphic design skills, offer SVG (Scalable Vector Graphics) designs for crafters and DIY enthusiasts.
These designs can be used for cutting machines (like the Cricut) and various crafting projects.
Right now, these are super popular because tons of people have Cricuts at home, but they don't have the design know-how to create their own images.
So, if you're looking for easy digital things to sell on Etsy that can make you a passive income, consider selling SVG designs!
How to Sell on Etsy
Once you have a clear idea of what you want to sell, you need to know how to sell on Etsy!
Here is a quick step-by-step guide to get you started:
Set Up Your Etsy Shop: First things first, you need a shop in order to sell on Etsy. Choose a shop name, set up your shop policies, and stock your shop with your amazing creations.
Optimize Your Product Listings: Your product listings play a crucial role in attracting potential buyers. Make sure you use high-quality photos, write compelling descriptions, and use keywords and tags to improve your product's visibility.
Utilize Marketing Strategies: To stand out on Etsy and attract buyers, you should use marketing strategies such as promoting your shop on social media, paying for advertising and building an email list of interested customers to send them updates and promotions.
Provide Stellar Customer Service: Excellent customer service will set you apart from the competition, so respond to customers promptly, make sure your products are well-packaged and shipped on time, and handle disputes professionally.
Build Your Brand: Having a strong presence on Etsy can make your shop more memorable and trustworthy. Maintain a consistent style, share your story, and focus on creating high-quality products.
Don't forget that being successful on Etsy takes time, so you need to be patient and persistent.
Make sure you continuously monitor your shop's performance and customer feedback so you can tweak your strategy and grow your business.
What Sells on Etsy Fast?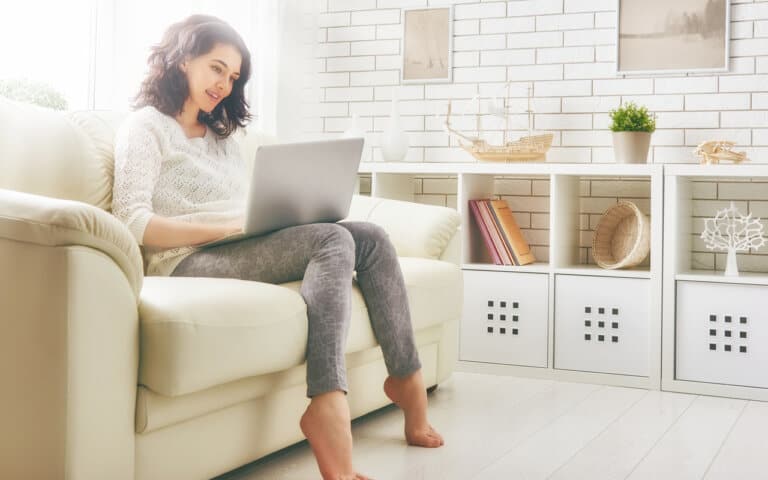 The biggest question you're probably thinking is what can you sell fast on Etsy, right?
I mean you want to make money fast and what better way than to have the RIGHT products to sell on Etsy fast?
Well, while the popularity of items often change based on current trends and seasons, here is a list of items that historically have been in demand and tend to sell quickly.
Printable Art and Graphics: Many of the items already listed are fast sellers like: instant downloadable art prints, planner inserts, stickers, and invitations. These can be produced at minimal cost and sell without any shipping hassles.
Customized Clothing and Accessories: Personalized t-shirts, hats, and tote bags can be popular, especially when they feature unique designs or meaningful sayings.
Home Décor: Items like wall hangings, rustic signs, and handcrafted clocks often appeal to people wanting to add a unique touch to their homes.
Handmade Candles: Particularly those with unique scents, eco-friendly materials, or visually appealing designs.
Wedding-Related Items: Save-the-dates, invitations, wedding favors, bridal party gifts, and décor are always in demand as people are constantly planning for their big day.
Craft Supplies: With the DIY movement going strong, craft supplies, especially unique or hard-to-find items, can be in high demand.
Vintage Items: Depending on the era and the rarity, vintage clothing, accessories, and collectibles can be very sought after.
Personalized Gifts: Items like custom mugs, keychains, and name puzzles are often purchased for birthdays, anniversaries, and other special occasions.
Seasonal Items: Products tied to holidays or seasons, such as Halloween costumes, Christmas decorations, or summer accessories can have a high turnover rate when they are in season.
Get Selling on Etsy Today!
Making money from home as a mom has never been easier, thanks to Etsy!
With the right products, you can turn your creative talents into a profitable venture.
Over to you – Have you ever sold a product on Etsy?
What was it, and how did it go?
Share in the comments!