Do you know what's great about having twins?
I get everything in stereo! Including the classic line: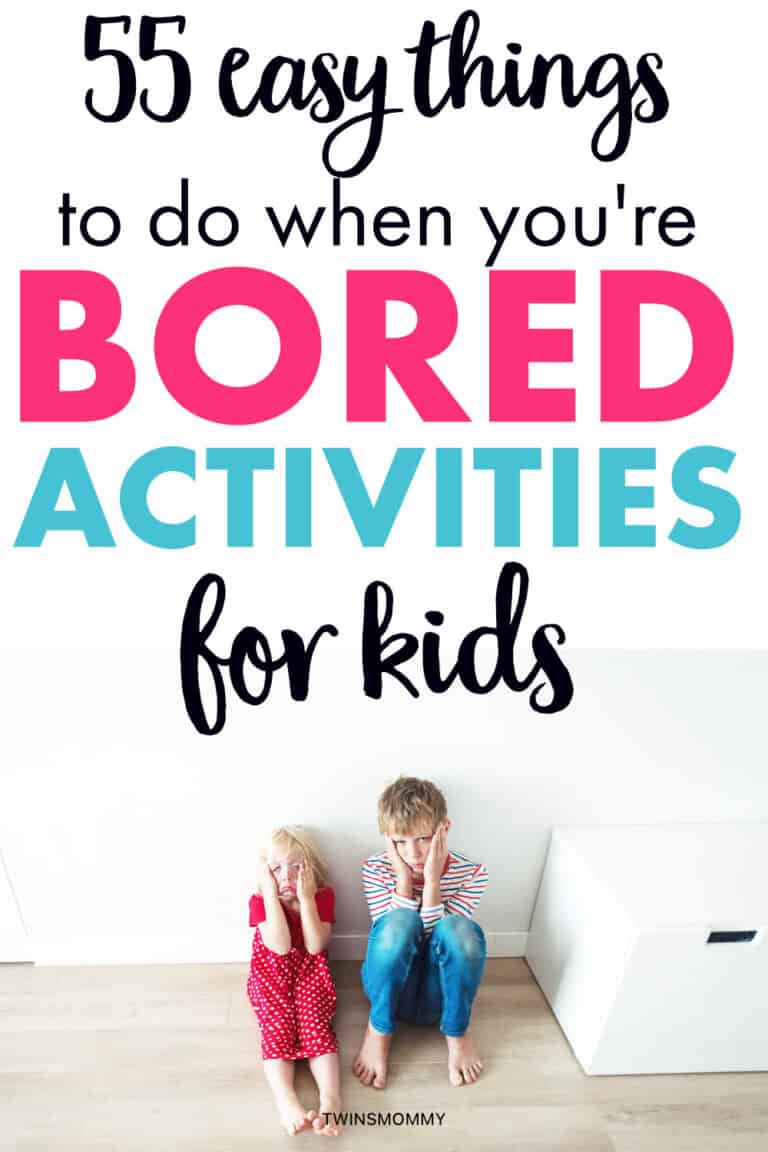 "I'm boooooored!"
My kiddos are really good about keeping themselves entertained, especially since I am a work-at-home mom, but I'm not immune to hearing the cry of bored children.
I'm sure you're not either.
Whether you work from home or are a stay-at-home mom, there's still stuff to get done and you can't give your children your undivided attention 24-7.
While it is beneficial for your children to experience boredom, you as a parent need to get the ball rolling when it comes to engaging them in fun and entertaining activities.
Not sure where to start?
Here are 55 things to do when bored that are fun, creative, and your kids are sure to love.
It's Okay to Let Your Kids Be Bored!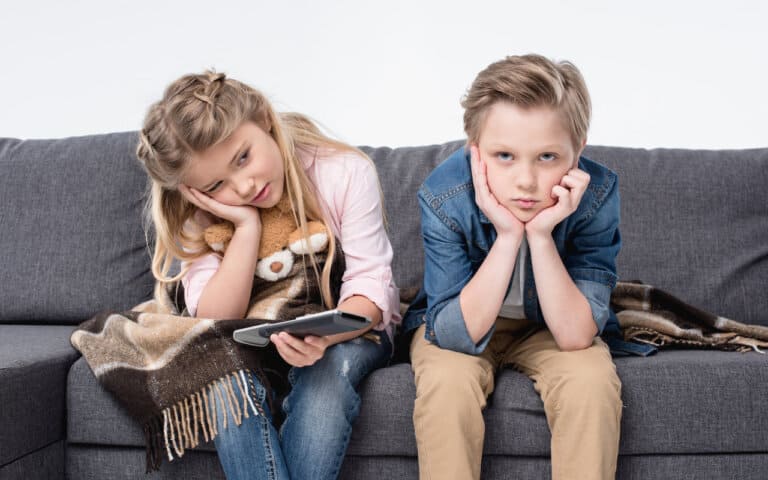 Did you know that constructive boredom helps in their mental and emotional development? It can help foster creativity and a sense of identity.
In fact, experts suggest that over-scheduling children and micro-managing their activities keep them from discovering their true interests!
However, children are not expected to face boredom alone.
They need your guidance to explore different activities and get their creative juices flowing.
So if you're tired of hearing "I'm booooored!" on a regular basis, try some of these boredom-busting activities to help keep your little ones busy and entertained.
Things For Your Kids To Do When Bored
1. Write a Story
Whether or not your little one has a wild imagination, you can get them to put pen to paper and write a story.
To make it seem less like a task and more like a fun activity, you can get them to write a story to act out later or create sequences cards together.
Sequence cards are drawings of actions or scenes your child can then put in order to tell a story! See if they can put them in the proper order or let them mix them up to tell a fun and whacky story.
2. Sidewalk Chalk
Nothing beats a classic and sidewalk chalk is an activity as old as time itself (well, probably not that old).
If you have a paved driveway or sidewalk by your home, your kiddos will have hours of fun drawing with sidewalk chalk. They can write their name, draw a hopscotch game, trace their bodies – the possibilities are endless!
Plus, sidewalk chalk is easy to wash off, making this a perfect mess-free activity.
To make your sidewalk chalk last, I use these chalk holders! They are also great to get to practice holding a pen or pencil the right way.
3. Paint Rocks
I love the trend of painting and leaving rocks around the city or in nature parks!
As fun as it is to find rocks, it's just as fun to paint them!
Set up a sheet on the floor or outside and let your child's imagination run wild. Challenge them to paint rocks based on their shape – for example, a triangular-shaped rock can become a piece of pizza!
4. Sock Puppets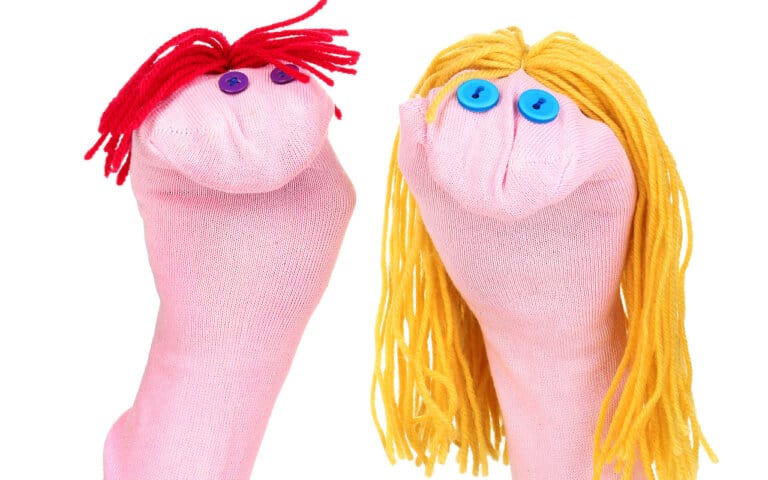 To make a sock puppet, you will need – a sock. That's it!
You can let your child embellish their sock puppet with markers and glued on buttons, pipe cleaners, etc.
Not only will they have fun making the sock puppet, but then they get to put on a puppet show!
5. Create a Word Search
Print off some graph paper (the paper with the little squares) and get your kiddo to design a word search. All they have to do is put in the words they want and then surround them with random letters.
When they're done, sit down and see if you can solve the puzzle!
6. Art Collage
Grab some old magazines, scissors, and glue, and let your child cut out pictures to create an art collage. You can challenge them to create a theme or let them glue down anything that tickles their fancy.
You can take this activity outside by using bits of nature, such as sticks and rocks, to create a collage as well.
7. Nature Scavenger Hunt
Speaking of going outside, take your kids out for a nature scavenger hunt. You can create a list of things for them to find or make a bingo sheet of objects to see who can get a line first.
You can even make it more of a challenge by trying to find things that match each color of the rainbow or each letter of the alphabet.
8. Make Playdough
I absolutely make-and-play activities, and playdough is a perfect one! Making the dough is super fun but playing with it is just as entertaining.
Here's a simple playdough recipe you can try with your little one:
1 cup of flour
¼ cup of salt
⅓ cup hot water
2 tbsp. oil
Food coloring
That's it! Older children can have fun making this all by themselves.
9. Weekly Family Night
Sometimes your kiddos just need something to look forward to. Sometimes having a weekly family night is enough to get them through the day and gives you guys an opportunity to spend some quality time together.
You can watch a movie, cook a special dinner, or play board games.
As much as you want your kids to play independently, you definitely still need to come together as a family.
10. Photoshoot With Toys
Give your child a camera and see how many Instagram-worthy photos they can create with their toys and stuffies.
When they're done, you can sit down together and look over their masterpieces.
My twins especially love this. I let them have their own smart phone (older version iPhones) and they can spend a whole afternoon taking photos of their stuffies.
Then, they use a picture as their phone background!
11. Read a Book
Some kids take to reading like a fish to water but others need some more encouragement – especially if they are accustomed to watching TV throughout the day.
Make reading a part of your bedtime routine or create a reading challenge.
Set a number of books for your child to read and give them a little prize when they reach their goal!
And this works too!
I started the summer reading club this summer with my kids. This was the first summer where they read their own books and we are even continued this once school started.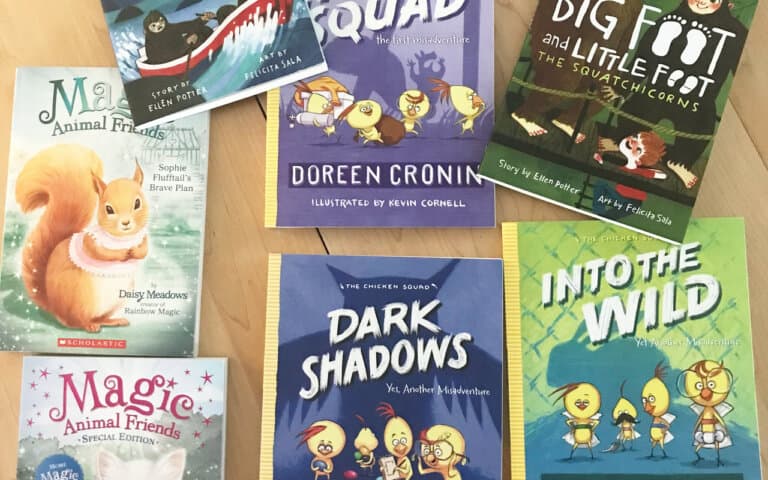 12. Backyard Camping
You don't need to load up the car to enjoy the excitement of camping.
Grab a tent and some sleeping bags and set up your own camping site in the backyard.
Don't have a yard? A small tent in your living room is just as fun! Plus, there's something exciting and novel about doing regular activities, such as reading or eating, inside a tent.
13. The Floor is Lava
The floor is lava is one of those fun and physical games that is easy to play and easy to set up.
Let your child use blankets and cushions to create an obstacle course across the floor and see if they can make it across without touching the "lava."
14. Blanket Forts
You can also use blankets and cushions to create a blanket fort!
Use the couch or your child's bed, plus some elastic and clothespins (these are key) to create a cool fort they can hang out in.
In the summertime, when the weather is hot, you can use a fan and fitted sheet to build an air-conditioned fort on the bed!
15. Obstacle Course
Instead of playing the floor is lava, your kiddos can set up an obstacle course in the house that involves climbing, crawling, twirling, you name it!
You can take the fun outside too by setting up an obstacle course in your yard.
In the summer, incorporate small pools and sprinklers. In the winter, use the snow to build ramps and tunnels.
16. Give Them Cardboard to Create!
Over the summer my husband and I were renovating our upstairs and the twins were bored since they couldn't help with many of the projects. However, they found something to do with all the cardboard laying around from flooring boxes and decided to make a park out of it!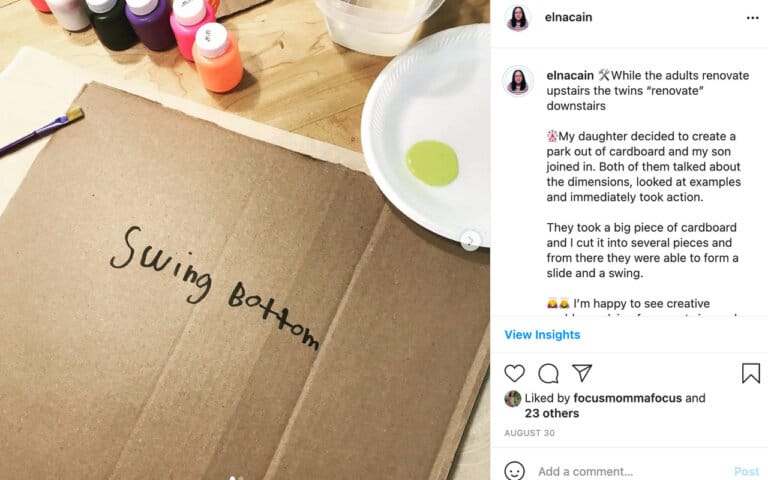 17. Self-Portraits
Maybe your child is a budding artist, maybe they're not – but it's definitely fun to sit in front of a mirror and draw a self-portrait.
You can join in the fun by having your child draw you (yet another way to rest for a minute or two!) or challenge them to draw their own faces upside down.
18. Homemade Bowling
Grab some empty pop bottles, Pringles cans, or cut-up pool noodles and let your kids set up their own game of bowling!
With lighter items, you don't have to worry about any resulting damage.
You can glue numbers to the pins and create a scoring system or pop some glow sticks into the bottles for some cool night bowling.
19. Painter's Tape Racetrack
The great thing about painter's tape is that it's not that sticky and can be cleaned up easily.
Let your little one design their own racetrack on the floor.
When they're done, simply haul off the tape and go about your day!
20. Puzzles
Puzzles are such an amazing toy to help develop your child's creativity and brain skills.
There's a puzzle out there for all ages!
If you want to make it more challenging, mix two puzzles together and let your little one sort out the pieces.
I started doing puzzles during the holidays and it's continued throughout the year.
I just leave the unfinished puzzle in the dining room and whenever someone walks by they take a few minutes to do the puzzle!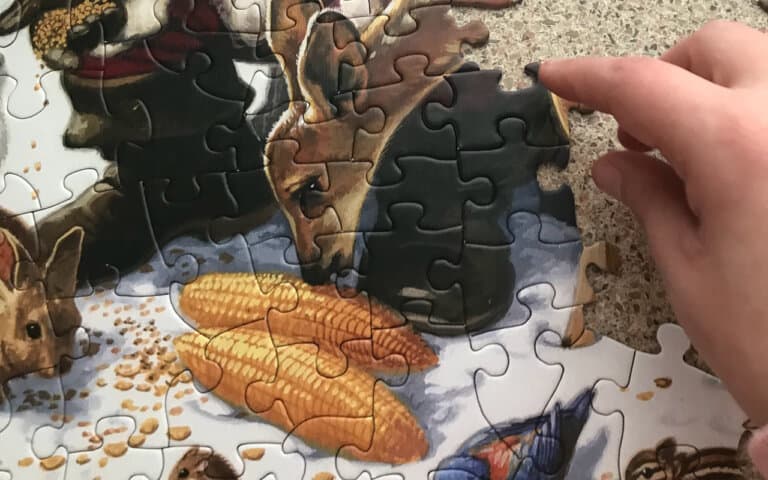 21. DIY Water Table
Kids love water tables but parents don't love the price. You can help your little one beat boredom by making your own water table!
You can use a simple plastic bin or bowl but if you have a baby or toddler bathtub laying around, that works great too.
Just fill it with water and toys and let your kiddo splash around.
22. Play Chess
Things to do when bored don't have to be all fun and excitement.
They can also be challenging and involving some thought – like playing chess.
Sit down with your kid and haul out the old chessboard. If you have more than one child, you can teach them how to play together.
Look up some online tutorials to get started. Honestly, learning the moves isn't difficult but figuring out a strategy can be fun.
23. Floor Tic-Tac-Toe
Grab that painter's tape again and mark a huge tic-tac-toe board on the floor. Take some paper plates and draw or paint x's and o's on them.
Your kids can use the entire floor to play tic-tac-toe and clean-up is a breeze when they're all done!
24. Play an Instrument
If you have some instruments laying around, encourage your kids to start their own "band".
You can also make simple instruments by filling paper towel rolls with rice and sealing the ends or letting smaller children bang away on mixing bowls with wooden spoons.
Have them practice for a bit then sit down and enjoy the performance!
25. Do a Makeup Tutorial Video
Whether your little one is into eyeshadow and blush or Hallowe'en makeup, you can set them up to make their own makeup video tutorial.
This is one of those things to do when bored that will really ramp up their creativity.
26. Play Doctor
Need a break? Play doctor with your little one! Grab a doctor's kit and pretend to be the patient.
Your job? To lay still and pretend to be sick while your child checks you out.
Sounds relaxing!
Even More Fun Things To Do When You're Bored!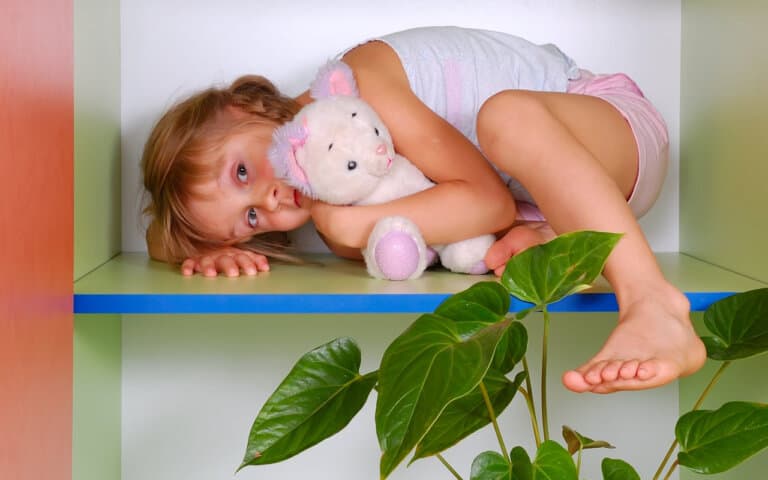 Are you still looking for more ideas? Don't worry, I've got you covered!
Participation
When you're trying to get stuff done around the house, why not have your kiddos participate?
This will give them something to do, help you out, and help them develop a sense of independence and responsibility!
Dusting
Cooking
Water the Garden
Fold Laundry
Vacuum
Get Stuff Done
When you can't get your little ones to help out (or stay out of your hair), you can always indulge in a play activity that allows you to get stuff done – especially if you're working on your blog.
Play hide n' seek or follow the leader as you tidy around the house or have your child set up a restaurant while you cook dinner.
Follow the Leader
Hide N' Seek
Play Restaurant
Online Learning
It's hard to keep kids entertained nowadays and find things to do when bored when you have YouTube ready and willing to babysit for you!
If you find it impossible to keep them away from screens, give their screentime value by introducing these free educational sites for kids:
PBS Kids
Starfall
Sesame Street
CoolMath
National Geographic Kids
Yoga and Exercise
Kids have oodles of energy that can be put to good use to beat boredom! Have them check out one of these amazing YouTube channels for yoga and exercise:
Cosmic Kids Yoga
Go Noodle
Story Hive Yoga
Dance Sweat Live
Move to Learn
Easy Arts and Crafts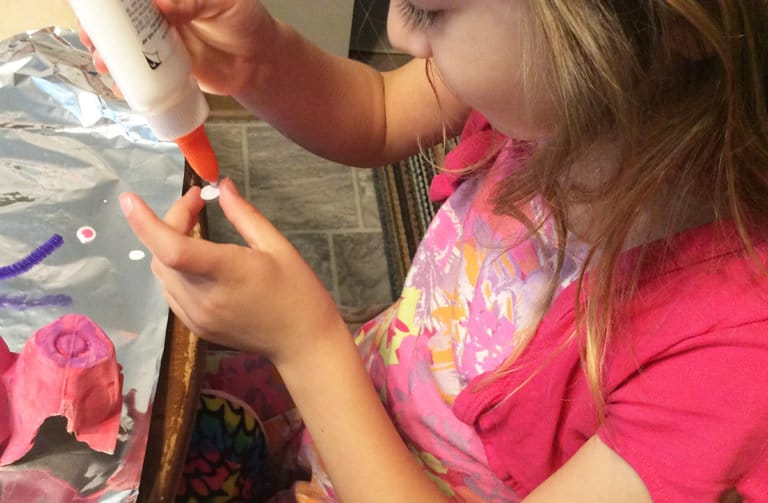 You want to encourage your child to be creative but sometimes you don't have the time to sit down and do crafts.
Here are some easy arts and craft ideas they can do all on their own:
Coloring Books
Sticker Books
Paint-by-Color
Finger Knitting
Origami
Open-Ended Toys
You don't have to bust out DIY activities to keep your kiddos busy throughout the day. Open-ended toys are perfect for taking up time, fostering imagination, and developing creativity!
Blocks/Lego
Magnetic Tiles
Marble Run
Train Tracks
Cash Register
More Tips for What to Do When You're Bored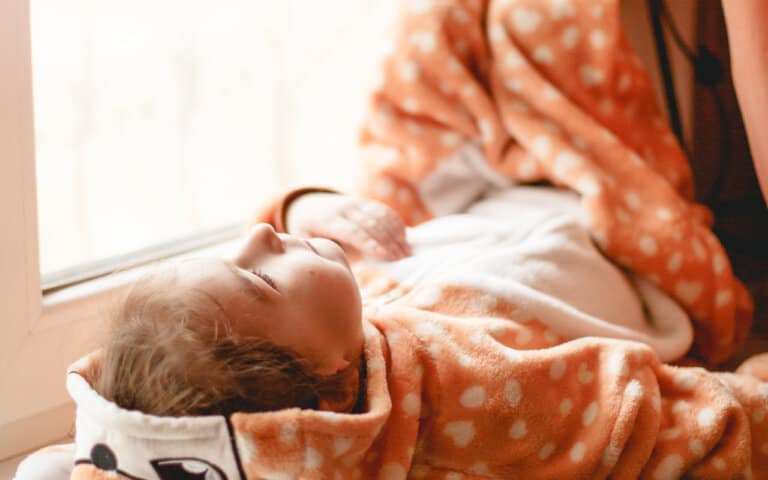 If you find yourself still struggling against the boredom monster after trying these activities for kids, here are some tips that may help you conquer your child's boredom once and for all:
Boredom Jar
Write down a few activities and stick them in a jar. This way, when your child is bored, they can pull out a surprise activity. If they're not anticipating the activity then they will be more excited to do it!
Busy Bags
Busy bags are bags of independent activities such as lacing boards, finger puppets, small puzzles, bead thread, and anything your little one can do quietly by themselves.
Busy bags are great to have on hand if you need a quick break or while you're out and about in the car or waiting at a doctor's office.
Set a Timer
Kids these days want one of two things: your attention or YouTube. It can be challenging and exhausting to avoid screentime while keeping them entertained.
If your little one is resistant to playing independently or indulging in a screen-free activity, set a timer. With a timer, they will know how long they are expected to play for and will be less resistant to doing so.
Depending on your child's age, start with a short period of time. As your little one adjusts to it, start slowly increasing it.
Make a Routine
Again, children perform best when they know what to expect. This is why many moms adhere to bedtime routines, nap routines, feeding routines, etc. It's in our nature!
So why not make playing a part of your routine? Set aside periods of the day where your child will be expected to play. The more you stick to a routine, the more they will participate – and even look forward to it!
Just make sure you give them some downtime so they can do what they want to do. (And, who knows, over time their free time may include some of these activities!)
Let Your Kids Be Bored
As I mentioned before, it's okay to let your kids be bored. You can't run yourself ragged trying to entertain them and find things for them to do!
Letting your kids find their own things to do when bored will help them develop a sense of independence and creativity.
Activities For Kids to Beat Boredom
There you go! While it's okay to let your kids be bored, giving them things to do when bored will help boost their independence and creativity.
Someday, you won't be hearing "I'm boooooored!"
They'll be able to go off and find something to do without your help!
What about you?
Do you have some boredom-busting ideas you want to share? Drop them in the comments below!
And pin this article for later!