Stuck at home?
Luckily warm weather, spring weather & summer weather are arriving.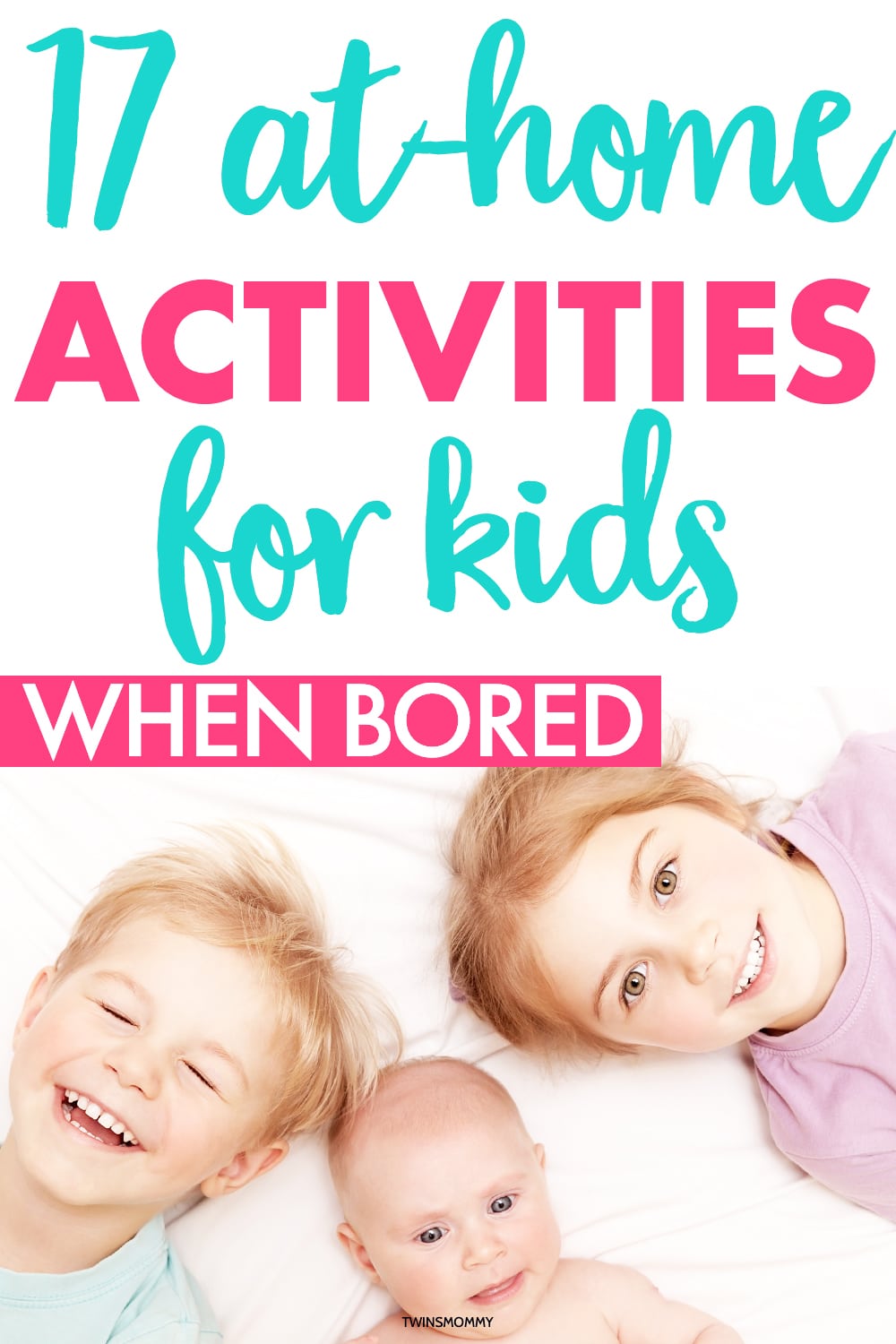 And you know what that means mama?
For someone that works from home, it means less work, but more time spent with family! So, it's a good trade-off.
On the flipside though, with summer fast approaching, the inevitable "I'm bored," is sure to rear its ugly head for your child or children (or twins in my case!).
It seems like no matter how many toys kids have, or how big of a yard they have to play in, at some point that they will follow you around saying they have nothing to do.
It is good to have a mix of both indoor and outdoor toddler activities to keep them busy.
If I don't have these activities, my twins fight, get bored and whine!
When it's nice out, be sure to take advantage of those beautiful, sunny days with the activities in this post.
For the days that are not so great, it is a good idea to have a stockpile of activities for kids to do indoors that isn't staring at a screen all day (which I also share in this post!).
At Home Activities for Kids
1. Dance Party!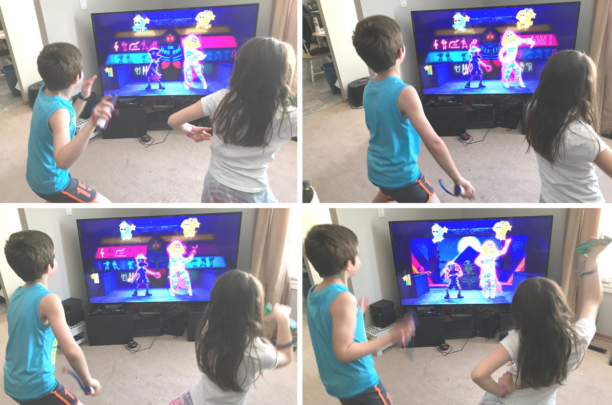 What kid doesn't love a dance party?
When the kids start to complain that they are bored and are just sitting around the house, get them up and dancing with Just Dance! You don't even need a video game console to get started.
My twins don't agree on many things to play together, but they do both like Just Dance. They get the exercise and I get some time to work on my blog!
2. Freeze Dance
My twins absolutely LOVE dancing to this song.
Freeze dance gets them jumping around and teaches them how to listen to instructions. A great activity for one or many kids to do at once.
We normally do Freeze Dance after supper as a family game. It's fun, a little competitive and it gets everyone laughing!
3. Alexa Skills
If you have an Alexa, you are probably underutilizing it! I know I was for the longest time!
While Alexa is a great productivity tool she also has a fun side (other than making fart sounds…).
There are a variety of Alexa skills for kids of all ages to get them up, moving and to stretch their thinking.
Here are a few Alexa skills to try out for younger kids (Free to enable!):
Alexa skills for school age kids:
4. Cosmic Kids Yoga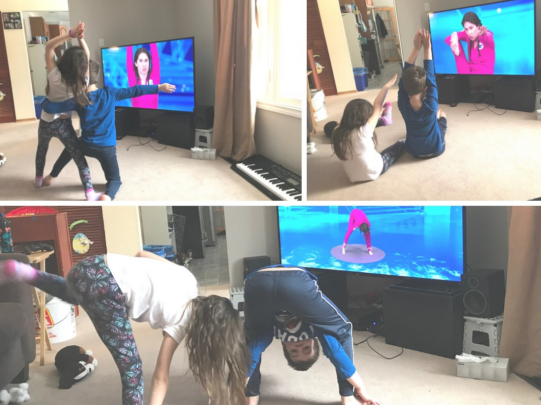 It's never a bad idea to get kids engaged in physical activity. Cosmic Kids Yoga is great for promoting mindfulness, balance, and a useful way to do brain breaks.
A sneaky way to get kids to exercise that also teaches them important skills like making good choices. Made for kids ages 3 and up and includes familiar themes like Frozen.
Both my twins enjoy Cosmic Kids Yoga and even their school teacher gives us links to different Cosmic Kid Yoga videos to get kids up and moving.
Fun Indoor Toddler Activities
5. Grow Vegetables from Leftovers
Whether it's spring or the middle of winter, you can always grow vegetables indoors.
A really fun way to incorporate some science into your kitchen is to regrow veggies from leftovers and kitchen scraps.
Generally, all you need is a small container, a sunny windowsill, and some veggie scraps.
Two of the easiest things to start with are onion (spring onions work well) and Romaine lettuce.
All you need is a small cup of water and a sunny windowsill. Once they start to regrow, you can transfer them to a container with potting soil.
Here are some of the other items that you can regrow from kitchen scraps:
Mushrooms
Garlic
Ginger
Potatoes
Sweet potatoes
Pineapple (you read that correctly)
Celery
Lemongrass
Leeks
Fennel
Green onion (or any other type of onion)
Most types of lettuce
Even if you aren't blessed with a green thumb, you and your kids can start your own little indoor garden.
Plus, kids love to watch the plants grow day by day. You could even take a picture every day and make a flipbook or have older kids journal about changes in the plant.
6. Family Game Night
We certainly love to do family game nights!
Grab some snacks and pick out some games that your kids will love to play. While many families might have a closet full of games that never get touched, we go through our games on a regular basis.
There are a ton of different kinds of games that you can play with things that you already have in your home, like Minute To Win It games.
Or you can purchase some very affordable board games with their favorite characters, like Pete the Cat!
Still need more game night ideas? Check out my post on 91 indoor games for a fun family night!
7. Quite Games
While it is super fun to have a loud game night sometimes it's nice to have a little extra quiet time.
While kids of all ages can get a little rowdy when they are at home, toddlers can be especially overwhelming.
These 20 quiet games for toddlers are great for them to try and play on their own, with another child, or with a parent.
Perfect for when you are trying to get dishes done or on a phone call.
8. Busy Bags
Busy bags are great for when kids are bored.
They're perfect for at home, on long car rides, or any period of time that you are stuck waiting with a bored child.
Busy bags or boxes are also great for teaching little ones fine motor skills, like threading buttons or organizing other small objects.
And these could be something you could make and sell on your blog mama!
9. Sponge Building Blocks
Kids love blocks but good quality wood blocks can be costly.
Not to mention, they hurt like heck when you accidentally step on them.
Oh yeah, and when they throw them at each other, that is just an ER visit waiting to happen (not that I would know from experience…). But what if there was an inexpensive, less painful building block alternative?
There is! Go raid your local dollar store for some sponges (the kind that doesn't have the scratchy side) and cut them up into different shapes.
Kids will love building with these, you can even use them in the bathtub! Plus they are nice and quiet when they fall over.
10. Marshmallow Towers
There are so many neat things about building marshmallow towers.
It is a STEM-based activity, both older and younger kids can do, it's cheap (or free if you already have the materials laying around the house), and a quiet activity. You only need a few materials, dried spaghetti noodles, toothpicks, and marshmallows.
A variety of large and small marshmallows work well.
You could also choose noodles, toothpicks, or both. See who can build the tallest tower, longest bridge, or strongest structure.
11. Sensory Guessing Game
This is a really fun game to play either with scents or touch.
Older kids can play this by themselves and get creative or you can help out with younger kids.
If you have spare baby food or other small jars or containers you can put different things in there for scents, just make sure they can't see the item. Here are some ideas for scents:
Dirt
Types of soap
Essential oils (peppermint, orange, lemon)
Coffee
Flowers
Types of fruit
Lotion
Chocolate
The touch one can be pretty fun too.
This is especially fun to play around Halloween and pretend the items are something else entirely (like peeled grapes for eyeballs). With the touch sensory game, make sure that the kids can not actually see what they are touching, brown paper bags work well.
Here are a few ideas for things that you could use:
Beads
Coffee beans
String or yarn
Cooked noodles
Slime
Pompoms
Legos
Dirt or pebbles
12. Feed the Monster
Encourage your little ones to sort colors while feeding these adorable monsters.
Also, a great activity if you want your Lego blocks organized.
All you need is some paper bags, construction paper, glue sticks, and maybe some googly eyes. Little ones can help to put the bags together then sort out colored items.
Easy Outdoor Toddler Activities
13. Camp Out
With summer quickly approaching, now is the perfect time to spend a warm evening under the stars.
If you have a yard that you can camp in (the living room works well too) why not teach the kids a thing or two about outdoor living?
For older kids, they can learn how to safely start a fire, while little ones can roast marshmallows, help pitch a tent, or search for animal tracks.
14. Paint with Ice
This is a fun activity kids can do indoors or outdoors with a few simple supplies that you already have in your home.
Let kids mix up their own colors with food coloring and have fun painting with ice cubes.
15. DIY Sandbox
Do your kids love playing in sandboxes but you don't have the room or hate the mess?
This easy DIY alternative is perfect for small spaces and easily stores away indoors or outdoors.
Simply fill up a large, shallow tote with play sand, some rocks, and of course toy trucks for digging.
16. Squirt Gun Painting
This is a super fun activity to do on a hot day.
Just grab some cheap squirt guns from the dollar store, watercolor paper, and liquid watercolor.
If you have an easel you can use that, otherwise, just a board and some push pins will work fine.
17. Bored Box
Every home with kids should have a bored box/jar.
When they say they are bored, they can simply pick a piece of paper out of the jar and then do that activity.
This can be anything from reading a book or going over to a friend's house. Bored boxes are also great for teaching kids how to entertain themselves and promoting creativity.
Of course, you can feel free to sneak a few chores in there as well.
At Home Activities For Kids Who Are Bored
Working from home is truly a blessing and with my children home I have learned to manage my time, be present and enjoy why I started working from home in the first place.
If you are suddenly working from home as a remote worker and struggling with Zoom meetings or getting your tasks done for the day, I hope this post on at home activities for kids was helpful!
Give yourself grace and know that there will always be tomorrow!
Over to you – what at home activity are you going to try? Share with me in the comments!