New to blogging?
What's the one struggle you have?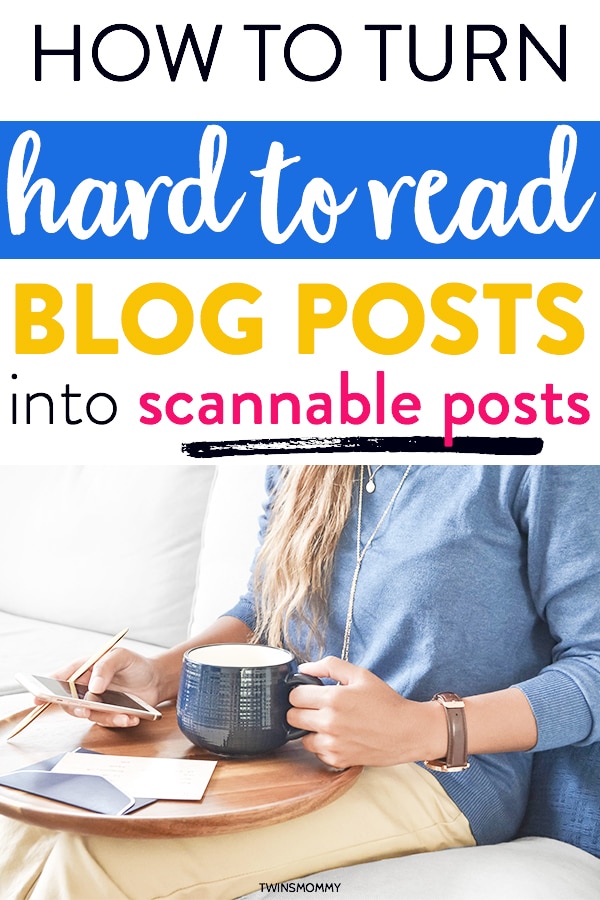 To get people to read your blog posts!
I know it was for me when I first started Twins Mommy.
When I first started Twins Mommy, I had to ensure that when people came to my blog post, they hung around – even though I had less than 5 blog posts for them to read.
Yes, I'm that blogger who launches a blog with one blog post!
But, I didn't despair; I churned out more blog posts and eventually created a tribe of loyal readers that anticipated my latest blog post!
Do you want that for yourself?
If so, let's go through how to have a scannable blog post.
And if you don't have time to read my post, make sure to check out my video and subscribe to my YouTube channel!
What is a Scannable Blog Post?
Wondering what I mean when I say scannable blog post?
This type of blog post is easy to read and skim. Yes, you want your readers to skim your blog post because it can help them figure out if what they are reading is worth their time to STOP scanning and read what you wrote.
And as a blogger, you can help readers figure out if what you are writing about is something for them.
So, how do you do that?
By formatting your blog post so that people can quickly scan it and figure out exactly what you wrote about!
Because if you don't you run the risk of losing your visitors.
Visitors decide within seconds of arriving to your blog post to decide whether to stay or go.
Let's go into 6 ways you can create a highly scannable blog post and boost that engagement mama!
1. Use Bucket Brigades
A bucket brigade is a copywriting tactic that bloggers can adopt and use for their writing!
What it is IS copy that get's a person immediately hooked and want to keep on reading.
You can use bucket brigades throughout your blog post but it's the most effective as the first line in your copy.
Remember, visitors need to know almost immediately if your blog post is worth reading and you can hold them and keep them engaged with a bucket brigade.
For example, Jon uses bucket brigades all the time.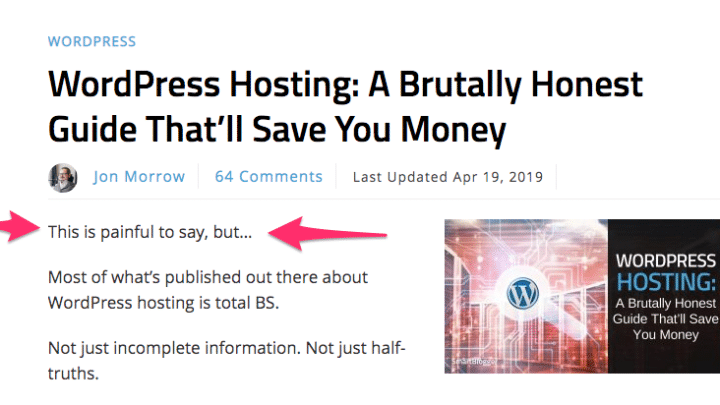 These are sayings that are almost like cliff hangers or incomplete thoughts.
A reader MUST read the second line to understand what is being said in the post.
And that's what you want – you want your blog readers to land on a post, read that bucket brigade and HAVE to keep on reading to figure out if this is worth reading.
You can create enticement by also asking a "yes" question.
This is a question that gets your readers nodding to your reading!
An example of this type of question would be:
Are you starting at a blank sheet of paper and can't for the life of you meal plan?
(nod, nod, nod, YES!!!) – reader keeps on reading 🙂
2. Use Subheadings
Most bloggers are already using subheadings, but they aren't using them effectively.
You want to create subheads around your outline that can help a scanner understand what your post is about. As you can see from this outline, you can immediately know what this post is about.
Bonus: try to have a "What is (x)?" as a subheading. This is an SEO tactic that can help your post rank in Google as well as provide value to your post.
This also helps scanners find the answer quickly and can help with trusting you regarding your credibility in your niche. And that can translate to having them read your post.
3. Use Shorter Paragraphs
When I first started blogging, I wrote long paragraphs – upwards of 5-6 sentences.
I mean, this is what you learn in school, right?
Well, I had to learn through trial and error to break up my paragraphs into shorter and shorter paragraphs.
Why?
Reading a blog post isn't similar to reading a book or newspaper. We are highly distracted when we are online and it's harder for us to focus.
But, if you are reading a book, I'm sure you carve out time to read your book in your special chair, right?
You can focus on your book more than you can with a blog post.
I just started reading this book that's like the adult-version of Harry Potter and I could read it out back on my deck while the twins played. They aren't distracting me.
However I can still read blog posts if my twins are clawing at me!
4. Start Using a TOC
A Table of Contents helps scanners quickly see what your post is about – especially if it's a long blog post.
They can decide before reading your blog post, if the information will help them.
For example, I saw a blog post on Pinterest from a blogger I don't know and clicked on the post.
It's a blog post on 20 toddler activities. But, you know what? There are thousands of pins on that exact subject.
So, when I landed on that post I scanned it and saw a TOC.
From there I can immediately click on the activities I want to know know more about, turning me from a scanner to a reader.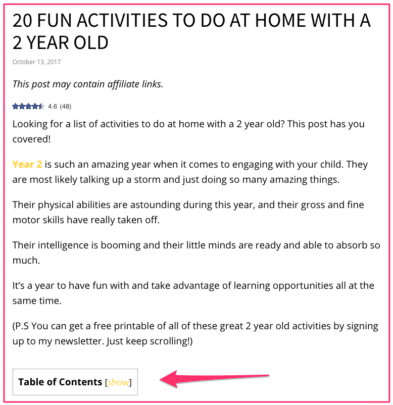 You can use a plugin like this Easy TOC one for WordPress if you want to start using TOC's for your blog content.
5. Add Images
A great way to split up your writing is by using images.
When I first started blogging, I loved using images for every subheading, but as the years rolled by and I started using display ads, I didn't add as many images to my blog post.
Instead of 10 images, I use anywhere form 2-6 per blog post.
Using images helps convey your message better and makes the writer more relatable.
Images can also be GIFs, YouTube videos or screenshots.
So play around with that and if you need photos, check out my free stock photos post!
6. Wrap Up Your Blog Post
As a freelance writer, I get paid to write blog posts for small businesses.
They want a complete post and that typically means a conclusion paragraph or summary.
Many bloggers don't do this, but I feel it's a best blogging practice to use.
I also use the conclusion as a way to add a CTA – call-to-action to grow engagement on my blog post.
This opens up discussion for your readers and helps turn those scanners into followers or even subscribers.
Note: You can have more than one CTA per blog post. I usually have one to pin me, to comment and to opt-in to my list or check out my products.
Easy Ways to Engage Your Reader
Getting readers to stay on your blog longer doesn't have to be hard!
With some subheadings, bucket brigades, images and more, those scanners from Pinterest will start to hang around and see what you have to offer!
So, what are you waiting for? Tell me in the comments what tactic you want to try first!
Please pin me!