To put it simply, being a stay-at-home mom is a unique challenge.
Okay, it's a crazy mess a lot of the time. Just when you think your work is done for the day, you turn around to see there's a load of laundry you haven't folded and your child starts crying in their sleep and needs a million hugs and 100 drinks of water.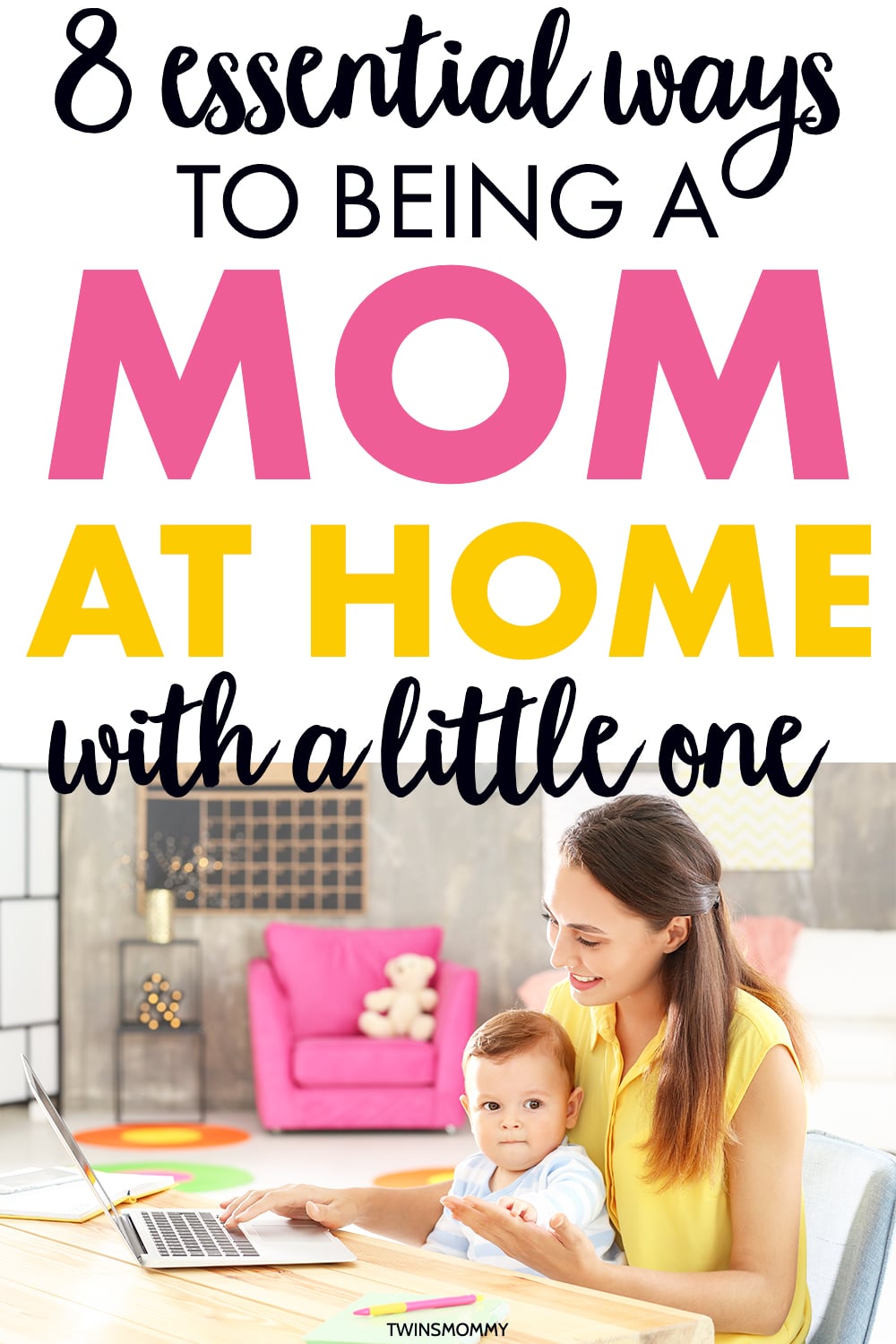 While there are many (MANY) things that combine together to make parenting harder, there are a few things you can do to make everything easier – especially if you work from home like I do.
And with these unprecedented times before us, staying home is a real thing that many of us have to do.
My twins are doing online schooling and I'm suddenly thrusted into the world of homeschooling my seven year old twins.
How do we – moms at home – find a balance between motherhood and our careers?
Zoom meetings in the bathroom now?
Finding pockets of time to create that post for a freelance client?
Discovering time hacks to boost your productivity is a real thing when you work from home mama!
So, I thought I'd share some tips for being a stay-at-home mom and tips for being a work-at-home mom so that you can balance your day and get your to-do tasks crossed off once and for all.
1. Be Consistent in Parenting
Whatever parenting method you choose, as long as it is based in love, make sure you are consistent and follow through with what you say you are going to do.
When you are consistent, your kids will trust you more and know that you will follow through.
This is tough for me in all honesty. Since my twins are home and I have the added pressure of doing online school with them, I'm finding my plate is getting fuller and fuller.
This creates stress and worry in me and I sometimes lose my patience.
When this happens, I stop myself, take a deep breath and drink water. This pause makes me calm down and help me say what I want to say in a neutral and caring voice.
And this helps my twins.
When they know for sure that you will follow through with any reward or punishment, they will be more likely to actually listen to you.
And what happens when children listen and obey? The sun shines a little brighter. The air smells a little sweeter. And your mind is a little less crazy.
So remember, life will get easier someday, but you have to stick to your guns now to show them how consistent and trustworthy you are as a parent. The payoff will so be worth it.
2. Make Sleep Your #1 Priority
You have to get sleep. Sometimes with kids, getting enough hours of sleep for yourself is like fighting a battle, but it is a battle worth fighting.
Know what works for you.
I know some moms who can't get good sleep unless the whole family is piled into one bed. Other parents have to have their own space and they sleep-train their babies and kids to sleep on their own.
Whatever needs to happen, shy of drugging your children, to get your kids to sleep, do it. It's simple math: only when your kids get sleep can you get sleep.
If your kids are sleeping through the night most of the time, make sure you aren't staying up too late yourself. Your body relies on a good night's sleep to heal your body, keep you sane, and help keep weight gain at bay.
Don't deny yourself sleep when you can get it! It is like magic that makes you healthy, happy, and a more patient and present parent too!
3. Make Ahead Meals
This is a godsend mamas!
I even bought a new deep freezer so I can make freezer meals during social isolation.
Preparing my meals ahead of time relieves any worry I have about what's for dinner or if we have all the ingredients to make supper.
4. Make and Keep a Routine
Routines are sanity makers. It's a way for you to remember everything that needs to get done, helps you create pockets of time to work on your goals and habits, helps with getting sleep, etc.
It's been a month of so of staying home and we are finally forming a routine everyone can follow.
In the morning from 9-12 I work on my blogging and freelance business. My twins play, do an activity to keep them busy, and I usually put on a yoga for kids video or freeze dance video for some fun and exercise.
I also try to do quick tasks throughout the day.
Then from 12-230 we do lunch and I do homeschool with the twins. I print out worksheets the teacher provides and we do the work or watch any instructional videos and follow the instructions.
From 2:30-4:30 we go outside and play as much as we can. Bike rides, scooter rides, sidewalk chalk, you name it!
Then from 4:30-6:30 is prepping for dinner, eating and then bath time.
After is family games and off to bed at 7:45ish.
When my twins are asleep I work on my blog and business until 10pm and then spend time with my hubby before bed!
4. Understand Your Priorities
How do you set goals and actually have time for them, and create amazing routines when you are a busy stay-at-home mom? By understanding what your priorities are and how to use them to your advantage.
Whether you want to be a stay-at-home mom and a freelancer like me, or if you want to be able to stay present with your kids and have time to paint or play video games or cook more homemade dinners, you need goals.
This will help you see your priorities.
For me, I want to be there for my twins and be able to make memories with my family.
And we are doing this and I'm fortunate that my blog and business is helping me achieve this.
Okay, let's now flip this and look at ways to streamline your blog or business so that you can balance it all when you're at home.
Blog and Business Tips to Balance It All
5. Write Every Day
Part of my routine is to write every day.
I try to write a blog post a day, an email a day, a lead magnet or just outline content every day.
This helps me improve my writing skill as well as be able to type faster.
The faster I type, the more blog posts I can whip out for my clients for my my 5+ blogs I own.
As a mom blogger who works from home, when you have the time or pocket of time, start by:
Outline two blog post ideas
Flush out your subheadings
There ya go!
The next day or when you have another block of time, start writing the introduction or subheadings and go from there.
I'm able to write a 1,000-2,000 word blog post in an afternoon using this method.
6. Automate Your Business (If Possible)
The saving grace for me is automation.
I could not have multiple blog sites without using automation tools.
I use Tailwind and Buffer to schedule my social media postings.
Using Tailwind for my sites have exploded my blog traffic.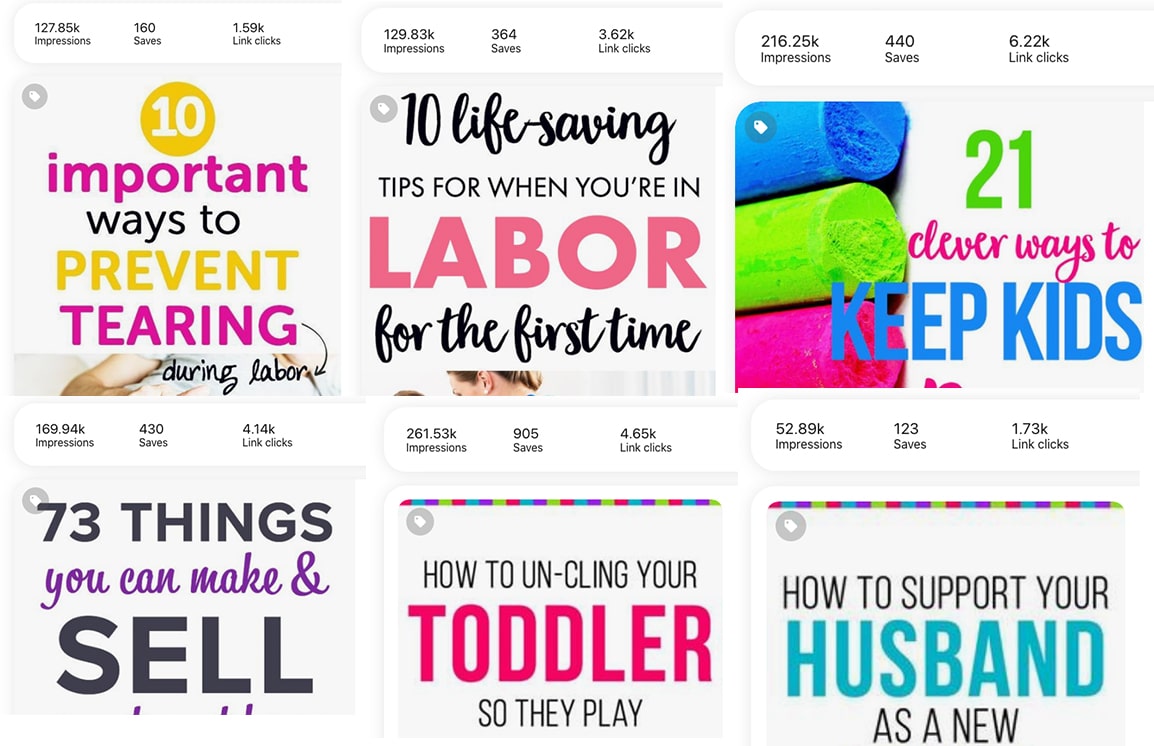 I just don't have the time to manually pin my pins, so using Tailwind helps.
As well, I have two Facebook groups that I manage and I use Buffer to schedule posts to help me stay relevant in each group.
As a busy work at home mom with a child or twins (like me) you have to automate parts of your business. You can't have it any other way.
7. Work in Pockets of Time
When my twins were little I used to work on my blog and freelance clients during pockets of time.
I was hustling a lot and pitching a lot so when my twins were playing with the sensory table, I would sit next to them with my laptop and pitch to prospective clients.
I would outline blog post ideas.
I would network with other bloggers in my niche.
These five minute pockets of time or 10 minutes there helped me feel like I did something in my business while still taking care of my twins.
8. Get Help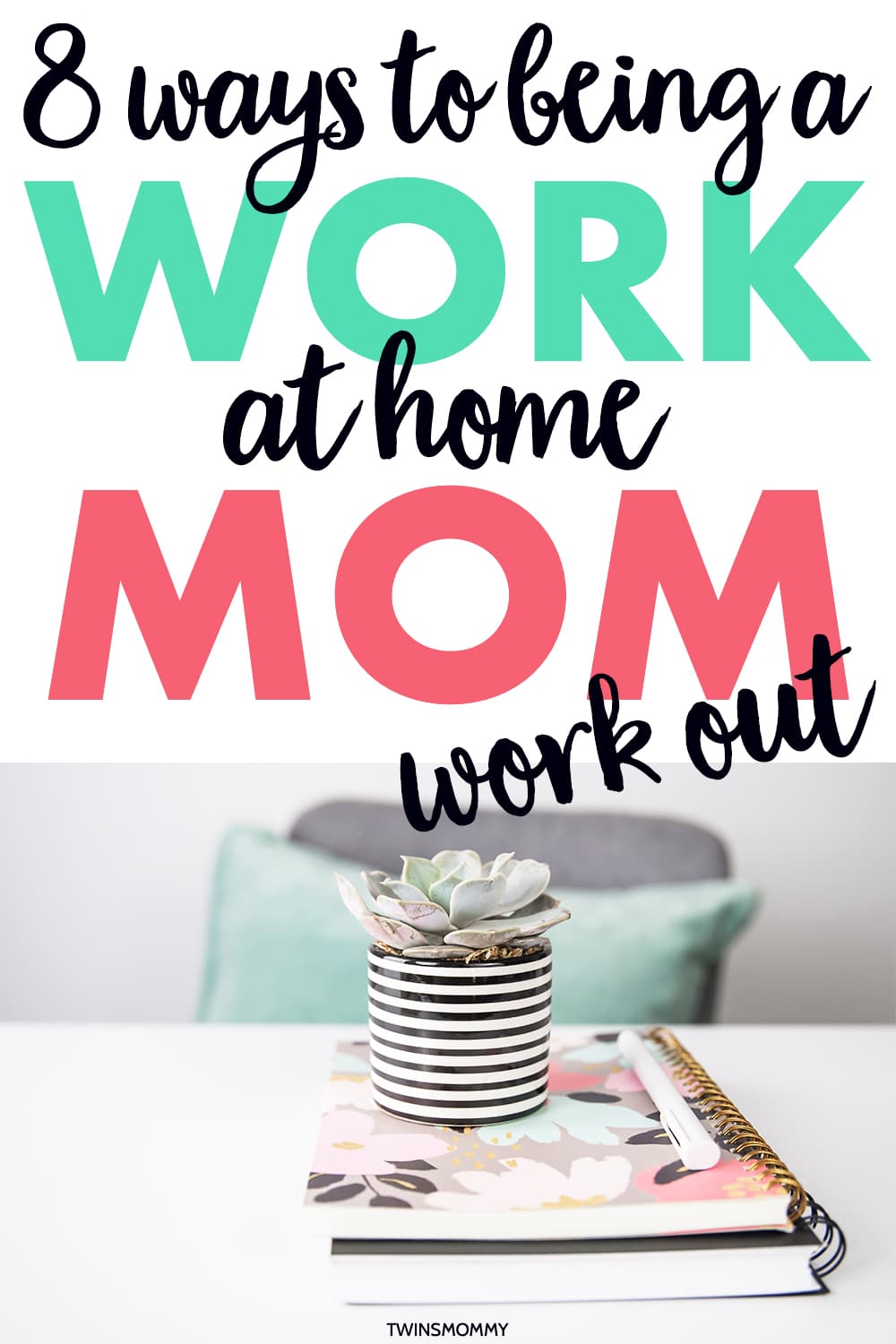 You can't do this alone!
You might be able to in the beginning but as soon as your blog or business explodes, you need help.
I relied on other freelance writers and a VA to help me with my tasks.
Later my husband decided to help me with the backend and taxes for my business and blogs.
If your husband isn't on board quite yet (especially if you aren't making money blogging yet) then maybe a mom friend can help or sister or brother.
See if you can lean on someone else to help you with your blog tasks.
Being a Mom at Home and a Work at Home Mom Too
I'm both when I'm at home – I care for my twins and I homeschool my twins as well as work from home.
Balancing all of this is a challenge, but I've had almost 6 years of doing this and I wouldn't change any of it!
Over to you – what things do you do to make it easier being a mom at home? Share with me in the coments!
Please remember to pin me!