When I grew up, my dad drilled in me that I needed to get a job once I turned 16 years old.

He felt that a job would shape me and help me get a foot in the door for when I graduated and went on to college.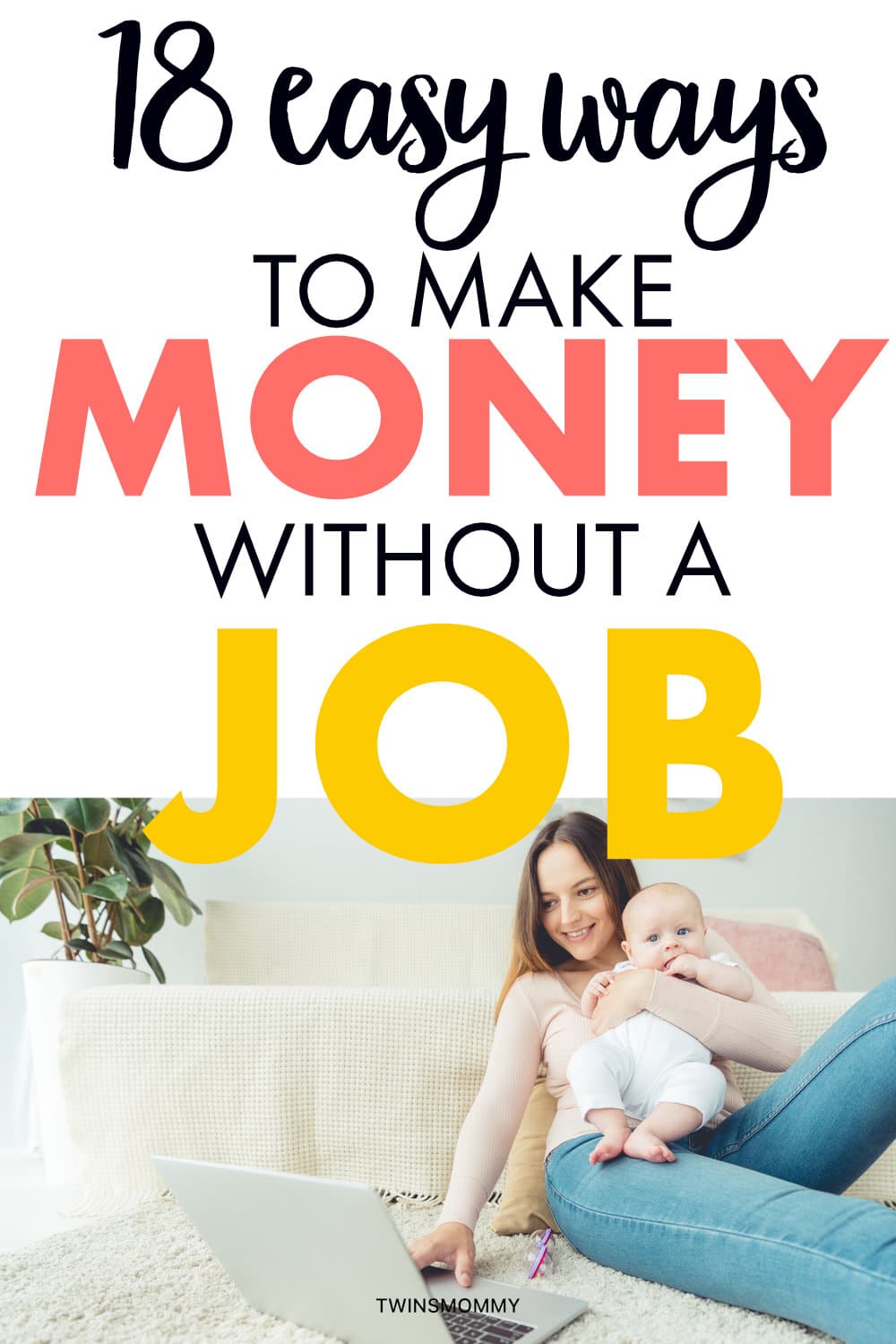 While I valued my time as an employer, after I became pregnant and had twins, I knew in the depths of my being that I wanted to be a stay-at-home mom.
I wanted to be there for my twins and take care of them. And I know, that many moms out there want that too.
If you do, then I want to let you know that it is completely possible to make money without a job and I'm proof of that!
Wait a second! How do you make money without a job?
Well, that all depends on what you consider a "job!"
There are so many moms benefiting financially by finding creative ways to make money without leaving their homes.
After my twins were born I ended up staying home to take care of them, but living off only my husband's income was not realistic, especially since we were raising twins – and you don't get two for the price of one!
At that time I really had to think about what it meant to make money without working at a job.
To me, it meant not going out into the world and working for someone else. It meant trying to find a way to make money while staying at home.
I started my journey by becoming a freelance writer.
However, there are so many other opportunities out there for moms looking to make money without having a job.
Let's dive in!
Working From Home Versus Having a Job
So what exactly is the difference between making money at home and having a job?
While there's no hard definition between the two, it's generally accepted that working at home means that you are working for yourself while having a job means you work outside of your home for someone else.
I mean, every way to make money on this list is going to require some sort of "work" – they just don't involve committing huge chunks of time outside of your home.
However, the more money you want to make, the more work you have to put into it.
Earning Money From Home Without a Job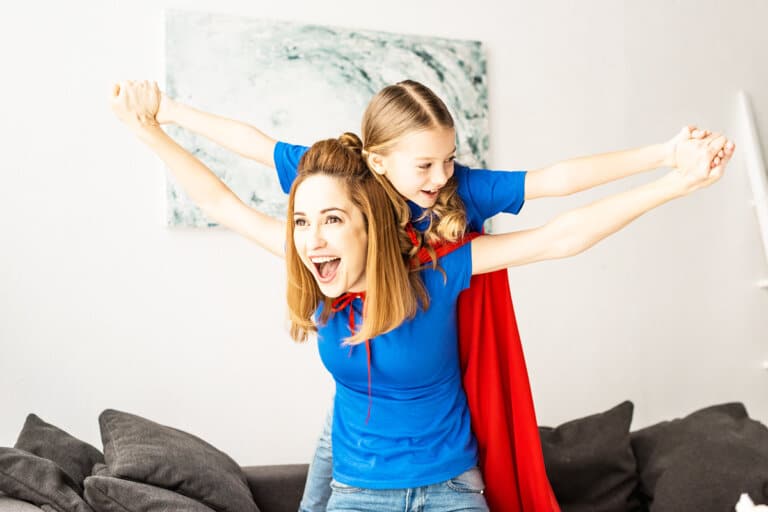 Before you jump into finding ways to make money without a job, it's important to stop and consider what your motivation here is.
Are you trying to start a business? Supplement your income? Earn some spending money?
Understanding your goals is important is knowing where you want to focus your time and energy.
For example, if you're looking for some extra pocket money, apps that pay you to take surveys and earn cashback on purchases are great.
However, if you're looking to pay your bills, you may have to commit to something that takes more effort.
No matter your reason to want to make money without a job, I'm here to say that doing so is entirely possible!
Here are some ways you can make money at home without having a job:
Ways to Make Money Without a Job
Okay, so we know what it means to make money without a job, but how do you make that happen? Here are 18 fantastic ideas to get you started – there are some creative ways to make money without a job as well!
1. Earn Cashback on Purchases
Apps and sites such as Rakuten allow you to earn cashback on eligible purchases – you basically get paid to shop!
Just be careful you are not buying products that you don't actually need. Stick to the essentials and enjoy the rewards you earn.
Also double check to see how the app pays out. Rakuten will pay you through PayPal but some may limit your earnings to gift cards.
2. Do Online Surveys
Swagbucks in an app that pays you to take online surveys and watch videos. So easy, right?
This can become time-consuming, however, as your profile may not qualify you for each and every survey that comes your way – and sometimes you end up putting in a few minutes of work before you find out you're disqualified.
But you have some extra time to sit down and answer questions, you can earn points toward things like gift cards and PayPal cash-outs.
3. Sign Up For Amazon FBA
Amazon FBA stands for "Fulfillment By Amazon" and refers to their program that allows you to become a third-party seller while allowing Amazon to store and ship your products.
You can use FBA to make money by selling wholesale products, which means you buy bulk quantities of something and sell them through Amazon.
Be warned that profit depends entirely on the deals you can get on the bulk items.
Keep in mind too that doing this requires start-ups costs so it's not something to run into blindly.
4. Start Freelancing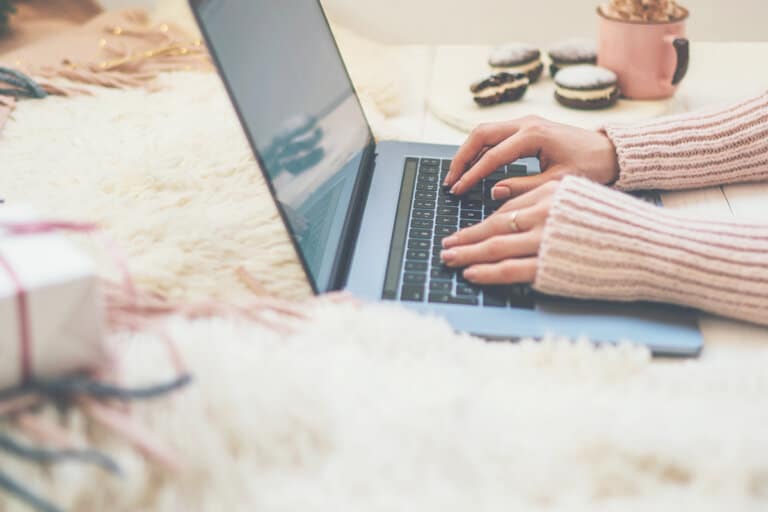 The term "freelancing" covers a plethora of work you can do to earn money without having a job.
From writing to graphic design, you can offer your services and work on a client-by-client basis, taking as many or few jobs as you want.
The beauty of it? Freelancing can easily roll into a full-time income! You just have to have the skills, confidence and passion to pursue it.
Want to learn more? Check out this article on taking your interests and developing them into a freelance service.
5. Monetize Your Blog
Starting a blog is super easy and, if you focus on building traffic and a loyal readership, you can easily monetize it to make some extra cash.
By joining affiliate programs and promoting products, you can earn a commission when readers make a purchase. You can also get involved in ad agencies and place ads on your site.
My post on monetizing your blog is going to show you step-by-step how this can all be done!
6. Get Into Web Design
If you're handy with code, website design or graphic design, you can make some money creating websites for businesses.
You can start out small by reaching out to local businesses. Just make sure you have your own site – not only to promote your services but also to have a sample of what you can do!
Or, if you simply like designing websites, you can sell your templates on sites like ThemeForest.
7. Create an Online Course
Do you know a lot about something? Do you have expertise in a particular area?
You can take what you know and create an online course to teach others!
You can draw on your academic knowledge, work experience or even experiences in life to help others achieve a goal or learn something new.
The great thing about selling online courses is that they are considered passive income – you simply put the work into creating the course and then sit back as people sign up and pay!
To get started, use a course platform like Teachable (that's what I use to host all my courses) to create your lessons.
8. Write an eBook
Writing and selling an eBook is another great way to share your knowledge and earn a passive income.
Nowadays, there are many start-up costs for publishing a book.
In fact, with Amazon's Kindle Direct Publishing (KDP) you can convert your books right into the Kindle marketplace!
If you want to expand beyond Kindle, you can publish in other formats and sell right from your site.
However, getting in with Amazon will give you the benefit of having your book rated and help it increase its popularity in search results.
Here's an example of Julia McCoy's book as a Kindle edition. Julia has a few books on Amazon and I can only assume she's making sales every month with her books.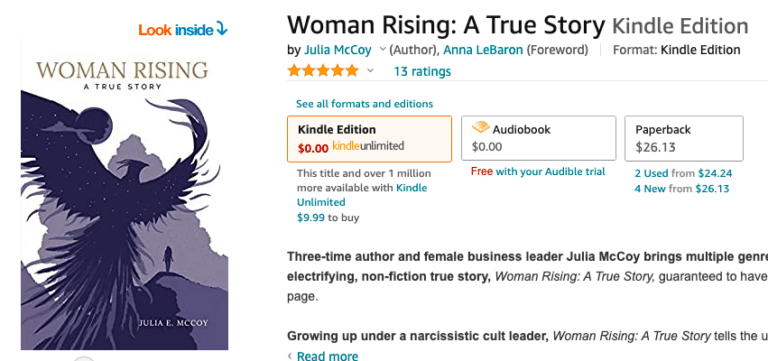 9. Offer Tutoring Services
Tutoring services are growing in popularity as more parents and students are seeking ways to improve their academic performance.
If you are educated in a specific subject, or simply excel at it, you can offer your tutoring services either in your home or online.
When it comes to tutoring online, you can set up your own site to offer your services or get on with a company that hires tutors such as K12 and Study.com.
10. Teach English Online
Alternatively, you can get involved with companies that offer English lessons to students from other countries!
The only thing to keep in mind with this endevor is that scheduling with these companies isn't always flexible – while there are many time periods to choose from, they tend to expect you to fulfill your chosen time period regularly.
However, if you have little ones in school, this could be a great way to make money!
11. Sell Your Photography
Whether you have a fancy camera or an iPhone, you can sell photography online to make money without a job.
Consider selling your work to stock image sites such as Getty Images or Shutterstock. Likewise, you can turn your photography into prints and sell them online through a site like Etsy.
Keep in mind, however, that if you include other people in your photography you will probably have to have them sign model release forms to make it all legal.
12. Open an Etsy Shop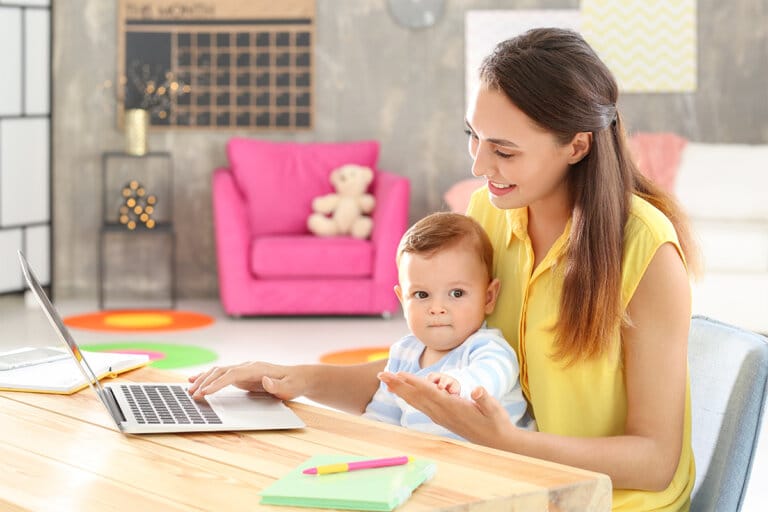 Speaking of Etsy, you can also open an Etsy shop to sell handmade or digital items!
There are a ton of crafts you can make and sell online as well as digital products you can design through programs like Canva.
To be successful on Etsy, find your niche and make products related to it instead of selling just anything. This will help you build a loyal customer-base and help you build a strong brand.
14. Invest in Stocks
Investing in stocks can seem like a big scary thing to do but there are ways to get started that are simply and low-risk!
Apps like WealthSimple make is simple to transfer funds to your stocks (you can do as little as $100!) and will walk you through choosing the right portfolios to meet your needs and comfort level.
The less you invest, the less you will get in return but it's an easy way to sit back and watch your money grow!
15. Rent Out a Room in Your House
Services like AirBnB are super popular right now! So if you have an extra room in your house you can rent it out and make some money without a job.
You do have to be ready to have complete strangers visiting your home.
Thankfully, sites like AirBnb help you vet guests and establish clear boundaries and expectations.
Also, before you get started, check with local laws as well as your insurance provider to make sure your home insurance covers this sort of endeavor.
16. Sell Your Meal Prep Services
Do you enjoy spending your time in the kitchen? You could start making meals or meal packs for busy families and individuals!
Just check with your local laws in regards to selling food from your home. Currently in Canada, you can only sell "low risk" foods, i.e. foods that do not require refrigeration.
Alternatively, if you're good at meal planning, you can sell your meal plans and recipes online!
17. Sitting
Yes, I know, I said making money without a job requires putting in actual work but I'm not just talking about sitting around.
I'm talking about offering babysitting, dogsitting or housesitting services! These are great ways to make money where you can bring your little one along – especially dogsitting or dogwalking.
Just advertise your services in Facebook groups and get your friends to spread the word!
18. Upcycle Thrift Finds
They say that one person's trash is another person's treasure. This certainly rings true when it comes to finding items at thrift stores and flea markets and turning them into something exciting and unique!
You can upcycle anything from clothing to picture frames to furniture – all you need is your imagination.
Use Facebook groups to promote your creations.
What Do You Think?
Does the idea of making money without a job seem less like a pipe dream and more like a realistic goal?
I hope so, because it's entirely doable!
The best part? Everything on this list can lead to something bigger. There's no limit to where you can take your passion and entrepreneurial spirit.
Plus, the more you hustle and the harder you work, the more money you can make. And there's no limit to how much that is!
So what are you waiting for? Today is the day to get started on making some extra cash without getting a job!
Over to you: Have you tried any of these money-making methods?
Did any of them work for you? Were there any that didn't? I want to hear about it!
Please pin me!