Hey there, crafty moms!
Are you ready to turn your creative flair into a money-making venture?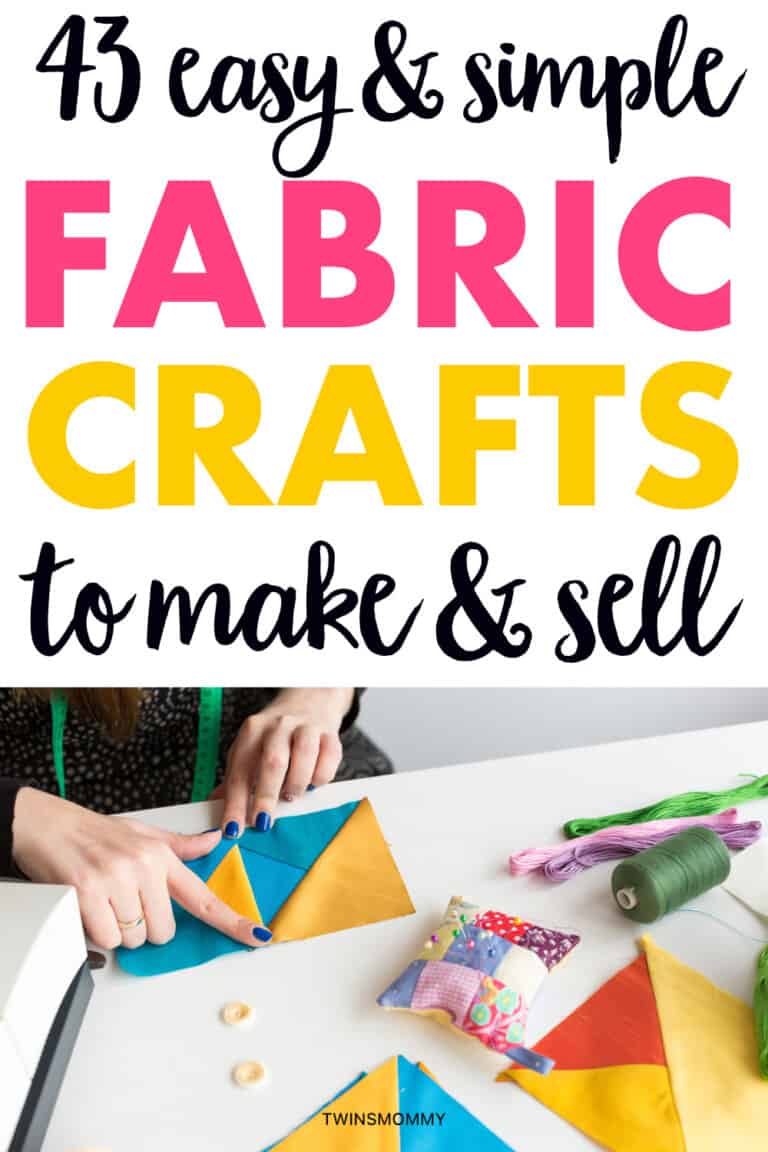 If you are, I have some amazing fabric craft ideas that are bound to delight both you and your customers – and make you some money!
In the past, I've talked about best-selling crafts for moms to make, but I'm really excited to talk about fabric DIY projects.
My daughter has been very crafty with fabrics and I have a whole box full of scraps and fabric pieces. If you have a whole bunch of fabric pieces and scraps then check out these amazing ideas to help you make money from home.
So, grab your favorite fabrics, and let's take a look at these wonderful projects that blend your creativity with the potential to earn.
Easy Crafts With Fabric You Can Sell
Who says crafting has to be complicated?
Dive into the world of fabric DIY projects that are not only easy to make but also have a high potential for sales.
These crafts are perfect for busy moms who want to unleash their creativity without getting tied up in complex techniques.
No Sew Fabric Crafts
You don't need to be a sewing pro to create beautiful fabric crafts. Our collection of no-sew fabric crafts opens up a world of possibilities.
Craft delightful fabric-covered notebooks and charming fabric wall hangings without ever touching a needle.
1. Fabric Tassel Garland
Create a festive and colorful fabric tassel garland by cutting strips of fabric and tying them onto a string or ribbon.
2. No-Sew Fabric Coasters
Craft charming coasters by gluing fabric circles onto cork or felt backings, adding a stylish touch to your table settings.
3. Fabric Wall Art
Stretch fabric over canvas frames and secure it with staples or adhesive for a quick and artistic wall decor piece.
4. Fabric-Covered Notebooks
Transform plain notebooks into stylish journals by adhering fabric to the covers using fabric glue.
5. Fabric-Covered Plant Pots
Wrap the fabric around plant pots and secure it with a no-sew adhesive, giving your plants a trendy makeover.
No Pattern Fabric Ideas
Break free from the confines of patterns and templates!
Explore these unique fabric ideas that allow you to let your imagination run wild.
Create personalized fabric coasters and one-of-a-kind fabric keychains that showcase your individual style.
6. Fabric Appliqué Pillows
Cut out fabric shapes and fuse them onto plain pillow covers using fusible webbing for a customized and vibrant look.
7. Fabric Banner
Create a beautiful fabric banner by cutting triangles from different fabrics and attaching them to a string or ribbon.
8. Fabric Wrapped Vases
Wrap fabric strips around glass vases, securing them with double-sided tape or adhesive for a unique and textured design.
9. Fabric-Covered Storage Boxes
Use fabric to cover plain storage boxes, giving them a stylish and coordinated appearance.
10. Fabric-Covered Hangers
Transform plain wooden hangers by wrapping them with fabric and securing it with glue or tape.
Beginner Crafts With Fabrics
If you're just starting your crafting journey, fear not!
These beginner-friendly fabric crafts are designed with you in mind.
Create adorable fabric gift bags and stylish fabric headbands that will give you a sense of accomplishment and a product to be proud of.
11. Fabric Keychains
Craft personalized fabric keychains by sewing fabric strips and adding a keyring attachment.
12. Fabric Lavender Sachets
Sew simple fabric pouches filled with dried lavender to create lovely scented sachets.
13. Fabric Headbands
Make fashionable fabric headbands by sewing fabric strips onto elastic or plastic headbands.
14. Fabric Bookmark
Create fabric bookmarks by sewing fabric strips onto a felt or fabric backing, adding a ribbon loop at the top.
15. Fabric Tote Bag
Sew a basic fabric tote bag using a simple pattern, and customize it with your choice of fabric colors and patterns.
Fabric Scraps Projects You Can Sell
Turn those seemingly useless fabric scraps into dazzling creations that will catch the eye of potential buyers.
These projects are not only environmentally friendly but also a fantastic way to make money.
Scrap Fabric Projects
Discover the magic of upcycling with our scrap fabric projects.
Craft stunning fabric bookmarks and unique fabric-covered photo frames that showcase the beauty of imperfection and individuality.
16. Fabric Scrap Wreath
Wrap fabric strips around a wreath form, creating a colorful and textured decoration for your door or wall.
17. Fabric Scrap Garland
Tie fabric scraps onto a string or ribbon to make a vibrant and whimsical garland for parties or room decor.
18. Fabric Scrap Quilt Blocks
Piece together fabric scraps to create unique quilt blocks that can be assembled into a patchwork quilt.
19. Fabric Scrap Greeting Cards
Use fabric scraps to create textured and dimensional elements on handmade greeting cards.
Crafts With Fabric Strips
Unleash your inner artist by transforming fabric strips into stunning works of art.
Create eye-catching fabric garlands and cozy fabric coasters that add a touch of elegance to any space.
20. Fabric Strip Bracelets
Braid or weave fabric strips to make trendy and boho-inspired fabric bracelets.
21. Fabric Strip Rag Rug
Create a cozy and colorful rag rug by braiding or knotting fabric strips together.
22. Fabric Strip Wall Hanging
Make a stunning wall hanging by attaching fabric strips to a wooden dowel or branch, creating a cascading effect.
23. Fabric Strip Table Runner
Sew or glue fabric strips onto a plain table runner to add a splash of color and texture to your dining table.
24. Fabric Strip Headband
Craft a unique fabric headband by twisting or braiding fabric strips and attaching them to an elastic headband.
No-Sew Crafts With Fabric Scraps
Maximize the potential of your fabric scraps with these no-sew wonders.
Craft charming fabric scrap banners and whimsical fabric scrap bunting that turn leftovers into lovely, sale-worthy items.
25. Fabric Scrap Garland
Create a no-sew garland by tying fabric scraps onto a string or ribbon, perfect for parties or home decor.
26. Fabric Scrap Bookmarks
Make easy fabric bookmarks by folding and gluing fabric scraps onto cardstock or cardboard.
27. Fabric Scrap Gift Tags
Cut out shapes from fabric scraps and glue them onto plain gift tags for a personalized touch.
28. Fabric Scrap Mobile
Craft a whimsical mobile by hanging fabric scraps from a wire hoop or embroidery hoop, creating a playful decoration.
Fabric Projects to Make Money
Ready to take your fabric crafting game up a notch?
These projects are not only enjoyable to create but also have the potential to become lucrative ventures.
Clothing
Dive into the world of wearable fabric art.
Stitch up trendy fabric headbands and unique fabric-covered hair ties that are not only fashionable but also functional.
29. Fabric-Covered Flip-Flops
Glue fabric strips onto flip-flops to create unique and comfortable summer footwear.
30. Fabric Appliqué T-shirts
Personalize plain t-shirts by fusing fabric shapes onto them using iron-on adhesive.
31. Fabric Wrap Skirt
Sew a simple wrap skirt using your favorite fabric, perfect for a stylish and comfortable wardrobe addition.
32. Fabric Head Wraps
Sew fabric head wraps that can be styled in various ways, adding a fashionable accessory to your outfits.
33. Fabric Scarves
Sew lightweight fabric scarves in different lengths and patterns, suitable for all seasons.
Quilts
Piece together stunning fabric quilts that tell a story.
Whether it's a personalized baby quilt or a cozy lap quilt, these fabric creations have the potential to become cherished heirlooms.
34. Patchwork Baby Quilt
Piece together fabric squares to create an adorable and cozy baby quilt full of colors and patterns.
35. Memory Quilt
Turn sentimental fabric pieces, like old t-shirts or baby clothes, into a cherished memory quilt that tells a story.
36. Hexagon Quilt
Sew together fabric hexagons to form a charming and intricate quilt design.
37. Strip Quilt
Create a modern strip quilt by sewing fabric strips together in alternating patterns, resulting in a stunning and contemporary look.
38. Photo Transfer Quilt
Incorporate fabric photo transfers into your quilt design, adding a personal touch and preserving memories.
Home Decor
Elevate interiors with your fabric crafting skills. Craft elegant fabric-covered flower pots and captivating fabric wall hangings that transform houses into homes.
39. Fabric Wall Hangings
Craft fabric wall hangings by attaching fabric panels to wooden dowels or branches, adding texture and style to your walls.
40. Fabric-Covered Lampshade
Use fabric to cover a plain lampshade, creating a customized and vibrant lighting accessory.
41. Fabric Throw Pillows
Sew or glue fabric covers for throw pillows, allowing you to change up your home decor with ease.
42. Fabric Notebook Pouch
Create a fabric notebook or laptop pouch with your favorite fabric pattern, adding a decorative touch to your work attire.
43. Fabric Plant Hangers
Sew fabric plant hangers to hold your potted plants, bringing a touch of greenery into your living spaces.
Where to Sell Your Creations
You've crafted your heart out, and now it's time to showcase your creations to the world. Let's explore the best platforms to sell your fabric masterpieces and start earning.
Online Platforms
Embrace the digital age by sharing your creations on online platforms like Etsy.
From fabric hair accessories to fabric coasters, your products can reach a global audience, and your creative journey can turn into a thriving business.
Using online platforms offers global reach, allowing your fabric crafts, from accessories to coasters, to find appreciative buyers worldwide.
However, competition is fierce, demanding stellar presentation and marketing efforts to stand out.
Yet, the potential for your creative journey to become a thriving online business is worth the effort!
Here are some online platforms to get you started:
Etsy: A well-known marketplace for handmade and vintage items, including fabric crafts.
eBay: An online auction and shopping website where you can list your fabric crafts for sale.
Amazon Handmade: A section of Amazon dedicated to handmade items, including fabric crafts.
Facebook Marketplace: A local platform where you can sell your crafts to people in your community.
Instagram: Use Instagram to showcase your fabric crafts and connect with potential buyers. Set up an online shop or use platforms like Shopify to sell directly from your profile.
Pinterest: Showcase your crafts on Pinterest and link them to your online shop or other selling platforms.
Artfire: An online marketplace specifically for handmade and artisanal items.
Bonanza: A platform that allows you to list your fabric crafts for sale alongside a wide range of other items.
Zibbet: An online marketplace for handmade, vintage, and craft supplies.
Handmade at Amazon: Similar to Amazon Handmade, this platform allows you to sell your crafts directly on Amazon.
Local and In-Person
Connect with your local community by participating in craft fairs and markets.
Set up a booth showcasing your fabric wonders, from fabric-covered journals to fabric scrap banners, and watch your creations resonate with people right in your neighborhood.
Participating in local craft fairs and markets connects you directly with customers, sharing the story behind your fabric wonders and building loyal relationships.
But this requires some logistical planning and booth setup efforts.
Despite challenges, engaging with your community provides unique rewards, fostering authenticity and connections beyond just monetary gains!
Check out these places to start selling your fabric craft ideas:
Craft Fairs and Art Markets: Participate in local craft fairs, art markets, and trade shows to showcase and sell your fabric crafts.
Flea Markets: Set up a booth at flea markets or swap meets to reach a local audience.
Farmers' Markets: Some farmers' markets allow craft vendors to sell their handmade items.
Consignments: Approach local boutiques, gift shops, or galleries about consigning your fabric crafts.
Pop-Up Shops: Collaborate with other artisans to organize temporary pop-up shops in high-traffic areas.
Workshops and Classes: Offer fabric crafting workshops and sell your crafts as part of the workshop experience.
Local Stores and Studios: Approach sewing supply stores, quilting shops, or crafting studios about selling your fabric crafts on consignment.
School and Community Events: Participate in school bazaars, holiday markets, and community events to showcase and sell your crafts.
Your Creative Journey Begins!
So, there you have it, mamas! A treasure trove of fabric craft ideas awaits your artistic touch.
Get ready to turn ordinary fabric into extraordinary creations that not only bring joy to your crafting hours but also bring in some extra income.
The world of fabric crafts is yours to explore, and with a little creativity, dedication, and a touch of entrepreneurial spirit, you'll be well on your way to crafting success.
Happy crafting, selling, and, most importantly, enjoying the journey!
If you're looking for more crafty ideas to make money from home, check out my other stuff:
Now over to you – Which fabric craft ideas are you excited about? Which have you tried? Let me know in the comments!