Disney is such a magical place.
If you've never been to Walt Disney World, it can be a little overwhelming to plan your vacation.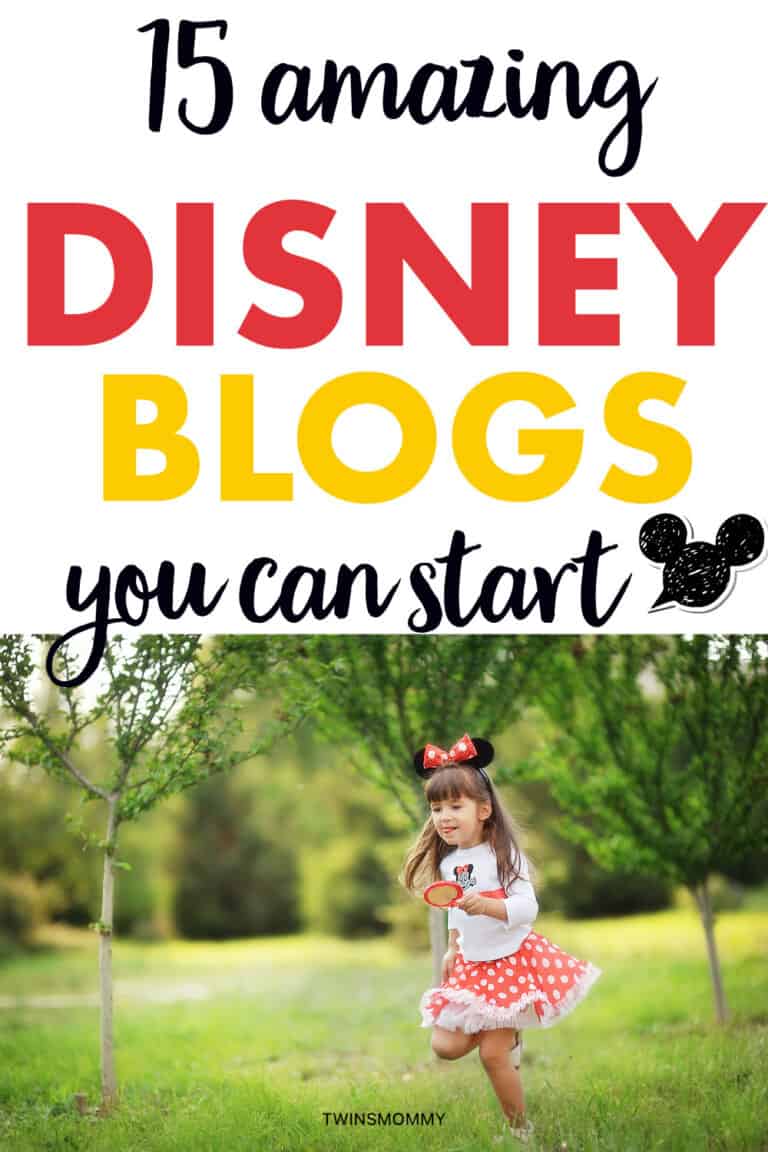 After all, between an amazing hotel, the delicious food, and all the must see attractions, where do you even start?
Finding the perfect hotel to make sure you're hitting all the right spots in and around the park is a lot to think about and plan, right mama?
If you're looking to visit Disney for the first time or are looking to go back and find new adventures, I have put together a list of amazing blogs about Disney to inspire and plan your next vacation.
But before we get into the blogs, do you love Disney so much that you're starting to think about having your own Disney blog?
I've been blogging since 2014 as a stay at home mom to twins and without a blog I couldn't do this.
So, if you wan to blog about Disney, make sure to check out my simple tutorial on how to start a blog for beginners!
Here is what you need to know first about having your own blog about Disney.
How to Start a Disney Blog
The process of starting a blog is pretty much the same whether you are going to write about Disney, knitting, or frugal living.
First, you need to pick a niche.
Disney is a niche within the travel niche, so you are set on your niche if you want to write about Disney.
If you decided you wanted to niche down even further within Disney, turn you Pinterest to come up with some ideas.
As you can see, there are a ton of different topics within Disney that you can write about.
If you are really stuck on what to write about, you can also check out what other Disney bloggers are writing about to find some ideas.
Or, you can play alphabet soup!
In Google, type "Disney" and for your next word, go through the alphabet!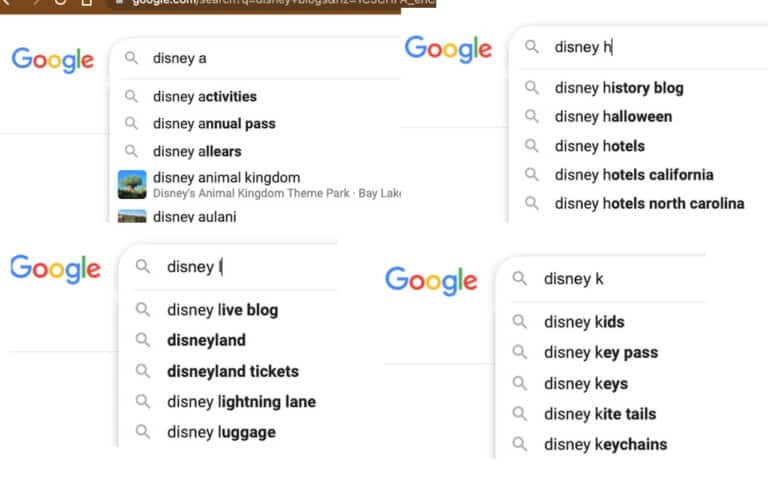 How can you take those topics and put a unique spin on them? Find ways to add your own unique perspective and voice.
Once you have at least 25 different articles written, it is time to take your blog live and share it with the world.
Getting Your Disney Blog Live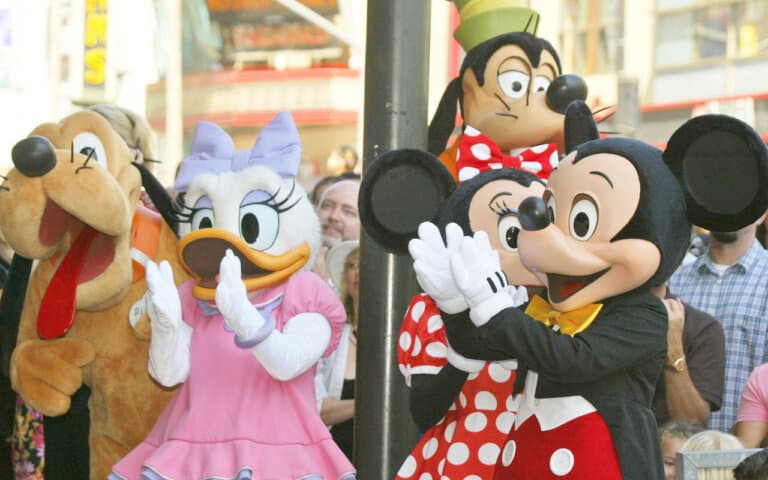 Before you start sharing your blog posts, you need to have a platform to share them on.
In order to get your blog up and running, you need to have somewhere to host your blog.
If you are looking to start a blog that you can make money from in the future, it is highly suggested that you self-host your blog.
This just means that you are purchasing hosting from a company, kind of like buying a house, rather than using a free platform.
When you purchase hosting, you are able to do whatever you want with your blog. Put a beautiful theme on it, place ads on it, or create sponsored content.
I personally use Bluehost to host all of my blogs and absolutely love it!
They have amazing customer service and are extremely affordable, especially when you are just starting out and not looking to spend much.
Also, when you self host your blog you can pick your own unique domain name.
This simply means that your domain name is something like mydisneyblog.com rather than mydisneyblog.wordpress.com.
This is not only easier to say but also looks much more professional.
Just make sure that you are picking a blog name that is somehow related to Disney.
Take a look at some of the domain names below to get started on some ideas. For more help check out my post on how to pick a good blog name.
Once you have your hosting and domain name purchased, you can start to share your blog posts all over social media.
I highly suggest that you start with Pinterest, this is where many bloggers start with generating traffic to their blogs.
It's easy to use and can get you traffic to your blog fast!
Here are the Top Blogs About Disney to Follow
Whether you are looking to plan your next magical vacation or are looking for inspiration to start your own Disney blog, these blogs are a great place to start.
1. The Disney Blog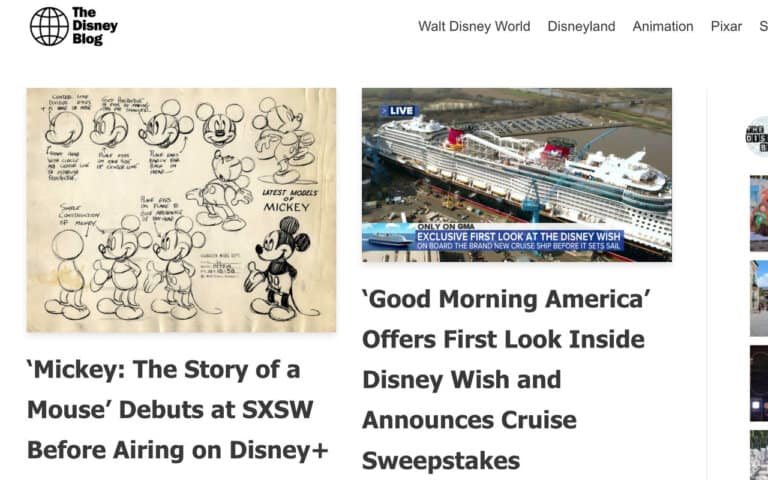 A blog for the whole family, The Disney Blog discusses all things Disney.
From the park, to the Disney company itself, this blog is loaded with information on everything Disney.
You can find information on the latest gossip about Disney shows and certain events that are happening at Walt Disney World.
2. Disney Tourist Blog
If you are looking to plan the ultimate Disney Vacation, this is the place to start!
The Disney Tourist Blog offers a yearly planning guide, reviews on different attractions, and even a Disney dining guide plan!
Not to mention the inside scoop on which hotel rooms to book to get the best view of the park.
3. Disney Food Blog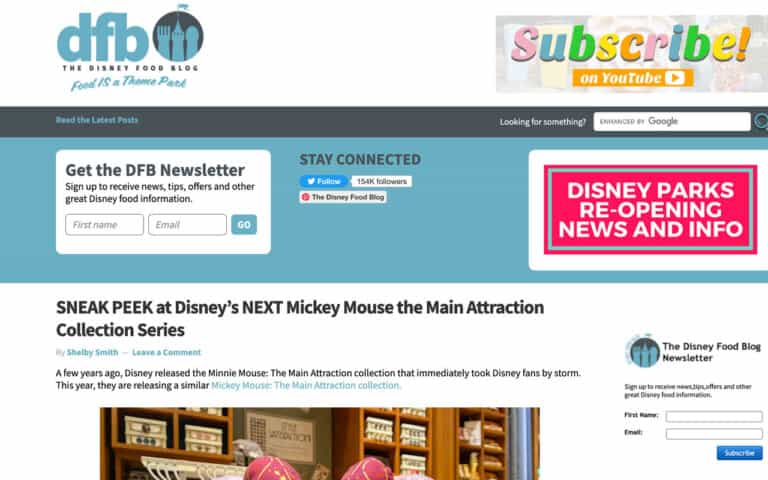 If your goal is to go to Disney to experience all the magical food that is has to offer, then this is where you should start.
There are complete guides and menus for all the different Disney restaurants from the Magic Kingdom and beyond (many with photos).
There is even a list of recommended restaurants for first timers.
And let's not forget about the recipes!
There are a ton of recipes from some of the most well known restaurants and events that have been held in Disney or Epcot.
4. All Ears
All Ears is the go to blog for all Walt Disney World, Disneyland, and Disney Cruiseline planning.
From reviews and tips to dining guides, you are sure to find just about anything you would need to plan your next Disney vacation.
There are even reviews on rides within the various parks.
5. DIS
If you are looking to make sure you stay within your budget, the DIS blog provides pricing plans for for dining, accomodations, and attractions.
There is even a podcast that discusses questions you might have about flying or cruising to Disney. They also share deals and discounts on cruises, hotels, and dining.
6. MiceChat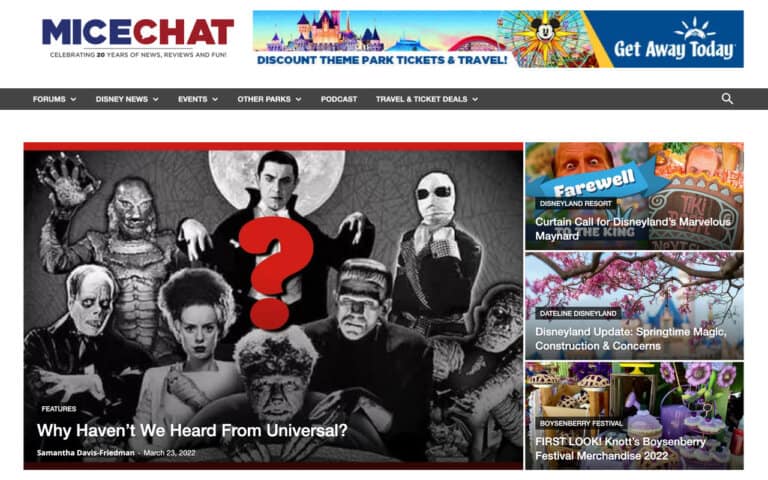 MiceChat is where all the Disney fans hang out.
This is not only a blog filled with loads of information on the parks but also a discussion board for fans and tourists.
They even have a special section dedicated to all the newest, upcoming events that take place at the various parks.
7. Chip and Co
Disney fans unite! Chip and Co is a one stop shop for Disney movie reviews, upcoming events and festivals, dining reviews, and the scoop on the latest merchandise.
When it comes to planning your vacation, check out their travel tab for the latest savings and tips.
8. WDW Prep School
Founder Shannon Albert works tirelessly to bring readers the latest and greatest deals, tips, and tricks on everything Walt Disney World has to offer.
She even runs a podcast that talks about different trip reports. There is even a section on planning a Disney trip for people with special needs, how helpful.
9. Mouse Hacking
Want to travel to Disney without spending an arm and a leg?
Learn how to hack your travel points, miles, and use discounts and deals and get the best possible travel for less.
There is a whole host of resources for saving on flights, hotels, tickets, and using your points and miles to save big without sacrificing the magic.
10. Blog Mickey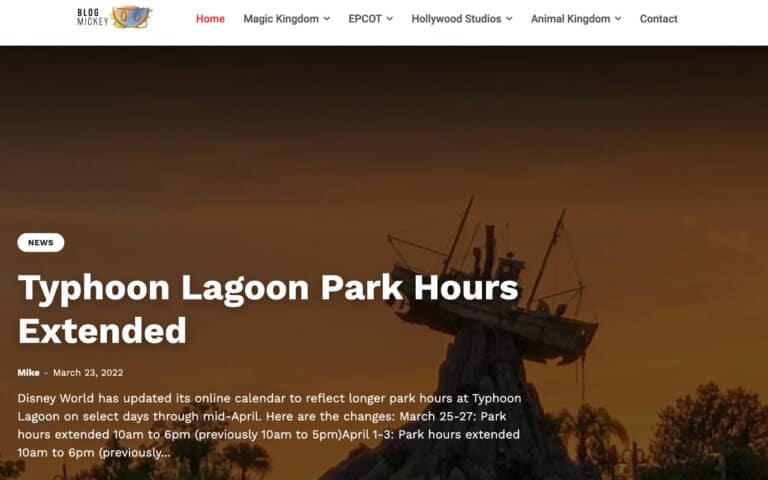 A beautiful blog about Disney discussing the latest news and reviews about all things Disney.
Want to purchase tickets to the latest attraction or find out which one of your favorite attractions are returning, then check out Blog Mickey.
11. Disney Cruise Line Blog
Seen everything you have wanted to see in the parks? Then check out the Disney Cruise Line blog for all the latest information on all the different cruise ships.
You can easily plan your first, or next, Disney cruise by using the itinerary planner.
12. Mickey Blog
Start your Disney planning with more magic and less stress with the Mickey Blog. This is a great place to start if you have never been on a Disney vacation before and have absolutely no idea where to begin.
13. The Kingdom Insider
Love doing marathons in the Magic Kingdom? This is the go to blog for planning your physical activity in the most magical place on earth.
This is also the blog to check out if you are looking for restaurants that cater to special dietary restrictions, such as vegetarian and vegan.
14. Military Disney Tips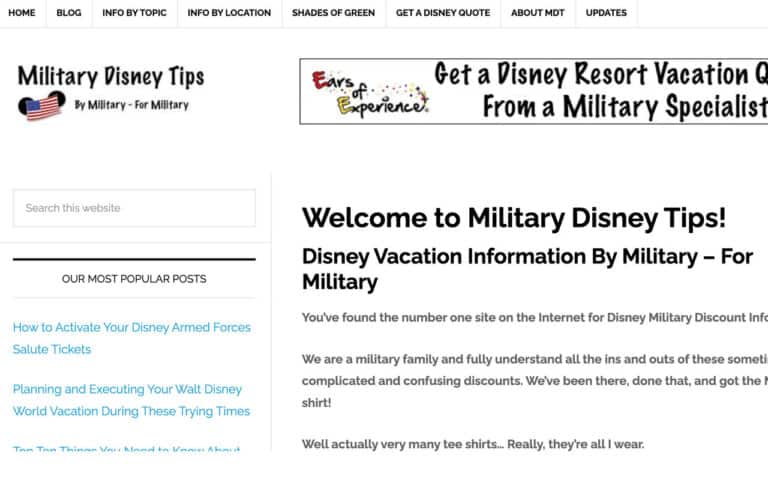 If you are a member of a military family, you need to check out this blog about Disney.
It is solely dedicated to information on military discounts, run by a military family for military families.
From discounts on hotels, dining, and park attractions, learn how to get special military discounts on anything you would need.
15. Disney Addicts
Dying to know when the Christmas decorations are going up in the Magic Kingdom or want to find out where all the Disney princesses hand out?
Then you are going to want to check out Disney Addicts.
You can even check out the free and discounted offers by signing up for their email list.
3 Tips to Starting a Blog About Disney
After looking at all of these wonderful blogs about Disney, here are some of my best blogging tips to help you start a Disney blog.
1. Start Big
What I mean by this is it's okay to start with a few topics for your Disney blog.
For example, you can blog about:
Disney food
Disney travel
Disney rides
While a Disney blog is not mentioned within my 8 most popular blog niches, this ties into the lifestyle blog niche.
Travel, in general, is also a very popular blog topic to write about. People are traveling more and more and are always looking for ways to save money on their travel and get the best possible experience.
This can help you learn what you like to blog about and you will find what your audience want from your blog posts about Disney.
2. Create 2-3 Flagship Pieces
A flagship piece is sort of like an ultimate guide or resource post.
This is the ONE post that, if a person landed on your Disney blog, they know exactly what you blog about.
So for your blog about Disney it might be, The Ultimate Guide to Traveling to Disney With Kids, or it might be, The Top Disney Rides With Short Lines.
Whatever you blog about, find a central theme and write an ultimate guide or resource post to help you gain traction fast!
3. Learn How to Create Click Worthy Pins
As I mentioned in the beginning, when you start a blog about Disney, you want a traffic source.
Pinterest will be your #1 traffic source in the BEGINNING.
But, just because you sign up to Pinterest, create a few boards and create simple pins to share, you won't see traction.
You need to create the right type of pin that gets clicks. If you want a "for sure" strategy, make sure to pick up my Canva Stylized Pin Templates.
15 Blogs About Disney to Check Out
I hoped you liked these Disney blog examples! While you're here to plan your next Disney vacation or you want to make money blogging, I'm here to help!
Tell me in the comments if you've been to Disneyland or Walt Disney World!
Please pin me!