When you're trying to become a successful blogger, it always helps to look at popular blogs to see what other people are doing right!
When I talk about popular blogs, I'm looking at blogs in a variety of niches that have crazy traffic and make lots of money.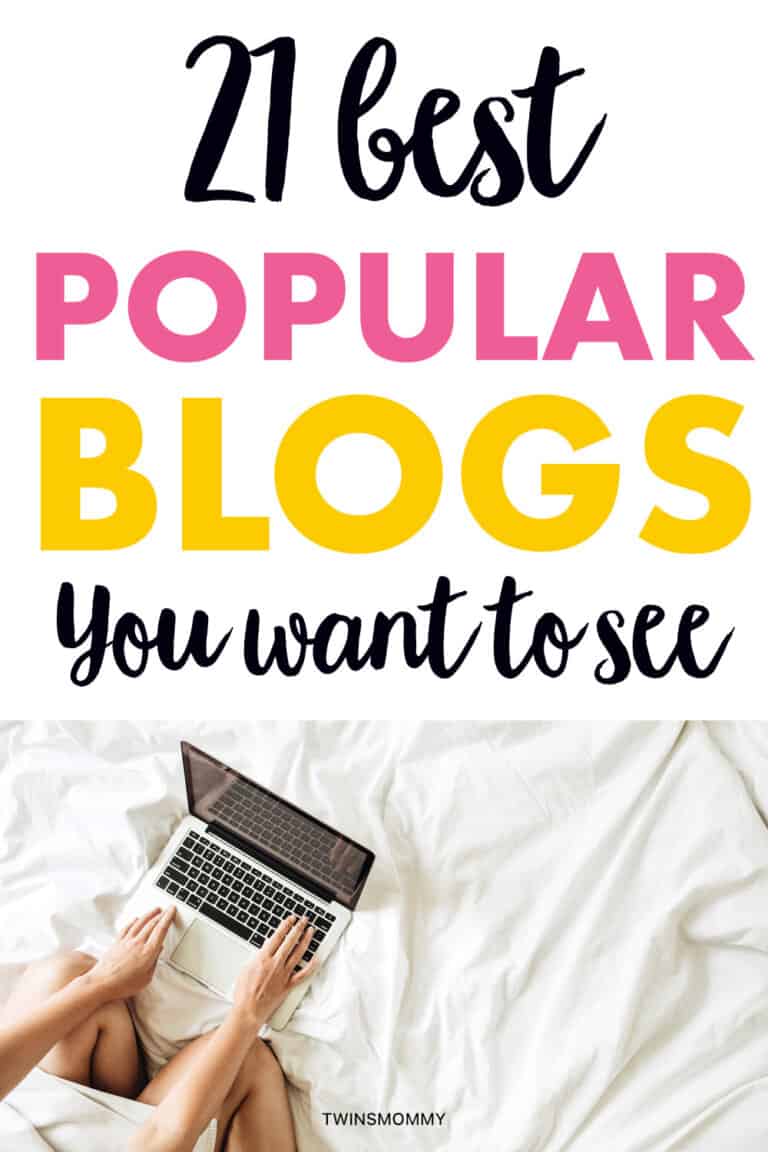 Not only are these blogs going to help you figure out how to find success, but they will also inspire you – you'll be able to see that if they can be successful, you can be successful too!
Just keep in mind that while starting a blog is easy, gaining traffic and making money takes time.
All of these bloggers started somewhere, some of them very small!
But with the right type of content and strategy, they grew their blogs into something profitable.
And you can do the same!
Let's take a look at some of the most popular blogs on the internet in a few different niches.
Most Popular Blogs
I'm sure you'll recognize these popular blogs right away!
While there are more wildly successful blogs out there, here are a few to inspire you.
1. Business Insider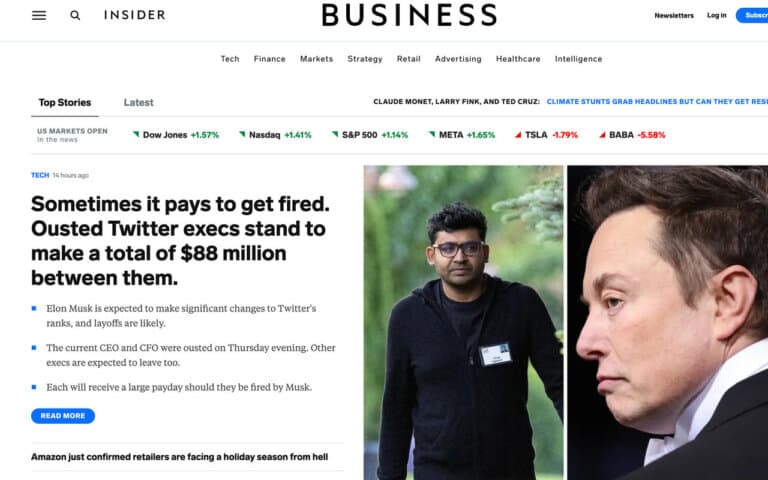 Business Insider draws in around 30 million viewers per month.
The key to its success is creating great content quickly and striving to get the inside scoop on business news before other publications.
Business Insider focuses on creating timely and trending content and sharing it on the right social platforms.
And, if you are a freelance blogger like me or want to write for them, you totally can!
2. Huffington Post
Huffington Post was launched in 2005 by Arianna Huffington as a way to provide liberal views on life and politics.
This blog makes money through advertising revenue displayed through banners and other digital ads.
All of HuffPo's content is carefully crafted using keywords to fulfill its audience's needs.
3. Mashable
Started in 2005 in Scotland, Mashable has become one of the most popular blogs in the world.
This blog provides a variety of content but uses social media (such as Facebook and Twitter) to reach millions of viewers.
Mashable uses different advertising formats to earn money – and earns around $2,000,000 per month!
Popular Personal Blogs
A personal blog is kind of like a lifestyle blog but focuses more on personal stories and experiences.
Popular personal blogs cover a wide range of topics, from personal development to parenting and beyond!
4. James Clear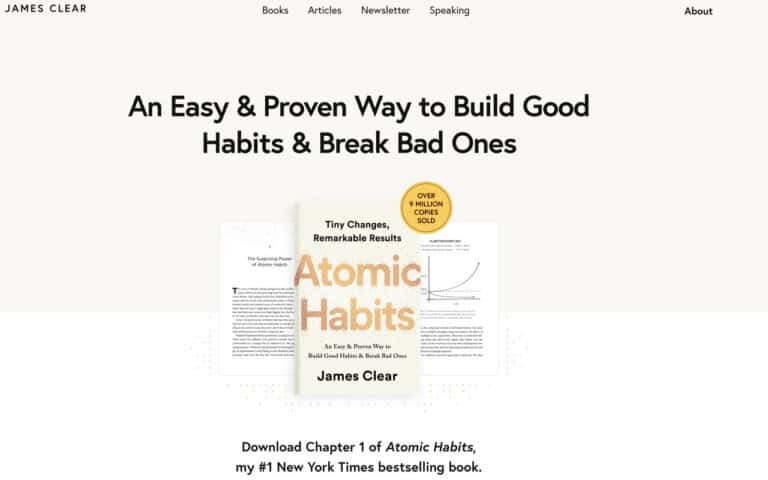 James Clear attracts millions of visitors each month by offering advice on how to build better habits and improve your life.
Clear is a life coach and entrepreneur that earns money from his blog through affiliate products and selling his own products (like his book).
5. The Everywhereist
The Everywhereist is a popular personal blog that was referred to by TIME Magazine as "consistently clever."
Blogger Geraldine DeRuiter covers so many interesting topics, from recipes she has tried and failed to her amusing and viral Tweets.
She has also been featured in popular blogs like Huffington Post and Mashable!
6. Love That Max
Love That Max is a very popular personal blog started by Ellen Seidman in 2008. The name of her blog is based on her son Max, who has cerebral palsy.
She created this blog to create awareness about children with special needs and encourages parents to voice their opinions, concerns, and experiences.
This blog has been featured on Mashable, TIME, The Huffington Post, and more!
Popular Meditation Blogs
With so much craziness happening in the world, it's no wonder that people are flocking to popular meditation blogs and making this niche wildly successful!
7. Zen Habits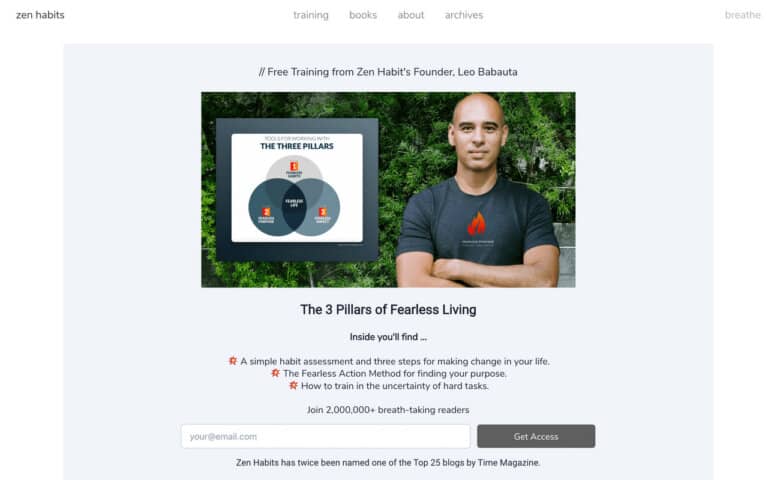 Zen Habits is one of the most popular meditation blogs that also focuses on minimalism, mindfulness, and productivity.
Launched in 2007, this blog has over 2 million readers around the world!
Zen Habits's main source of income is affiliate marketing, but the creator also offers online training programs and books.
8. Mindful.Org
Mindful.org provides amazing content about how to benefit from mindfulness and meditation in everyday life.
Their writers cover topics such as mental health issues, education, and leadership.
Mindful.org makes money by offering courses, coaching programs, and audio meditations.
9. Tiny Buddha
Tiny Buddha is a popular meditation blog that focuses on simplicity and wisdom.
Their content is created by both staff writers and guest bloggers, providing a unique and diverse voice.
To earn money from the blog, Tiny Buddha sells books, journals, and planners. They also make money from sponsored posts and social media shoutouts.
Popular Food Blogs
Does anyone even keep around cookbooks anymore?
I'm sure they do (I have a few!), but when you're looking for a quick and easy recipe, it's likely you're going to land on one of these popular food blogs:
10. Pinch of Yum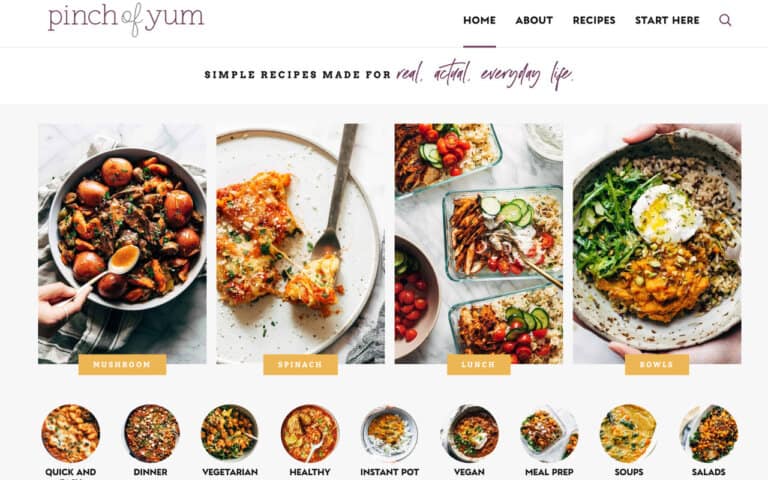 Perhaps one of the most popular food blogs is Pinch Of Yum.
This award-winning blog shares simple recipes, including healthy recipes, Instant pot recipes, vegan recipes, and more.
Owner Lindsay monetizes her blog by selling her own courses and membership sites along with sponsorships and affiliate marketing.
11. Minimalist Baker
On Minimalist Baker, you'll find simple and delicious recipes that require either 30 minutes, one bowl, or 10 ingredients or less.
Created by Dana Schultz in 2012, this popular food blog offers a variety of recipes, from gluten-free choices to vegan recipes and more.
Schultz makes her money by selling books and kitchen products, as well as affiliate marketing.
12. Smitten Kitchen
Smitten Kitchen is an award-winning blog that revolves around the creator Deb's kitchen. She experiments and comes up with new recipes that she shares through her content.
This blog also touches on travel!
The main sources of income for Smitten Kitchen are book sales and ads.
13. Cookie + Kate
Cookie + Kate is a popular food blog (named after the creator's pup!) that focuses on vegetarian recipes, which are divided into several categories, making this blog super easy to follow.
Kate earns money from her blog through book sales (specifically the cookbook she wrote) and ads.
Popular Lifestyle Blogs
A lifestyle blog is a type of blog that combines personal experience with valuable information. They can focus on more than one topic, such as food, travel, fashion, parenthood, and more.
Popular lifestyle blogs offer readers a solution to their problems through the lens of personal experience.
14. A Cup of Jo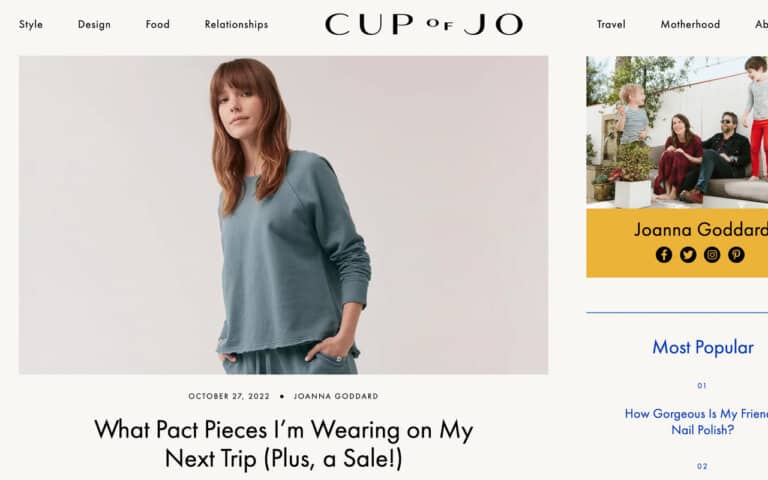 A Cup of Jo is a popular lifestyle blog created by a mom who has worked for big names like Glamor and Cosmopolitan.
It has grown into a wildly popular lifestyle blog with a team of content creators who write about style, food, culture, design, and travel.
A Cup of Jo targets an audience of enthusiastic women who want to learn new things and makes money through affiliate marketing, display ads, and product sponsorship.
15. Wit & Delight
Wit & Delight shares a wide range of topics on this lifestyle blog, focusing on women in various stages of adulthood.
You can read about health and wellness, relationships, parenting, travel, food, fashion, and more.
With & Delight monetizes its blog through affiliate marketing, product sponsorship, courses, coaching, consulting, and private-label products.
16. A Beautiful Mess
This popular lifestyle blog encourages readers to become DIYers by sharing unique craft and home decor ideas.
They also cover topics such as fashion, beauty, recipes, and life advice.
A Beautiful Mess makes money through courses, books, an online shop, product sponsorship, display ads, photo-editing apps, and affiliate marketing.
17. Apartment Therapy
Apartment Therapy is a popular lifestyle blog that focuses on interior design, design tips, DIY how-tos, and shopping guides.
Created by an interior-designer-turned-blogger, this blog has reached 20 million followers and has been expanded into a full-fledged media company.
Apartment Therapy earns revenue through affiliate links and product sales.
Popular Mom Blogs
Mom blogs are a unique type of blog that connects mothers through a huge range of topics, such as pregnancy, raising children, and even balancing motherhood with work or running a business.
The most popular mom blogs have one thing in common – they resonate and speak to moms.
18. Scary Mommy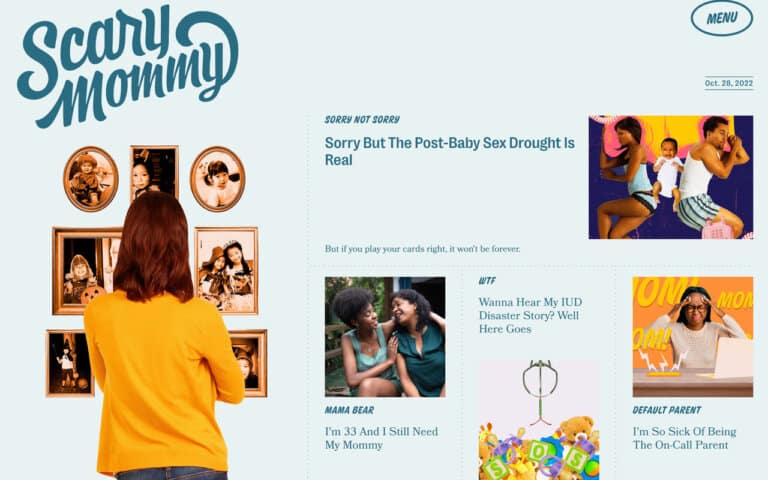 This popular mom blog started out focusing on parenting and pregnancy content but with an (almost brutally) honest perspective.
Scary Mommy will tackle unpopular opinions and harsh realities, which is what makes this blog super popular among moms.
This blog provides a nice balance of advice and information, along with entertainment!
19. Mother.ly
Mother.ly is a mom blog run by a team of experts who provide real-life advice for moms.
It's not as punchy as Scary Mommy, but there is a real understanding here of the challenges that come with motherhood.
What Mother.ly does differently from other popular mom blogs is they focus on moms and not babies and focus their content on a diverse group of women (particularly those who plan on working after they have children).
20. Tech Savvy Mama
Founded in 2008 by former teacher Leticia Barr, this mom blog goes beyond the scope of parenting to cover technology, lifestyle, education, and more.
What's really neat about this popular mom blog is that Barr combines technology and parenting. Her content explores the digital age and technological development.
Tech Savvy Mama earns money through product sales and affiliate marketing.
21. What Moms Love
What Moms Love is a blog that focuses on family, moms, and kids. Creator Aly and her team of content creators provide tips, ideas, and recommendations to help busy moms.
Most of the content on this blog is roundups that feature a balanced combination of tips and products.
What Moms Love income sources include sponsored content, ads, and affiliate marketing.
Are Blogs Still Popular?
I hope so!
Seriously, though, people continue to read blogs every day.
Around 77% of internet users say they regularly read blogs.
As a blogger nowadays, you need to focus more on how people are reading blogs instead of how many are reading them.
With smartphones and other technology, the average reader only spends around 40 seconds reading a blog post.
They're likely not going to read an entire article word-for-word – instead, they are looking for information and then leaving.
So, even if you're wondering, "Are blogs still popular?" it's clear that many online users do still read blogs – some popular blogs make over a million dollars per month!
But it's important that you focus on creating stellar content to grab their attention and keep them around.
Popular Blogs to Inspire You!
When you take a look at these popular blogs, pay attention to the type of content they offer and how they monetize their blog.
By taking inspiration from successful bloggers, you can have a successful blog too!
For more popular blogs check out these:
8 Popular Blog Niches that Drive Traffic and Money
42 Best Mommy Blogs That are Successful
Tell me in the comments which popular blogs are your favorites and which ones motivate you to become a successful blogger!