Pregnancy and parenthood can be daunting for many individuals – which is why so many moms-to-be swarm to pregnancy blogs for support and information!
With a million questions on your mind during pregnancy, you probably find yourself depending on online pregnancy resources to provide you with answers.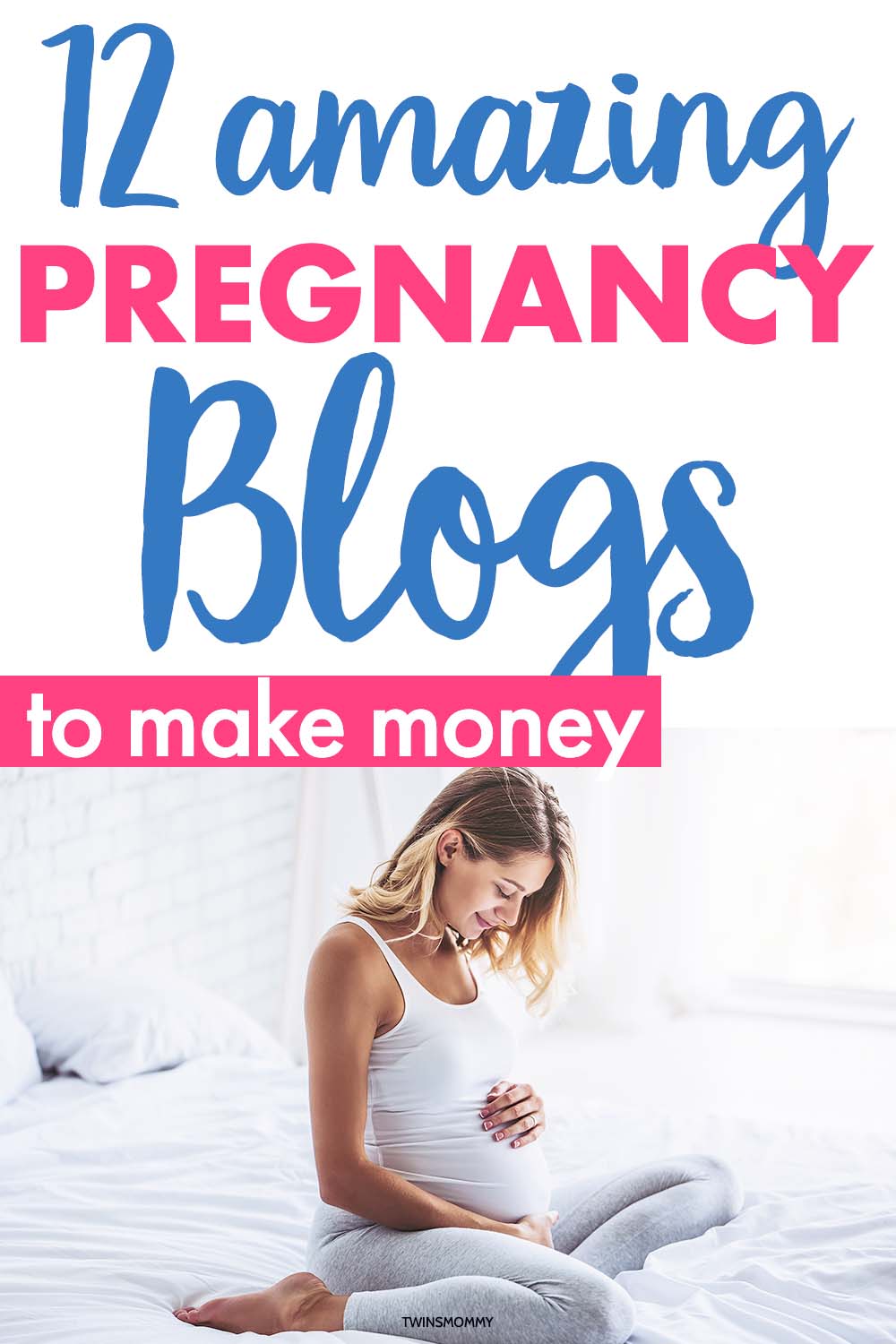 Pregnancy blogs cover so many topics from conception to the weekly development of your baby as well as infertility, pregnancy loss, breastfeeding, parenting and more!
Oftentimes, these blogs are humorous, relatable and avoid sugar-coating the experience of pregnancy. The writers share real experiences and raw feelings as they chronicle their journey through pregnancy and motherhood.
Instead of wading through the many amazing pregnancy blogs out there on the internet, I've rounded up these 12 that you should definitely take a look at and learn from.
The Best Pregnancy Blogs for 2021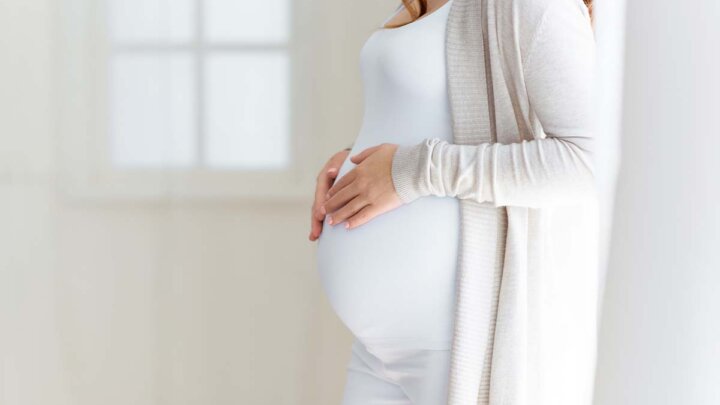 1. Pregnant Chicken
Who isn't a sucker for a cleverly titled pregnancy blog? (I am!)
Pregnant Chicken has been around since 2010 and was started solely by mom Amy who built up a community of amazing mom bloggers who contribute to the site.
2. Rookie Moms
Rookie Moms was created to provide new moms with an inclusive space in which they can navigate motherhood within a community of moms.
This pregnancy blog has been driving amazing traffic for 12 years! Blogger Amber manages this site while raising five kids – some she birthed herself and some she adopted.
3. Pregnancy & Newborn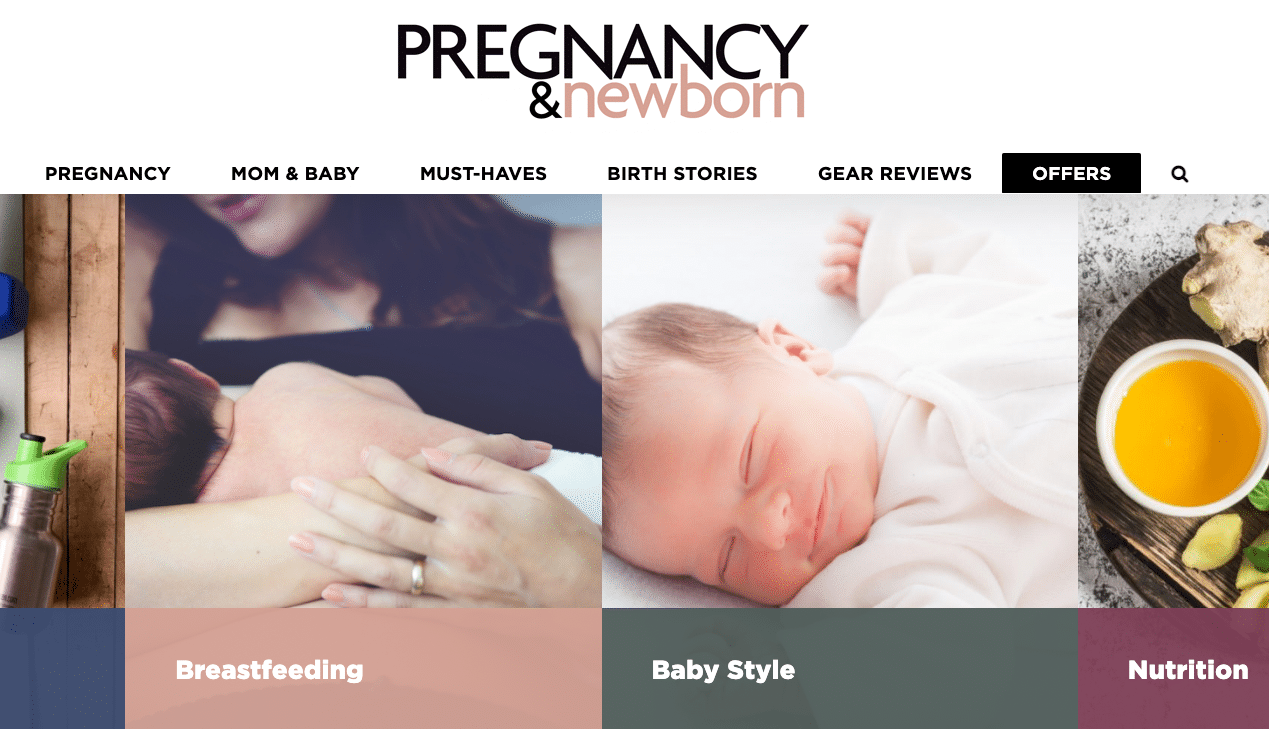 Pregnancy & Newborn is an online magazine that focuses on building a community in which moms can embrace the good and bad aspects of motherhood.
The informative articles address the journey of motherhood from conception to pregnancy and birth to parenting.
4. Alpha Mom
Alpha Mom is a pregnancy and parenting blog as well as a consumer lifestyle brand, new media and research company for moms and mom-to-be.
Site owner Isabel believes that a new mom's first instinct is to seek connectedness, so she created this blog to provide non-judgmental support and advice from other moms and parenting professionals.
5. Tommy's
Tommy's is more than just an average pregnancy blog – while it does focus on the happy aspects of pregnancy, it addresses the sensitive side as well including pregnancy loss, complications and infant death.
In addition to articles, Tommy's also features information on research projects as well as a pregnancy hub that includes digital tools and resources for moms-to-be.
6. Mother Rising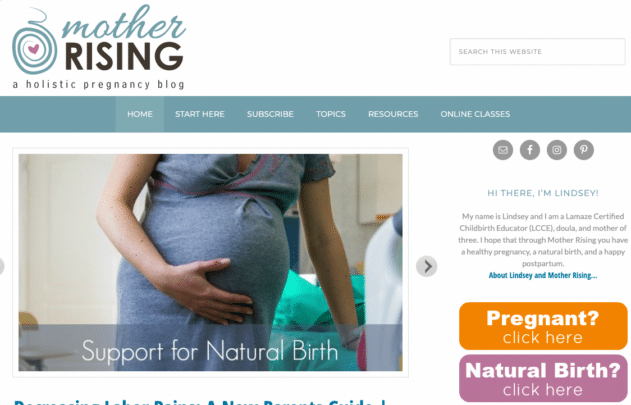 Mother-of-three, blogger, childbirth educator, doula and breastfeeding advocate Lindsey created Mother Rising to provide mothers and expecting mothers with a comprehensive, informative and sometimes humorous source of parenting information.
She also provides lessons on pregnancy, delivery and postpartum at local birth centers as well as online classes through Zoom.
7. Mama Natural
Created by childbirth educator and breastfeeding advocate Genevieve, Mama Natural is a national parenting brand that focuses on providing informative articles as well as best-selling books.
With three children, this mom blogger started her site with her husband in 2010 to empower women everywhere to embrace natural pregnancy and parenting.
8. Diary of a Fit Mama
One concern of many pregnant mamas is how to stay fit during and after the pregnancy. Personal trainer Sia shares workout plans, recipes and nutritional advice for pregnancy and postpartum.
Diary of a Fit Mama started as Sia's journey and progress throughout her pregnancy but quickly grew into a valuable resource for mamas looking to get and stay in shape.
9. Stress Free Mommies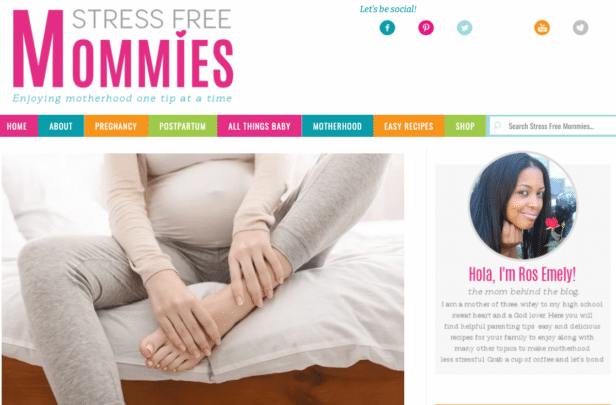 Stress Free Mommies is a magazine-styled blog that covers a range of topics such as pregnancy, motherhood, recipes and all things baby.
Eclampsia survivor Ros started this blog in 2014 as a way to express her experiences of pregnancy and motherhood.
10. Breaking the Momma Mold
Breaking the Momma Mold is a chronicle of blogger Jessica's journey through infertility, pregnancy, motherhood and raising three children (which includes a set of twins!).
She believes in making every day an adventure while challenging yourself and stepping out of your comfort zone.
11. Dad or Alive
Not all pregnancy blogs are created for the mamas! Dads need some help and support during the pregnancy too.
Dad or Alive was created by stay-at-home dad Adrien and has focused his career on writing books and articles to help the dads-to-be navigate the complexities of pregnancy in a humorous way.
12. Smart Mom Ideas
This isn't my post if I don't share my own pregnancy blog! Smart Mom Ideas is primarily a pregnancy and postpartum blog but I do have motherhood and parenting content on this site.
I love sharing tips for moms with twins but also pregnancy advice for new moms.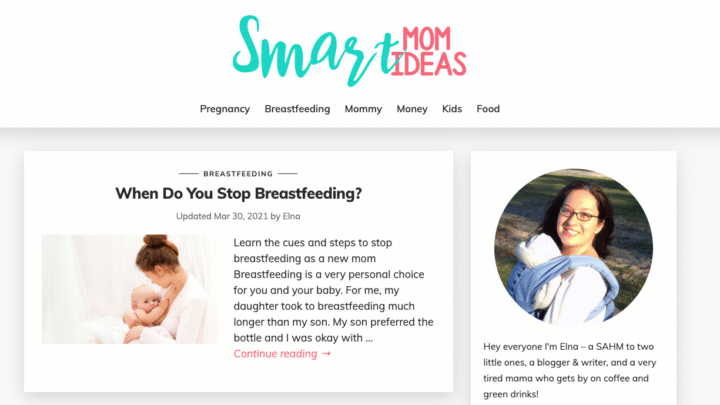 Are Pregnancy Blogs Profitable?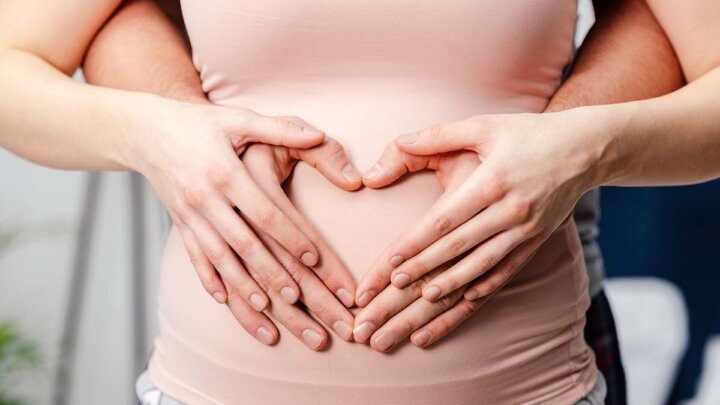 Most definitely! Pregnancy is a huge niche that can be monetized in a variety of ways.
The best part about the pregnancy niche is the fact that there is so much information you can write about!
However, you can also decide to niche down and focus on subtopics such as:
Infertility
Natural Birth
Budgeting and Saving Money
Baby Stages
Common Health Issues
Fitness
Self-care
Breastfeeding
Postpartum care
Product Reviews
Nutrition
Here are some ways you can make money from a pregnancy blog:
Advertising
Even though social media has caused many people to go "ad blind", many pregnancy bloggers are still making good money from displaying ads on their sites.
Just make sure you are posting ads relevant to your content and eye-catching to your audience.
I personally use an ad network called Mediavine which pays for impressions instead of clicks. This means that all you need to do is get readers to your content to make money!
You do need a healthy amount of traffic coming to your site (50,000 sessions) in order to sign up for the program but once you get there it's totally worth it.
Affiliate Recommendations
Moms and moms-to-be are always looking for great products and gear that will make their lives easier.
Sign up for your favorite brand's affiliate programs and promote their products on your blog. When someone clicks on the link and completes a transaction, you get a commission from the sale.
You can slip these links into your content or devote an entire post to your fave products – the choice is yours!
Just be sure to stick to affiliate rules and etiquette which include only promoting products you personally use and posting an affiliate disclosure on your blog to let readers know that you could make money from their purchases.
Online Products and Services
The pregnancy niche lends itself well to offering products and services on your site. This can be an amazing way to earn a passive income!
You can design and sell printables such as organizers, planners and checklist to help pregnant mamas make their lives easier.
For example, Alexandra of Coffee & Coos sells her Pregnancy Planner and I'm also an affiliate for it too!

Or you can put together an online course based on your knowledge, experience and expertise. While courses do take some time to put together, they carry a high value which can translate into good money every time someone signs up.
Lastly, you can offer coaching services via Zoom or Skype on a variety of topics including breastfeeding, nutrition and planning for childbirth.
Sponsored Posts
Another great way to make money from a pregnancy blog is to reach out directly to brands and companies and have them sponsor your posts.
When a brand sponsors your post, they pay you to write about and review their product or service.
Not only does this put some money in your pocket, but it also helps give your blog recognition and credibility.
Starting a Pregnancy Blog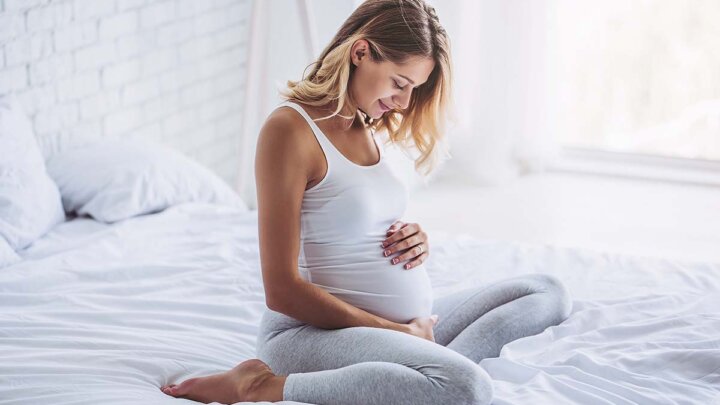 Although I did talk about niching down to more specific topics, the best part of pregnancy blogs is they can cover so much information because it's all relevant to pregnant and postpartum moms.
But before you start writing about everything and anything, make sure your topics are organized and concise.
For example, my blog Smart Mom Ideas is a pregnancy & postpartum blog that offers a wide range of advice. However, I've organized my content into categories to make finding information much easier for my readers.
Once you know what you want to write about and have your blog set up, give yourself some time to gain some traction. You're not going to get loads of traffic overnight, so focus on writing great content until you get into the swing of things.
After you do, you can start focusing on increasing your traffic and monetizing your pregnancy blog.
If you need a more step-by-step guide to getting your blog up and running, check out my super simple blog tutorial!
Already Have a Pregnancy Blog?
I'd love to hear about it!
Share your blog in the comments and I might feature you in this or a future post!