Don't you just hate it when you forget to do something you needed to do?
Especially when it's something important like taking your vitamins or drinking enough water throughout the day.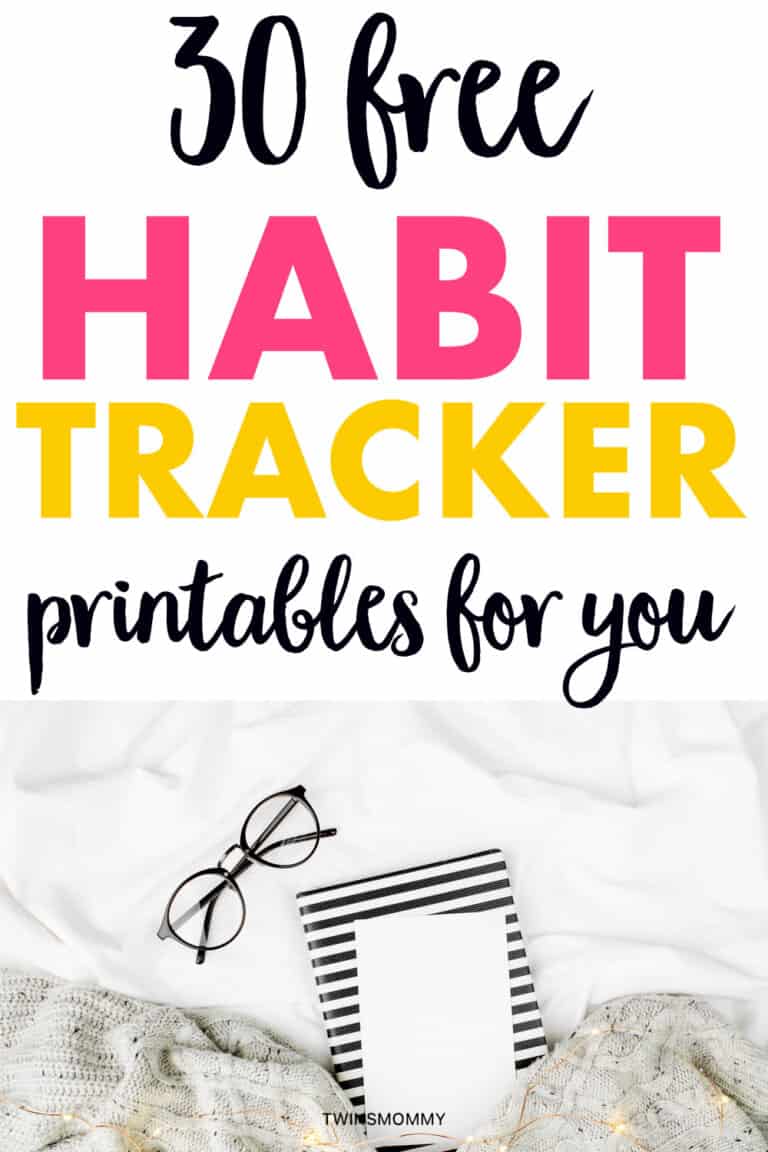 Trust me, I've been there.
As a mom of twins and a mom blogger AND freelancer, I am noticing my new habits aren't sticking.
I need some printable habit trackers!
These printables are MADE to help you track all aspects of your life, from exercise and healthy eating to household chores and self-care.
Yes! Sign me up.
With these handy trackers at your fingertips, you'll be able to stay organized and motivated even on the busiest of days.
And you know what?
I've rounded up 30 totally free cute habit tracker printables for your life, blog and business.
The Circle Habit Tracker Printable – 6 To Choose From
1. WooJr Habit Tracker
For a simple circle habit tracker sheet, get the one from WooJr.
2. Keeping Up With the Changs Habit Tracker Sheets
If you want more than one type of habit tracker, grab this bundle from Keeping Up With the Changs.
3. Carrie Elle Crystal Circular Habit Tracker
For a pretty and cute circle habit tracker, check out this purple one.
4. Happiness is Homemade Colorful Habit Tracker
I love the look of this circle habit printable from Happiness is Homemade.
5. Mandala Habit Tracker
This Mandala Habit Template from Makebreaks is beautiful.
Color it to make it come alive.
6. Natashalh Habit Tracker Printables
Get some free mandala trackers and circle trackers from this blog.
The Daily Habit Tracker Printable – 6 Templates
7. 30 Day Habit Tracker Printable
Moritz Fine Designs has a funky and colorful daily habit tracker.
8. BobbiPrintables Daily Habit Tracker
Grab this free daily printable to track your habits.
9. It's a Southern Life Y'All Free Habit Tracker Printable
Grab this super cute habit tracker for your daily habit keeping.
10. Free Habit Tracker
The Worldofprintables has a free habit tracker that's daily, weekly and monthly too.
11. AnjaHome Free Habit Tracker Sheets
For a traditional look, grab these free habit tracker templates.
12. Healthy Habit Tracker Page
Simple Modern Mom has a gorgeous habit tracker sheet the help become your best self!
The Habit Tracker Printable for Your Bullet Journal – 10 Designs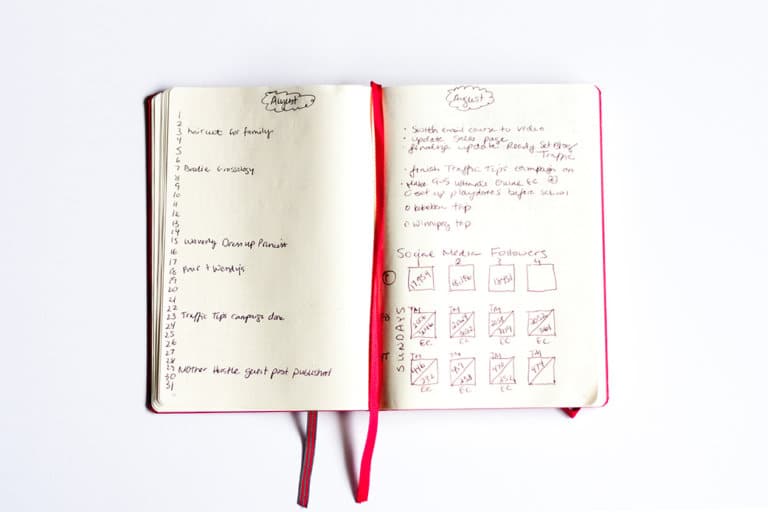 13. Lots of Free Habit Tracker Pages for Your Bullet Journal
A Country Girl's Life has a lot of cool looking habit tracker pages you can put in your bullet journal.
14. Hey Donna's Habit Tracker Printable
Grab this ultra cute habit tracker page you can put into your bullet journal. Hey Donna also gives you 50 habits to try out.
15. Daily Habit Tracker for a Bullet Journal
This small but effective daily habit tracker printable is perfect for your bullet journal.
16. Feathered Habit Tracker Bullet Journal Sheet
This is a cute feathered habit tracker sheet from Joliecious.
17. Daily Brain Dump
Frame your habits as a daily brain dump. This can help you see what things you need more help with.
18. Animal Theme Habit Tracker Sheets
Get many different habit tracker printables here.
19. Do It Habit Sheet for a Bullet Journal
Kim and Kalee has an amazing free habit sheet and habit ideas for your bullet journal.
Oh yea, double whammy!
20. Minimalist Bullet Journal Habit Tracker
Marie's Bullet Journal on IG has a very cute and minimalist habit tracker template.
21. Space Themed Bullet Journal Habit Tracker
Check out this space theme free habit tracker? I love it!
This is from CarzyLaura!
22. Simple but Colorful Free Habit Tracker
So simple but soo colorful and creative! I love this one too!
This is from My Bujo Trip on IG.
The 100 Day Habit Tracker Printable – 8 to Choose From
23. Get a Bundle of These 100 Day Habit Tracker Printable Templates
Ultimate Printables has a bundle of amazing and fun habit trackers to fill your 100 days.
24. Gathering Beauty 100 Day Tracker
Start your goal right with this free 100 day habit tracker from Gathering Beauty.
25. Free Printable 100 Day Tracker Sheet
Lovely Planner has a cute and simple free printable to stay accountable.
26. Smiling Colors 100 Day Habit Tracker
Get this cute 100 day goal sheet from Smiling Colors.
27. Free Download 100 Day Tracker Sheets
Add a Little Adventure has several 100 day tracker sheets to choose from!
28. Big Goal 100 Day Habit Tracker
Grab this free download 100 Day Habit printable from The Savvy Sparrow.
29. Great for Kids!
Grab this fun bundle of kid-themed 100 Day Habit Tracker sheets from Leap of Faith Crafting.
30. Printsbery Colorful Habit Tracker (100 Days)
Make sure to try this colorful habit tracker sheet to smash your goals.
Make Your Own Printable Habit Tracker!
Did you know you can make your own printables at home?
All you need is a printer, Canva, and a Jasper AI!
1. Canva
Canva is an image editing tool and they also have thousands of templates to use.
They definitely have tracker sheets you can use personally but you can't sell.
But you can use Canva to create your own habit tracker printable!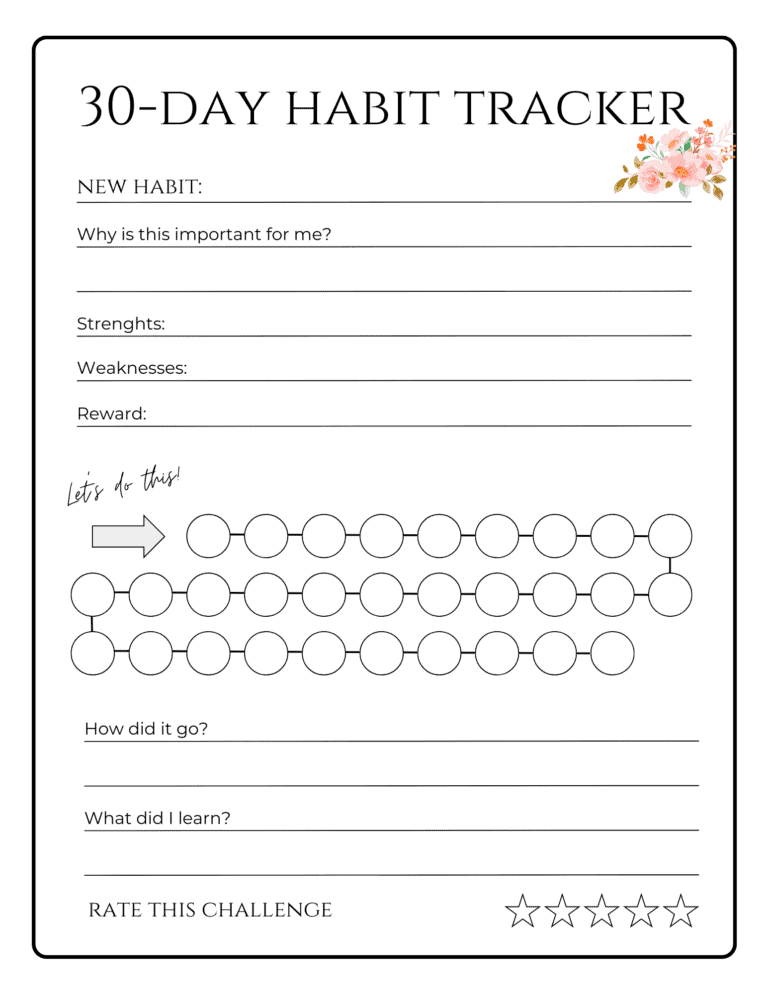 Go ahead and customize the template and use it for an email optin if you want or for your personal goals!
2.Use Jasper Chat
Jasper AI is an AI writing tool that can help you write blog posts, social media posts and even create tables and printables for you!
Oh yea!
I use Jasper Chat and ask to make a weekly habit tracker template.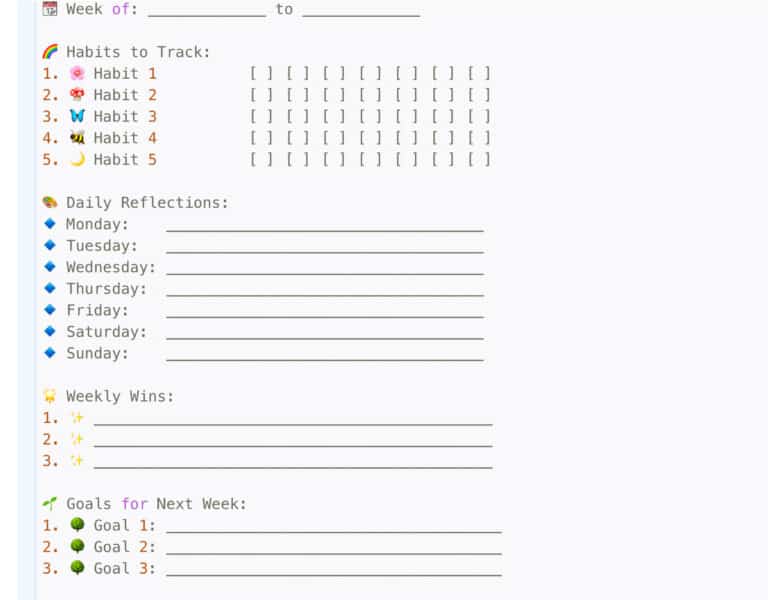 You can play around with the prompts (Jasper AI has a new "prompt enhancer" to turn your bland prompt into an optimized prompt) and figure out what you want to put in your habit tracker printable.
Take the information and use Canva to make a preetty printable to help your readers.
Habit Tracker PDF Questions
Have some questions about these habit trackers? Check out the FAQs here!
1. How Do I Choose the Habits to Track?
Identify what areas of your life you want to improve or the specific goals you want to achieve.
Then, choose habits that are aligned with those goals and can be broken down into daily or weekly actions.
2. How Many Habits Should I Track at Once?
Start with a small number of habits (3-5) to avoid feeling overwhelmed.
As you get comfortable with tracking and maintaining those habits, you can gradually add more.
3. How Long Should I Track a Habit Before Evaluating its Effectiveness?
Give yourself at least 30 days to track a habit before evaluating its impact on your life. This timeframe allows you to see patterns and determine if the habit is helping you achieve your goals.
4. How Can I Stay Consistent with My Habit Tracking?
Establish a routine by setting aside a specific time each day for updating your tracker.
You can also set reminders on your phone or use a habit-tracking app to help you stay consistent.
5. What if My Habit Tracker isn't Helping Me Make Progress?
If you're not seeing progress with your habit tracker, try reassessing your goals and habits, adjusting your approach, or seeking support from friends, family, or online communities.
Remember that change takes time, and it's essential to remain patient and persistent.