When I started blogging six years ago, I never knew that I could actually make enough money to stay home for good.
I was only thinking of making enough income to cover bills and extra curricular activities for the twins – with jobs that pay well.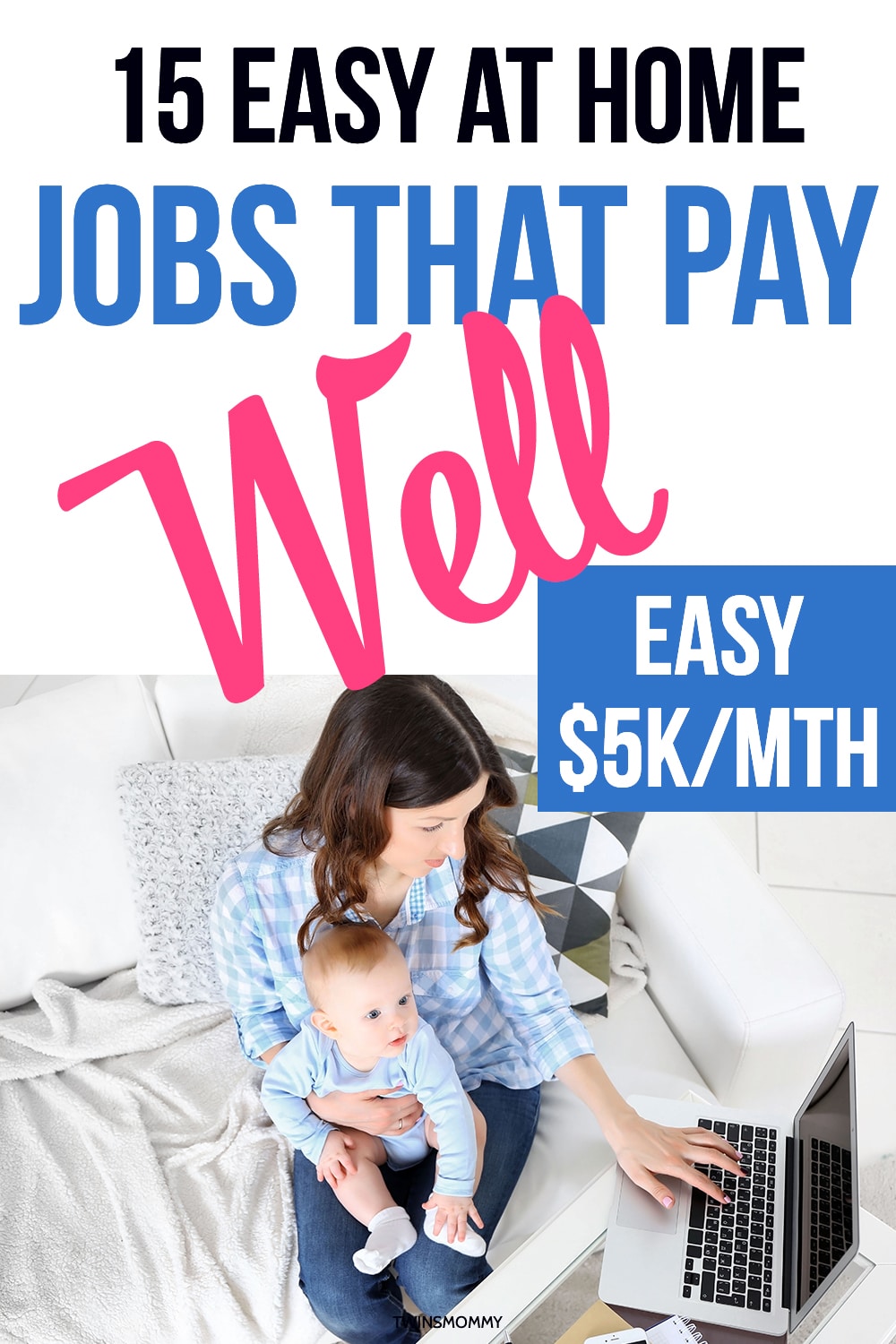 Not enough to buy a home or travel.
Not enough to invest with or set up saving accounts for my twins.
I'm truly blessed and want to help you work from home as a mom blogger!
But you might be thinking that working at home makes you only pocket money – but what if I told you that there are some great work-at-home jobs that pay well for moms?
You don't need a four year degree or years of experience to do them either!
All that you really need is the time to do the work, a computer and skills that you probably already have.
And you know what? This is the way I started blogging – by offering a service online! It's super easy to find jobs that pay well and the quickest way to make money online hands down!
If you have a knack for graphic design, an eye for editing or a flair for writing, you are already halfway to enjoying many of the work-at-home jobs that are available online.
Here are 15 easy jobs that pay well that you can do online that pay very well – plus how much you can make per hour!
15 Easy At Home Jobs That Pay Well
These simple work at home jobs for moms can be done in the home while you take care of your little one.
Many of these jobs that pay well are highly flexible and allows you to set you own schedule!
For more ideas, make sure to check out my post on side hustles you can start at home.
1. Freelance Writing
Freelance writing is the service I started six years ago and I absolutely love it!
A freelance writer creates content such as blog posts, articles and social media content on a per need basis for clients and businesses who have blogs or other forms of publication.
As a freelance writer, you would be responsible for researching a post or article topic and writing the piece to the client's specifications.
Other responsibilities include adhering to a deadline and proofreading and editing your work before submitting it.
To be a freelance writer, you need to have strong writing skills including the ability to write clear and concise content.
Being able to conduct research and turn it into new material is a good asset to have as well.
As a freelance writer, you could be making around $30 per hour – or around $5,100 a month!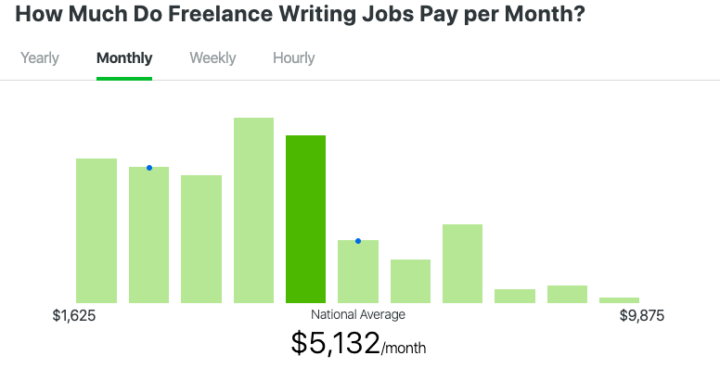 But, from personal experience, you can definitely make more money by having a writing niche and having recurring clients.
2. Virtual Assistant
A virtual assistant works remotely (a.k.a. at home) performing administrative tasks.
These tasks may include organizing schedules, responding to emails, preparing reports and updating databases.
As a virtual assistant, you may also be responsible for managing social media accounts, scheduling newsletters and blog management.
To be a successful virtual assistant, you must have good organizational skills (what mother doesn't?) as well as computer and communication skills.
Many administrative tasks involve reaching out to a client's customers as well as inputting and typing information.
Virtual assistants make on average $19 per hour – or around $3,300 per month.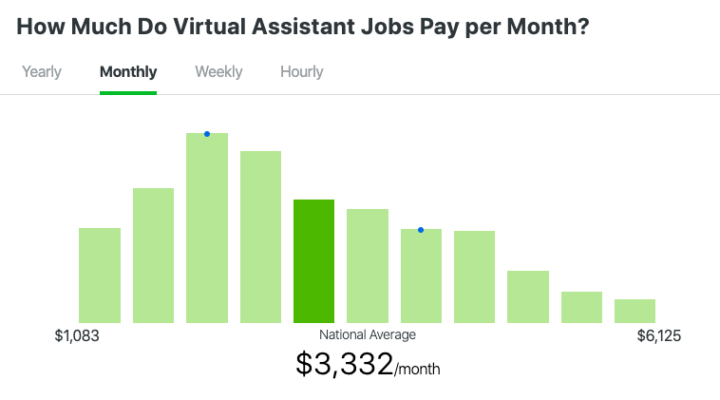 3. Pinterest Graphic Creator
Do you love Pinterest?
I love creating Pin graphics for my blogs and can create all day!
If you love graphic design, and can create fun and engaging pin images, you could have this easy work at home job as a Pinterest graphic creator.
You can use a free program such as Canva to design Pins for clients that drive traffic and promote the client's brand.
Check out my video on making pins using Canva and please subscribe to my channel for more blogging tips and making money at home tips!
You don't need a degree in graphic design to create sellable pins, but you do have to have an eye for design.
This includes text and graphic placement as well as combining fonts and colors to create a pin that is appealing and engaging.
Creating Pinterest graphics could earn you $24 per hour – or around $4,100 per month.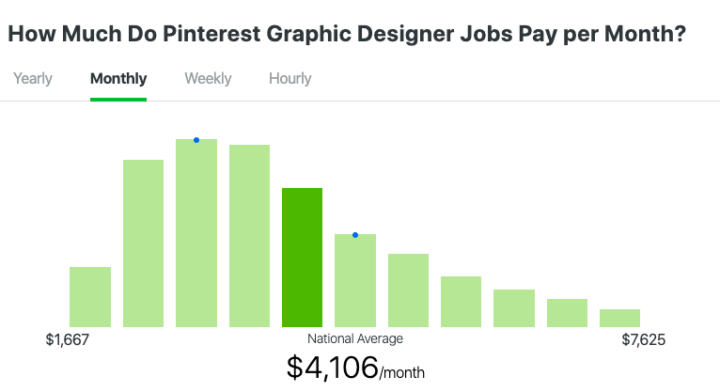 4. Pinterest Manager
You can do more than create Pin graphics for your clients for this job that pays well. You can also manage their entire Pinterest profile and marketing strategy.
A Pinterest Manager helps clients promote their content, products and services through Pinterest.
Responsibilities may include performing setting up Pinterest accounts or cleaning up and optimizing existing accounts.
You may also do keyword research, creating boards, scheduling content, designing pins and promoting them.
To work as a Pinterest manager, you have to have a strong knowledge of how Pinterest works as well as knowledge on how to increase Pinterest traffic.
Having a good eye for design is a plus as well.
A Pinterest manager can potentially make $26 per hour – or $4,500 per month.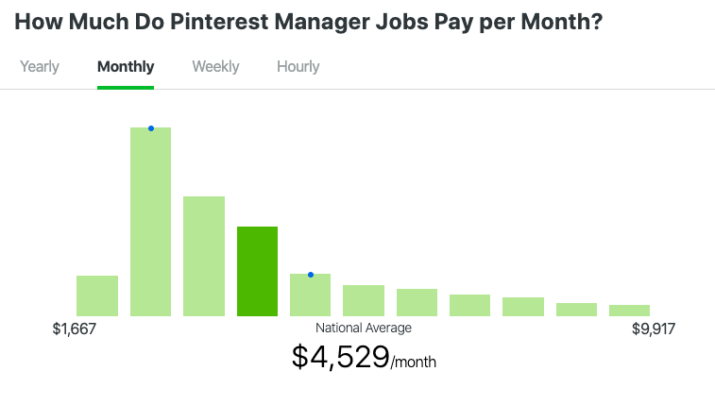 5. Podcast Transcriber
If you have a good ear for audio, you can try your hand at podcast transcribing.
This job from home involves listening to a client's podcast and writing it out.
Many podcasters want to provide written versions of their podcasts in order to appeal to a larger audience.
Apart from having good listening skills, fast and accurate typing skills are a plus for transcribing quickly and with precision.
Even if your typing is not up to snuff, there are many online programs and software you can use to brush up on this skill.
For example, you can try KeyHero to practice your typing or you can just try transcribing some of your favorite podcast episodes to see how accurate you are!
A podcast transcriber can earn up to $24 hourly – or around $4,200 per month.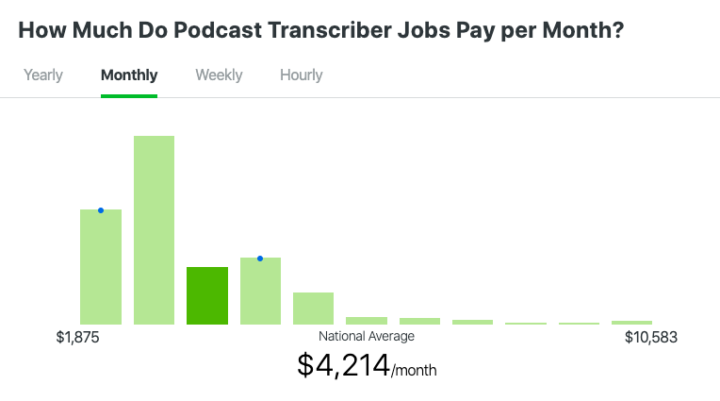 6. YouTube Video Transcriber
Just like a podcast transcriber, a YouTube video transcriber converts the audio from the video to text.
Again, this helps clients reach a larger audience but the transcription may be used to provide subtitles for the video as well.
The same skills apply here as they do with a podcast transcriber.
Attentive listening, fast typing and a keen attention to detail are important skills to have as a YouTube video transcriber.
You could earn up to $23 per hour as a YouTube video transcriber – or around $3,900 per month.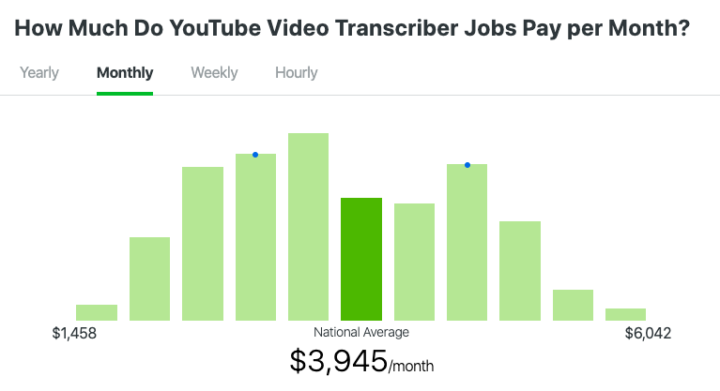 7. Ghostwriting
Ghostwriting falls into the same category as freelance writing with the major difference being that you don't claim any credit for the work.
The client posts the content under their name so you need to be able to match the tone and voice of the client.
You may also be responsible for using the knowledge and experience of the client and putting it into writing.
The skills necessary for ghostwriting are the same as those for freelance writing – except that as a ghostwriter, you do need to have the ability to match the tone of your writing to your client's.
This job that pays well is easy to do if you take the time to read content the client has written.
You could be making $25 per hour as a ghostwriter – or you can earn $4,300 per month.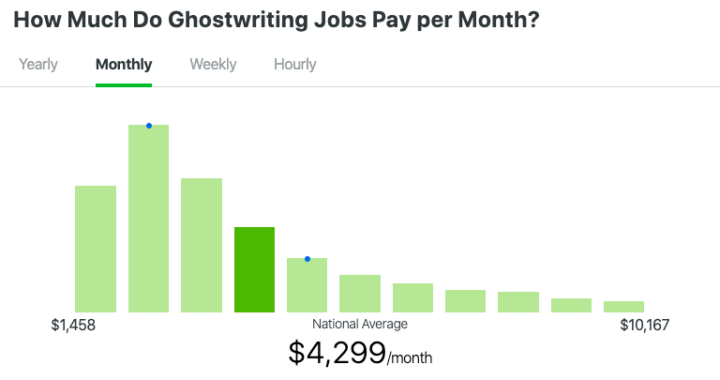 But, from personal experience, if you ghostwrite books you have the potential to earn $20k or more per project.
8. Sell Photographs
If you have a good camera and can produce quality photographs, you can sell them online to make some money from home.
Website builders, stock photography websites and online marketplaces are great places to find clients looking to buy photographs.
If you have the photography skills, then you are set to sell your pictures online.
Image editing skills could be an asset too, since you can use them to make your pictures unique and stand out.
Selling photographs can earn you around $22 per hour – or $3,700 per month.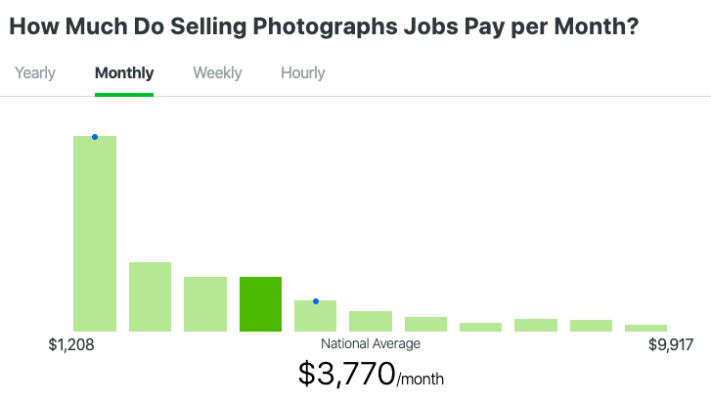 9. Website Design
Can you create a website and design its look and function?
Then you can work at home by creating websites for clients.
You can also include website management as part of your services.
Knowing coding and programming is not always necessary but can be a great asset when selling website designs.
Otherwise, you want to have an understanding of how to use templates as well as how to make a site easy to navigate. Graphic design skills are a plus, too.
You can check out Lindsey of Pretty Darn Cute to see how she sells her website designs.
Website designers make $26 on average per hour – or $4,600 per month.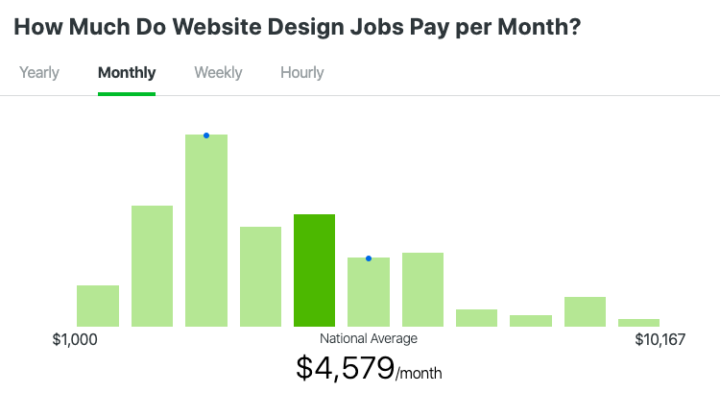 10. Editing
There are many businesses and writers who are interested in creating their own content but willing to pay someone to edit it.
As an editor, you will be responsible for checking a piece for spelling, grammar and sentence structure.
This is an easy job at home that anyone can do – and these jobs pay well too!
A client may even pay you to optimize flow and consistency as well as ensure the piece is easy to read on a blog.
Clients seek out editors to content such as blog posts, magazine articles and books.
Editors need to have strong language skills and the ability to be thorough and pay attention to detail.
It is also an asset if you are able to identify the theme of the piece you are editing and retain the writer's style and voice.
Being an editor could earn you around $24 hourly – or $4,200 per month.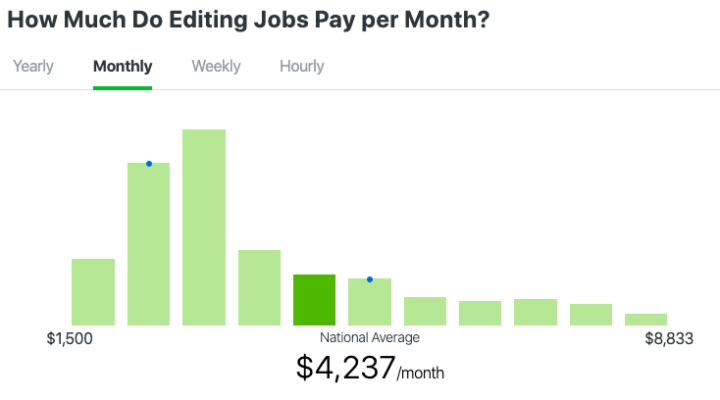 11. Social Media Manager
The beauty of many of these easy jobs that pay well is that clients and businesses seek out these services so they can focus on other aspects of their company.
A huge part of having an online presence is social media and clients will pay to have someone plan, implement, manage and monitor their social media profiles.
Some may also want you to measure the success of social media campaigns.
To be a social media manager, you need to be organized and have a good understanding of how social media accounts work.
Knowing how to track traffic via social media is a good skill to have as well.
Social media managers earn around $24 per hour – or $4,100 per month.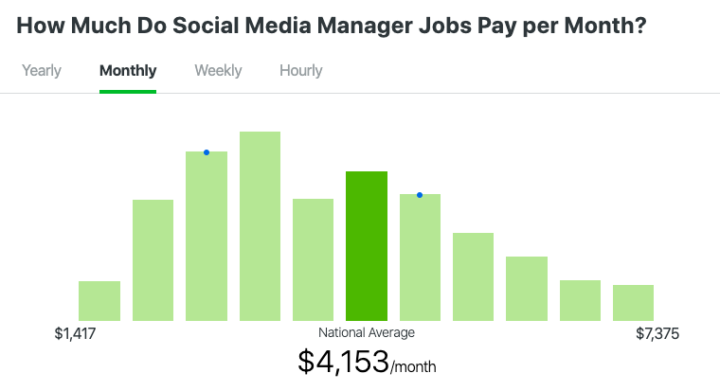 12. Create Infographics
Having a knack for graphic design can also pay well if you design infographics.
Designing an infographic involves organizing a client's information into a condensed visual medium.
These images are highly popular and have a high share rate.
Just like designing pins, you don't need formal training in graphic design but you do have to have an understanding of placement when it comes to images and text.
Another asset for this type of job is knowing how to combine fonts, colors and graphics in a visually pleasing way.
You could earn around $30 per hour by creating infographics – or $5,200 per month.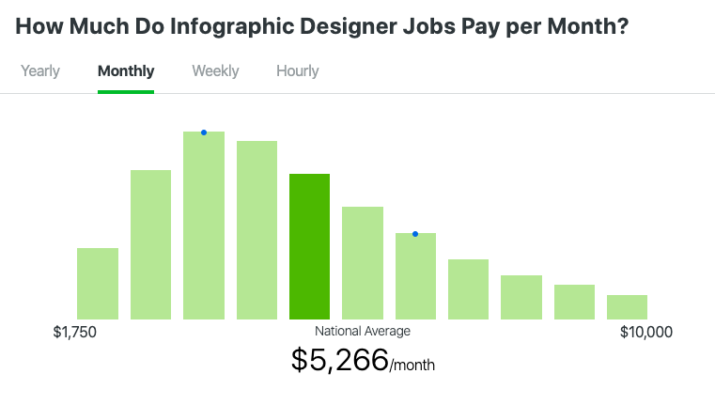 13. Edit Videos
You don't need to be a cinematographer to make money editing videos.
You simply need the right software – like Final Cut Pro to make money editing videos such as those for YouTube or online courses.
A video editor deals with content post-production and are not expected to film the actual video.
You may also be responsible for adding graphics, voice-overs, subtitles and music.
For video editing, you should have a working knowledge of how to use video editing software.
Otherwise, being able to maintain visual flow is a good asset to this job.
Video editors earn around $23 hourly – or around $3,900 per month.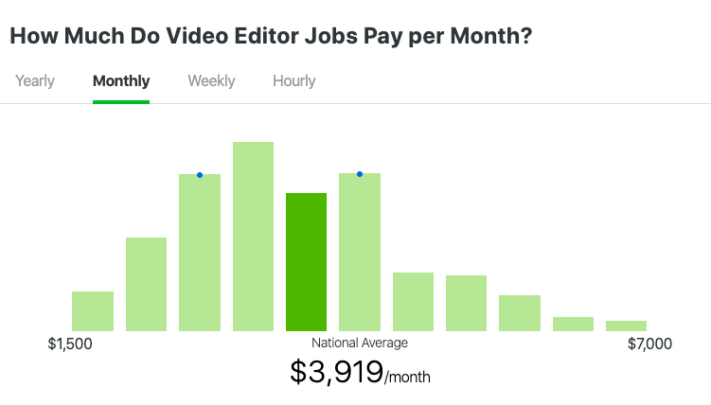 14. Create Course Notes
Creating online course is a lucrative business and many who make a living doing so want to pay others to create their course notes.
This often involves listening to a course video and adding a summary, key points and links to resources to the client's course material.
Apart from transcribing skills, knowing how to condense information into concise points is also a good skill to have.
And as with any work at home job, being organized and timely is helpful too.
Creating course notes could earn you $22 per hour – or $3,800 per month.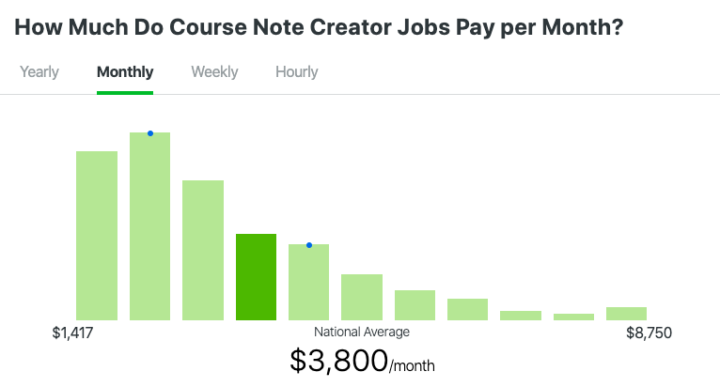 15. WordPress Help
A great way to make money working at home is to help new bloggers navigate WordPress and set up their blog.
You can help them install and personalize templates as well as teach them how to use analytics and advise them on useful plugins to install.
Being able to make money helping others with WordPress means that you know the ends and outs of WordPress as well.
Most seasoned bloggers who use WordPress end up learning these skills as they figure out how to set up their own blog.
You could potentially earn $31 per hour helping others with their WordPress site – or around $5,300 per month.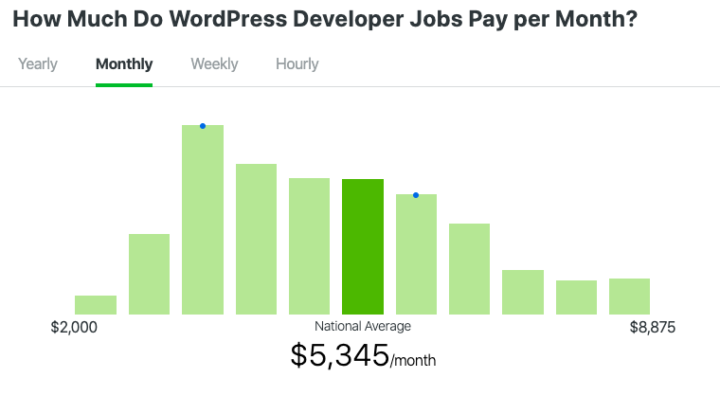 How to Get Started Working From Home
If offering a service is something you are interested in doing, then one of the first things you need is a blog or website.
A website showcases your service and portfolio. You can have a blog "roll" on your website to appeal to your audience and promote your business.
For example, my writing website is Innovative Ink.
In the menu I have a blog that links to my freelance writing blog.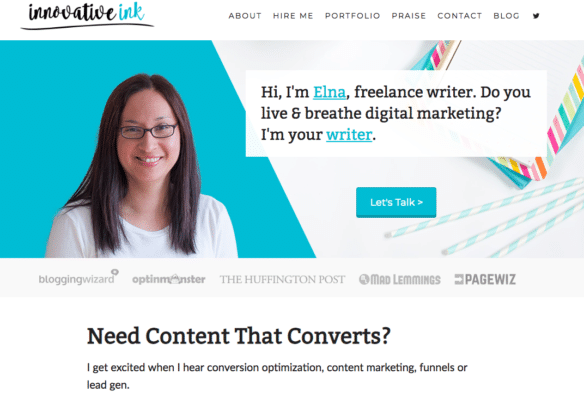 If you need help setting up your blog or website, then check out my post and video tutorial on starting a blog!
Another important thing you need to work from home is a strategy to gain clients.
Many moms use social media to attract clients.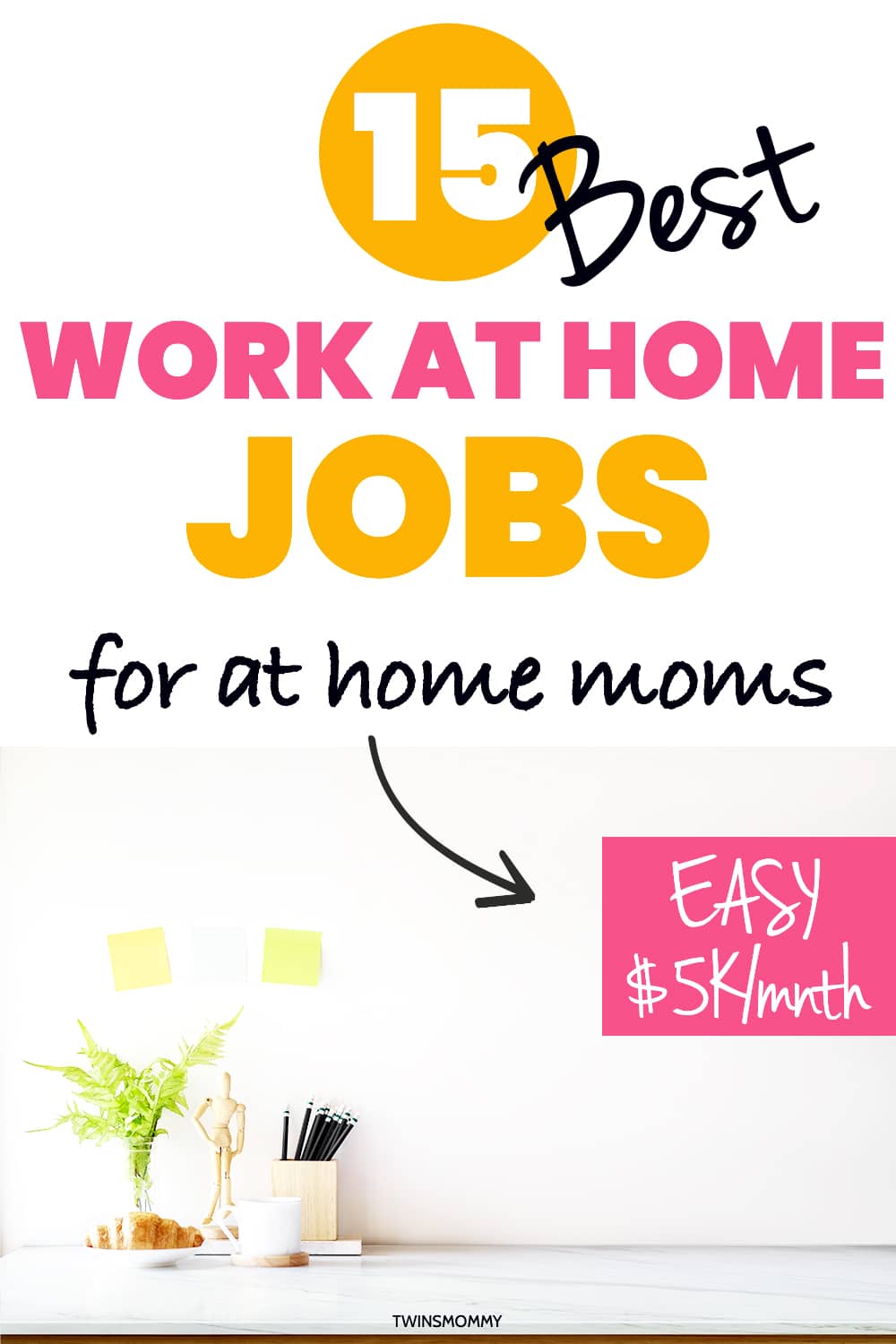 You can easily create a social media graphic detailing your service and connect with your ideal client.
For example, in my Facebook group for mompreneurs, there are copywriters, editors, graphic creators and more that often help other new mom bloggers.
Engaging with your ideal client this way is one of the best ways to grow your business.
Word of month, referral business, networking and building relationships is what will sustain you as a service-based business owner!
Easy Work At Home Jobs that Pay Well!
Making money from home doesn't have to be a huge undertaking.
These easy jobs are a great way to start earning not only some extra money but an additional income!
Why not make a move and find a job so you can stay at home and take care of your little ones?
Give one of these 15 easy jobs a try!