Are you starting a new beauty business but struggling to come up with a clever and catchy name?
Don't worry, you're not alone!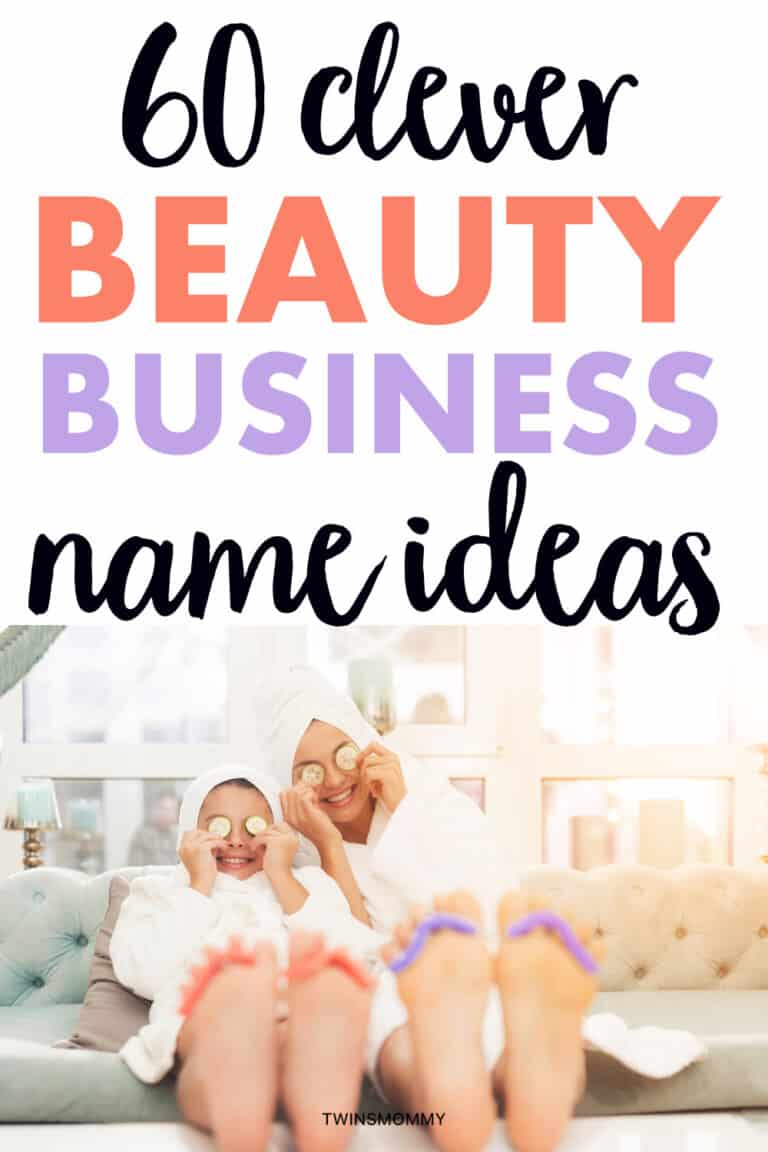 Choosing the perfect business name is a crucial step in building a strong brand identity, but it can be a daunting task, especially when you're trying to be creative and unique.
To help you out, I've put together a list of clever beauty business name ideas to try.
Whether you're starting a beauty salon, skincare line, or makeup brand, there's something for everyone on this list.
So, grab a pen and paper, and let's dive into some creative and inspiring business name ideas that will help your beauty business thrive!
Business Name Ideas for Health and Beauty
Check out these catchy and unique names that can reflect your brand identity but also appeal to your target audience in the health and beauty industry:
Bloom Wellness
Radiant Beauty Co.
Vitality Health and Beauty
Blissful Body Spa
Health and Glow
Pure Beauty Haven
Revive Health and Beauty
Renewed Beauty Bar
Inner Beauty Oasis
Serenity Health and Beauty
Vibrant Skin Studio
Healthy Glow Salon
Renew Wellness Spa
Mindful Beauty Co.
Nourish Health and Beauty
Beauty Beyond Skin
Serene Soul Wellness
Simply Radiant
Body and Soul Beauty Co.
Balanced Beauty Studio
Fashion and Beauty Business Names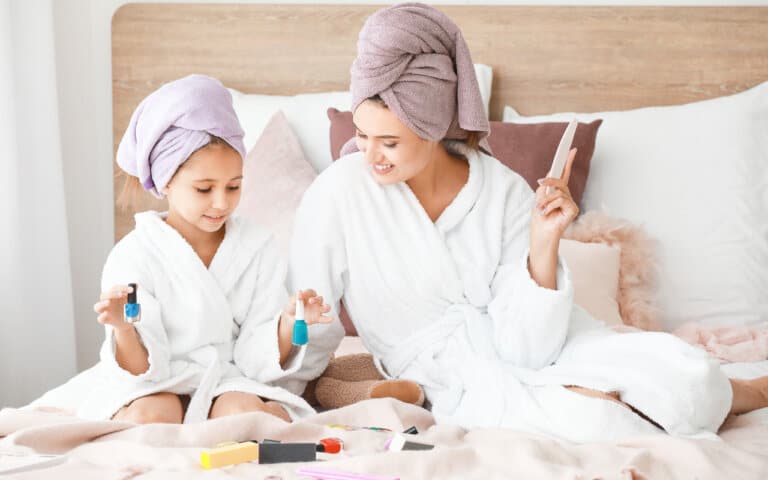 Here are some creative and memorable names that embody your brand's style and personality, perfect for businesses in the fashion and beauty industry:
Glam & Co.
Chic Beauty Boutique
Style Avenue
Fashion Fusion
Trendy Threads
Flawless Fashion
The Beauty Spot
Radiant Runway
Elite Elegance
Style Savvy
Beauty Bliss
Haute Couture Beauty
Fashion Fix
The Style Studio
Divine Beauty
Chic Couture
Runway Ready
Fashion Finesse
The Beauty Bar
Glamour House
Beauty Salon Business Name Ideas
Here are examples of elegant and sophisticated names that showcase your salon's services and create a welcoming atmosphere for clients:
Enchanted Beauty Salon
Glamourous Touch
Radiant Reflections
Pure Elegance Salon
Blissful Beauty Bar
Divine Beauty Salon
The Beauty Haven
Heavenly Touch Salon
Serenity Salon and Spa
Luxe Beauty Lounge
Beauty Oasis
Lavish Locks Salon
Serene Beauty Studio
The Beauty Spot Salon
Chic and Elegant Salon
Timeless Beauty Bar
Flawless Finish Salon
Sparkle Salon and Spa
Style and Grace Salon
The Glow Up Salon
Important Things to Remember When Choosing a Beauty Business Name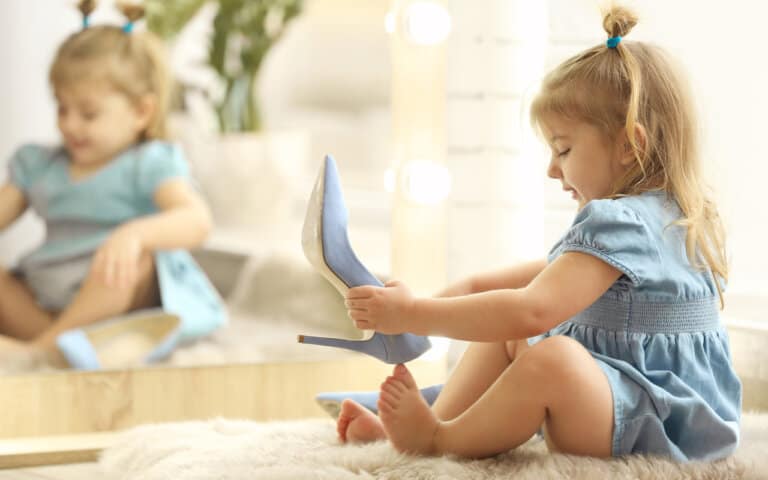 Choosing a catchy beauty business name is an important step in establishing your brand identity and drawing in potential customers.
A well-chosen name can create a lasting impression and help your business stand out in a crowded market!
Here are some important things to remember when choosing a beauty business name:
1. Be Unique and Memorable
When selecting a name for your beauty business, aim for a name that is distinct and memorable.
Avoid generic or common names that may not stand out or make it difficult for potential customers to find your business online.
Make sure your beauty name have these three things to make it memorable:
1. Be creative with your name
When it comes to naming your beauty business, let your creativity run wild. Instead of using a generic name like "Beauty Salon," choose a name that reflects your brand's personality. Is your business all about eco-friendliness or luxury treatments? Use this as inspiration for your name. A creative and unique name will help your business stand out from the crowd and win the hearts of potential customers.
2. Make it easy to pronounce and spell
While a creative name is essential, be sure that it's easy to spell and pronounce. Avoid names that are too complicated, as people may struggle to remember or spell them. Keep your name short, catchy, and easy to say. This way, customers will be able to remember and find your business with ease.
3. Do your research
Before settling on a name, do some research to ensure that it's not already taken. A quick Google search can prevent legal trouble in the future. It's also helpful to research other beauty businesses in your area and choose a name that is different from theirs. This will help avoid confusion and make your business more memorable.
4. Consider your online presence
In today's digital age, having a strong online presence is crucial to the success of your business. When choosing a name, consider how it will appear on your website and social media platforms. Make sure the name is available as a domain name and across social media platforms, so that customers can easily find you online.
5. Get feedback
Once you've chosen a few names, get feedback from family, friends, and trusted colleagues.
Ask them what they think of the name and if it's memorable and easy to remember. Getting feedback can help you narrow down your list of names and select one that will be a hit with customers.
This will help ensure that your business name is memorable and easy to find, setting you up for success in the competitive beauty industry.
2. Reflect on Your Brand Identity
When choosing a name for your beauty business, it's essential to consider your brand identity and values.
Your name should reflect what makes your business unique and sets it apart from competitors in the beauty industry.
Take the time to identify what makes your product and services unique and choose a name that showcases it.
Creating a strong brand identity is key to making your business stand out and connect with your audience. It'll give you an edge in a market full of competition.
3. Consider Your Target Audience
Choosing the right name for your beauty business is a critical step in building a brand that resonates with your target audience.
To do this effectively, it's essential to have a deep understanding of your ideal customers and their needs.
For example, if your target audience is younger and trend-conscious, you might choose a name that is more playful and edgy, whereas a more mature demographic may respond better to a more sophisticated or elegant name.
To figure out your target audience, start by identifying the demographics of your ideal customers, such as their age, gender, income, and lifestyle.
You can conduct market research and surveys or analyze your competitors to gain a better understanding of your target audience.
4. Keep It Simple
When it comes to choosing a business name for your beauty brand, simplicity is often key.
A simple and straightforward name can be more memorable and effective than a complicated or overly creative one.
This is because a name that is easy to remember is more likely to stick in the minds of potential customers and be recalled when they are in need of your services.
A straightforward name that is easy to spell and pronounce can be more memorable and effective than a complicated or overly creative one.
By striking a balance between simplicity and creativity, you can choose a name that accurately reflects your brand identity and appeals to your target audience.
5. Check Availability
To check the availability of your chosen name, start by conducting a comprehensive online search to see if there are any businesses or organizations using the same or similar names.
It's important to search for variations of your name as well, to ensure that no one else is using a name that is too similar to yours.
6. Legalities
Legal considerations are a crucial aspect to keep in mind when choosing a beauty business name.
It's important to ensure that the name you choose is not already in use by another business in your industry or location to avoid any potential legal issues down the line.
If you're unsure about the legalities involved in choosing a business name, it's a good idea to consult with a legal professional or a business advisor who can provide guidance and advice on the matter.
This can help you avoid any potential legal issues that could harm your business's reputation and financial stability.
Beauty Business Logo Ideas
Don't forget to create an eye-catching and memorable logo design that represents your brand and leaves a lasting impression on clients!
You can use Canva to help you make your catchy beauty business logo or use their template for inspiration.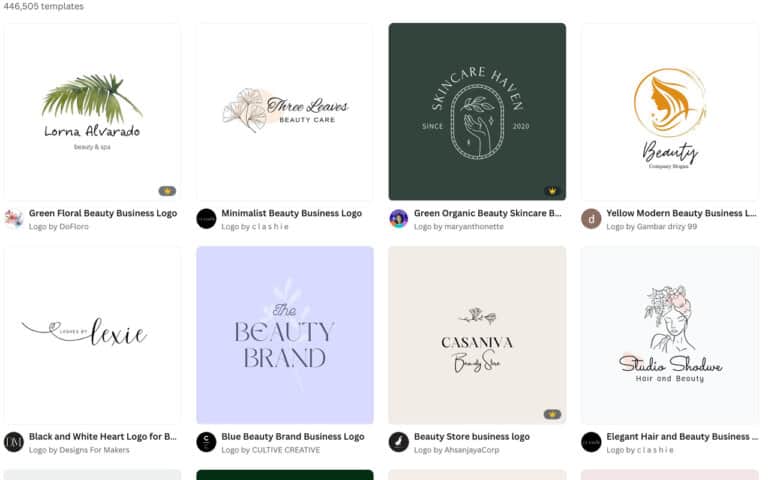 Here are some logo ideas for a beauty business:
Abstract designs incorporating elements such as flowers, leaves, or swirls to create a feminine and elegant look.
Minimalist designs with clean lines and simple shapes, such as a minimalist depiction of a makeup brush or a simple monogram.
Watercolor designs with soft, pastel colors for a romantic and dreamy look.
Handwritten or calligraphy fonts for a personalized and unique touch.
Playful designs incorporating elements such as lips, eyes, or lashes for a fun and whimsical look.
Geometric designs with bold lines and shapes for a modern and sleek look.
Negative space designs, such as a stylized silhouette of a woman's face or a flower, create a unique and eye-catching design.
Iconic designs using a recognizable symbol, such as a heart or star, to create a simple yet memorable logo.
Vintage designs with a retro color palette and classic typography for a timeless and sophisticated look.
Bold designs with strong typography and contrasting colors for a striking and confident look.
Remember to keep your logo simple, memorable, and representative of your brand identity to create a lasting impression on potential clients!
Beauty Business Cards Ideas
Professional and visually appealing business cards showcase your brand's style and contact information in the beauty industry.
Guess what? Canva can help you create that amazing beauty business card to give to everyone in your city!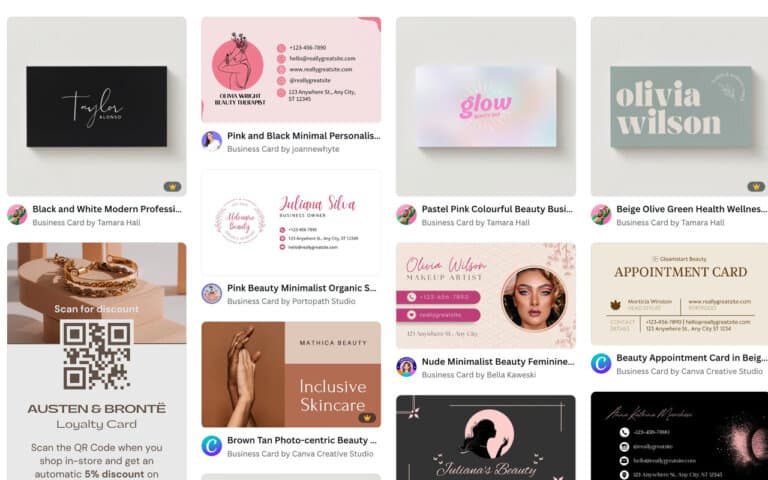 Here are some beauty business card ideas to consider:
Use a high-quality card stock with a glossy finish to make your card stand out.
Incorporate your brand's color scheme and logo to create a cohesive look.
Consider adding a photo of your work or a before-and-after transformation to showcase your skills.
Use a unique and eye-catching font to make your name and contact information stand out.
Include all necessary contact information, including your name, business name, phone number, email address, and website.
Consider adding a tagline or brief statement about your business to pique interest and create a memorable impression.
Use both sides of the card to maximize space and include additional information, such as your services, hours of operation, or social media handles.
Consider adding a QR code that links to your website or social media pages for easy access to your online presence.
Keep your card professional, concise, and visually appealing to make a lasting impression on your potential clients.
Small Beauty Business Ideas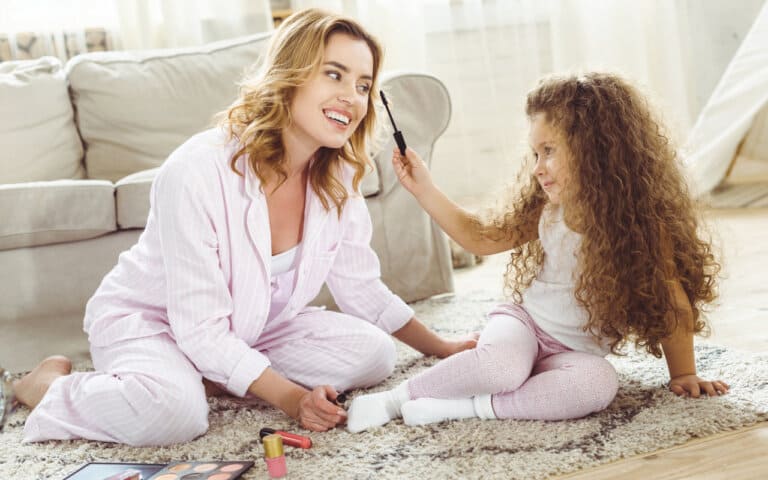 If you're interested in starting a beauty-related business, there are many different paths you can take.
From offering on-site makeup services to selling beauty products online, the possibilities are endless!
Here are some unique and creative ideas for small businesses in the beauty industry that cater to specific niches and target audiences:
1. Mobile Makeup Artist
As a mobile makeup artist, you have the opportunity to bring beauty services directly to your clients, whether it's for special events or everyday makeup needs.
Consider offering personalized makeup lessons to teach clients how to enhance their natural beauty.
2. Personal Stylist
Become a fashion and beauty advisor by offering clients personalized advice on how to choose outfits that fit their body type and personal style.
To expand your services, consider offering personal shopping services as well.
3. Nail Technician
Whether you operate from a physical location or as a mobile service, offer clients high-quality manicures, pedicures, and other nail services.
Consider specializing in unique techniques or styles to make your services stand out.
4. Hair Stylist
Offer clients hair cutting, coloring, and styling services from a salon or as a mobile service.
Consider developing a niche in a particular area, such as curly hair or updos, to attract clients seeking specialized services.
5. Eyelash Extension Artist
Specialize in providing eyelash extensions to clients looking for a fuller and more dramatic look.
Offer various styles and lengths to cater to different preferences and make your services stand out.
6. Skincare Specialist
Offer facial treatments, chemical peels, and other skincare services to clients.
Consider offering personalized skincare consultations to create custom treatment plans based on each client's unique needs.
7. Massage Therapist
Help clients relax and de-stress by offering massage services.
Offer different types of massages, such as Swedish or deep tissue, to cater to different preferences and provide a well-rounded service.
8. Spray Tan Technician
Offer spray tanning services for clients who want a natural-looking tan without risking the harmful effects of UV rays.
Consider using organic or natural tanning solutions to attract clients who prioritize sustainability and wellness.
9. Beauty Blog or YouTube Channel
Share your beauty knowledge and expertise by starting a beauty blog or YouTube channel.
Offer content about makeup, skincare, fashion, and more, and consider collaborating with other influencers to expand your reach.
10. Beauty Product Retailer
Sell beauty products online or in a physical store.
Consider specializing in a particular niche, such as natural or organic products, or focus on a specific type of product, such as makeup or skincare.
Offer personalized recommendations and consultations to help customers find the best products for their needs.
Catchy Beauty Business Name Ideas
Choosing a clever and catchy name for your beauty business can be a fun and exciting process that sets the tone for your brand's success!
With the right business name ideas for beauty, you can attract the right customers, stand out from the competition, and create a lasting impression on your audience.
And you'll be well on your way to building a thriving beauty business that's both memorable and profitable!
So, what are you waiting for? Start brainstorming and have fun!
Oh, and here are some more articles to help you out with starting a business:
Now it's your turn! What are some of your favorite business name ideas for beauty?
Share your thoughts and join the conversation in the comments below!