My twins are ten years old and I think my daughter is already a tween!
Man! They grow up fast, don't they?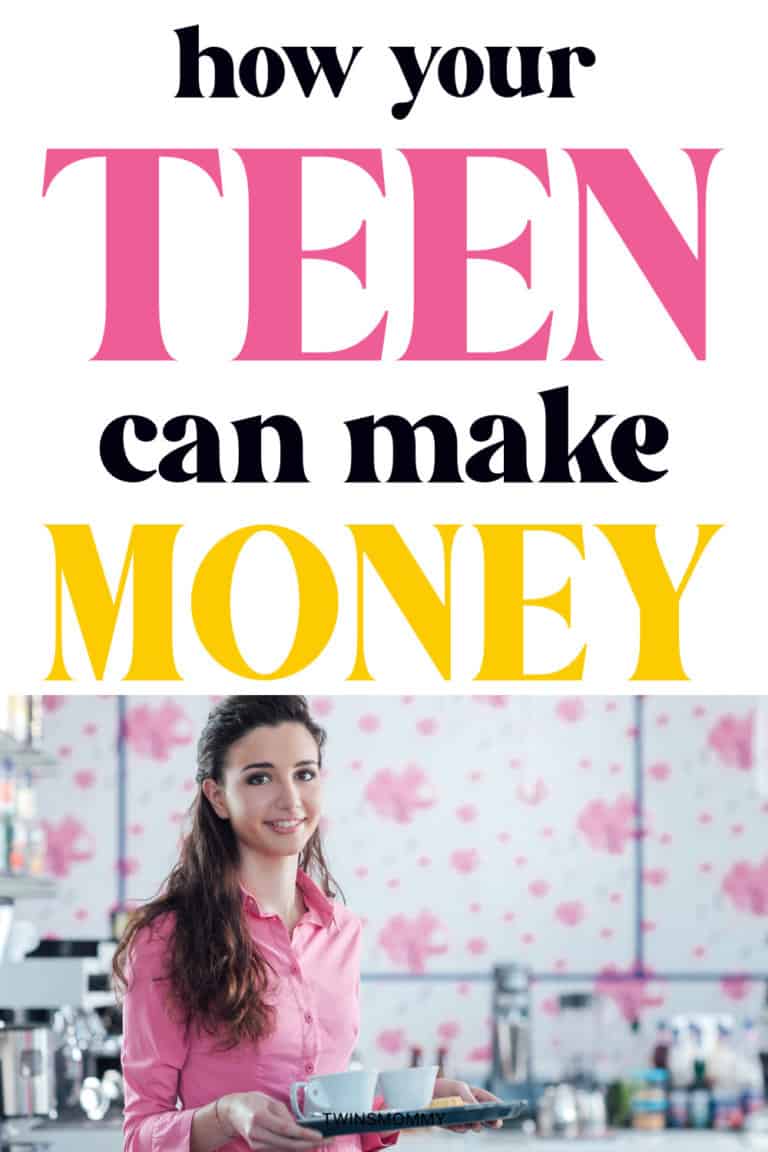 I'm going to have teens soon and that's a big change and adjustment for all of us.

Why?
For one, the teenage years are an important time for kids to learn how to make and manage money.
But how can teenagers make money without a job?
Apart from earning an allowance at home, there are many ways to make money as a teenager, both offline and in the real world.
They can start at the age of 13 and begin learning about financial responsibility and saving for small goals like a new video game or big goals like a car.
Even kids as young as 10 years old can do jobs to earn money!
For for second, they need to learn to live independently….and managing their money will get them there for sure.
So if you have a teenager, or are a teenager, there are tons of jobs that can be done to earn money quickly and easily.
Ready to get started? Here are some ways to make money without a job as a teenager.
How to Make Money as a Teenager Online
When it comes to how to make money at home as a teenager, there are plenty of opportunities online! Sure, your teen probably wants to go out in the world and have a job at a gaming store or grocery store but they can also start a side hustle at home.
Let's check out these at home jobs for teens!
1. Sell Crafts
Does your tween or teen love painting, using clay and just creating fun stuff?
My daughter absolutely LOVES her dry air clay creations, her water color designs and her little cardboard homes she makes for her stuffed animals.
Teens that enjoy being creative and making crafts can sell their creations on Etsy to earn money from home.
Check out my post here about the types of crafts you can make and sell from home!
To get your teen filled with creative ideas, check out this fun idea book from Youtuber Moriah Elizabeth called Create Me.
2. Take Surveys Online
There are tons of sites out there that can help teenagers make money quickly by taking surveys.
Sites like Swagbucks pay users to answer surveys, play games, watch videos, and search the internet.
Kids from age 13 and up can join and will receive a $10 welcome bonus.
There are other sites where teenagers can make money, such as FreeCash, MySoapBox, and LifePoints.
3. Sell Used Stuff
Teenagers with unused stuff lying around, like old video games and electronics, can make some quick money by selling it on Facebook, eBay, Kijiji, or at a local pawn or consignment shop.
They can also sell old books, clothes, toys, and more!
Teenagers do need to be careful about meeting up with strangers to complete a sale and should be accompanied by a trusted adult.
4. Start a Blog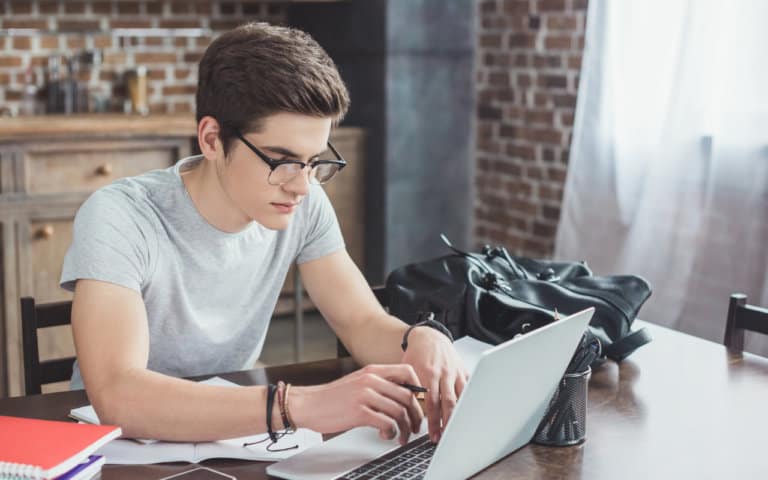 For those looking for information on how to make money from home as a teenager, they can start a blog.
Teenagers can blog about interesting and relevant topics and make money from affiliate marketing, advertising, or selling products.
The best thing about this option is that their blog will age over time. So, they can start the blog, blog on it for a year and then forget about it and then pick it up three years later and the blog will have aged, making it easier to rank in Google!
Check out my course on creating a blog to get started!
5. Start a YouTube Channel
Teenagers can make money with a job by starting a YouTube channel and posting videos.
There are soo many successful stories about kids and teens killing it on Youtube.
I mean check out Ha Sa's Youtube channel! I'm not sure if she's a teen but her channel features a lot of Beanie Babies!
My daughter loves this channel!
Your teen can also create channel showing them playing video games, tutorials, product reviews, or even singing and playing an instrument.
Videos don't have to go viral to make money – even a few thousand views are enough to start earning money from ads.
6. Sell Gigs on Fiverr
Teenagers 13+ can sign up for a Fiverr account and offer any type of job or service for $5 and up.
For example, they can offer graphic design services, music lessons, writing services, voiceover services, and more.
The more they sell, the higher their rank, which means they can start charging more for their gigs!
7. Rate Music
SlicethePie is a site where teenagers can review music, clothing, and accessories and get paid.
These reviews help artists and designers improve their craft.
Teens who want to rate music for money can also check out MusicXRay.
How to Make Money as a Teenager Offline
While making money online is great for teenagers, offline jobs will get them out of the house and give them some amazing experiences they can add to their resume.
And, this might be a better introduction to traditional jobs for your teen.
Plus, they can do one of these on the list AND do something online too!
Here are some offline ways that teenagers can make money.
8. Dog Walking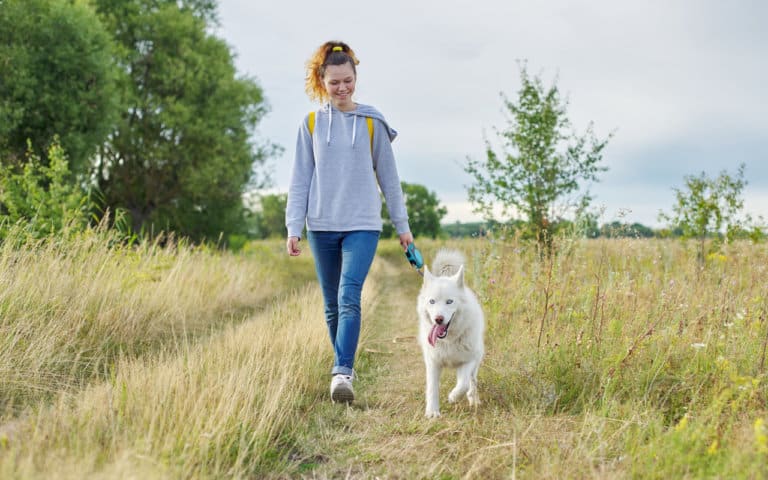 Dog walking is a great way for teenagers to make money and get out of the house – and they can earn up to $10 for a quick 30-minute stroll with a pooch.
Teenagers 18+ can sign up with Rover to find jobs, but those who are younger can talk to friends and family or post an ad on Facebook.
9. Babysitting
For years, teenagers have been babysitting to make extra cash after school, on the weekends, and during the holidays.
The average pay rate is around $10 an hour, but teens can certainly charge more depending on things like how many kids they are watching.
Teens can start with friends and family to find babysitting jobs or check on sites like Babysits and Care.com.
Teenagers who want to start babysitting to earn money should have first aid CPR training.
10. Housesitting
When people go away for extended periods of time, such as on vacation, they often want someone to stay in their home and keep an eye on things.
Teenagers can make money housesitting for family, friends, and neighbors by staying in someone's home and taking care of things like collecting mail, watering the plants, and more.
This is an easy way for teens to make money!
11. Petsitting
Yes, there are all kinds of sitting jobs to make money as a teenager without a job!
Teens that love animals can offer petsitting services to friends, family members, and neighbors.
They can take care of other people's pets in their homes or host their pets while the owners are away.
Your teen can also make flyers to post in the neighborhood to get more clients!
12. Tutoring
Teenagers who excel at a particular subject in school can make money tutoring younger students or peers who need a little extra help.
They can talk to their school or teachers to see if anyone needs tutoring services or reach out to the community to find younger students.
13. Food Delivery
Teens 18+ with a driver's license can make money delivering food and groceries through apps like Skip the Dishes, Uber Eats, DoorDash, and Instacart.
Teenagers should make sure the company they drive for offers additional liability insurance for their vehicle.
14. Lawn Care/Snow Shoveling
Whether it's raking leaves or shoveling driveways, there are ways for teens to make money without a job all year round!
Teens can reach out to neighbors, especially the elderly, to offer their services helping out around the yard and property.
15. Deliver Newspapers
Delivering newspapers is a way for teens to make money that seems as old as time itself!
Even though not many people have the newspaper delivered, there are still jobs out there for teens who are 13+.
And delivering newspapers is a great way for teenagers to learn responsibility and time management.
How to Make Fast Money as a Teenager – Finding Jobs
Okay, so we know how to make money as a teenager, but where do teenagers find jobs?
Here are three ways that teenagers can find jobs and make fast money:
Job Boards
When it comes to ways to make money without a job as a teenager, many jobs (online and offline) can be found on job boards.
High school students can check out job boards like Snag or Glassdoor or search through their federal government's job bank (the Canadian government has an entire section just for youth).
While many job boards are going to feature part-time or full-time jobs, teens can also search boards like NextDoor for jobs in the community or FlexJobs for online work.
Social Media
Between sharing information with friends and taking advantage of Facebook Marketplace, social media is a great way to make quick money as a teenager.
Teens can post their services, such as dog walking or tutoring, on Facebook Marketplace to find clients or share a status among friends and family.
Social media has become today's community board – instead of posting flyers on a corkboard at the local drugstore, teens can easily find work by sharing information.
Word-of-Mouth
Everybody knows someone who knows someone that will pay a teenager to do some work, so teens can definitely take advantage of word-of-mouth advertising.
Whether that's having their parents talk to their friends or going door-to-door, reaching out to the community is an amazing way for teens to make money without a job!
Getting a Job as a Teenager With No Experience
Apart from finding ways to make money from home as a teenager or out in the community, some teens may want to find a part-time job at a place like a restaurant or retail store.
However, this can be difficult for those who have no work experience.
But that doesn't mean teens can't get jobs. Here are some ways that a teenager can get a job with no experience:
Get Referrals: Whether it's a teacher or someone a teen has babysat for, referrals are powerful when it comes to getting a job with no experience – just make sure they are good ones!
Create a Portfolio: For teens looking to find work online, creating a portfolio is a great way to show the world what they can do and get hired to complete jobs.
Tap Into Your Soft Skills: Even without the hard skills that come with experience, teens can highlight their soft skills (communication skills, personable skills, etc.) and show how they are beneficial to the job they are applying for.
Create a Resume: Teens don't need work experience to create a resume! They can include those soft skills, their referrals, and list any type of casual work or volunteer work they have done. They can even include achievements and clubs they participate in.
When it comes to hiring teenagers, employers understand that they don't come with a ton of job experience.
With the above tips, any teen can get a job!
Making Money as a Teenager – So Many Opportunities!
If you are a teenager or have a teenager that wants to make money, there are so many opportunities out there!
Whether they're a 15-year-old looking for a no-experience job or an 18-year-old getting ready to go out on their own, these job ideas are a sure way for them to make quick money.
Heck, even your 10 year old can start making cash at home!
Are there any other jobs teens can do to make money fast? Drop your ideas in the comments below!