It sucks doesn't it?
You finally have subscribers and you faithfully send out a newsletter every week. But, what ends up happening?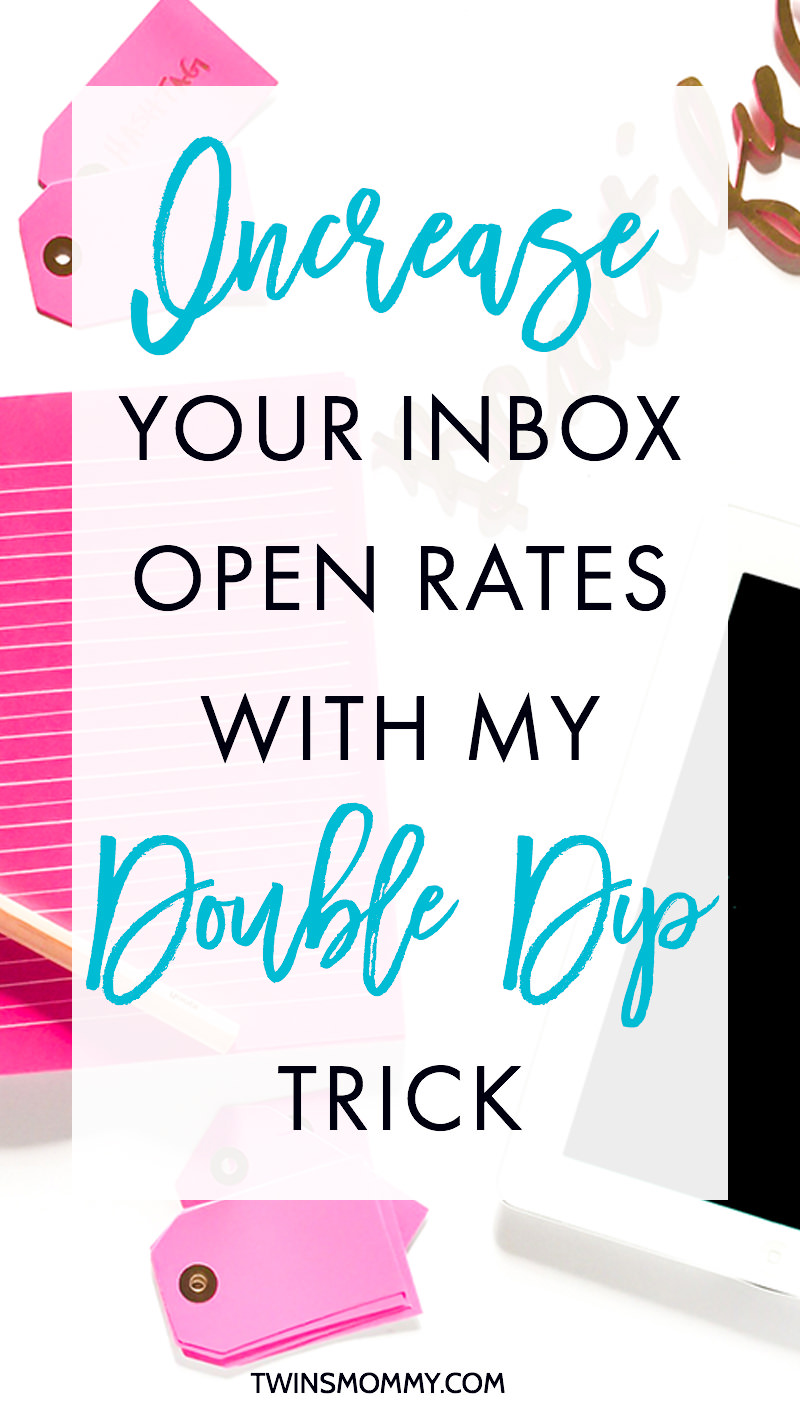 Less than half of your subscribers are actually opening up your emails. And what's worse, even less are clicking through to your site to read your awesome tips on your blog.
What gives?
If you work from home and are interested in monetizing your blog, one of the first things you should do is to start an email list.
Why?
Well, when you have subscribers, you can start building a tribe of loyal followers. These are the people that will come to your blog time and time again, promote your content on social media and when the time comes, will be the first ones to buy what you are offering.
Now, not everyone on your list will be a strong lead, but your subscribers will be more likely to listen to what you have to offer.
Before we get into increasing your open rates, let me tell you a little bit about how I'm growing my list.
How I'm growing my list
If you notice on my site I have a header image with an optin form for people to sign up to my list. It's changed over time but this is my main freebie or lead magnet.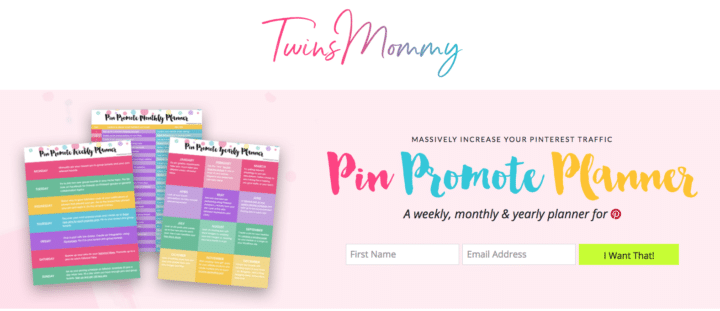 As soon as you land on Twins Mommy, you immediately see what I'm offering.
So, how did I manage to snag 135 subscribers in less than two months?
With content upgrades!
These are extra freebies you can get within a blog post. Generally, they are related to the blog post topic, making it a much better incentive since you know people reading that blog post are interested in that topic.
Currently, I have three content upgrades (soon to be four) and I'm learning which ones have a higher conversion rate – this means which ones convert a visitor into a subscriber.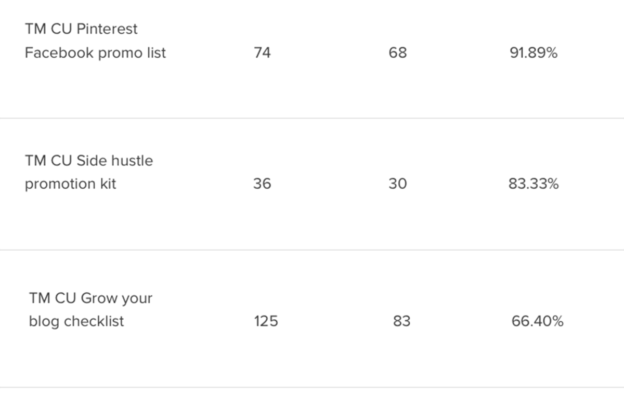 So I have a couple of options for creating a lead magnet:
Turn my highest converting freebie into a lead magnet
Create a lead magnet in the same topic area as my highest converting freebie
Create a library where newcomers can grab these resources
I'm thinking the latter, but not quite sure yet. Personally, I'm not always a big fan of a library of resources. Half the time, I only want one or two things that the blogger is offering.
But, keeping an eye on the conversion rate, I can see what people actually want and only put those guides and lists in a library.
Now on to open rates.
I have an okay time gaining subscribers in spite of not having a lead magnet, but I've been noticing my open rates weren't the greatest as I gained more and more subscribers.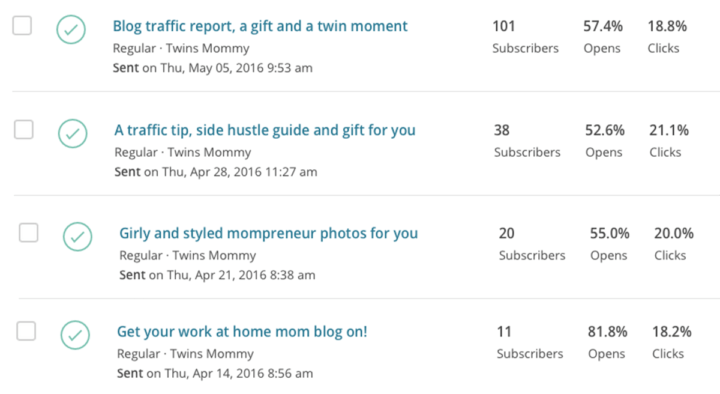 My highest open rate is 81% and my highest click rate is 21%.
But, if you look at my last campaign, my open rate was 57% and my clicks were 18%. That's definitely not bad, but for such a small list, I'm thinking 60% or higher for an open rate is a better outcome.
Now, don't get me wrong; as your list grows with more and more subscribers, less and less people will open your newsletters. It's just a fact.
For me though, I've been having major issues with deliverability and tripping the spam filter.
Since my niche is basically how to earn an income online, email service providers typically deem this as spam and highly promotional. For example, here's just a small list of spam trigger words: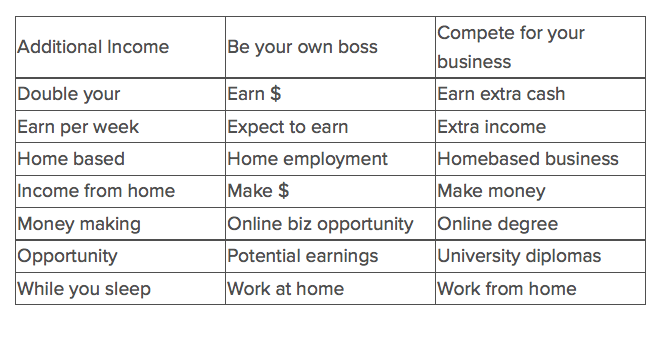 Knowing this (now!) I'm making sure I don't include many of these trigger words in my emails. I sure don't want to end up in the spam or junk folder.
And if that isn't bad enough, for most B2C lists, over 50% of your subscribers read their email on Gmail – so you have to deal with Gmail's Promotions tab too.
Some things that can send your email to the Promotions tab are:
having too many images in your email (I'm sticking to one max)
having a header logo
having more than a few links (and the unsubscribe link counts as one)
using your email service provider's templates (this is HUGE)
So yeah, going from my pretty designed emails with my logo and cute fonts, to now often no image and a plain bare-bones HTML email is helping me get my newsletter into my subscriber's inbox.
But, I wanted to see if I could find a way to increase my open rate and click rate even more.
If you're struggling to get a high open rate and click rate, keep reading for an awesome trick I started using!
Does This Happen to You?
I don't' know about you, but I belong to a lot of subscriptions from bloggers. Neil Patel to Melyssa Griffin to Caitlin Bacher, if a blogger has a good incentive, I'll sign up for it.
For some subscriptions, though, I started to notice I would get the same email twice!
For example, Nesha Woolery re-sent this email to me with the little note in the beginning:

Wha-what?
Could bloggers really do this? Re-send the same email to the subscribers that never opened it in the first place?
I thought this was genius, but there was one thing holding me back from doing this with my own list:
Subscribers may hate getting dupes and unsubscribe from my list.
For bloggers with 10,000 subscribers, losing 60 or 70 subscribers is nothing. But for me, that's one too many!
My goal is to build my list with my target audience of mommy bloggers and other creatives. I definitely don't want to annoy them, but at the same time, if they aren't even opening my newsletter that I send out once a week, I want to make sure they get my email!
My Double Dip Trick
I have to make a little confession…this double dip trick really isn't MY trick. My husband thought of it – he's not just a pretty face you know 😉
Since I I know re-sending the same email to subscribers that didn't open it the first time was a good idea – it made me open Nesha's resend – I wanted to try it out with my list.
My husband didn't think it was a good idea since he felt it would just confuse or annoy people. But, then he thought of an awesome way to lower that risk!
Want to know what that was?
It was the idea of giving the subscriber the option to opt-out of these resends.
Ingenious right?
If you are on my list, then you receive emails from me every Thursday. If you don't open my Thursday email, I send you a weekend email (usually on Saturday).
This is what the weekend email looks like:

If you don't want these weekend emails, just click the link. When you do, you go to a page that says this: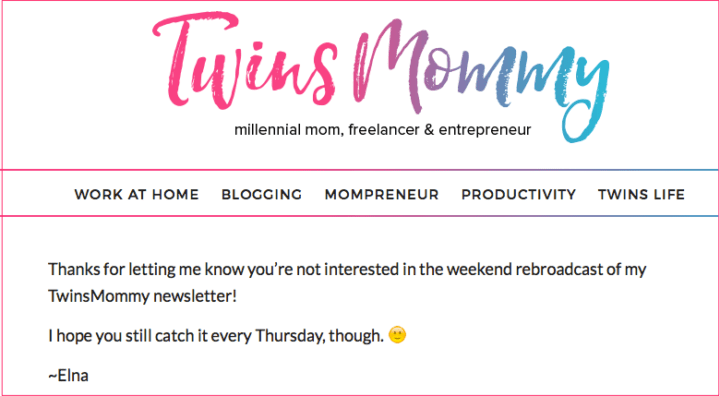 Isn't that just a classier way to double dip?
Now, how has this improved my open rates?
This is only the second time I've done the double dip and each time I've had zero unsubscribes from my TwinsMommy list.
But, I've had the odd person opt-out of the resend which is awesome for me because otherwise, they may have unsubscribed because they think I'm annoying – which I'm not 🙂
That's a major relief to me!
My latest double-dip email increased my open rate by a total of 11%.

My click-through rate isn't bad either!
All in all I had a good chunk of people open my email and click and it didn't annoy anyone because they had the choice to not receive those emails.
***happy dance***
And guess what? You can do this too.
Here's How to Use the Double Dip Trick
I know a lot of bloggers are using ConvertKit. Especially, if you are serious about monetization.
Since I used CK for a bit and I know many bloggers are using it, this little tutorial will be for CK users only (NOTE: I will have another method to increase open rates for MailChimp users that isn't soo complicated).
Okay.
First things first, set up a "no resend" page on your blog, if you're using WordPress (like me). This is the page subscribers are sent to if they don't want your second mailing of the newsletter.
Then head on to CK.
Once you're in CK, go to the Automations tab and then to add a new trigger for "clicks a link."
From there you set your trigger and action parameters: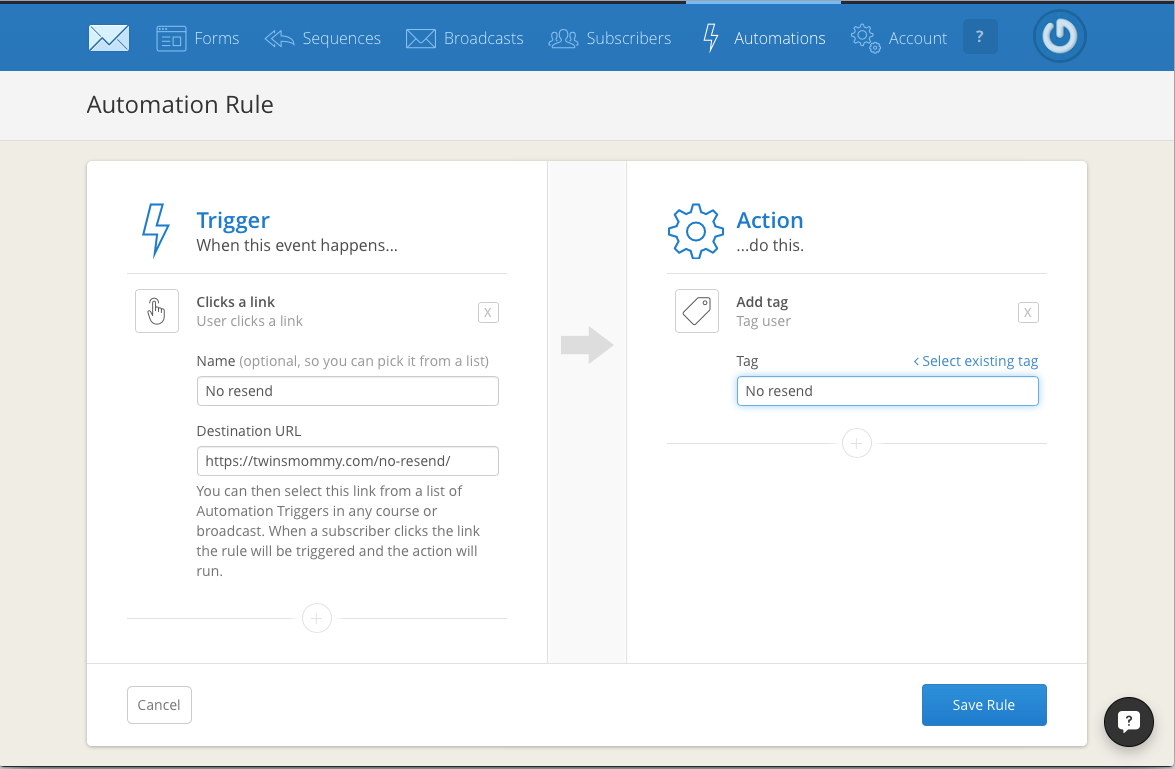 So, when a user clicks the link (you can call it "no resend"), it will take them to the no resend page destination.
Then tag the user as a no resend.
When the time comes to do the second mailing of your newsletter for the week (the resend) just exclude all subscribers with the tag "No resend," or whatever you named it. Then change the email subject line so that it's slightly different from your original email you sent.
Super simple and highly effective. Save the rule and there you go!
Did I Just Oust Myself to My List?
I hope people who are on my list and are reading this, and are thinking – this is an awesome new email strategy!
And what's great bout this double dip is that it's classy and non sleazy! I think it's brilliant and so far – fingers crossed – it hasn't resulted in ANY unsubscribes.
We are all mompreneurs in the making and email marketing is a good skill to have in your back pocket right?
I'm excited to grow my list and to help grow your list too. If you're using ConvertKit, give this a try and tell me how it goes!