Hey everyone!
It's me Elna and guess what?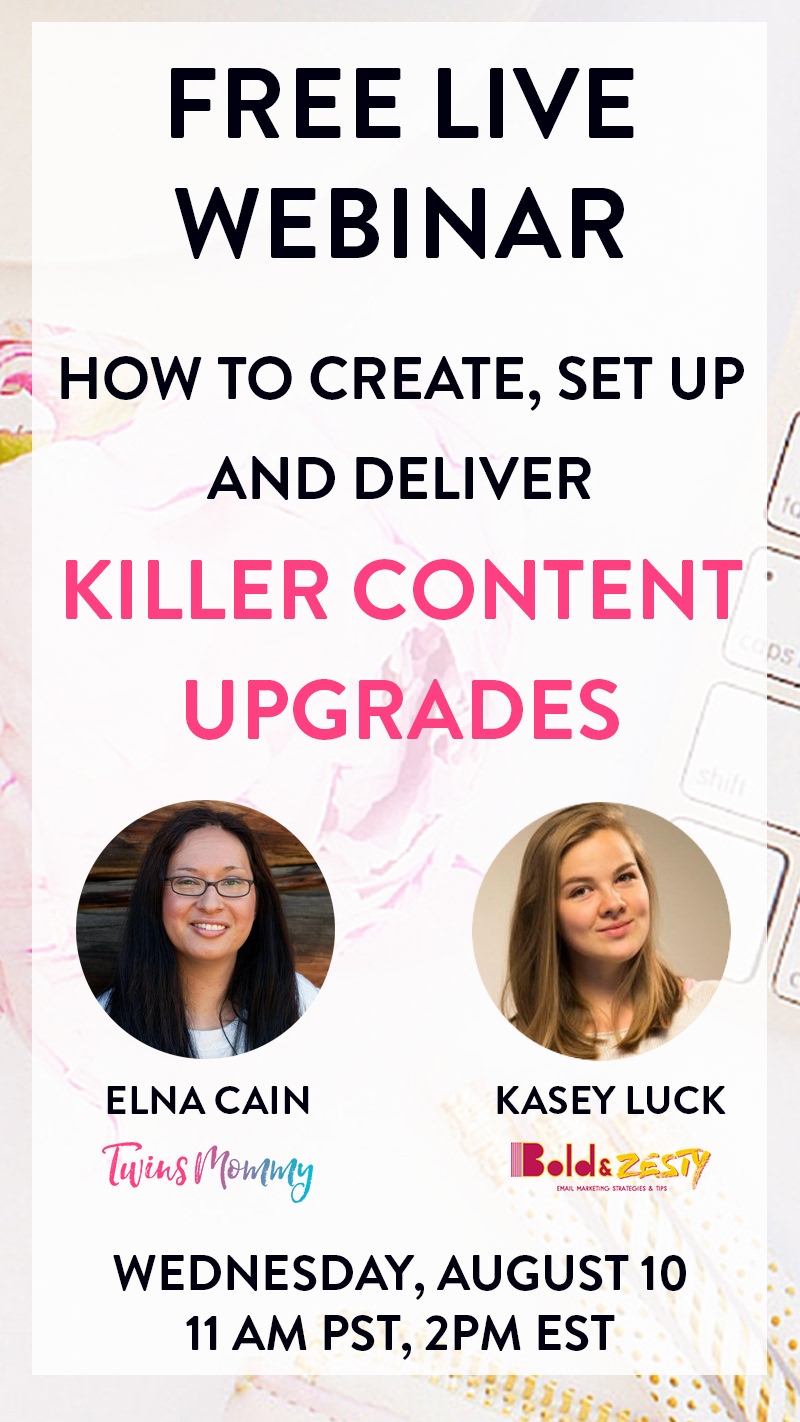 I'm hosting another awesome pitch-free webinar, but I'm not doing it alone! Kasey Luck from Bold&Zesty is joining me.
We're actually going to share how to create a killer content upgrade to help you explode your email list. Doing content upgrades single-handedly helped me grow my email list as a new blogger.
How Content Upgrades Grew My Email List Like Wildfire
When I started this blog I had no idea what lead magnet I could provide for my readers. In case you're not sure, a lead magnet is a freebie – your main freebie on your site.
It was because I didn't know who my target audience was when I first started. So, instead of not having anything to give my readers, I started doing content upgrades and was amazed at how easy it was to build my list.
I don't know if you read my last month's blog growth update, but in only four short months I went from 0 subscribers to having almost 1k subscribers!

And you know what? It was all from doing content upgrades! Yes I know! I had no idea that content upgrades could build my email list this fast.
So, if you are a blogger and are dying to find out what the heck content upgrades are and how to effectively use them for your blog, you don't want to miss this awesome pitch-free webinar.
What You Will Learn
Our Killer Content Upgrades webinar on August 10 at 2PM EST will cover the following:
Discover why a content upgrade is the single most effective tactic for turning visitors into email subscribers
Learn 3 content upgrade formats that attract the most attention in 2016
See how to easily create stellar content upgrades for your blog posts (including the exact tools to use and best ways to format a call-to-action)
and much much more!
Why Us?
Both Kasey and I are email marketing geeks!
My freelance writing niche is digital marketing and part of that is writing on topics about email marketing. I have several blogs with their own lists and in total I have well over 3,500 subscribers.
But, out of all these lists, Twins Mommy is by far the number one fastest growing and it's all because of using content upgrades.
So, what are you waiting for? Click here and sign up today!