It's here mamas!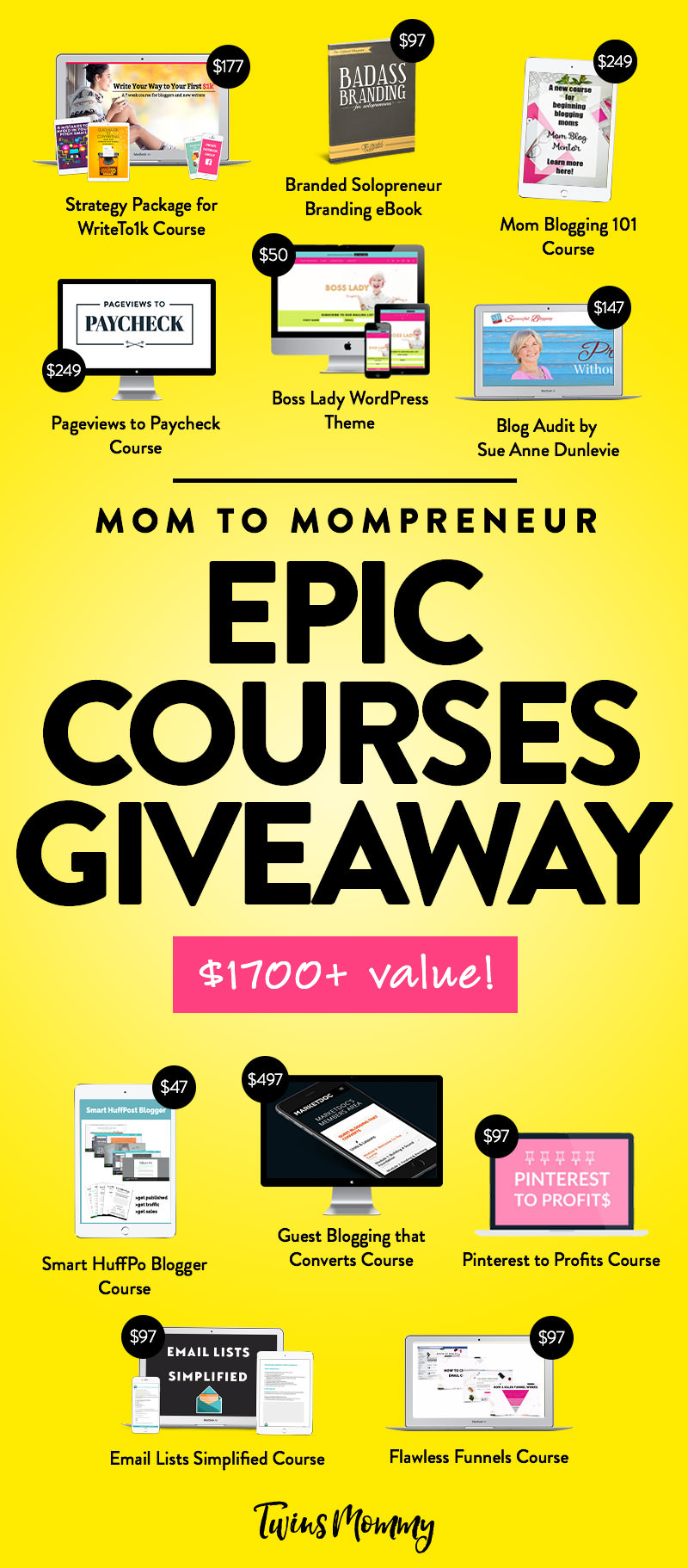 The most biggest and best courses giveaway for moms who want to grow their blog and business is here. I don't know about you, but I L-O-V-E giveaways.
Especially if most of them are digital products. If I can get a bunch of courses that will help improve my business, I'm all up in there.
And that's what I wanted this giveaway to be.
I wanted to have some of the BEST courses and books (and some other goodies) to take your business to the next level. And what's so great is that each of them can be taken anytime you want. You can try out one course a month. It's all up to you!
Want to know what exactly you could win? Let's dig in.

1. Write Your Way to Your First $1k Strategy Course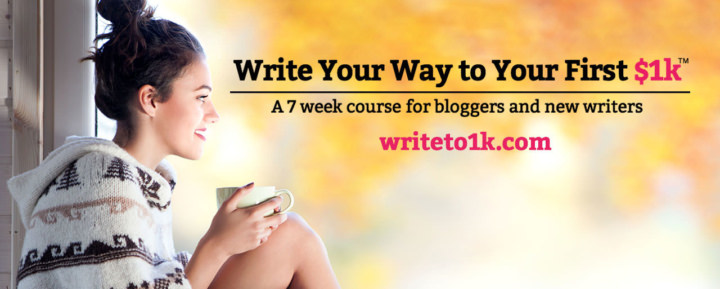 This is my course for bloggers and aspiring writers that want to get paid to blog.
It's a in-depth online course modeled after my own journey from stay-at-home mom to professional writer. It's a blueprint of freelance writing success carried out over seven modules, 41 lessons with video training and is entirely self-paced.
I walk you every step of the way from learning what you need to get started as a freelance writer to handling your client work and delivering your projects so you can get paid for your work.
You get lifetime access which is great because I'm continually updating the course content!
With the Strategy package you will receive:
Ready-to-use templates
Pitch archive
Email swipe copy
The pitching handbook
Access to private Facebook group
Bonus module – 8 lessons
Land clients with social media guide
Copywriting kickstart guide
Success case studies
Personalized pitch review ($45 value)
Personalized 30-min. coaching call ($60 value)
and more
Worth: $177
2. Mom Blogging 101 Course – Mom Blog Mentor

Kristen's awesome and detailed course, Mom Blogging 101, walks you through setting up your mom blog because she knows how much little time we have running around chasing our children.
Kristen teaches you how to set up your WordPress blog, branding and designing your blog, the best ways to create and promote your content and even helps you out with monetizing your new blog.
If you know nothing about blogs, this course is for you.
This is 5 week course, but it's entirely self-paced and you can start and finish whenever you like.
With the course you also receive:
20-page printable blog planner and workbook
Building an Engaged Facebook Page from Scratch course
Worth: $249
3. Blog Audit – Sue Anne Dunlevie

Sue Anne Dunlevie of Successful Blogging is an expert on how to grow your blog and make money from it! One of her great services is her blog audit.
She will go over your blog with you – via sharing screens – and give you her best blogging strategy and advice.
Now, that's worth a lot eh?
She knows how to build a successful blog. She's learned from the best – Jon Morrow of Smartblogger for example – so what she tells you will help you take your blog to the next level.
Worth: $147
4. Boss Lady WordPress Theme – Mel of A Prettier Web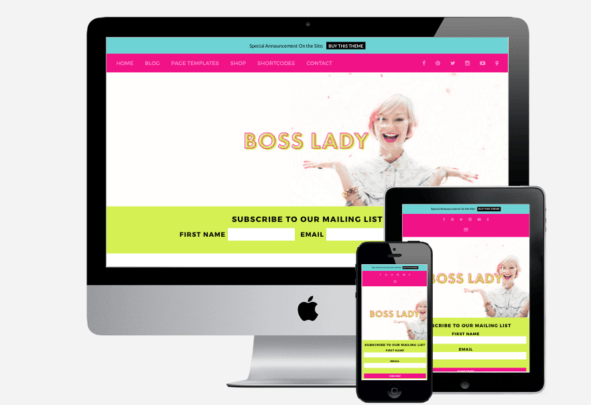 OMG!
I absolutely L-O-V-E this theme from Mel of a Prettier Web. Boss Lady WordPress Theme is made just for for women entrepreneurs.
It has all the blogging capabilities you need to get your blog looking and functioning like a Boss Lady.
What's great is that the theme also has Landing Page and Lead Page templates! This means you can easily create sales pages, Opt-in pages, host webinars, and create thank you pages.
See? Perfect for growing your business mamas!
With this theme you don't need to pay for a 3rd party to do all your landing pages or opt-in pages!
Worth: $50

5. Badass Branding – Dre of The Branded Solopreneur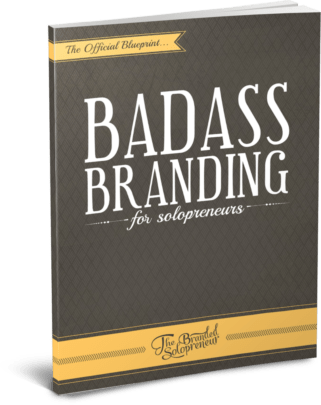 Dre of The Branded Solopreneur is a badass when it comes to branding. She's the best with finding your brand and helping you get what you are thinking in your brain to put it on your blog.
This is a 100+ page branding eBook that will guide you through the brand building process. It includes tons of examples to help you formulate your brand, worksheets to help you figure out all the aspects of your brand, and exercises.
This is a MUST for all mompreneurs.
Worth: $97
6. Pageviews to Paycheck – Chrystie of Living for Naptime

Okay.
I've been following Chrystie for a while and she knows her stuff. She's sold other blogs and has no problem making money from her blog. She even started a new blog and is chronicling monetizing it on Living for Naptime.
Her course, Pageviews to Paycheck will teach you her four step formula to creating a highly profitable blog.
You'll learn:
Which types of blog posts generate the most profits
How to get more traffic for your blog posts
What to charge for sponsored posts
How to stay organized while monetizing your blog
You'll get:
20+ video lessons
Business plan template
A group coaching call
Personalized SEO audit
Swipe files and email templates
Access to a private Facebook group
Worth: $249
7. Smart HuffPo Blogger – Candis of Smart Mom Blogger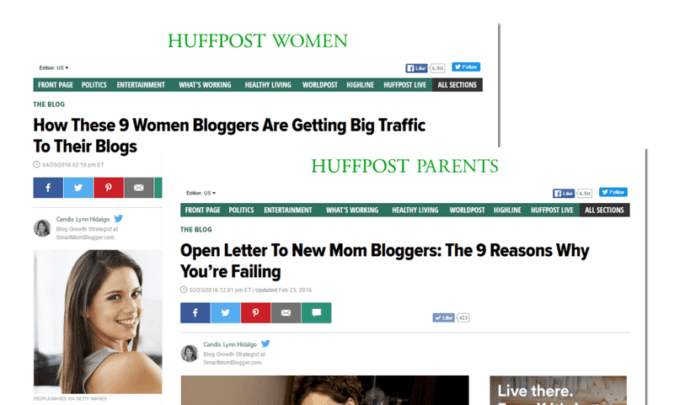 Getting published on the Huffington Post may not be as hard as it was a few years ago, but that doesn't mean it's any easier to generate traffic, subscribers or sales from.
A lot of bloggers think that if they get published on HuffPo, traffic will come. No. That's not how it works.
Candis' course, Smart HuffPo Blogger teaches you exactly how to use Huffington Post to grow your blog.
The course has detailed lessons and Candis shares her entire process: from coming up with the right article, to getting people to opt-in to your email list, to even making sales.
Now, wouldn't that be awesome if every HuffPo post generates traffic, subscribers and sales? I want some of that!
Worth: $47
8. Guest Blogging That Converts – Cody Lister of MarketDoc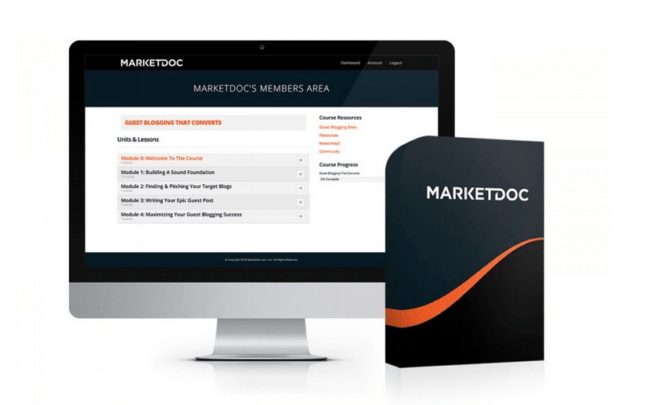 Cody's ultimate course, Guest Blogging that Converts, is a step-by-step framework that steers you away from making you mistakes and helping you reach your goals of having a profitable blog. You'll learn exactly what you need to get guest posts published on top blogs within six months.
You'll learn the steps on:
How to pitch, outline and write guest posts for top blogs
How to lay the foundation for your blog so you're not wasting time with your guest posts
Turning your guest posts into powerful blogging relationships and podcast opportunities
Learning the fastest ways to build an engaged audience and attract customers and sales with your guest posts
What you'll get:
Four modules
Over 40 lessons
Unlimited consulting with Cody
30-minute strategy call
Bi-weekly Q&A sessions
The Product Launch Workshop – a course to help you launch a successful product
Content promotion software tools
Advanced training modules from some of the BEST strategists online
Guest Blogging case studies
Worth: $497

9. Pinterest to Profits – McKinzie of Moms Make Cents

McKinzie of Moms Make Cents has a Pinterest to Profits course to help you grow your income by using Pinterest!
It's a step-by-step guide to using Pinterest strategically to grow your blog and business. It's perfect for beginner bloggers, advanced bloggers and busy boss babes (or mamas!). Learn how McKinzie uses Pinterest to drive thousands of views every month to her blog, consistently doubles her email list and generates passive income.
Worth: $97
10. Email Lists Simplified – Meera Kothand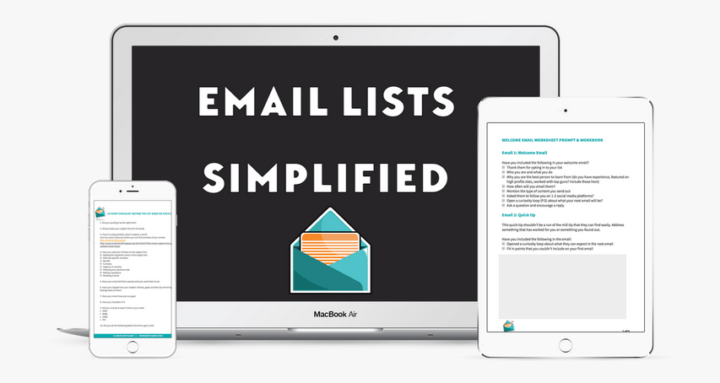 Meera's course, Email Lists Simplified, gives you the A-Z implementation plan to start your list, own your list and benefit from in within 60 days.
You'll learn the basics of email marketing from knowing what emails to send to mistakes to avoid and hacks to optimize your subscribers to selling with your emails.
When you enroll, you'll also receive the Opt-In Blueprint mini-course with the Website Optimization Kit.
Worth: $97
11. Flawless Funnels Course – Elise of House of Brazen

Do you have a product? Or, maybe you are thinking about creating a course or selling a physical product. In any case, you need a sales funnel that will help you generate consistent sales every day.
Elise's course, Flawless Funnels, will help you achieve that and more.
This is a step-by-step course that will teach you how to set up your sales funnel so that you can start making money on autopilot.
You'll learn:
How to set up a free email course sales funnel using Mailchimp
How to design a high-converting lead page
How to use free and paid marketing strategies to grow your list
You'll get:
Worksheets and templates
Email swipe files
Mailchimp tech training
Facebooks Ads training
Worth: $97
Awesome Right?
This giveaway is over $1700 value to help you grow your biz and blog. It's perfect for mommy bloggers who want to take their blog to the next level, creative entrepreneurs and professional bloggers!
Don't miss out on this epic course giveaway! The giveaway closes on November 2nd.