Hey mama! Are you on social media?
Social media the place to be to promote your blog and brand, and connect with your audience.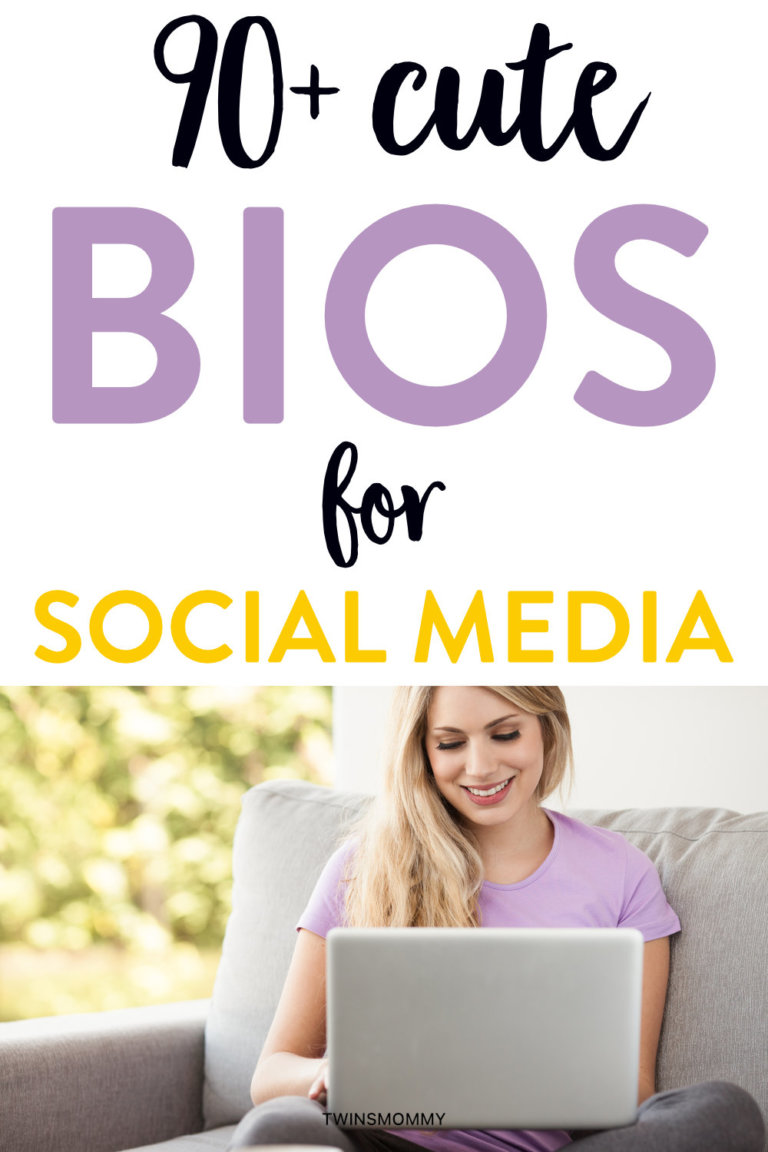 Plus, it's a faster way to gain traffic since SEO can take up to a year to work!
But what if you can't entice people to follow you and ultimately click over to your blog, what can you do?
There are many ways you can increase your social media following – like creating compelling posts – and one of the simplest ways is to include an eye-catching bio!
Your bio is a short little blurb that is usually displayed under your username, where you can give your visitors a quick snapshot of who you are and what you are about.
And while you can easily put some generic information there, your bio provides the perfect opportunity to catch someone's attention and turn them into a follower.
To help you out, I've put together these cut bios that you can use on Instagram, Twitter, Facebook, and more.
But first, let's go over what your bio should include – and don't forget to check out the end of the post for some awesome emojis to copy and paste!
Things to Put In Your Bio

Your social media bio is an amazing chance to make an rememberable first impression!
Most people only take a second or two to look at someone's bio before they decide whether or not they want to follow that person.
If you want people to pay attention, you have to make your bio stand out.
Before we get into the cute bio examples I have for you, let's go over what you should include in your bio.
(Remember, bios are super short, so you have to keep everything concise!)
A Description of Yourself
Don't forget to include a self-description in your bio. List who you are and what you do.
For example, my Instagram bio says:
Mom to💑 twins
SEO Content ✍️ for SaaS brands & email copywriter for women creatives
I use emojis and quick, punchy words to describe who I am and what I do.
Your Interests
To connect with your audience, share some of your interests. You can include these along with your description.
For instance, your bio could say something like:
💑 Mom of Twins 💑 | ✒️ Content Writer ✒️ | ☕ Coffee Enthusiast ☕
Contact Info
And don't forget to let people know how they can reach you!
For example, the end of my Instagram bio says this:
✏️twinsmommy.com
💪FB group facebook.com/groups/momtomompreneur
elnacain.com
I want to encourage people to visit my blogs and join my Facebook group, so I included these things in my bio.
Call to Action
Since you can usually include a link in your bio (I know you definitely can with Instagram), you should use this opportunity to post a call-to-action.
Use emojis to draw attention to your link, like this:
👇Come visit me!👇
http://twinsmommy.com
Cute Instagram Bios
Your Instagram bio is the small area under your username where you can share details about your brand or about yourself.
You can include a short description, contact info, hashtags, emojis, and more!
While you can write your Instagram bio however you want, here are some bio ideas that are cute and popular:
Instagram Bio Ideas
In a world where you can be anyone, be yourself
Yup, I'm just another Instagram influencer
If I were a writer, I'd have a better Instagram bio quote
She turned her can't's into cans and her dreams into plans
Life is what happens to you while you scroll through Instagram
Dreams 👉 Goals
👇 Check out my latest blog post 👇
🐦: (Twitter handle) 👻: (Snapchat handle) 🎥: (YouTube handle)
Don't know what to do? You can start by hitting that follow button.
I'm on my journey. Join me by following along.
Cute Girly Instagram Bios
Leaving a bit of sparkle everywhere I go ✨
I'm sweet like honey 🍯
Sprinkling kindness everywhere I go
Live in the sunshine where you belong
So grateful to be sharing my world with you
Sometimes we could always use a little magic – don't hide the magic within you.
Every day might not be a good day, but there is good in every day
Love 💗 and Peace ✌️
Just going with the flow 🌊
In a world of darkness, look up at the stars
Cute Bible Verses for Instagram Bios
Galatians 6:9 Let us not become weary in doing good, for at the proper time we will reap a harvest if we do not give up.
Joshua 10:25 Joshua said to them, "Do not be afraid; do not be discouraged. Be strong and courageous. This is what the Lord will do to all the enemies you are going to fight."
Psalm 112:7 They will have no fear of bad news; their hearts are steadfast, trusting in the LORD.
2 Timothy 1:7 For the Spirit God gave us does not make us timid but gives us power, love, and self-discipline.
Psalm 63:3 Because your love is better than life, my lips will glorify you.
1 Corinthians 13:6-7 Love does not delight in evil but rejoices with the truth. It always protects, always trusts, always hopes, always perseveres.
1 Corinthians 16:14 Do everything in love.
Cute Bios for TikTok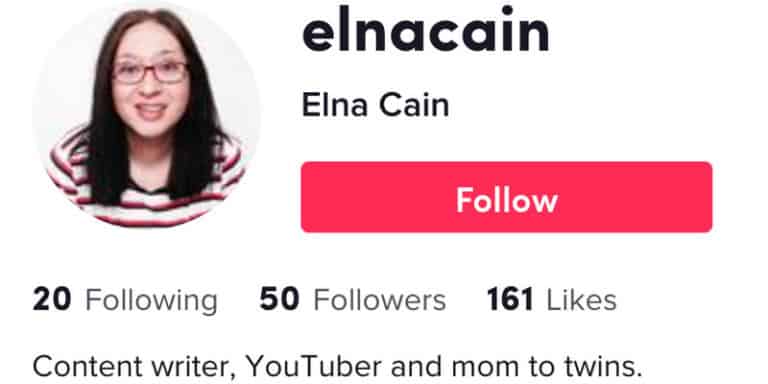 Your TikTok bio is a great way to help your profile stand out and introduce yourself to new followers.
I recently started an account, but am mostly using it for my kitty!
Good TikTok bio ideas are ones that help your followers understand who you are and what you do in as few words as possible.
Your TikTok bio can be 80 characters long with spaces, so keep it short and sweet!
Here are some cute TikTok bio examples:
Best served with coffee and a dash of sarcasm
Not going to lie, I have a bit of a TikTok addiction 📷
A TikTok a day keeps the boring away
God bless this hot mess
Every day is a new opportunity 🌈
I'm amazing. You're amazing. We're nailing it
Eat 🍽️ Sleep 💤 Create 🤳🏼
Need 📹 ideas? DM me
Treating every follower like family 👌❤️
Sending a virtual hug to all my followers
Cute Short Bios
When it comes to cute bios, sometimes the best ones are short and sweet!
Here are some ideas you can use for short bios for your social media platforms to promote your blog or brand:
I live my life by writing. #writer
Nothing helps me express more than writing! #followme
If you find anything amiss about me, be sure to check out my website – you'll probably find the asnwer!
Hey! I need followers because I am running out of friends!
Hi guys! I love to eat, and I love to write! So I write about what I eat! Do check it out! #foodblogger
I do seem to have a quirky take on life! Follow my blog to find out more! #blogger
I write my stories with the hope of inspiring someone out there to write their stories down as well!
Bio Short Quotes
Want to use someone else's words? Why not?
There's nothing wrong with using quotes to express yourself in your bio:
"Happiness depends upon ourselves." – Madelyn Teppner
"Believe you can and you are halfway there." – T. Roosevelt
" You can't go back and change the beginning, but you can start where you are and change the ending." – C.S Lewis
"Imperfection is beauty, madness is genius and it's better to be absolutely ridiculous than absolutely boring." – Marilyn Monroe
"Don't you ever let a soul in the world tell you that you can't be exactly who you are." – Lady Gaga
"You are so much sunshine in every square inch." – Walt Whitman
"Good things happen to those who hustle." – Anaïs Nin
"I feel there is nothing more artistic than loving people." – Vincent Van Gogh
"Never regret anything that made you smile." – Mark Twain
"Change the world by being yourself." – Amy Poehler
Cute Twitter Bios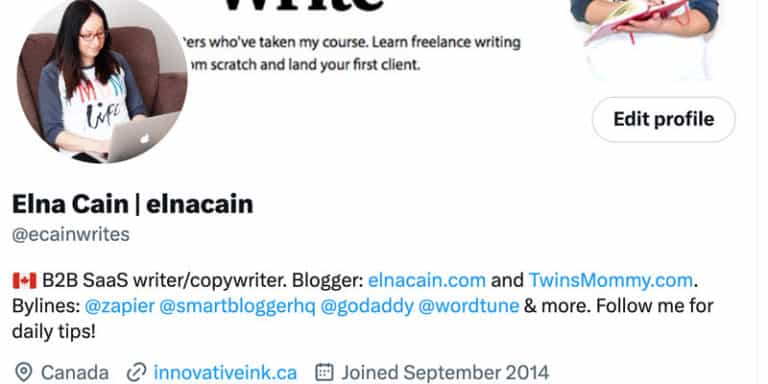 Make a great first impression on Twitter with a cute bio!
Your Twitter bio is a short "about me" summary where you can use up to 160 characters to highlight your personality and brand.
You can include aesthetic emojis and funny emojis to really make your bio stand out.
Here are some Twitter bios you can use:
Coffee in one hand, confidence in the other.
Trying to be the woman I needed as a girl.
Never wanted the easy way, always willing to hustle.
I'll get over it, I just need to tweet about it first.
I don't look back unless it's a good view.
Flowers need time to bloom.
Why walk when you can dance?
You only live once, but if you do it right, once is enough.
In a world full of trends, I'm a classic.
Nothing can dim the light that shines from within.
Cute Bios for Roblox (Kids Edition)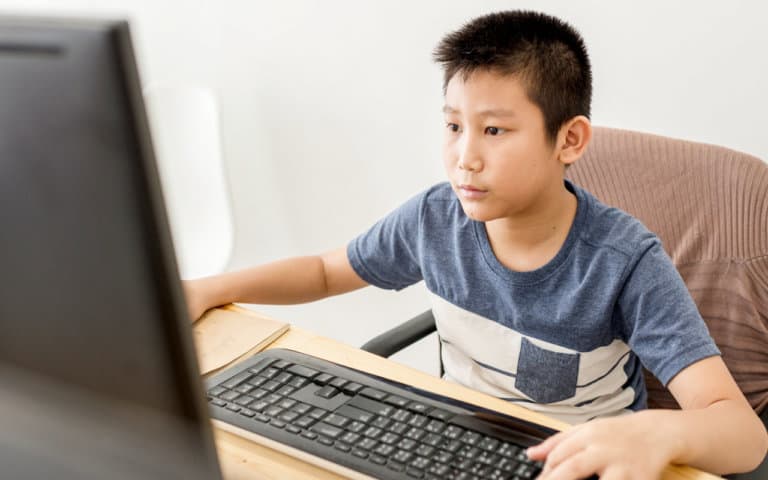 Roblox is a fun game for kids that lets them explore different worlds and play fun mini-games with friends.
A cute Roblox bio is a great way for your kiddos to show off their personality and be silly and creative.
Check out these cute bios for Roblox:
I'm not addicted to Roblox, I just like to waste time.
Robux: The currency of the future! Buy now before it's too late!
It's okay if you don't like me, I'll still have fun playing Roblox with friends!
If you're not already playing on Roblox, then where have you been? It's the best place to be.
Hi! I love to play games and meet new people. If you've got any cool suggestions, let me know.
Hey, welcome to Robloxia where we play games & have fun all day 😉
Just doing Roblox things in a Roblox world
What if "Real Life" is just like Roblox World?
Sometimes, in Roblox, you gotta smash the keyboard to win.
Bored? Lies! Roblox players are never bored!
Cute Bios for Discord
Discord is a chat app that lets people connect through voice, video, or text.
People use Discord for many things, but many communities center around gaming and popular games like Minecraft and Fortnite.
Whether you are a gamer or not, here are some funny bios for \Discord:
Keep calm and game on.
I don't have birthdays. I level up.
Failure doesn't mean that your game is over. It just means trying again with experience.
Simplicity is the key to happiness.
Creating my own sunshine.
It's so simple to be wise. Just think of something stupid to say, and then don't say it.
I am not special; I am just a limited edition.
I plan to make the rest of my life the best of my life
I'm not lazy, I'm in energy-saving mode.
I don't have a life, I have a Discord account.
Cute Facebook Bios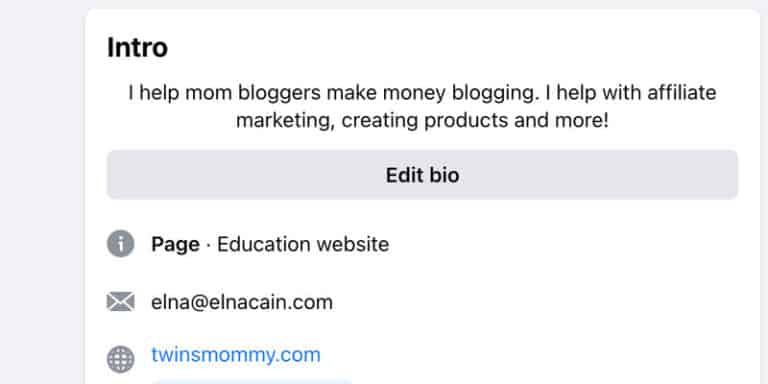 If you want to let your personality shine on Facebook, you need some bio ideas!
The best Facebook bios are ones that catch someone's attention and engage and inspire visitors.
Check out these cute bios for Facebook:
If I agreed with you, we'd both be wrong.
Stop following me, I don't even know where I am going.
Escape from the negativity, Embrace the positivity, and see the changes.
Life isn't about finding yourself, it's about CREATING yourself.
I don't have more than one personality. I am exactly what I am.
I am my own experiment, My own piece of art
Weird is a side effect of awesome.
Smile and radiant, the whole world is mine.
Keep shining, keep blooming, and keep moving.
Life is about what you make of it, so just enjoy it all.
Emojis to Copy & Paste
From aesthetic emojis to funny emojis, there are tons of these little pictures that you can add to your bio to capture attention!
And sometimes you can get quite creative when it comes to making your bio look fancy.
Here are some emojis to copy and paste:
Aesthetic Emojis
🦋🪐🌙🌻✨
🌊🌿🍂🍄🌱
🌸🍉📸🎨🖼️
🥥👜☕📜✒️
✌🏽🏹💍🍷📼
🍰 🥐🍯🍩🥜
🍞🥖🥞🥯🍮
🌵🍐🌊💎🍵
Funny Emoji Combos
Drama – 🍿🤏😯
Excuse Me? – 😎🤏😳🕶🤏
Not Listening – 👉🙄👈
Nevermind – 😯☝️😐✊
The Tea – ☕️👌
Slow Blink – 😐😑😐
Feeling Pretty – 😌💅
Shy – 👉 👈
Cute Emojis
🧸💗🍧🍥🐇
🩰🎀🐸🍓🌈
💛✨🌼❄️🥞
🦔🎱🐈🕊️💐
🍒🦄🐢🌷🐥
🌞🌚🦕🍬🍦
🦌🐿️🐛🧃🐝
There You Go!
These are some amazing cute bio examples to get you started on creating an irresistible social media profile!
Which one is your fave? Let me know in the comments.
And don't forget to pin!