Grow your email list with MailChimp
…without the headaches or the frustration
Yup, you read that right!
If you've spent any time with MailChimp (trying to do more than send a simple weekly newsletter) you'll probably agree…it can be a nightmare to use!
And if you don't already know some coding, good luck trying to create multiple freebies!
Sure, you can use multiple lists (and pay for the same subscriber two, three, even four or more times). But what happens when you want to email everyone? Or somebody unsubscribes?
Let's just say…it's a LOT of work!
And how's your open rate? Here's a little secret. Most of the time, MailChimp's default templates go straight to Google's Promotions tab! Yup, even their "Simple Text" template…goes straight to my Promotions tab.
When I finally discovered that, a unicorn died.
But, if you know a few hacks (that nobody's talking about), MailChimp is perfect for new (and seasoned) bloggers:
It's free for up to 2000 subscribers
Automations are now completely free
It's much more affordable than other marketing automation providers
MailChimp integrates with everything
But, if creating more than one freebie is a pain in the you-know-what, and all that effort to build your list ends in your subscribers never hearing from you (because you have multiple lists and it's too complicated to mail everyone)…
What's the point?
I've been blogging for several years and have three email lists. I've also used other email service providers besides MailChimp, and you know what?
MailChimp ticks all the boxes when it comes to affordability, deliverability, subscriber segmenting/tagging and automations.
What does that mean?
It means for me, MailChimp works like other paid email service providers…without the high price tag.
When you combine it with a little-known free service, you get the ability to:
Have all your subscribers in one main list (the holy grail)
Use tags to organize/segment your subscribers
Create and deliver multiple freebies
Create landing pages to grow your email list faster
And MailChimp only counts a subscriber once even if they sign up to more than one of my freebies. Cha-ching!
No more paying for the same subscriber two, three, four times or more
Is this you?
You sign into your MailChimp account and have no clue how to send a newsletter?
Or, when you try to set up an email to deliver your awesome new freebie you made, you can't seem to figure how to set that up?
Building your email list shouldn't be this hard.
And MailChimp shouldn't be this difficult.
Are you ready to use MailChimp the right and easy way?
Introducing Ready Set MailChimp for Bloggers
The best way to use MailChimp to grow your email list every day.
Okay, but wait –
You're probably thinking,
Is this course going to tell me to buy some tool or service in order for me to follow the course lessons?
Heck no! I would never do that!
I show you how to do it with free tools and free services all the way!
New bloggers can use the tips and strategies to grow their email list and MailChimp users will breathe a sigh of relief when they see how easy it is to use MailChimp the right way.
There are two ways to use MailChimp
The hard multiple-list way – it's not intuitive, easy or user friendly. But, you know no other way so you suck it up and curse under your breath as you figure out what form you need to create your email.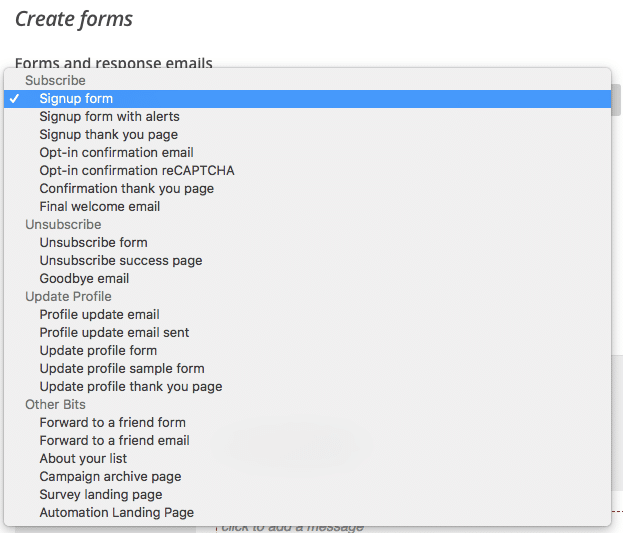 The one list way – with the proper set up, you'll be on your way to using MailChimp as easy as 1-2-3! And you can spend more time creating freebies and automations to grow your email list, rather than learning how to send a welcome email to your subscribers.
When you sign up to Ready Set MailChimp for Bloggers, here's what you get:
Have all your subscribers in one main list (the holy grail)
Lifetime access with all updates for free
5 modules with 20+ video lessons
Introduction to Email Marketing ebook
Effective Ways to Nurture Your Email List guide
Welcome Series cheatsheet
Optin form creation checklist
Mini workshop on how I generated my first 1,000 subscribers
Custom email template to help you avoid the dreaded Promotions tab
In-depth tech trainings on creating your freebies
And much more
Module 1: Introduction to Email Marketing
Why You Need an Email List
The Key to Hitting the Inbox
Single Optin vs. Double Optin
How Your Emails Can Avoid Spam Filters
P.O Box vs Home Address
Best Times to Send Emails
Module 2: Your Way Around MailChimp
Overview of MailChimp Dashboard
One List vs. Multiple Lists
Setting Up Your Domain Email Address
Creating Your List and Default Settings
Authenticating Your Domain to Improve Deliverability
Customizing Your Confirmation Email (for Double Optin)
Creating Your Groups (MailChimp's Tags)
Setting Up Your Custom MailChimp Template
Module 3: Delivering Your Emails
How to Create and Send a Newsletter
Pruning Cold Subscribers
Module 4: Setting Up Your Optins
How to Create Freebies With Google Slides
Bonus: Where to Find Free Stock Photos
How to Create Freebies With Canva
How to Create a CTA Mockup of Your Freebie (2 Templates)
5 High-Converting Places to Put Your Optin Forms on Your Blog
How to Create a 2-Step Optin Form
How to Add an Optin Form On the Sidebar
How to Add an Optin Form to a Blog Post
How to Set Your Display Rules
How to Create a Landing Page
How to Set Up a Thank You Page
Bonus: Optin Form Creation Checklist
Module 5: Using Ongoing Campaigns (Automations)
How to Set Up a Welcome Series
Bonus: Welcome Series Cheatsheet
How to Connect Your Welcome Series
All About Saved Segments
Bonus: Effective Ways to Nurture Your Email List
All you want to do is create your incentive freebie, add some automations, and start growing your email list.
I hear you
With Ready Set MailChimp for Bloggers, you can create multiple freebies, optimize where you place them on your blog, and start growing your email list right away.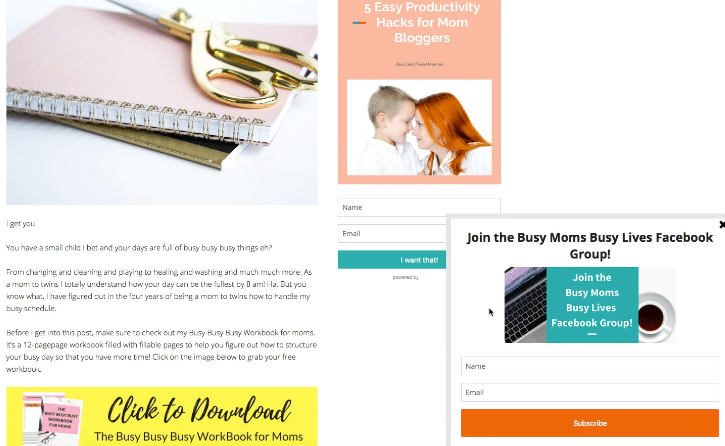 With step-by-step lessons, I'll hold your hand and walk you through how to set up your opt-in forms on your blog, how to create a landing page and how to create your call-to-actions for your blog posts.
And if you want to create a welcome email, I'll show you how to create a welcome series using MailChimp's ongoing automations.
Start using MailChimp effectively and grow your list strategically.
Enroll in Ready Set MailChimp for Bloggers Today
No risk, no questions asked 30-day money back guarantee
5 core modules
20+ video lessons
Written lessons
Video tech training
Lifetime access
Mini workshop video
Welcome Series cheatsheet
Nurture Your List guide
Email Marketing eBook
Note: Many of the "hacks" and strategies rely on a FREE service/WordPress plugin. If you're already using a popup/optin plugin on your WordPress blog, and not interested in switching, large portions and many core aspects of the course won't apply.
Frequently Asked Questions
Should I start an email list if I'm new to blogging?
Yes you should! Connecting with your readers is pivotal if you want to generate income from your blog. Email generates more income than social media and the bonus is that you'll get to know your subscribers on a deeper level.
Plus MailChimp is free to use for up to 2000 subscribers!
What's your refund policy?
I can't guarantee you success or income; I can just teach you what I've learned along the way. But I stand behind this course with a full 30-day, 100% money-back guarantee.
How long do I get access to the course materials?
Once you enroll in the course, you have access for life. So, for every new or revamped module, lesson, video or other piece of content, you will receive access to it for free.
What if I'm already using MailChimp and have an email list?
That's great! Then this course is definitely for you. If you've been experiencing headaches and frustration, then this course will give you an alternate way to use MailChimp that's easy to use.
*

Do I need to purchase tools or services to make this course work?
This course does rely on a free service to create/manage your blog optins, and to organize your subscribers into one main list. I spent weeks and weeks trying to find a way for MailChimp to do it alone. Unfortunately, as much as I love MailChimp, it can't do everything without a little help! There are paid options that do the same thing like OptinMonster and Thrive Leads, but the service used in the course currently has a free tier.If you are already using an optin/popup plugin (other than MailMunch, OptinMonster or Thrive Leads) – and aren't interested in switching to them or the free one I show you – large portions and most of the core functionality in the course won't apply.
How is the course content delivered?
Ready Set MailChimp for Bloggers is primarily a video-based course with some text-based lessons, guides and templates. When you register you will receive an email with your unique login information. You will also receive a welcome email and occasional updates on how your progress is going.
*

Do I need to be running WordPress?
I'd say, yes. The videos and lessons all assume WordPress (self-hosted…not WordPress.com), and I show how to do the "hacks" with a WordPress plugin. The free service I use apparently works with Squarespace and other platforms, but I have no experience with these platforms. And since I'm always available to answer any questions…I couldn't really help you out as much as I'd like to.
Does this course work for international bloggers?
MailChimp can be accessed around the world. While I blog in English and the majority of my subscribers are English-speaking, the lessons are on using MailChimp and tactics to grow your email list, which is universal.
So, Who's Teaching This Course?
Real advice. Real mom. Always a blogger.
Hey new blogger! I'm Elna and I was just like you not too long ago.
When I first started blogging, I used MailChimp in combination with the email list building tactics I always talk about. And it was directly responsible for growing my lists to over 12,000 subscribers.
I've helped hundreds of new bloggers figure out how to grow their email lists, create valuable freebies, and now I'm here to help you learn MailChimp to grow your own list.
This course is not endorsed, approved or connected to MailChimp or The Rocket Science Group, LLC in any way, shape or form.